Canada is one of the most popular studying abroad destinations among international students. Last year, almost 450,000 new international students entered Canada. If you are a new student who wants to study in Canada, you need to submit the SOP for Canada. When applying for admission to the best universities, a statement of goals is one of the important requirements.
The Statement of Purpose or SOP for Canada is a mandatory document of 1000-1500 words that students must submit to study in Canada. This is a 2-page essay containing 6 to 7 sections that are required to apply for a student visa and be accepted into the universities and programs of your choice.
Many international students want to learn how to write SOP for Canada as it is the most popular destination for international students. This will help them get into Canadian colleges and universities and gain employment opportunities around the world. On the other hand, getting a visa to study in Canada is difficult. Many applicants are denied a student visa simply because they lack the information required by the admissions officers. You must be able to write SOPs to participate.
Further ado… Come along…
What all is covered in this post?
To make it easier for you, we have created a quick guide to everything you need to know about SOP for Canada.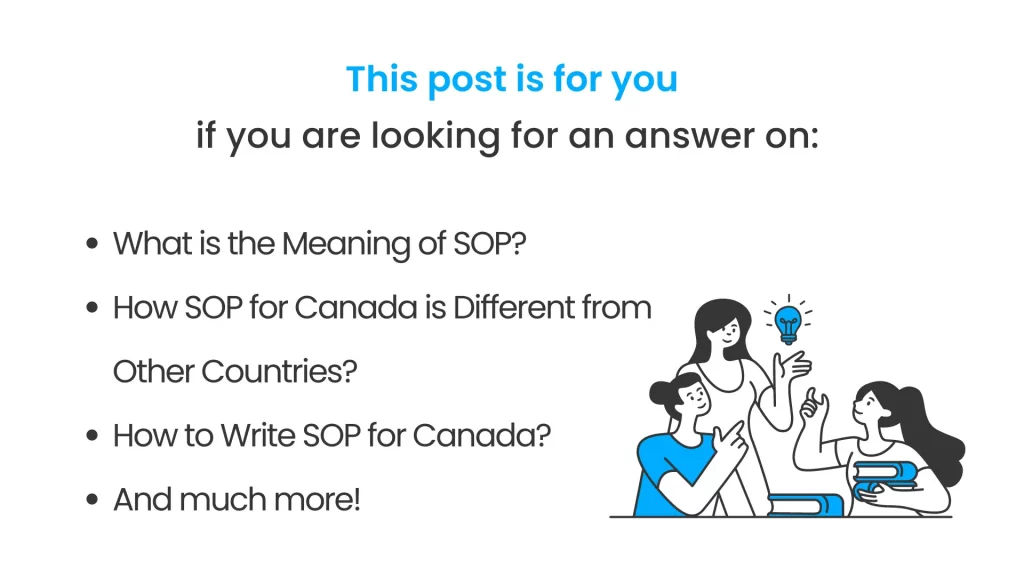 What is the meaning of SOP?
The full form of SOP is "Statement of Purpose". It is an application essay to be written by students who want to enroll in courses at international universities. The main purpose of the SOP is to present yourself, your academic background, career goals, and qualities that make you a worthy candidate for the chosen course. It is important to have a readable objective format.
Statement of Purpose is required not only in universities but also for visa applications required by visa officers where you need to submit a separate SOP for a student visa to Canada.
How SOP for Canada is different from other countries?
The SOP for Canada has various country-specific details as follows:
Most prestigious universities require the SOP to be submitted along with the application and other documents.
It is recommended that you confirm the requirements before applying to any university, as the SOP can definitely improve your chances of being selected for the university of your choice.
It is considered extremely important by Canadian visa officers as it shows the strengths and desires of the applicant in relation to the applied course program.
A statement of objectives should be written objectively and should not shy away from key/critical points. Also, it should not contain any false information in them.
How to write SOP for Canada?
Many students want to study in Canada. Due to the increase in the number of applications, the approval rate began to decline. The Canadian visa application is an important part of your application.
Step 1: An attractive introduction
Your essay will be 1000-1200 words. Due to a large number of candidates, naive applications are not accepted. So you can't afford a bad intro. Instead, consider writing a memorable sentence or quote that tells a story. This attracts the attention of the authorities.
Step 2: History of education
Your application must include all academic records. The admissions committee wants to know your academic background first. Therefore, make attractive tables to present the exam results.
Step 3: A good reason to choose the course
There are several universities in Canada. Therefore, you need to explain why you choose this particular subject at the institution. Including this point also shows the extent of your research.
Step 4: An attractive finale
When you read novels or fairy tales, the last paragraph sticks out the most. The same situation occurs when reading an application for a study permit in Canada. Always focus on this application area.
SOP Format for Canada
The main guide to an SOP statement is to understand what to include and how to create it. A statement of purpose, like every person, is different in many ways. Needless to say, your experiences and thoughts and ideas, and your dreams will be different and different. However, when it comes to writing them, there are a few rules that everyone should follow.
We'll cover them in these 4 essential steps to consider as a part of the SOP format for Canada:
Why study in Canada?
Reasons for choosing a particular university
Tell us about your education:
Let your future employers know that moving to a new country is an important life choice.
SOP Word limit for Canada
The Statement of Purpose is a 1000–1500-word essay required to apply for a student visa to study in Canada.
Sample SOP for Canadian student visa
In this section, we have drafted an SOP sample for Canadian student visas for your better understanding. Have a look:
To,
The Visa officer,
Canadian High Commission,
City.

Subject: Statement of purpose for Canada student visa application

Respected Sir/Madam,

I AM NAME, an Indian student looking to improve my career in a global environment. I applied to UNIVERSITY NAME in Canada and was accepted for the degree and COURSE NAME. I hereby certify the purpose of my application for a student visa to Canada.

PERSONAL BACKGROUND
I am in PLACE with my family. My father is NAME working in ORGANIZATION NAME and my mother is a housewife. I have two brothers and sisters. My BROTHERS and SISTERS WERE WORKING IN THE NAME OF THE WORK ORGANIZATION.

ACADEMIC EDUCATION
I received my secondary education in the DISCIPLINE at the INSTITUTE IN THE YEAR. I took my first step in my career by successfully completing my DEGREE AND COURSE NAME INSTITUTE NAME with HONORS. To demonstrate my English language skills, I took the IELTS exam and received BAND SCORE scores.

PROFESSIONAL EDUCATION
Since I gained basic technical knowledge in my undergraduate degree, I decided to find out about my interests in a specific field. So, I joined ORGANIZATION NAME as JOB. My roles and responsibilities in the organization were ____________________. I worked on projects like ___________________ and gained technical and communication skills like ______________. My accomplishments in the organization were ________________. In this job, I gained basic knowledge such as _______________.

REASON FOR CHOOSING COURSE NAME IN CANADA
I became interested in this field by looking at the technical aspects and the development of the industry. This led me to choose a career in this field as I learned the core concepts of my undergraduate program as a foundation. To explore my field of interest and my capabilities, I gained practical knowledge related to ___________ at my workplace. There I realized that I needed to further improve my basic knowledge. So, I decided to continue my postgraduate studies in Canada.

The academic point offer I received to pursue a Master's program in COURSE NAME from my senior staff in Canada. The education offered by Canadian universities in the field of FIELD will have ample opportunities to explore diverse fields and employment opportunities. Technological advances, popular universities, and the increasing number of international students attracted me to continue my studies in Canada.

WHY UNIVERSITY NAME?
UNIVERSITY NAME is among the best universities in the world and in Canada. The infrastructure, research and library facilities, learning resources, community, career development program, and _______________ made me choose NAME OF UNIVERSITY as a place to study NAME OF COURSE.

FINANCIAL INFORMATION
The financial expenses for my studies, accommodation, travel, and accommodation will be partly covered by my parents and the education loan I purchased from MY BANK to study in Canada.

CONCLUSION
The course that I will study at IMYA UNIVERSITY will be a great opportunity to expand my knowledge and further develop my career. In order to pursue my career on the right path, I request you grant my visa application for pursuing a degree in Canada.

Sincerely,
NAME
Explore in-depth details about studying in Canada
Epilogue
Now that you are armed with this information, we hope you're ready to make your next big career decision! Although studying abroad is a dream for many students it is equally important for students to be aware of everything that it takes to pursue higher education in Canada. Still confused? Do dial us up.
iDreamCareer is on a mission to reach every state and every child to ensure that talent is appropriately delivered to the industry.
Talk to our study abroad experts to know yourself in and out! We have helped several brilliant but confused minds to select their most-suited career choices. We have helped many students like Anjana Prasanna who was not very confident about her capabilities. Later with the help of career guidance and moral support from our study abroad experts she got an offer from King's College London! We have also helped several brilliant but confused minds like Aayush, and Tapan to select their most-suited career choices.
Also Read:
FAQs
What is SOP in Canadian Visa?
The SOP refers to the Statement of Purpose and is an important document that is usually 1000-1500 words in terms of total length. This essay is required if you wish to apply for a student visa to attend your desired Canadian institution. Living and studying in Canada is not possible without the right visa and SOP is required to obtain it. This essay is written to highlight the applicant's personal and academic/professional backgrounds. This is usually 1-2 pages per listing for your volume. It is important, to be honest in your SOP, not giving inaccurate or false information or hiding any facts.
Is SOP mandatory for Canadian visa?
SOP (Statement of Purpose) is not mandatory for admission to any Canadian university. Some universities insist on SOPs and some don't. Visa officers in Canada will always consider the SOP very important, and although it may not always be mandatory, it is an important document. Visa authorities pay close attention to this document because it conveys everything about the applicant and all his/her strengths at a glance. This benefits them as they have limited time for each application. At the same time, they look for objectively written SOPs without hiding facts or giving false information.
When is SOP required for Canada?
SOP for Canadian colleges is mandatory especially if you are applying to Tier 1 or Tier 2 universities. Universities like UofT, UBC, McGill or colleges including Humber, Conestoga, and Langara follow a comprehensive and holistic selection process.
Can I copy the SOP for Canada?
Avoid overusing clichés or copying someone else's SOP. The admissions team will check for plagiarism and you risk being denied a Canadian student visa if they find you copied someone else's SOP.

Anushree has 5 years of experience in the career counseling industry as a Senior Content Writer. She has also worked as a Social Media Marketing Expert for a startup and Content Quality Analyst for the Publishing and E-learning Industry. She has done her Master's in Commerce and PGDM in Finance & Trade and Marketing & HR, but she is currently following her passion for writing.