With its booming economy and diversity, Canada attracts a wide range of international students from around the world. And doing an MBA course in the country will give you easy access to a multicultural and academic environment. Canadian MBA programs encourage students to develop the necessary skills to tackle real-world business challenges successfully. An MBA is a lucrative option for international students in the country, but before that, let's explore the cost and expenses of an MBA in Canada.
Studying in Canada is one of the most common dreams of international students. Be it postgraduate or MBA courses, Canada, with its top-notch educational system remains one of the most preferred education destinations. Having a dedicated education system, MBA Colleges in Canada are internationally recognized.
Looking for a complete guide? Want to know more? Come along…
Why Study MBA in Canada?
Canada is home to more than 92 institutions and 175 technical institutes providing a pool of professional, academic, and other vocational programs at various levels, having its MBA program as one of the most preferred by international students.
Did you know?

According to CIC News, Canada now ranks third globally in attracting foreign students. Of a total of 6,40,000 international students, 34% are Indian students in Canada. But what makes Canada the most preferred educational destination?
Here are the top reasons why MBA in Canada is the best choice for students: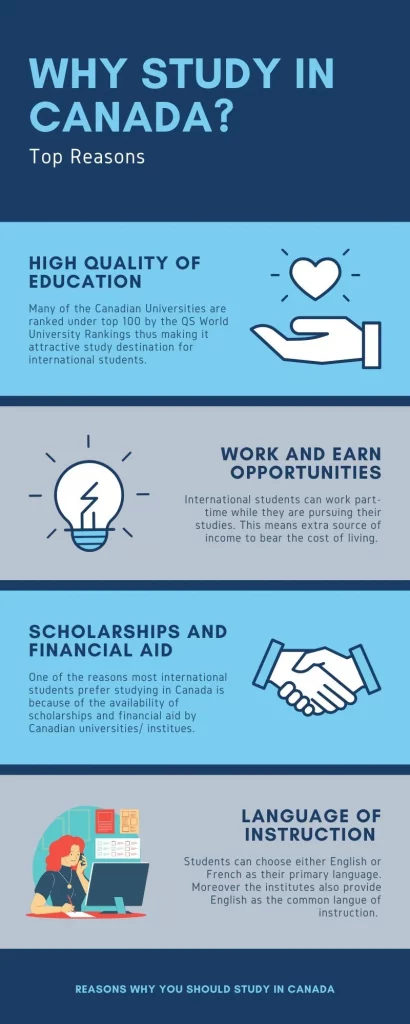 An exceptional exposure
Studying in Canada gives you much-needed opportunities for professional and personal growth. The faculty of business schools in Canada have significant experience in the field and thus, they can impart invaluable skills and knowledge to students.
Famous universities
Canada is home to many renowned universities with long-standing educational heritage and exemplary alumni. Universities like HEC Montreal or Queen's University are among the oldest business schools.
Possibilities of part-time work
MBA students in Canada can work part-time. They can work up to 20 hours a week when classes are in session.
Opportunity to work after studies
PGWP or Post Graduate Work Permit was introduced in 2003. It allows students to work in Canada after they have completed their MBA degree program and worked for 3 years.
Development of entrepreneurial skills
An MBA program in Canada gives you leadership as well as budget and diversity management skills. These are vital skills for entrepreneurs.
Types of MBA in Canada
The Master of Business Administration is now available through a wide range of specializations. Generally, the courses can be selected with the help of some important factors which include the area of ​​interest and the duration of the course. Generally, the types of MBAs in Canada can be broadly classified based on the length of the course. You will get a vivid idea about choosing the right course.
Full-time MBA in Canada – If you want to enter the job market as a leader, a full-time MBA in Canada is right for you. Get a great opportunity to understand the diversity of the Canadian workforce. The duration of the course is 2 years and allows students to continue it full-time. International students are expected to score decently on the GMAT and language proficiency tests to gain admission.
Part-time MBA in Canada – Super opportunity for applicants who want to earn a management degree while working. The course duration for this degree can range from three to six years depending on the university you choose.
Executive MBA in Canada – This program is optimized for executives and applicants who want (senior) management-level experience. You will need to follow this for 20 to 28 months.
Eligibility Criteria for Studying MBA in Canada
To apply for an MBA in Canada, applicants must take a look at the eligibility requirements of the designated college/ university prior to applying for admission. As most best MBA colleges in Canada have slightly different eligibility criteria, let us take a look at the most commonly accepted standards for admission to MBA in Canada for Indian students: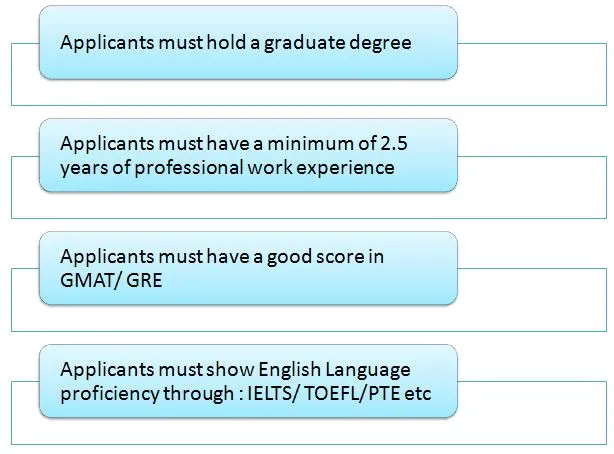 Graduate degree: Applicants wanting to pursue one of the best MBA programs in Canada must hold at least a graduate degree in any of the disciplines.
Candidates applying for MBA in Canada must remember that a candidate must have a four-year graduate degree to be eligible for MBA in Canada.
Professional Work-Experience: To be eligible for an MBA in Canada, having professional experience is a must and for most best MBA colleges in Canada, applicants must have a prior work-exp minimum of 2.5 years. (Internship experience is usually not counted).
Good GMAT/GRE score: Universities, institutes, and business schools in Canada require a good score in GMAT/ GRE. Applicants have to send the scores (GMAT/GRE) directly from the testing service organization by using the codes given on the official website of the designated college/ university.
English Proficiency: Applicants must be able to speak and understand fluently in the English language. To submit proof of English language proficiency, applicants must demonstrate their proficiency by submitting scores from one of the following: IELTS indicator test, TOEFL, Michigan English language Assessment Battery (MELAB), Person Test of English (PTE), Canadian Academic English Language Test (CAEL).
Applicants must refer to the specific guidelines mentioned on the official website of the designated institute/ university for information regarding minimum test scores and other eligibility criteria.
Top 5 MBA Universities in Canada
For those students who are wondering which are the best universities in Canada for MBA must first look at the list of business schools providing a competitive edge via their Master's in Business Administration programs in Canada:
University
Tuition Fees (Per Year)
Smith School of Business, Queen's University
CAD 91,000
(Rs. 55,04,830)
Schulich School of Business, York University
CAD 52,040
(Rs. 31,47,605)
Rotman School of Management, University of Toronto
CAD 59,450
(Rs. 35,96,587)
Ivey Business School, University of Western Ontario
CAD 1,11,750
(Rs. 67,60,615)
Desautels Faculty of Management, McGill University
CAD 44,500
(Rs. 26,91,406)
Cost of studying MBA in Canada
The MBA in Canada is designed with a curriculum to provide a world-class experience. Canadian universities have affordable tuition fees, making them ideal for international students from middle-class families. Scholarships and financial aid are offered to deserving students to reduce their financial burden. Average tuition fees range from CAD 30,000 to CAD 40,000 per year, which is much lower than other study abroad countries.
MBA in Canada: Cost of living
The cost of living for an MBA in Canada includes accommodation, transportation, and other personal expenses. It depends on the city you choose and the type of accommodation. The three main accommodation options available to students are university accommodation, private flats and shared accommodation. Costs can range from CAD 950 to CAD 14,000 per year.
Living on campus costs approximately C$3,000 to C$7,000 per year. Private, off-campus shared housing can cost around C$8,500 per year. Shopping at local supermarkets, grocery stores and restaurants in Canada requires students to set aside CAD 300 per month.
MBA in Canada: Health Insurance
Health insurance in Canada costs about CAD 864 per year. Some provinces offer their health plans to students for free or for a nominal fee. In most regions of Canada, you must purchase private health insurance for the duration of your MBA program in Canada.
There are part-time options where students can work part-time for 20 hours off campus during the course. Students do not need to have a part-time work permit in Canada.
Explore a broader range of courses available in Canada
Jobs opportunities after MBA in Canada
International students pursuing their MBA in Canada can expect various job opportunities in their choice of areas. To know what the job opportunities available are for MBA graduates in Canada, let's first take a look at the latest job profiles/roles most MBA to find work in
Marketing Executive
Business Analyst
Executive Assistant
Human Resources Generalist (Executive)
Investment Analyst
Operations Leader
Senior Product Manager
Forecasting Manager
Sourcing Specialist
Business Development Strategist
Marketing Strategist and Innovation Director
Project Manager
Investment Analyst
Salary after MBA in Canada
In addition to large recruiters, the Canadian market is filled with small and medium-sized companies. Thus, the demand for employers in various fields has been high in recent decades. Business management has a well-known field and it is growing every year. Moreover, getting an MBA in Canada adds exceptional value to candidates with high-paying jobs. High-paying recruiters welcome enthusiastic graduates in a variety of fields including business management, operations management, human resources, finance, and conventional and digital marketing.
After completing an MBA in Canada, students can earn an average total compensation (including tips, bonuses, and overtime pay) of CAD 55,412. And after 1-4 years of experience, you can earn an average total compensation of CAD 59,392. A middle manager with 5-9 years of experience earns an average salary of CAD 68,552.
Conclusion
In the above article, we discussed in detail about MBA in Canada, the eligibility criteria for international students, and other significant facts. Although studying abroad is a dream for many students it is equally important for students to be aware of everything that it takes to pursue higher education in Canada.
In case you still have doubts or want career guidance before taking any final decision, you must consult career counselors and take the first step towards making your dreams come true!
iDreamCareer is on a mission to reach every state and every child to ensure that talent is appropriately delivered to the industry.
Talk to our study abroad experts to know yourself in and out! We have helped several brilliant but confused minds to select their most-suited career choices. We have helped many students like Anjana Prasanna who was not very confident about her capabilities. Later with the help of career guidance and moral support from our study abroad experts she got an offer from King's College London! We have also helped several brilliant but confused minds like Aayush, and Tapan to select their most-suited career choices.
Also Read:
FAQs
What is the extent of MBA in Canada?
Believe it or not, no other course is as succinct and lucrative as an MBA that can increase your earnings. The average annual salary of MBA graduates in Canada ranges from CAD 84,900 to CAD 141,400. With higher career prospects, international students are actively seeking a management degree in Canada. In fact, financial services are the most popular in Canada with an average of 11.6% between 2008 and 2019. If you are going to study MBA in Canada, it is definitely worth it.
What exam is required for MBA in Canada?
Universities expect mandatory English proficiency test certificates, which include TOEFL, IELTS, and GMAT scores, where candidates must score a minimum of 550.
Is an MBA from Canada worth it?
Being one of the largest and most powerful economies in the world, Canada offers many job opportunities for MBA graduates. Also, it hosts some of the best MBA recruiters like Deloitte, Unity Technologies, GlaxoSmithKline, PWC, KPMG, etc.

Anushree has 4+ years of experience in the career counseling industry as a Senior Content Writer. She has also worked as a Social Media Marketing Expert for a startup and Content Quality Analyst for Publishing and E-learning Industry. She has done her Master's in Commerce and PGDM in Finance & Trade and Marketing & HR, but she is currently following her passion for writing.