Canada: Keep Exploring! This Canada tourism department's motto holds true for every student looking forward to pursuing an education abroad. You must explore all the study destinations and find the one that is a blend of the best academic quality, good employment opportunities, feasible education & living cost, and a wonderful living experience. Do you also want to study in Canada? Canada has proved itself to be worthy of being counted among the best study destinations around the globe.
Did you know?

Student Direct Stream (SDS) has been streamlined in India for students. Students applying through the SDS route can expect to receive their student permit from Canada within 7-8 days.
It has constantly claimed the titles of 'best place to live and 'best place to study and has retained leading places when it comes to the best places for visiting or working. Canada is an amalgamation of amazing scenic beauty, a universally acclaimed education system, great employment opportunities, and awesome college life. With all these feathers in its cap, Canada has caught the attention of international students from around the globe including India.
Continue reading this post!
What all is covered in this post?
To make it easier for you, we have created a quick guide to everything you need to know about the study in Canada.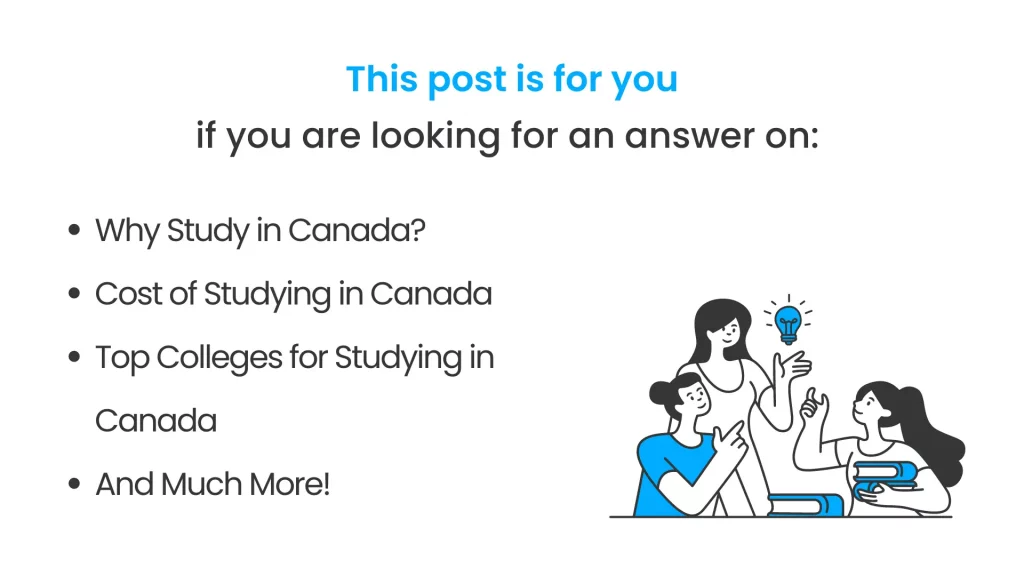 Why study in Canada?
There are a few significant pointers that Indian students who want to pursue education in Canada need to consider:
Education System and Best Universities
Canada boasts an education system that is known around the globe for its high quality and research orientation that results in great innovations. It is comparatively easier to get admission to a Canadian University than in other major study destinations. The curriculum in most universities is divided into credit hours, and an undergraduate course lasts for three to four years.
As the reigns of the universities lie in the hands of provincial governments, the study pattern and duration might vary from one university to another. Canada has many universities that are counted among the best universities in the world with a total of 26 universities featuring in the QS World University Ranking.
Student Visa and Immigration
Any student willing to pursue a course that lasts longer than six years will need a study permit. The student permit has to be applied for from outside Canada, by the visa authority of your native country. The study permit is sanctioned only after you receive a letter of acceptance from a Canadian University. We will discuss it later on!
Earn while you learn
It becomes necessary for many international students to work during their college years to meet their living expenses. Almost all universities in Canada allow students to work a maximum of 20 hours when the term is going on and full-time (40 hours) during vacations. The average pay for international students can be around 7 to 10 Canadian Dollars (370 to 520 INR) per hour. The student who is enrolled in a recognized Canadian University doesn't require any work permit to work part-time during the term of their graduation.
Nature's Classroom
In today's world, a successful career needs much more than glittering academics. What you do inside your classroom is equally important as what you do outside. Canada offers you a lot to do outside your classroom. The campuses are furnished with advanced technologies and amenities that motivate you to think about extracurricular. The universities give huge emphasis on sports, performed arts, and social works. However, you can also think outside of your campus boundaries and exploit the benefits of the vast geographical diversity of Canada with huge mountains, lakes, and exotic beaches.
Higher studies in Canada – eligibility
If you are planning to study in Canada from India, here are the basic requirements you need to keep in mind:
Transcripts or markings of your previous degree or diploma
GMAT or GRE scores for MBA and Masters's programs in Canada
Statement of Purpose (SOP) and Letters of Recommendation (LOR)
Acceptable English proficiency tests: IELTS, C1 Advanced, TOEFL
If you apply to a French-taught program, you need to pass French language tests such as the TCF, TEF, DELF, and DALF.
Proof that you have sufficient funds to study in Canada.
Updated resume (if applicable)
If you are applying to a Master's or Ph.D. program in Canada, you may be required to provide two academic references along with previous letters of employment. And if you haven't studied in Canada before, you'll also need an ECA (Educational Evidence Assessment).
Top courses to study in Canada after 12th
Following are the top courses to study in Canada after the 12th:
Advanced Diploma in Business Administration – Marketing
Animation Courses
BA LLB
Bachelor of Computer Applications (BCA)
Bachelor of Fashion Designing
Bachelor of Hotel Management
Bachelor of Interior Design
Bachelor of Journalism
BBA
BCom
BCom (Marketing/Accounting/Finance)
BSc (Information Technology/Software Engineering)
BSc in Nursing
BSc in Physics/Chemistry
Btech
Cost Accounting
Diploma in Business – Entrepreneurship and Management
Diploma in Business Administration (HR)
Diploma in Engineering Courses
Diploma in Hotel and Restaurant Management
Diploma in Office Administration
IT and Programming Courses
Lab Technician
Ontario College Diploma in Business Administration
Cost of study in Canada for Indian students from India
While the quality of education and standard of living in Canada is on par with all the developed nations, the cost of education and living in Canada is significantly lower than in countries like the USA and UK. The tuition fees and the living cost for an international student in Canada can differ on the basis of several factors like location, institution, and the selected program.
According to the statistics given by 'Universities Canada,' a collective institution of 97 Canadian Universities, the average tuition fees, and living expenses can range between 15000 Canadian Dollars (7.5 lakh INR) to 30,000 Canadian Dollars (15 lakh INR) annually. This is just an average figure and some professional courses like Medical, Dentistry, and Veterinary Sciences can cost as high as 50,000 Canadian Dollars (25 lakh INR) per year.
Colleges in Canada for Indian students
Here is a list of the top 10 colleges to study in Canada for Indian students: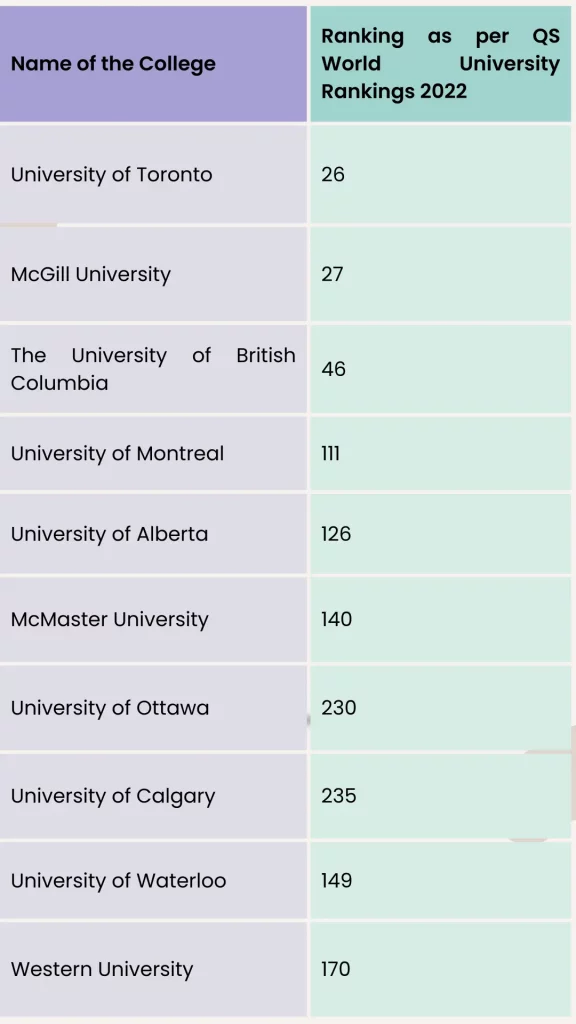 Scholarship to study in Canada
Here is the list of scholarships you may consider for studying in Canada-
Canadian Commonwealth Scholarship and Fellowship Plan
Erasmus Scholarship
Hani Zeini Scholarships
Lester B. Pearson International Scholarship Program at the University of Toronto
National Research Council of Canada Scholarship
Ontario Graduate Scholarship
Partnership Grams by Social Science and Humanities Research Council for Canada
Quebec Provincial Government Scholarship
Ritchie- Jennings Memorial Scholarship
Shastri Indo-Canadian Institute Scholarship
University of Calgary International Entrance Scholarship
University of Manitoba Graduate Fellowship
University of Waterloo Graduate Scholarships
Vanier Canada Graduate Scholarship
York University International Student Scholarships
Studying in Canada without IELTS
Here are the best options for studying in Canada without IELTS:
Provide results from other English proficiency tests such as TOEFL and PTE.
You can study in Canada without IELTS if you have studied at an English medium school for at least 4 years and you will need to prove your academic credentials.
Citizens of English-speaking countries are also exempt from providing IELTS scores in Canada.
Choose an English course offered by the university.
Canada study visa fees in Indian rupees
According to the CIC (Citizenship and Immigration Canada) website, the fee for a study permit in Canada is C$150 (including renewals). The visa fee does not include value-added and service fees. The cost of a Canadian student visa in Indian Rupees for a study permit in Canada (including extension) is Rs. 8879.83 (indicative and dependent on the current consular exchange rate.)
Epilogue
There you go! You have the info you wanted. Do you want to make a career decision now? Not settled yet? In case, you feel indecisive or confused, do dial us up.
iDreamCareer is on a mission to reach every state and every child in order to ensure that talent is appropriately delivered into the industry.
Talk to our study abroad experts who have 20+ years of experience to know yourself in and out! We have helped several brilliant but confused minds with an aim to select their most-suited career choices. Hear the success story of Aayush who got an offer from the top 3 universities and is now studying in the University in Ottawa in Canada after getting career guidance from our industry experts!
Useful Links
Also Read:
FAQs
How much money is required to study in Canada?
Compared to many countries, education in Canada is very affordable. You will probably need between CAD$20,000 and CAD$30,000 each year to pay for your tuition. This range is only an average and will vary depending on the institution and program in which you are enrolled.
Which course is best for studying in Canada?
MBA, Computer Science & IT, Business, Finance, Mechanical Engineering, Engineering Management, Physical & Earth Sciences, Agricultural Sciences, etc. – here are some of the popular courses to study in Canada.
How can you study in Canada for free?
You must have a fully funded scholarship to be able to study in Canada for free. However, they are very rare, and only a few exceptionally talented students can take advantage of them.

Anushree has 4+ years of experience in the career counseling industry as a Content Writer. She has also worked as a Social Media Marketing Expert for a startup and Content Quality Analyst for Publishing and E-learning Industry. She has done her Master's in Commerce and PGDM in Finance & Trade and Marketing & HR, but she is currently following her passion for writing.