As part of the North American continent, Canada has a global reputation as a highly developed country. For Indian students interested in getting a cheaper medical education, MBBS in Canada is a great option. The National Medical Commission (NMC) has officially recognized 17 universities in Canada. The country has very high academic standards. Medical students in Canada receive excellent medical education, training, and practical training.
Do you know?

As an International Medical Student (IMS) or International Medical Graduate (IMG), if you intend to practice medicine in Canada, you must pass the Medical Council of Canada (MCC) assessment. The MCC grants the Licentiate of the Medical Council of Canada (LMCC) to medical graduates who have graduated from a university listed in the MCC database.
Indian students planning to study MBBS in Canada should complete 3-4 years of the MD program. It is a significant center for world-class education, especially in the field of medical research. International students who choose a medical program in Canada can receive an exceptional medical education, exposure, and training at some of the best medical schools. They must pass competitive exams after completing their medical courses to be eligible to practice medicine in Canada. Students planning to pursue MBBS courses in Canada can refer to the detailed guide given below.
What all is covered in this post?
To make it easier for you, we have created a quick guide to everything you need to know about MBBS in Canada for Indian students.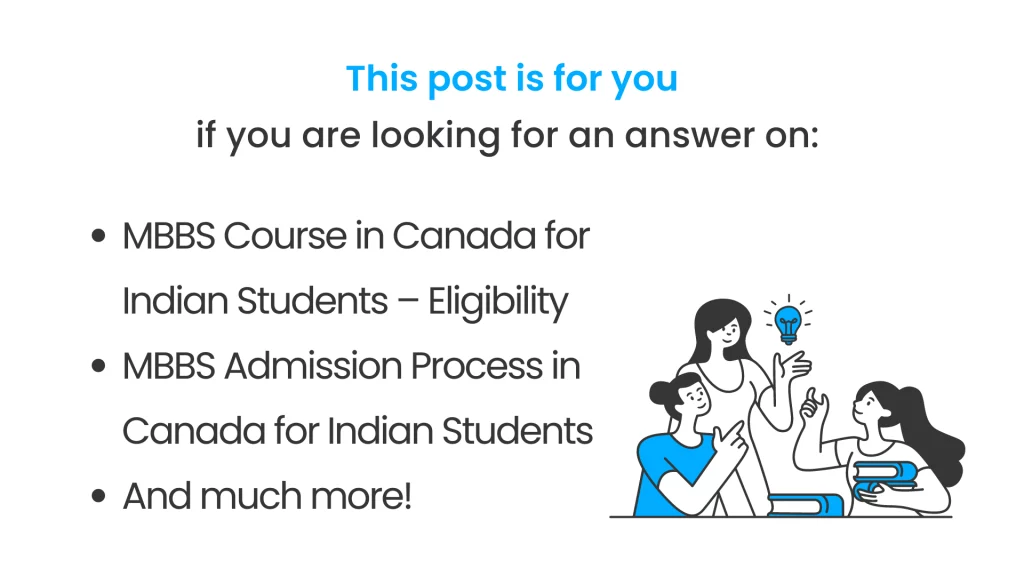 MBBS course in Canada for Indian students – Eligibility
While studying in Canada can bring exciting opportunities, interested candidates must meet certain requirements. Here is a list of eligibility criteria that must be met:
Must have a high score in English proficiency tests such as IELTS or TOEFL. For undergraduate courses, candidates must have a minimum overall IELTS score of 6.5 and a TOEFL score of 80. For postgraduate courses, an IELTS score of at least 7 and a TOEFL score of at least 90 are required. However, the minimum language test requirements will vary in various institutions.
Candidates must clear both NEET and MCAT.
Applicants must have a Bachelor's degree in Biology with a minimum GPA.
Applicants must also meet the requirements for a Canadian student visa.
In addition to this, some universities may ask students to take a basic entrance test.
MBBS admission process in Canada for Indian students
Below is a step-by-step guide to getting into medical school in Canada:
Step 1: Submission of admission form and supporting documents.
Step 2: Verification of candidate documentation and application.
Step 3: Students are interviewed by the university's admissions office.
Step 4: Acceptance letters shortlisted for the final round of admission.
Step 5: VISA clearance is required for final confirmation.
Documents Required for MBBS Admission in Canada
The following documents are required to enter Canada on medical grounds:
Copies of XI and XII marks as well as B. Sc with lagging marks.
IELTS/TOEFL certificates are examples of English language assessment.
Medical courses require standardized medical tests (MCATs).
There are academic references. (Two).
Color passport-size photos on a plain white background.
A statement of purpose is a document that explains what you want to achieve (SOP).
All certificates of participation in extracurricular activities.
MBBS colleges in Canada for Indian students
No wonder, studying in Canada is a popular choice and having a list of the best MBBS colleges in Canada for Indian students out of top universities in Canada is a daunting task. But don't worry we are here to help you!
Here is the list of top medical colleges in Canada for Indian students along with the QS World Ranking:
| | |
| --- | --- |
| Name of University | QS Ranking |
| McGill University | 27 |
| McMaster University | 140 |
| Queen's University, Kingston | 240 |
| Université de Sherbrooke | 752 |
| University of Alberta | 126 |
| University of British Columbia | 46 |
| University of Calgary | 234 |
| University of Ottawa | 230 |
| University of Toronto | 26 |
Explore a broader range of courses available in Canada
Cost of MBBS in Canada for Indian students
Although the cost of studying and living in Canada is not on the list of requirements, it remains one of the main concerns for many before considering traveling abroad for education. Before you start looking for the best universities in Canada and how to apply to study in Canada, you need to understand the feasibility of this study. Costs such as accommodation, food, health insurance and travel along with tuition fees make up the total cost of studying in Canada.
Tuition fees
A major chunk of your expenses. It depends on the type of qualification and the chosen institution. You will need approximately CAD 7,000 to 35,000 per year. The approximate cost of studying in Canada for Indian students will be between INR 3,50,000 to INR 19,00,000 per year. This amount varies depending on the type of course you choose.
Accommodation Cost
Universities offer on-campus accommodation for international students. Students who wish to choose to live off campus can live on a shared basis with other students across campus. Living on campus can cost between CAD$8,000 and CAD$10,000 (annually) and shared housing can cost between CAD$400 and CAD$700 per month depending on your location and the time of year. In major areas and cities, this can even rise to 1000-2000 CAD per month.
Living expenses
Considering various expenses and living expenses such as communication, transportation, books and consumables, daily needs, etc., one student budget in Canada is approx. 6,000 to 10,000 CAD (approximate).
Miscellaneous
The visa and study permit cost approximately 150 Canadian dollars. The cost of health care and insurance is between 300 and 800 Canadian dollars per year (approximate).
Epilogue
MBBS in Canada is a great choice for students on a tight budget who want to study MBBS abroad. But only a small percentage of international students are accepted into medical programs at Canadian universities. They only accept candidates who have demonstrated the ability to become future healthcare leaders. As a result, you should only consider doing an MBBS in Canada if you are exceptionally competitive and have a rigorous academic approach. Now that you have detailed information about MBBS costs in Canada, it's time to choose the right MBBS colleges in Canada.
To have further information on MBBS in Canada for Indian Students, connect with experts! iDreamCareer has 20+ years of experienced career counselors who will work with you one-on-one to help you create a plan to achieve your goals. With iDreamCareer, you can take advantage of a range of resources and tools to help you discover your strengths, interests, and career goals.
Talk to our study abroad experts to find out for yourself! We have helped several brilliant but confused minds to choose the most suitable career. We have helped many students like Anjana Prasanna who was not very confident about her abilities. Later, with the help of career guidance and moral support from our study abroad experts, she received an offer from King's College London! We have helped several young confused minds like Aayush and Tapan to choose the most suitable career for them.
Also Read
MBBS in Canada: FAQs
Can Indian students study MBBS in Canada?
Yes, Indian students can study MBBS in Canada. Canadian universities offer a wide range of medical programs, including MBBS, for international students.
What are the eligibility criteria for Indian students to study MBBS in Canada?
Indian students should have completed their 10+2 or equivalent in science with physics, chemistry, and biology as the main subjects. They should also have a minimum score of 50% in these subjects. Some universities may also require students to take the Medical College Admissions Test (MCAT).
How long does it take to complete an MBBS degree in Canada?
The duration of the MBBS program in Canada is around six years. This includes both pre-clinical and clinical studies.
Are medical degrees from Canada recognized in India?
Yes, medical degrees from Canada are recognized in India. The Medical Council of India (MCI) recognizes medical degrees from Canadian universities, provided they meet the required standards.

Anushree has 4+ years of experience in the career counseling industry as a Senior Content Writer. She has also worked as a Social Media Marketing Expert for a startup and Content Quality Analyst for Publishing and E-learning Industry. She has done her Master's in Commerce and PGDM in Finance & Trade and Marketing & HR, but she is currently following her passion for writing.