All excited to fly overseas for higher education but the questions of when, where, and how confusing you? Choosing what you want to study and pursue as a career is important. From deciding where to study to what exams to study abroad will be required to clear, these are the defining step of your life. Once you are done with all decisions, you will wish to buy air tickets and hop on a flight.
Alas! It's not that easy. A lot is still to be done after shortlisting your international education destination. Entrance exams, College applications, and Visa procedures to study abroad can be quite overwhelming. Apart from these prerequisites, there are a few more questions to be answered. You'll have to shortlist universities, understand the culture of the campus and find the college of the university where you can not only adapt but also flourish.
That's huge! Isn't it? Don't worry we have answers to all your questions…
Do you know?

In 2020, a total of 2,59,655 Indian students went abroad despite the pandemic. In 2021, their number increased to 4,44,553, which is more than 1.5 times higher than the previous year. Amazingly, in 2022, around 1,33,135 Indian students left the country to study abroad in just 3 months. This is expected to reach a very high number in 2022 due to the easing of travel restrictions.
Do you also wish to add yourself to the numbers? Come along to know more…
What all is covered in this post?
To make it easier for you, we have created a quick guide to everything you need to know about exams to study abroad.
Benefits of studying abroad
There are many more apart from these simple & popular rewards:
Your perspective widens
Cross-cultural environment
Self-reliance
A global outlook
Advanced infrastructure and pedagogical (teaching) methods
Universal work opportunities
Higher rates of compensation (salary)
List of common entrance exam to study abroad
Here is a list of the most commonly given exams to get admission abroad:
TOEFL (Test of English as a Foreign Language)
TOEFL is the premier test of academic proficiency and English language communication for students from countries where English is not the native language. The average TOEFL score for university admission is 75-80. However, some universities require a score of 100 or higher. Its scores are valid for two years and will allow you to be admitted to universities in the US and Canada.
IELTS (International English Language Testing System)
IELTS is another English proficiency test similar to TOEFL. Its results are described in scores, the lowest score is 1.0 and the highest score is 9.0. There is a score group for each section of the test, such as listening, reading, writing, and speaking. You need at least a 6.5 GPA to be accepted. It is one of the most preferred exams in UK, Australia, and New Zealand, since it is organized by British Council.
PTE (Pearson Test of English)
This test is accepted by universities in Australia, Great Britain, and New Zealand. The main factor that differentiates it from IELTS and TOEFL is that it is a computer-based exam, which allows for stress-free last-minute registration. Also, it announces your test results after 48 hours. A minimum score of 55-60 is sufficient for admission to the university.
SAT (Scholastic Aptitude Test)
The SAT is widely taken by junior and senior high school students. This is a 3-hour written exam designed to measure students' English and math skills. The ideal SAT score is 1600, and 1000 or higher is considered a good SAT score. A good SAT score will get you into almost any college in the US.
ACT (American College Testing)
The ACT tests your knowledge of math, science, and English. Best of all, it's based on the high school curriculum you already know. The minimum required ACT score is 16-17, and students who want to study abroad after 12th grade take this test.
GRE (Graduate Exams)
If you want to pursue your studies in the business and management niche, you must take the GRE. It is designed to test your mathematical and analytical skills and is accepted by US colleges. Anything above 260 on the GRE will get you into college.
GMAT (Graduate Management Admission Test)
You must pass the GMAT to be accepted into business and management schools. It aims to assess your analytical, reading, and writing skills in English. The main eligibility criteria for taking this test is that you must be 18 years of age or above. The GMAT score range at top business schools is 550+.
MCAT (Medical College Admission Test)
The MCAT is a multiple-choice test. MCAT scores are required to pursue medical courses in the United States, Canada, Australia, and the Caribbean. It is designed to test your physical science, biology, and verbal reasoning skills. If you score in the 65th percentile or higher (506+), you will pass the MCAT.
Exams for study abroad with scholarship
Following is the list of some of the major scholarship exams to study abroad: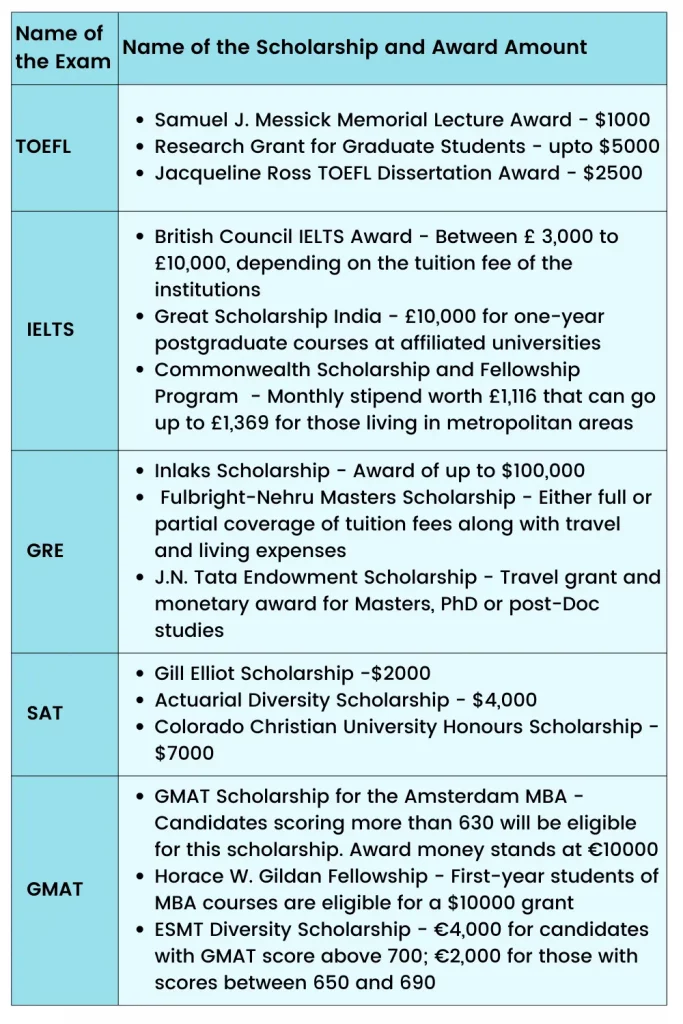 Exams to study abroad after 12th
Those students who have completed class 12th have the opportunity to take various entrance exams to study abroad. SAT, ACT, GRE, TOEFL, and IELTS are some of the important standardized tests that students can take to study abroad. The choice of exam always depends on the course, college, and country you want to enter.
Popular exams for MBA abroad
Once you've met the basic eligibility criteria, the next milestone in the admissions process is to confirm your language performance and pass certain aptitude tests. This is mandatory for international students, as it ensures that the right candidates have been selected for specialized degree programs.
Let's take a look at some of the main exams for an MBA abroad:
Language Proficiency Test – IELTS, PTE, TOEFL, etc.
Aptitude test – GMAT, GRE
On the other hand, many universities may hold their entrances to test the abilities of international students. Passing these exams is important as they will serve as the gateway to getting into their dream college.
Exams required to study in USA, Canada, UK, Australia
UK
Following are some major exams required to study in the UK:
Aptitude Tests: There are various aptitude tests conducted for admission in the UK. The type of aptitude test varies according to your choice of degree program. These tests generally have three sections; the first is aptitude, the second is subject knowledge and the third is writing skills. The following are some aptitude tests
BMAT: Biomedical Aptitude Test for admission in degree programs in medicine, veterinary, biomedical
UKCAT: UK Clinical Aptitude Test for applying to a consortium of major medical and dental colleges.
LNAT: National Admission Test for Law
ELAT: English Literature Admission Test for pursuing a degree in English literature
PAT: Physics Aptitude Test for admission in physics-related courses.
Language Proficiency Test: International English Language Testing System (IELTS) is a language proficiency test just like TOEFL. Most of the universities in the UK ask for a high IELTS score.
Australia
The following are some entrance examinations required to study in Australia:
Aptitude Tests: Most of the universities in Australia grants admission through SAT. However, there are some specialized aptitude tests for some degree programs. The following are the aptitude tests required for education in Australia other than the SAT.
MCAT: Medical College Admission Test is conducted for prospective medical students.
LSAT: Law School Admission Test is required for admission to law courses.
Language Proficiency Test: There is no separate language test for admission in Australia. A student is expected to appear in any English language test like TOEFL or IELTS.
Canada
Following are some major exams required to study in Canada:
Aptitude Tests: The most often used exams to study abroad in Canada are SAT, GRE, GMAT, MCAT, and LSAT.
Language Proficiency Test: The often-used exams to study in Canada are TOEFL, IELTS, Duolingo, PTE, Canadian academic English language, Michigan English Language Assessment Battery, and Canadian English language Proficiency Index Program.
USA
The following are some major exams required to study in the USA:
Aptitude Tests: Scholastic Aptitude Test (SAT) and American College Test (ACT) are two major tests for admission in under-graduation courses. As the name suggests, both of these are aptitude exams. You have to apply for any one of these exams depending upon the universities you want to target.
Language Proficiency Test: The test of English as Foreign Language (TOEFL) is a mandatory exam for all students applying from non-English speaking countries. This is a test of your proficiency in The English language. It grades you according to your reading, writing, and listening skills.
Exams for MBBS abroad
From March 2019, an order by the Medical Council of India (MCI) has made it mandatory for all Indian students who wish to study MBBS abroad to take the National Entrance Eligibility Test (NEET). Candidates should keep in mind that the upper age limit for NEET is 25 years for general candidates and 30 years for SC/ST/OBC candidates. The NEET score is valid for three years.
Conclusion
So, if you want to reach your dreams and are looking for a place where you can make a leap of faith towards success, go for it!
Do you want to make a career decision now? Not settled yet? In case, you feel indecisive or confused, do dial us up. iDreamCareer is on a mission to reach every state and every child in order to ensure that talent is appropriately delivered into the industry.
Talk to our study abroad experts to know yourself in and out! We have helped several brilliant but confused minds with an aim to select their most-suited career choices. We have helped many students like Anjana Prasanna who was not very confident about her capabilities. Later with the help of career guidance and moral support from our study abroad experts she got an offer from King's College London! We have helped several young confused minds like Aayush and Tapan with an aim to select their most-suited career choices.
ALSO READ:
FAQs
Is it easy to study abroad?
Studying abroad is one of the most important things you can do as a student. But even though it can be an extremely positive experience, getting through your first year abroad is not the easiest thing. There can be language barriers, money issues, and differences in teaching styles that can make getting a job difficult.
When to start preparing for the entrance exams?
You should start preparing for the entrance exams for study abroad at least one and a half years before the preliminary application deadlines for the foreign university of your choice. Although students can find time even seven to eight months before the deadlines, it is best to start as early as possible.
How are the SAT and ACT different from the GRE and GMAT?
The SAT and ACT exams differ from the GRE and GMAT exams in that they apply only to undergraduate courses. The SAT and ACT are standardized tests used by international universities to determine whether a student has the basic knowledge to earn a bachelor's degree. The GRE and GMAT, on the other hand, are graduate-level exams used to admit students to graduate courses.
Which exam is best for studying abroad?
The most popular and important entrance exams for studying abroad are GRE, GMAT, IELTS, TOEFL, SAT, and ACT. Excellent performance in these international competitive exams can also get students financial assistance in the form of scholarships.

Anushree has 4+ years of experience in the career counseling industry as a Content Writer. She has also worked as a Social Media Marketing Expert for a startup and Content Quality Analyst for Publishing and E-learning Industry. She has done her Master's in Commerce and PGDM in Finance & Trade and Marketing & HR, but she is currently following her passion for writing.