Want to know how you can make it to your favorite study abroad destination? But not sure how you can afford it? Want to study in Canada? What are the available scholarships for Indian students in Canada?
We have some good news for you! There are a large number of scholarships available for students who want to study in Canada.
---
This comprehensive guide will inform you all about the popular scholarships for Indian students in Canada. But before we jump right in and know all about the scholarships in Canada for Indian students, let's first take a quick look at why study in Canada?
---
Why study in Canada?
There are a few significant pointers that Indian students who want to pursue education in Canada need to consider:
Education System and Best Universities
Education and Living Expenses
Develops skills
Earn while you learn
Abundant options and research opportunities
How to get scholarships in Canada?
In particular you can choose to look at the funding options offered by the Indian government if you are planning to study abroad. In this case, you can contact our immigration, home or foreign affairs department.
For the government and non-government scholarships, you can check the Canadian International Scholarship or the Canadian International Academic Council. Here is a step-by-step guide to get scholarship in Canada:
Start searching as soon as you apply to the program. See all available options – government, non-government, institute or university specific and more.
Contact your university / college to find out which scholarships are open to applications.
Do more research and if necessary do consult with counsellors/ international mobility experts.
Make sure to apply for scholarships before the deadline.
Your scores for the required tests to study in Canada must be competitive and good enough to avail the scholarship.
PhD scholarships for Indian students in Canada
Following are some of the Ph.D. scholarships in Canada for international students: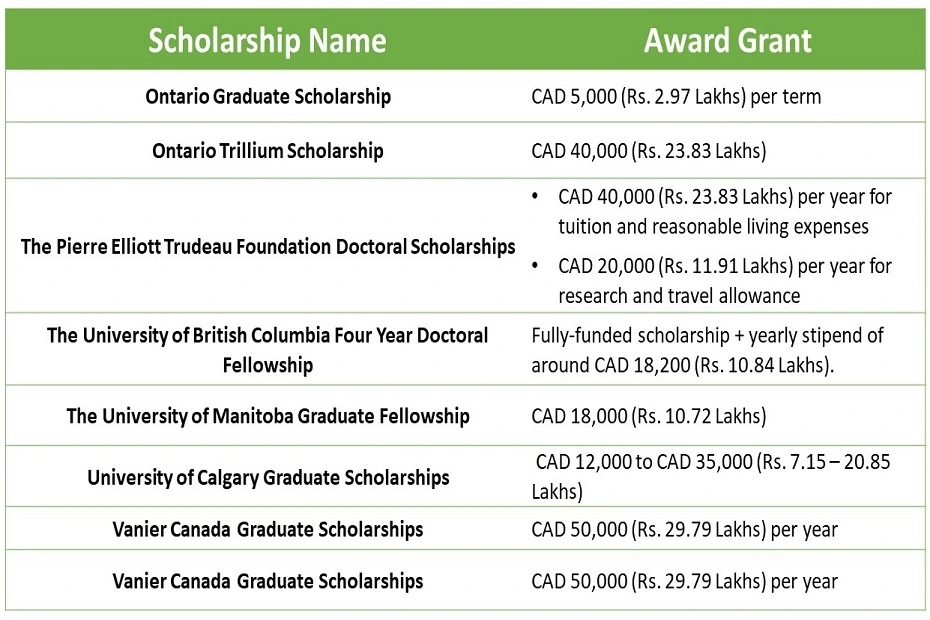 Masters scholarships for Indian students in Canada
Academic Excellence Award (Masters)
Alberta Innovates Graduate Student Scholarships (Computer & Chemistry)
CCSE Graduate scholarship
Erasmus Mundus Joint Masters scholarships
Hani Zeini Scholarship
Jared J. Davis Grant
K.C. Mahindra Scholarships for Post-Graduate Studies Abroad
Loyalist International Student Scholarships
Narotam Sekhsaria's Scholarships
OGS Scholarships for International Students – MBA
Ontario Graduate Scholarships (OGS)
Richard A. Freund International Scholarship (PG)
Ritchie-Jennings Memorial Scholarship
Humber College – International Entrance scholarships – Graduate Certificate Program
University of Waterloo Graduate Scholarship
MBA scholarships for Indian students in Canada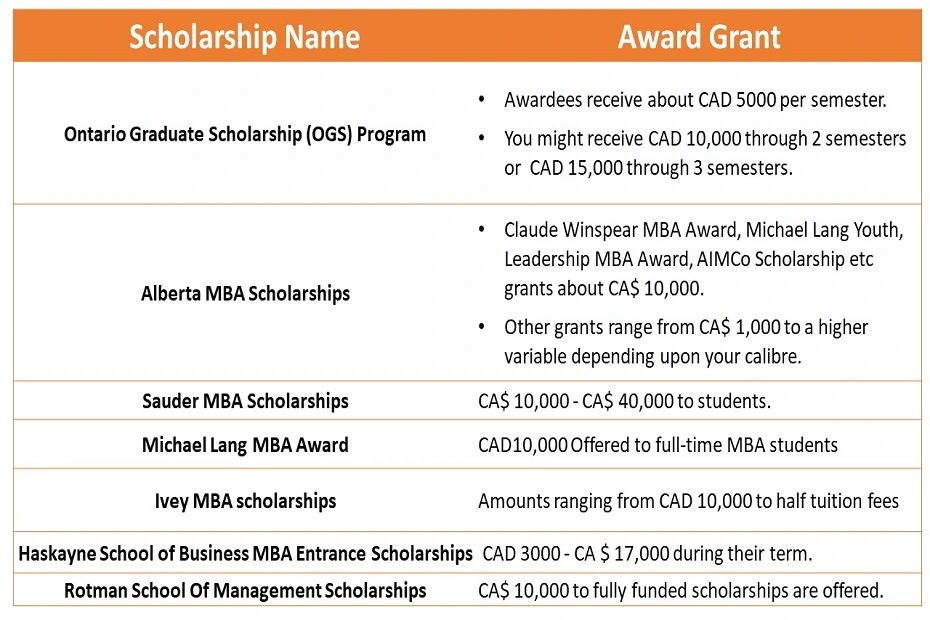 How to pursue MBBS in Canada on scholarship?
If you want to study MBBS in Canada or any other medical program, you can avail government-funded or non-government-funded scholarships. You may also choose to receive private scholarships from Canadian universities to finance your MBBS in Canada. All of these MBBS courses in Canada are offered based on merit. Here are the top MBBS scholarships for Indian students in Canada:
Canadian Rhodes Scholars Foundation Scholarship
Dr. John E Bradley Scholarship
Ontario Graduate Scholarship
Queena Esdale Memorial Scholarship (only for females)
University of Manitoba Graduate Fellowships
Vanier Canada Graduate Scholarship
Epilogue
Did you get the necessary details about the scholarships for Indian students in Canada? Application is a long and complicated process but once you understand, it will be quick. Do not make mistakes before clicking the "Verify & Lock" option because bank details are the most important thing in the process.
We hope that taking a career decision now may have become slightly easy for you! If you still feel the need to take a second round of brainstorming about what career pathway could be the right one for you, then why waste any more time? Pick up your phone and talk to iDreamCareer experts!
We are always ready to help young minds like you from 9th class, 10th class, class 11, class 12 with an aim to select their most-suited career choices.
Useful Links
Also Read:
Recent Releases
.

Anushree has 4+ years of experience in the career counseling industry as a Content Writer. She has also worked as a Social Media Marketing Expert for a startup and Content Quality Analyst for Publishing and E-learning Industry. She has done her Master's in Commerce and PGDM in Finance & Trade and Marketing & HR, but she is currently following her passion for writing.