Being one of the most popular study abroad destinations, Canadian universities offer several admission/admission options for those interested in pursuing higher education in the country. Unlike Indian universities that offer only one admission, Canadian universities offer three admissions. These intakes are short periods throughout the year when applications are accepted, processed, and organized for intake courses offered at Canadian universities. There are three fences in Canada:
Fall – Most popular among Indian applicants, fall intake begins in September
Winter – Relatively less popular, best suited for students who missed fall admission. The season starts in January.
Summer – Only a limited number of courses (some short-term courses in Canada) are available for international students to apply for in the summer. The season starts from April to May.
Applying for an intake in Canada can be a complex process which is why it is important to understand everything about intakes in Canada. Understanding these sets in Canada is very important for international students because these sets correspond to individual academic sessions. Choosing the right session will allow you to make timely changes to your standardized test results and study permit in Canada.
All set? Let's get started…
What all is covered in this post?
To make it easier for you, we have created a quick guide to everything you need to know about intakes in Canada.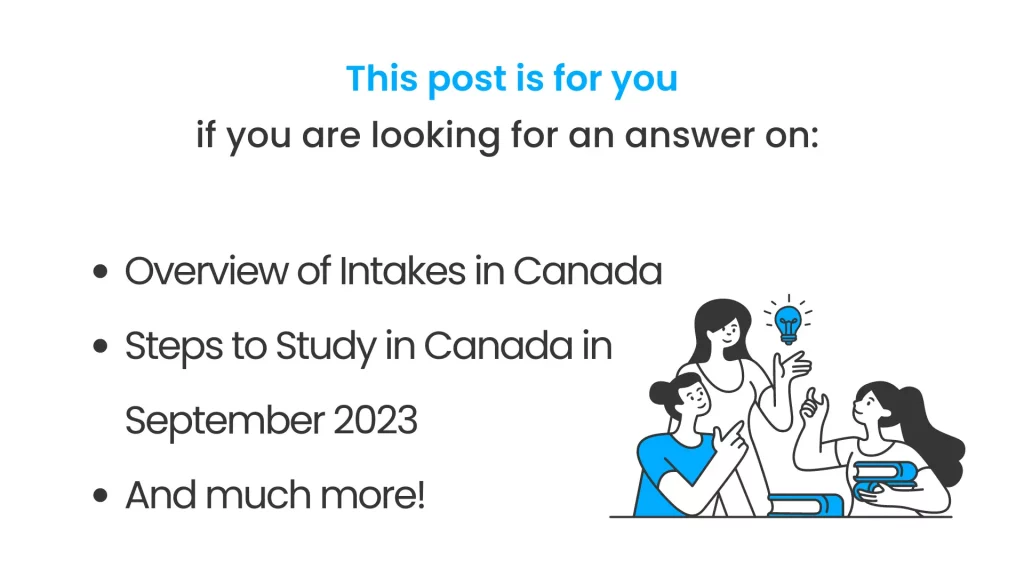 Overview of Intakes in Canada
As mentioned above, there are three main sets for which Canadian educational institutions apply: fall, winter, and summer. These sections offer detailed guidance on each intake in Canada:
Fall Intake
The fall intake typically runs from September to December, with the majority of universities beginning classes in September. This is the most popular intake season and many programs have their primary intake in the fall. This is when most new students, both domestic and international, begin their studies in Canada. A fall intake is a great option for students who have completed their high school education and are ready to start their post-secondary studies right away. The application deadline for fall intake is usually in the previous year, typically around January to April.
List of Fall intake colleges in Canada
| | |
| --- | --- |
| University | Fall Application Deadlines |
| University of Toronto | January 12 |
| Queen's University | February 1 |
| Western University | February 1 |
| McGill University | January 15 |
| University of Montreal | February 1 |
| University of Alberta | July 1 |
Winter Intake
The winter intake runs from January to April and is less common than the fall intake. Some universities may have a smaller intake in the winter for certain programs, or for students who missed the fall deadline. This intake is ideal for students who may have taken a gap year or have been working for some time before deciding to pursue their post-secondary education. The application deadline for the winter intake is usually in the previous December.
List of Winter intake colleges in Canada
| | |
| --- | --- |
| University | Winter Application Deadlines |
| The University of British Columbia | January 15 |
| University of Alberta | November 1 |
| University of Montreal | September 1 |
| University of Toronto | January 12 |
Summer Intake
The spring intake or summer intake runs from May to August and is the least common intake season. Some universities may have a small summer intake for specific programs, such as certain language or vocational programs. This intake is perfect for students who are looking to complete their studies quickly or who may have scheduling conflicts with the fall and winter intakes. The application deadline for the summer intake is usually in the previous April.
List of Summer/May intake colleges in Canada
| | |
| --- | --- |
| University | Spring Application Deadlines |
| McMaster University | April 1 |
| The University of British Columbia | January 15 |
| University of Alberta | March 1 |
| University of Montreal | February 1 |
| University of Toronto | January 12 |
Bonus: 6 Steps to Study in Canada in September 2023
The first thing you'll need to get a bachelor's or master's degree in Canada is an action plan. Here is an application schedule that will give you an idea to study in Canada if you are planning to go about what to do and what month to do it!!!
Step 1: January 2023
Start at the beginning and by August make a list of 8-12 universities to which you will apply. Visit the university websites and note the application requirements, application deadlines, etc.
Before September, check out the options for bank loans and scholarships to support your studies.
Start by downloading admission brochures from university websites. Most brochures are published more than a year in advance.
Step 2: Pass the Exams: January 2023 to March 2023
Prepare for required standardized tests such as GMAT, GRE, SAT, TOEFL, or IELTS based on course and university.
In June-July or three months before the exam date, register for the GMAT/GRE.
Register for TOEFL/IELTS at least one month before the test date.
Take the required tests around September and schedule some spare time in case you need to retake the test.
Step 3: Application period: February 2023 to March 2023
Make a shortlist of universities and prepare to apply. Think carefully about what makes you unique as a job seeker and outline your strengths and self-worth.
Contact your professors and immediate supervisors to obtain the required 2-3 letters of recommendation. This should be done before the application deadline which is at least 1 month.
Start writing your SOP and essay.
Apply before the deadline!
Step 4: What's Next: April 2023 to May 2023
Don't put off responding to college emails. Besides, there will be quite a few!
Appear for face-to-face/video interviews. They are scheduled from around January to March.
Once you receive your acceptance letters, make your decision as soon as possible.
Depending on the deadline, notify the university of your decision.
You will need to pay a non-refundable deposit to confirm your appointment.
Step 5: Visa and Money Matters: May 2023 to July 2023
Find and start applying for external scholarships in Canada (if applicable).
Apply for a student loan after you receive your acceptance letter.
Collect the documents for the student visa. Check the visa prerequisites.
You need to check and apply for Canada study visa for September 2023
Apply for a student visa on time. Remember the visa processing time!
Step 6: Prepare to fly: July 2023 to August 2023
Book airline tickets.
Arrange for an international debit/credit card.
Collect all documents and their photocopies to take with you.
Check the checklist before you leave!
Epilogue
Applicants should carefully choose the intake for admission to a foreign university. The entire application process will depend on the admission chosen. Those who intend to study in Canada next year should check the detailed information on admissions in Canada in 2023 and be aware of the information published by the universities.
Are you struggling to figure out your dream career? Look no further and connect with iDreamCareer, a premier career counseling platform. Our expert team of advisors will help you explore your options and find the path that is right for you. With personalized guidance and support, iDreamCareer makes it easy to turn your passions into a rewarding career.
We have helped many students like Anjana Prasanna who was not very confident about her capabilities. Later with the help of career guidance and moral support from our study abroad experts, she got an offer from King's College London! We have also helped several brilliant but confused minds like Aayush, and Tapan to select their most-suited career choices.
Suggested Post: Study Abroad Intakes: Key Factors to Consider for a Life-Changing
Intakes in Canada: FAQs
What is fall intake in Canada?
Fall intake in Canada refers to the period of time when universities and colleges begin their academic year and admit new students. The fall intake typically runs from September to December, with the majority of universities and colleges beginning classes in September.
How many intakes in Canada?
There are 3 intakes in Canada – Fall, Winter & Summer/Spring Intakes. It is important to note that each university and college has different application deadlines and admission requirements for different intake. So, it is recommended to check the specific requirements and deadlines for the universities and colleges you are interested in.
Does the tuition fee vary depending on recruitment in Canada?
No, the tuition fees remain almost the same for the same program in different terms at around USD 60,000 (INR 45 lakh). However, the cost of postgraduate programs in Canada varies greatly depending on the type of course.
How to choose the best consumption in Canada?
Although the admissions process is short, the steps involved in applying can be quite tedious. You need to start the process well in advance to apply by the specified admission deadline. Many candidates may find it confusing to find the most suitable scope for admission to a Canadian university.

Anushree has 4+ years of experience in the career counseling industry as a Content Writer. She has also worked as a Social Media Marketing Expert for a startup and Content Quality Analyst for Publishing and E-learning Industry. She has done her Master's in Commerce and PGDM in Finance & Trade and Marketing & HR, but she is currently following her passion for writing.