Figuring out how to study abroad can be a long and time-consuming process. From choosing courses and universities to booking flights and finding accommodation, there are a thousand things you need to keep in mind. But don't worry, we are right here to help you!
Ever since the time, foreign countries realized the value of opening their gates to students across the globe, international education has increased exponentially. Starting as an option only for the rich class and students with exceptional academics, it has now spread evenly across classes to a limit that we can say 1 out of every 10 students in cities is looking for study options abroad. Though, with more options comes the challenging task of selecting the right option.
What You need…

…carefully assess your strengths & weaknesses and then consult with professional counselors, parents, or teachers. Although studying abroad will be financially draining, there are many scholarships available for students interested to study abroad.
All set… Come along to know more…
What all is covered in this post?
To make it easier for you, we have created a quick guide to everything you need to know about how to study abroad.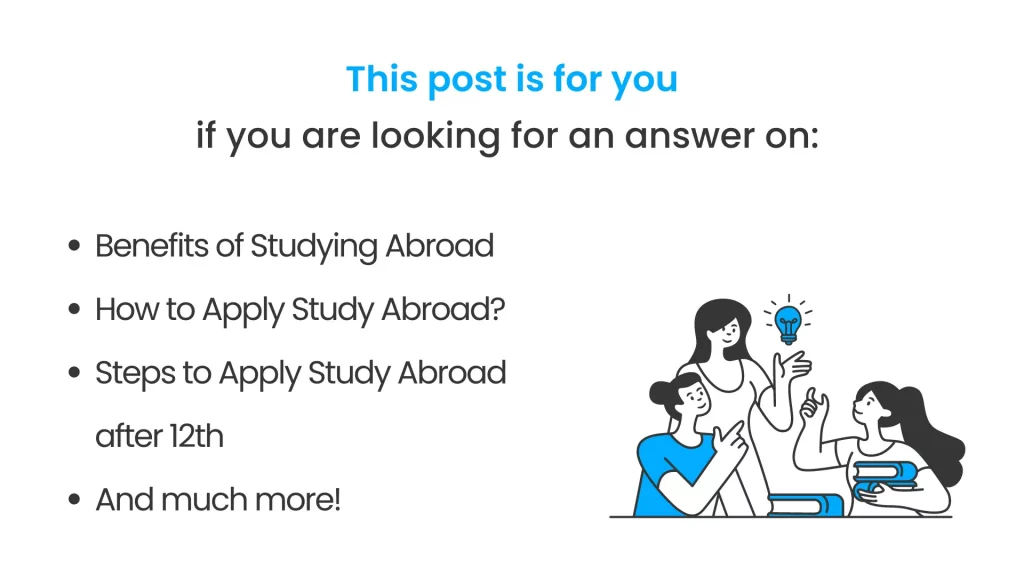 Benefits of Studying Abroad
If you want to pursue your education abroad, make this post your first stepping stone to glory. Although there are challenges, the rewards are overwhelmingly outstanding when you choose to study abroad. There are many more apart from these simple & popular rewards:
Your perspective widens
Cross-cultural environment
Self-reliance
A global outlook
Advanced infrastructure and pedagogical (teaching) methods
Universal work opportunities
Higher rates of compensation (salary)
Did You Know?

Every year, about 8 lakh students from India go to foreign countries for higher education and spend about $28 billion; about 1% of the country's GDP is abroad.
Now we will answer the most searched questions…
How to apply to Study Abroad?
The university application process varies from country to country, and there is no perfect formula for getting into your desired university. However, there are some general rules you should follow and some tips that can help you gain admission.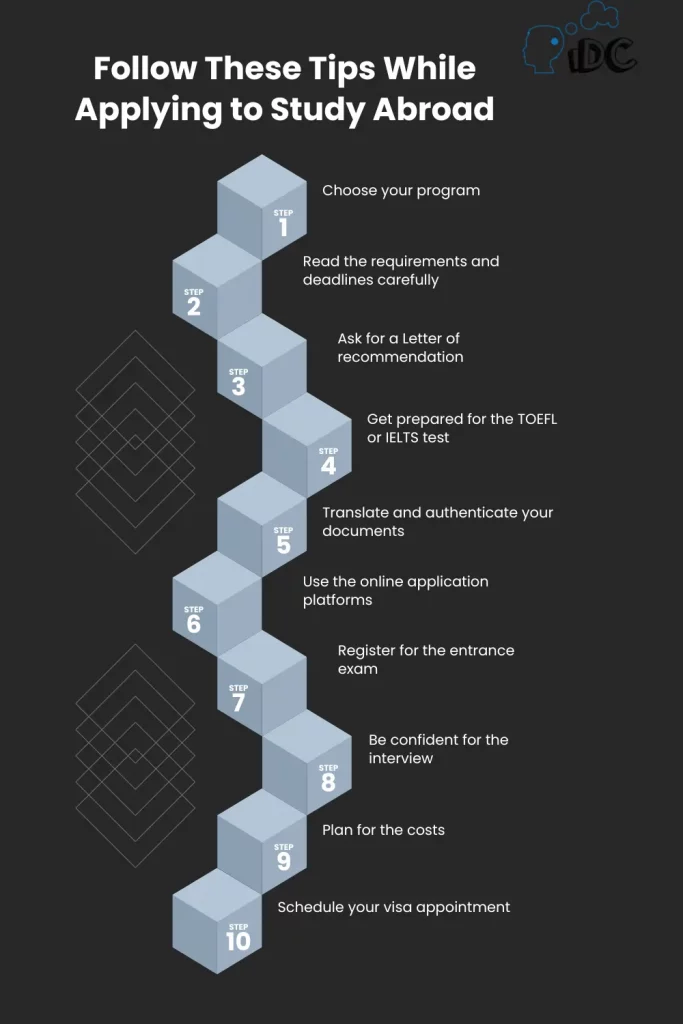 How to Study Abroad for Free?
Here are some promising steps you can take to study abroad for free:
Find available study abroad programs
Apply for a scholarship to study abroad
Search for grants to study abroad
Consider study abroad loans
Start fundraising for study abroad
Find a summer job
How to Study Abroad after 12th class?
Following are some of the steps to study abroad after the 12th
Where to study abroad
Moving to another country or place is a big decision, and it comes with some things to consider, such as cultural differences, food, weather, living costs, and future prospects. It is worth researching well and shortlisting based on the availability of courses and universities.
Which university to choose
A preferred list of institutions should be prepared with a clear study of what to study in that particular university, delving into the available information.
What course to apply
The selection of the course of interest and the availability of the system at that particular university/location should be considered. List all the information and make a preference list based on your interest, availability, and other considerations like affordability, prospects, etc. Some universities or courses require experience from you before applying and this should also be considered before choosing a course.
Passing multiple exams/tests required to apply to study abroad
Prepare for required tests/exams TOEFL/IELTS/PTE, SAT/ACT, etc. To meet the required criteria, you need to pass these exams and score well to be considered a strong potential candidate.
Follow the deadlines strictly and apply as early as possible
You need to submit an application to universities on time – through a single portal or directly to the university. All required documents must be ready and available should the university require them to process your application smoothly. Required documents include:
Your academic references
Mark sheets
Score reports
Letters of Recommendation (LOR)
Certificate of financial ability
Applied essays
Statement of Purpose (SOP)
Visa and other travel documents must be submitted after admission to the university
Visa applications are submitted directly by students after receiving a confirmation or letter of acceptance from the university. It depends on the country-specific procedure and whether they offer an online/offline application process. Submit your application with all required documents such as a passport, letter of acceptance, proof of funds, academic papers, language test records, etc.
How to get an education loan for abroad studies?
Steps to apply for a study abroad loan: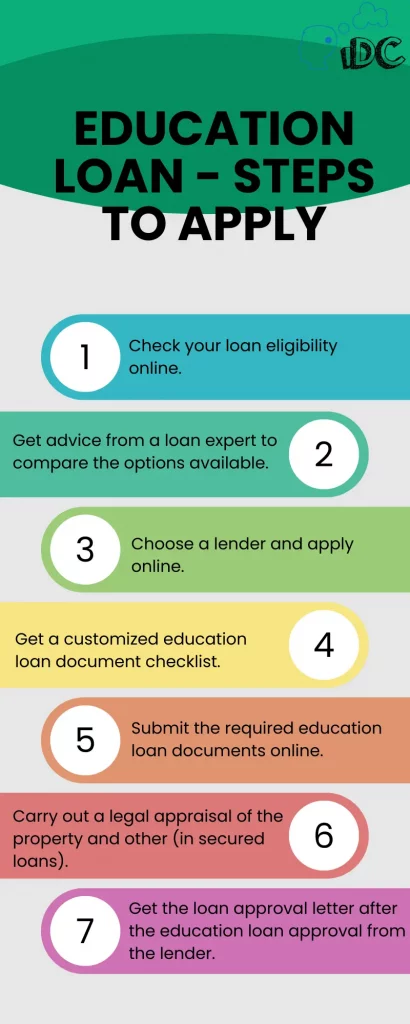 How to study master's in abroad?
Most people would agree that pursuing a master's abroad is a good idea. But how do you decide which Master's degree you should apply for? And in what ways you should base your decision? Following are some of the basic criteria you should keep in mind: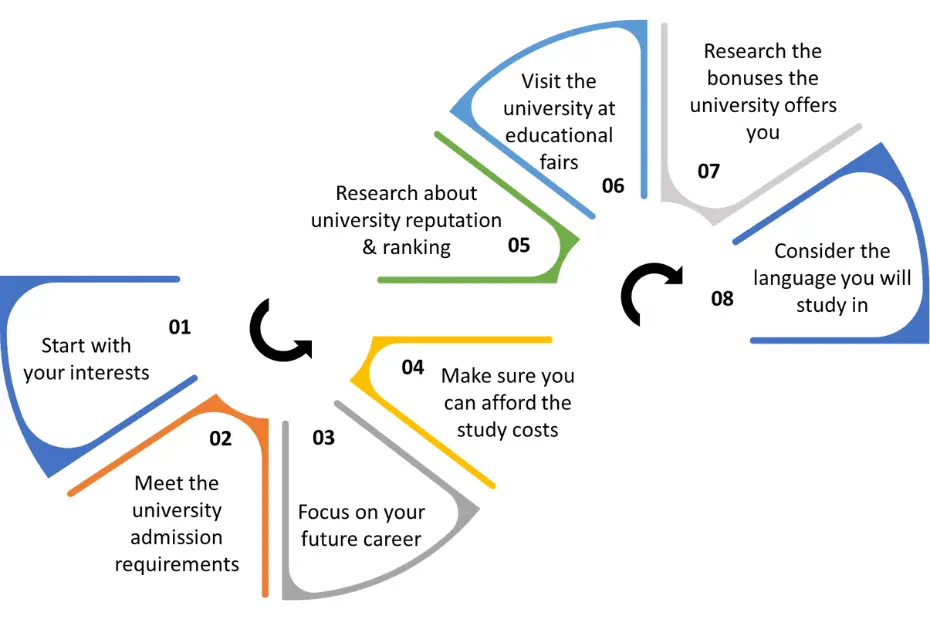 How to apply for study abroad scholarship?
Here's how to apply for scholarships for studying abroad:
Search
The first step to getting a scholarship to study abroad is to look for one! Contact the universities you're applying to for country-specific scholarships, or see if there are any subject-specific scholarships available straight from the university.
Qualify
Once you've identified a scholarship, make sure you're eligible for it. It is pointless to apply for a scholarship unless you match the criteria, so make sure you verify and double-check these first. Any time spent applying for a scholarship for which you are ineligible is time squandered.
Find out
When you find a scholarship for which you are eligible, it is also essential to begin studying the scholarship and its source. Learn what they are looking for, and work on those requirements in your essays or application before sending it out.
Demonstrate yourself
It is now the time to put pen to paper and fill out the application form. This is when all of your prior research will come into the picture, use it as your checklist and make sure you mark off everything the scholarship provider is looking for, and back it up with proof.
Continue
It is uncertain that you will be awarded the first scholarship you apply for. As a result, applying for more than one at a time is an excellent idea. Don't pin all of your expectations on the big scholarships, which are quite competitive. It's also important to keep in mind that there are only a few scholarships that will cover both your tuition and living expenses; as a result, you're better off applying for a variety of minor scholarships to boost your chances of receiving some financial assistance for your study abroad journey.
Conclusion
So, if you want to reach your dreams and are looking for a place where you can make a leap of faith towards success, go for it!
Do you want to make a career decision now? Not settled yet? In case, you feel indecisive or confused, do dial us up. iDreamCareer is on a mission to reach every state and every child in order to ensure that talent is appropriately delivered into the industry.Talk to our study abroad experts to know yourself in and out! We have helped several brilliant but confused minds with an aim to select their most-suited career choices. We have helped many students like Anjana Prasanna who was not very confident about her capabilities. Later with the help of career guidance and moral support from our study abroad experts she got an offer from King's College London! We have helped several young confused minds like Aayush and Tapan with an aim to select their most-suited career choices.
Also Read:
FAQs
How to study MBA abroad for free?
There are many countries around the world where students can study abroad for free or at a very affordable cost. You just need to know where to look. Below you'll find a selection of countries that offer low-cost or free tuition, with details on tuition entitlements and the current (low) university fees you can expect.
How to go abroad for studies from India?
If you are an Indian student and wish to study abroad, you first need to select the course you wish to pursue and then consider the universities where the course is available. Your choice of university may also be influenced by its location and program availability. After considering all the factors, you should apply to all the institutes you have shortlisted and wait for confirmation. Once your acceptance is officially confirmed, you can start applying for a student visa that will allow you to travel and stay in a foreign country for educational purposes.
Is it easy to study abroad?
Studying abroad is one of the most important things you can do as a student. But even though it can be an extremely positive experience, getting through your first year abroad is not the easiest thing. There can be language barriers, money issues, and differences in teaching styles that can make getting a job difficult.

Anushree has 5 years of experience in the career counseling industry as a Senior Content Writer. She has also worked as a Social Media Marketing Expert for a startup and Content Quality Analyst for the Publishing and E-learning Industry. She has done her Master's in Commerce and PGDM in Finance & Trade and Marketing & HR, but she is currently following her passion for writing.