Pursuing Masters abroad and from an internationally recognized institution has great benefits when combined with international work experience. In-depth study, group projects, and independent research are the key focus points for Masters degree courses.
But there are many different types of Masters degrees out there. Finding the right Masters degree program abroad can be difficult? To make sure you apply for the right one, you need to know – How to select the right degree? How to select right university? And a lot more!
Stay connected and get all your questions answered! Fulfill your dream of studying abroad!
Why study Masters abroad?
Feel the positive side of cultural shock
Be independent
Discover new hobbies and interests
Get a chance to learn a new language
Opportunity to join an international student network
Provides opportunities to enjoy student benefits
Helps in exploring new career opportunities
A more attractive degree duration and structure?
Top 10 degree for Master abroad
Here are some of the most well-known master programs followed by students at universities around the world:
Masters in Management & Leadership

From Germany, UK, France.

Masters in Computer Science

From USA, Netherlands, Finland.

Masters in Business Administration

From Australia, Denmark, Spain.

Masters in International Relations

From Germany, Belgium, France, USA.

Masters in Economics

From Canada, UK, Netherlands, Lithuania.

Masters in Psychology

From USA, Norway, Netherlands, Ireland.

Masters in International Business

From UK, Germany, China, Italy.

Masters in Biology

From Canada, Norway, Sweden, UK.

Masters in Engineering & Technology

From Turkey, Germany, Russia, Czech Republic.

Masters in Health Sciences

From Canada, UK, Sweden, Spain.
How to select the right Master's Degree Abroad?
Most people would agree that pursuing a masters abroad is a good idea. But how do you decide which Master's degree you should apply for? And in what ways you should base your decision? Following are some of the basic criteria you should keep in mind: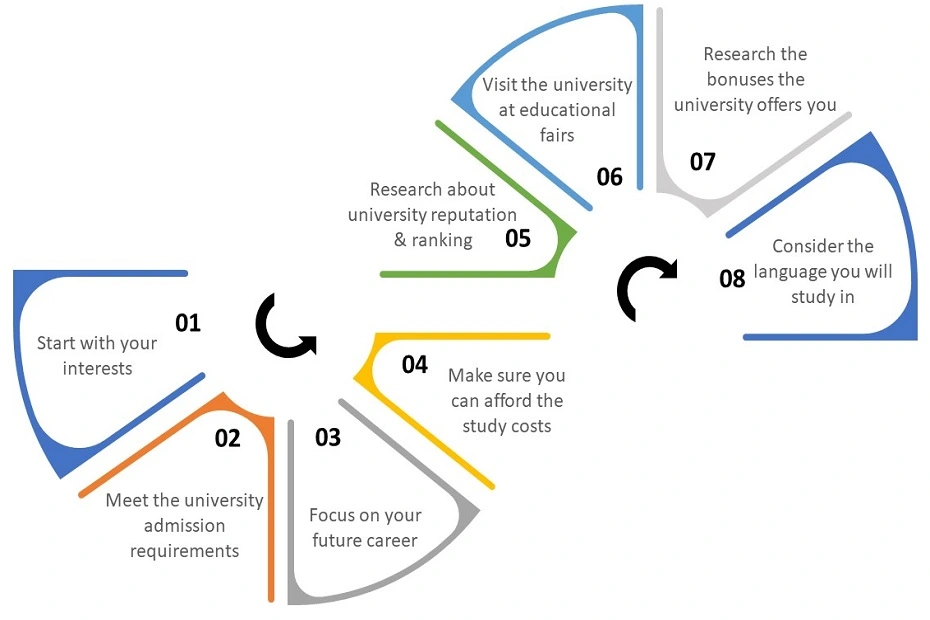 Top 5 Best Countries to Study Masters Abroad
The best country for master's programs is as follows. You can check out the top universities for MS and select the suitable one.
Countries
Universities
United States (USA)
Massachusetts Institute of Technology (MIT)
Stanford University
Carnegie Mellon University (CMU)
Georgia Institute of Technology
University of California – Berkeley
United Kingdom (UK)
University of Oxford
University of Cambridge
University of Edinburgh
Imperial College London
Australia
University of Melbourne
University of New South Wales, Sydney
Australian National University
University of Sydney
Canada
University of Toronto
The University of British Columbia, Vancouver
University of Waterloo
Western University
Germany
Technical University of Munich
Ludwig-Maximilians-Universitat München
Ruprecht-Karls-Universitaet Heidelberg
Karisruhe Institute of Technology
Tips for selecting a university for Masters abroad
Choosing the right university for your Masters abroad is not as easy as you think and can take longer than you expected.
Even if you have a vision or know exactly what you want to do in the future, there are many things to consider before deciding on the right university. Following are some of the key suggestions that will help you narrow down your list of the university for masters abroad:
Choose a university that offers subject of your interest.
Select a top university-based on rankings provided by QS World University Rankings or by The Times Higher Education World University Rankings
Find a university that matches your budget
Don't forget to apply to a university according to your language needs or the language you're comfortable in.
You must have a university that recognizes your prior skills
Pick a university in a big or smaller city so that you may have the following benefits:

Travel without any inconveniences

Easy access to banks, offices, and the city center

Enjoy many cultural activities
It's a wrap!
Studying abroad comes with a lot of opportunities to study and diversify your knowledge system. Doing a Masters abroad will help you to gain a deeper and richer understanding of education, especially in life. Do you want to pursue your master's from one of the top universities abroad? But finding it difficult?
Don't Worry! Do reach out to us. iDreamCareer is on a mission to reach every state and every child to ensure that talent is appropriately delivered into the industry. We try to help young confused minds from 9th class, 10th class, class 11, class 12 with an aim to select their most-suited career choices.
Also, read

Anushree has 4+ years of experience in the career counseling industry as a Senior Content Writer. She has also worked as a Social Media Marketing Expert for a startup and Content Quality Analyst for Publishing and E-learning Industry. She has done her Master's in Commerce and PGDM in Finance & Trade and Marketing & HR, but she is currently following her passion for writing.