Canada: Keep Exploring! This Canada tourism department's motto holds true for every student. Looking for studying PG diploma courses in Canada but not sure which one to choose? Yes? No doubt this is a massively debatable topic and you'll find multiple answers everywhere. To cut down your wide list of PG diploma courses in Canada and to make your choice easier we have put together a number of lists according to common questions that students have. Please have a look.
You must explore all the study destinations and find the one that is a blend of the best academic quality, good employment opportunities, feasible education & living cost, and a wonderful living experience. Canada has proved itself to be worthy of being counted among the best study destinations around the globe.
Do you know?

Canada has seen exponential growth in the number of Indian students year after year. According to reports, more than 1.3 lakh study permits were issued to Indian students in 2019 (about 34.5% of the total). Come along to know more…
What all is covered in this post?
To make it easier for you, we have created a quick guide to everything you need to know about PG diploma courses in Canada.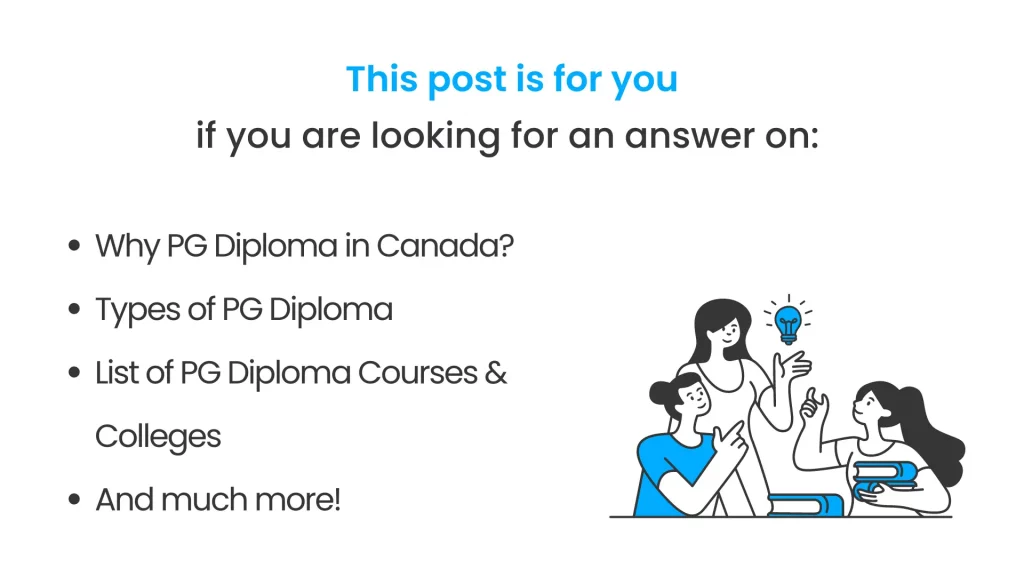 Why study PG diploma in Canada?
Before discussing the best PG diploma courses in Canada, you must understand why Canada is the most preferred study abroad destination:
It can be completed in relatively less time
Less expensive than diploma courses
Flexible class times as most students are working professionals
Learn specific skills needed for the job market
Offers internships or internships that give you more practical knowledge.
Opens opportunities for internships and summer programs abroad.
Best suited for those with 0-2 years of work experience.
Types of PG diploma in Canada
Following are the top types of PG diploma courses offered in Canada: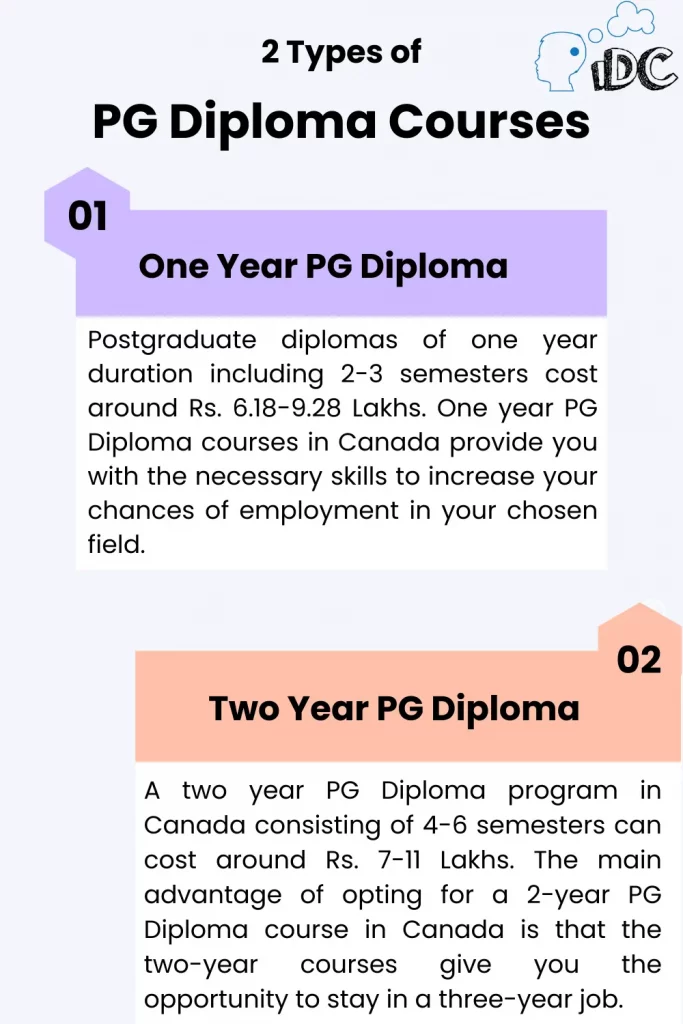 List of top PG diploma courses in Canada
Some of the most popular PG Diploma courses in Canada among international students are:
Accounting: A PG diploma in accounting costs around Rs. 10 lakhs and the entry requirements are less stringent than MAcc in Canada.
Business Analytics: An interdisciplinary program focused on technology and business. It costs around Rs. 8 lakhs or more. This is much less than the cost of doing a Master's in Business Analytics in Canada.
Finance: A degree in finance covers the basics of business and financial planning. The program costs around Rs. 13 lakhs.
Global Business Management: Global/International Business Management courses in some Canadian colleges cost around Rs. 9 lakhs and are exclusively available to international students.
Human Resource Management: Unlike an MBA in Canada (HR specialization), a PG Diploma in HRM trains you to handle resources and create a symbiotic work environment.
Marketing: PG Diploma in Marketing focuses on market research skills and offers career opportunities in the corporate world. The program costs around Rs. 9 lakhs.
Operations Management: Available as an annual course costing around 10 lakhs and above. The program focuses on the techno-managerial requirements of production and the service sector.
Project Management: There is a wide range of project management courses available in Canada. A PG Diploma in Project Management in Canada costs around Rs. 10 lakhs.
Supply Chain Management: Understanding of production flow can be learned through PG Diploma in SCM. The program costs around Rs. 9 lakhs.
Popular PG diploma colleges in Canada
Take a look at the popular PG diploma colleges in Canada:
Algonquin College
Centennial College
Confederation College
Durham College
Dawson College
Fanshawe College
Fleming College
George Brown College
Humber College
Sheridan College
Sault College
Seneca College (Newnham Campus)
Mohawk College
North Island College (Comox Valley)
Luther College
St. Lawrence College
Niagara College
Nova Scotia Community College
Lambton College
St. Clair College
2-year PG diploma courses in Canada for international students
Canadian degree programs are valued and recognized around the world. Diploma in Business, Engineering, Management, etc. international students are most preferred. A list of Diploma Courses in Canada for International Students is shown below:
PG Diploma in
Finance
Marketing
Human Resources
Business Analytics
Supply Chain Management
Accounting
Data Science
2 years PG diploma courses in Canada for computer science
Want to study PG Diploma Courses in Canada in Computer Science? Check out the best 2-year PG diploma courses in Computer Science:
PG Diploma in
Electromechanical Engineering Technology – Automation and Robotics
Construction Project Management
Web Development
Software Engineering Technician
Cyber Security
Computer Systems Technology – Networking
Network Security
Web Development
SOP for PG diploma in Canada
The Statement of Purpose (SOP) for the PG Diploma in Canada, written between 500 and 800 words, should demonstrate that students have graduate-level subject knowledge experience and complete the course in a short period of time. The SOP for PG Diploma in Canada is an essay that explains the applicant's life experience, career, and motivation to the admissions committee.
The Statement of Purpose for PG Diploma in Canada acts as a personal representative of the international student and takes care of the points that need to be emphasized to support the application for admission.
It's a Wrap!
There you go! You have the info you wanted. Do you want to make a career decision now? Not settled yet? In case, you feel indecisive or confused, do dial us up.
iDreamCareer is on a mission to reach every state and every child in order to ensure that talent is appropriately delivered into the industry.
Talk to our study abroad experts to know yourself in and out! We have helped several brilliant but confused minds with an aim to select their most-suited career choices. We have helped many students like Anjana Prasanna who was not very confident about her capabilities. Later with the help of career guidance and moral support from our study abroad experts she got an offer from King's College London! We have also helped several brilliant but confused minds like Aayush, Tapan with an aim to select their most-suited career choices.
Also Read:
FAQs
What is the 1-year PG diploma courses in Canada fees?
Postgraduate diplomas of one-year duration including 2-3 semesters cost around Rs. 6.18-9.28 Lakhs.
What is 2 years PG diploma courses in Canada fees?
A two-year PG Diploma program in Canada consisting of 4-6 semesters can cost around Rs. 7-11 Lakhs.

Is Canada the best place to do a 2-year PG degree?
Yes, Canada is definitely one of the best destinations to pursue a 2-year PG course with a diploma. It offers various prestigious institutions that are universally ranked and have the best programs for students.

Can a student work in Canada after completing a PG degree?
Canada is known for being one of the best countries that offer fantastic job opportunities for students who complete PG diploma courses.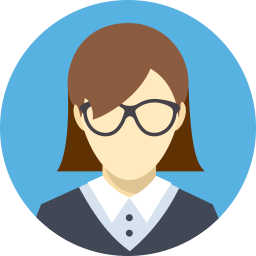 Anushree has 5+ years of experience and currently she is associated with idreamcareer.com as a Content Writer. She has also worked as a Social Media Marketing Expert for a startup and Content Quality Analyst for Publishing and E-learning Industry. She has done her Masters in Commerce and PGDM in Finance & Trade and Marketing & HR, but she is currently following her passion towards writing.