Canada: Keep Exploring! This Canada tourism department's motto holds true for every student looking forward to pursuing an education abroad. Looking for studying in Canada but worried about PGWP? Need info about PGWP Canada eligibility?
You must explore all the study destinations and find the one that is a blend of the best academic quality, good employment opportunities, feasible education & living cost, and a wonderful living experience. Canada has proved itself to be worthy of being counted among the best study destinations around the globe.
What to know?

The Canadian federal government has announced that as of September 1, 2023, international students studying at non-subsidized Quebec private institutions will no longer be eligible for a Post-Graduate Work Permit (PGWP).
The Quebec government has asked Immigration, Refugees and Citizenship Canada (IRCC) to allow only graduates of subsidized public and private institutions to apply for the PGWP. And according to Sean Fraser, Minister of Immigration, Refugees and Citizenship Canada "The changes requested by Quebec to the right to obtain a work permit after graduation will improve the integrity of the program, bring Quebec's private educational institutions more in line with educational institutions in other provinces and protect our well-deserved reputation as a destination of choice for international students".
Come along to know more…
What all is covered in this post?
To make it easier for you, we have created a quick guide to everything you need to know about PGWP Canada.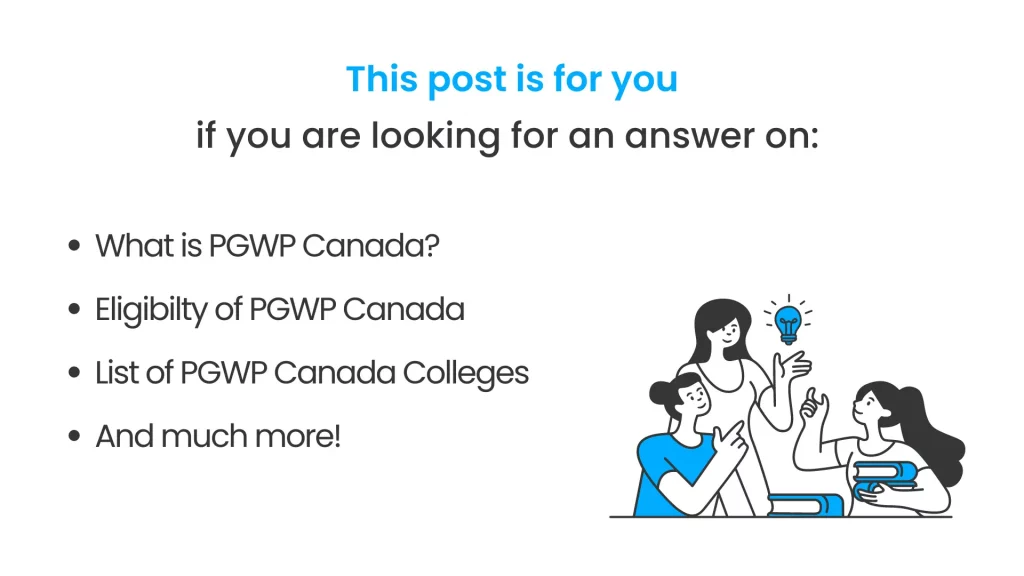 What is PGWP Canada meaning?
Post-graduation work permits, available to Canadian graduates of participating post-secondary institutions, allow students to gain valuable work experience in Canada. Graduates of eligible Canadian educational institutions are eligible to apply for the Post-Graduate Work Permit Program (PGWPP), which offers them the opportunity to obtain an open work permit to gain valuable work experience in Canada.
Through the PGWPP, Canadian graduates can obtain permanent residency in Canada through the Canadian Experience Class under Express Entry by acquiring experience in a National Occupational Classification (NOC) Skill Type 0 or Skill Level A or B. A post-degree work permit can be valid for a period of eight months to three years. If the applicant studies in Canada for a longer period of time, the PGWP will not be granted.
PGWP Canada eligibility
You do not need a job offer to apply for a PGWP in Canada, but you must meet certain conditions. To be eligible for a post-graduation work permit in Canada, students must have:
You need to apply within 180 days of receiving the degree or diploma, transcript, or official letter from the college or institute
Graduated from a Designated Learning Institution (DLI) which includes:

a public post-secondary institution, which may include a college or university, a trade or technical institution, or a CEGEP (in Quebec).
a private higher education institution in Quebec that operates similarly to public institutions in Quebec.
a private/public secondary or higher education institution in Quebec with a qualification program of 900 hours or more leading to a Diploma in Vocational Studies (DVS) or an Attestation of Vocational Specialization (AVS) that may be less than 900 hours combined with a DVS.
a Canadian private institution authorized to award associate, bachelor's, master's, or doctorate degrees under provincial law.
You have completed an academic, professional or vocational training program at a relevant educational institution lasting at least 8 months leading to a degree, diploma, or certificate.
Maintained full-time student status while studying in Canada during each academic session of the program.
Have received a transcript and official letter from DLI confirming that you have met the requirements of the program.
PGWP Canada duration
Depending on the length of your study programme, the duration of the PGWP can range from eight months to three years. The permit will be valid:
for the same duration as your study program if it is longer than eight months and shorter than two years, or
for three years if the study program was at least two years.
ALSO READ: Why Study in Canada?
How to get PGWP in Canada?
Applications for PGWP in Canada can be submitted online as well as offline.
Take a look at the general steps to follow: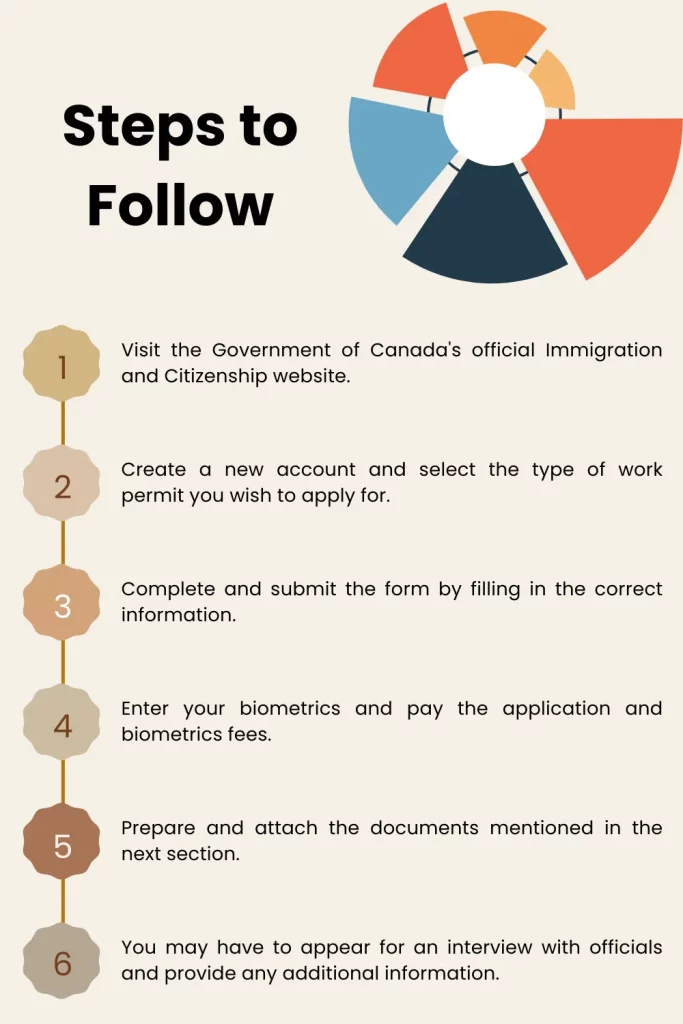 Once your work permit is approved, you will receive a letter that will allow you to work in Canada. If you are outside of Canada, when you apply for a work permit, you will need to show this letter to officials in order to receive your work permit.
Points to remember
Below are the application details for PGWP Canada:
A fee of CAD 255 is charged (CAD 155 is the base fee and CAD 100 is the work permit holder fee)
If you wish to renew your student status and PGWP, you will need to pay CAD 605
The online application processing period is 163 days
The period of consideration of documents in paper form is 146 days
Documents required to apply PGWP Canada
Now that you know how to apply for PGWP in Canada, let's have a look at a list of documents that are required for applying PGWP in Canada.
Identity proof – valid passport or travel document
Two recent photographs
Proof of employment
If you are planning to Quebec, copy of Certificat d'acceptation du Québec (CAQ) from the Ministère de l'Immigration, de la Diversité et de l'Inclusion (MIDI).
Letter confirming completion of the program of study
Applicants whose DLI issues transcripts may provide them if they are available. Alternatively, the applicant may provide a copy of their transcript, which can be found on the DLI website.
Explore in-depth details about studying in Canada
PGWP Canada colleges list
Below is a summary of colleges and universities that offer PGWP-eligible programs in several provinces:
Alberta
University of Alberta
University of Calgary
University of Lethbridge
British Columbia
Capilano University
Coast Mountain College
Coquitlam College
Simon Fraser University (SFU)
University of British Columbia (UBC)
Vancouver Community College
Manitoba
University of Manitoba
University of Winnipeg
New Brunswick
University of New Brunswick
Ontario
McMaster University
Niagara University
Northeastern University
Queen's University
Ryerson University
Sheridan College
Note: For a complete list of Canadian DLIs that offer PGWP-eligible programmes, refer to the link here.
Epilogue
There you go! You have the info you wanted. Do you want to make a career decision now? Not settled yet? In case, you feel indecisive or confused, do dial us up.
iDreamCareer is on a mission to reach every state and every child in order to ensure that talent is appropriately delivered into the industry.
Talk to our study abroad experts who have 20+ years of experience to know yourself in and out! We have helped several brilliant but confused minds with an aim to select their most-suited career choices. Hear the success story of Aayush who got an offer from the top 3 universities and is now studying at the University in Ottawa in Canada after getting career guidance from our industry experts!
Also Read:
FAQs
Can I renew my PGWP in Canada?
The post-graduation work permit is a one-time opportunity for international graduates and no one can apply for an extension. A PGWP usually lasts as long as the owner's training program. For example, if someone surrendered an annual license, they receive a PGWP for one year. The maximum duration of the PGWP is three years.
How long does it take to get a PGWP?
Once you apply for a PGWP in Canada, it will take 80 to 180 days to be processed. During this waiting period, you will be allowed to work in Canada, but only if you applied for a PGWP before your student permit expires.
Can a PGWP be rejected?
Yes, a PGWP application can be rejected for many reasons such as unauthorized work, lack of education certificate, study break, expiry of a study permit, a study in schools that do not meet PGWP requirements, etc.
Can I bring my family to Canada on a work permit?
If you are a post-graduate work permit holder, your spouse and/or civil partner may be eligible to apply for an open work permit under exemption C41 for spouses and civil partners of skilled workers.
How can PGWP help immigrate to Canada?
A post-graduation work permit is a great way to gain work experience in Canada. This adds extra points to your resume and earns you extra points when applying for permanent residency. If your goal is to settle in Canada, then PGWP can bring you closer to realizing your dream and getting a good job. Some immigration programs have options for candidates with work experience in Canada, such as Canadian Experience Class, Federal Skilled Worker Program, Provincial Nominee Programs, Quebec Immigration Options.

Anushree has 5 years of experience in the career counseling industry as a Senior Content Writer. She has also worked as a Social Media Marketing Expert for a startup and Content Quality Analyst for the Publishing and E-learning Industry. She has done her Master's in Commerce and PGDM in Finance & Trade and Marketing & HR, but she is currently following her passion for writing.