Planning to improve your managerial and leadership skills? Want to get global exposure and practical experience in business administration? Dreaming of pursuing MBA in the UK? Looking for a definite list of the best MBA universities in the UK? Look no further. You may find a ton of thought-provoking advice for an MBA in the UK here & there, but you will need to know these nondescript details too. Most sources will miss these as too common.
The UK MBA program is designed to equip students with knowledge that can be applied in real-world organizations and business situations. MBA universities in the UK provide students with a wide range of skills to develop a deeper understanding and knowledge of management. More than 100 universities in the UK offer MBA programs in various specializations such as economics, healthcare management, international business, etc. The investment of pursuing an MBA at the best business schools in the UK may be high, but the salary expectations in return are also higher.
Do you know?

One of the most exciting things about the UK education system is that it allows international students to mix and match courses and specializations from different fields.
The amount of information may be huge at first, but by organizing everything, you will be able to deal with the whole process easier. To make it easier for you, we have created a quick guide to everything you need to know about MBA universities in the UK.
So, without taking much time let's dive into the info you wanted…
What all is covered in this post?
To make it easier for you, we have created a quick guide to everything you need to know about MBA universities in the UK.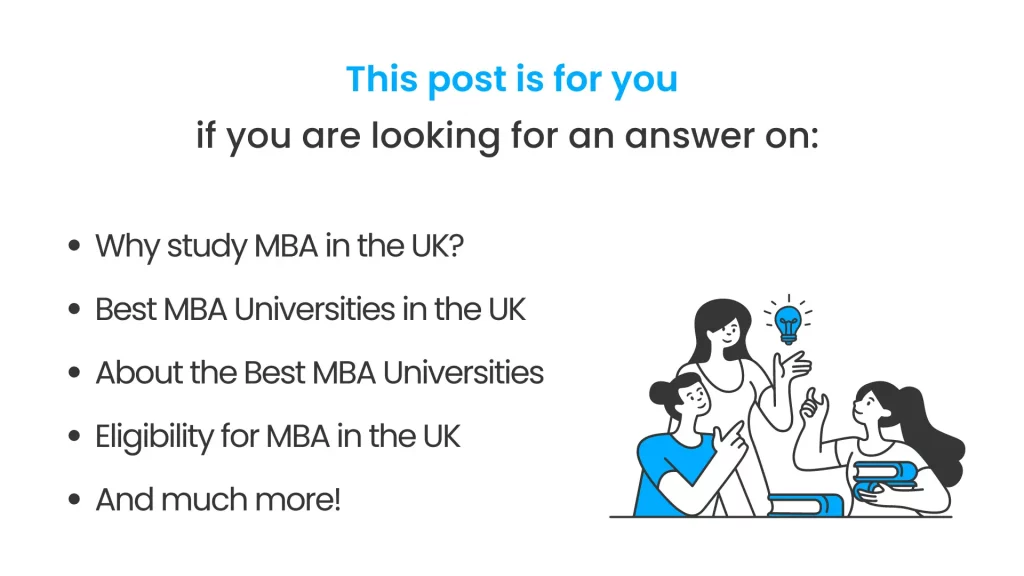 Why study MBA in the UK?
Let's start the discussion by understanding why an MBA in the UK is a great choice for international students. Here are some of the main benefits of doing an MBA from UK universities:
High-quality education: UK MBA universities maintain a high standard of teaching and research. The UK MBA education system is regularly graded and assessed by experts to ensure it meets a set benchmark. The faculty members have a wealth of experience with many years of experience in their field.
Duration of the program: An important reason for its popularity is the duration of the MBA in the UK. A one-year MBA in the UK is very rewarding, money-saving, and time-saving for international students.
Different Specializations: Compared to US business schools, an MBA in the UK comes with a variety of electives and specializations to choose from. Curriculum planners are constantly trying to add more topics to the course by monitoring the existing market.
Career guidance services: Many UK MBA business schools offer full-time career guidance services to their students. They help students realize their interests and develop their potential in their respective fields. Career counselors also guide students to strengthen their resumes and explore possible prospects in their fields of interest.
Work while studying: While studying for an MBA in the UK, you can engage in various part-time jobs or internships to develop your skills and cover your MBA fees in the UK. At some universities, they are also part of the MBA program. Exposure and work experience will make your resume stand out in job opportunities.
10 Best Universities in UK for MBA
The UK is home to some of the best universities and business schools in the world. They offer programs and facilities to get the best out of students. Be it academics, research, or practical training, UK MBA universities have it all.
Here is the list of top MBA universities in the UK for international students:
| | |
| --- | --- |
| University | QS World University Rankings |
| London Business School | 6 |
| Oxford (Said) | 13 |
| Cambridge (Judge) | 17 |
| Imperial College Business School | 21 |
| Warwick Business School | 32 |
| Manchester (Alliance) | 47 |
| University of Edinburgh | 55 |
| Cranfield School of Management | 75 |
| City's Business School | 78 |
| Durham University | 78 |
About the Best Universities in the UK for MBA
In this section, we will introduce you with an explanation of the above-mentioned list of most popular universities in the UK for MBA:
London Business School
LBS (London Business School) is a well-established business school that was established in 1964. For 50 years, it has been awarding master's degrees in the fields of MBA, Ph.D., Management and Finance. LBS is one of the best business schools not only in the UK but worldwide.
The school was ranked as the best European business school for three years from 2014 to 2016 by the Financial Times. In addition, it was ranked 6th in the Global MBA category by the QS Rankings for 2022. London Business School provides Master, Management, and Ph.D. programs. The cost of an MBA from LBS is somewhere around £87,900 and the duration of the program is 15-21 months.
Oxford (Said)
The University of Oxford (since 1096) is the second oldest MBA university in the world, preceded only by the University of Bologna (1088). It has produced a record 69 Nobel Prize winners, 3 Field Medalists, 6 Turing Award winners, and 169 Olympic medallists. Every year, Oxford University students compete against those from Cambridge University in a rowing competition called The Boat Race, which first began in 1856. Needless to say, Said's graduating class often consists of master rowers who won Olympic medals in Athens, and Beijing. and most recently in London. The cost of an MBA from this university is somewhere around £63,000 and the duration of the program is 12 months.
University of Cambridge
Founded in 1209, the University of Cambridge is the 4th oldest university in the world and one of the most popular MBA universities in the UK. It is also among the top 10 universities that are sought after by top UK employers for graduate placements, according to the university's website. Recognized worldwide for innovation, the university's researchers have joined with colleagues around the world and established collaborations in Africa, the Americas, Europe, and Asia. Many members of the University of Cambridge, London are Nobel laureates who have been awarded for various key achievements such as the discovery of the structure of DNA, the creation of the National Income Accounting System, the discovery of penicillin, etc. The duration of the MBA program is 12 months and the cost of an MBA is £59,000.
Imperial College Business School
Founded in 1907, Imperial College London is one of the world's best MBA universities in UK and the only university to focus exclusively on science, engineering, medicine, and business. Imperial is home to students and staff from over 140 countries, making it one of the most culturally diverse universities in the world. Over 50% of students come from outside the UK and over 32% are non-EU students. Imperial offers over 100 courses at the undergraduate level and over 150 courses at the postgraduate level. In 2004, it also opened a business school called Imperial College Business School. The duration of the MBA program from Imperial College Business School is 12 months and the cost of studying MBA here is £53,500.
Warwick Business School
The University of Warwick was established in 1961 following government approval. In October 1965, the university received a Royal Charter. It began with a small intake of postgraduate students in 1964. It aims to provide the best experience for its students, as evidenced by the 2021 National Student Survey (NSS) results, which ranked the university 3rd in the Russell Group and 13th in the UK for overall satisfaction. The duration of the MBA program this one of the best MBA universities in the UK is 12 months and the cost of studying MBA here is £43,950.
Eligibility for MBA in the UK
UK MBA eligibility depends on the university you choose. Some basic requirements for MBA in the UK are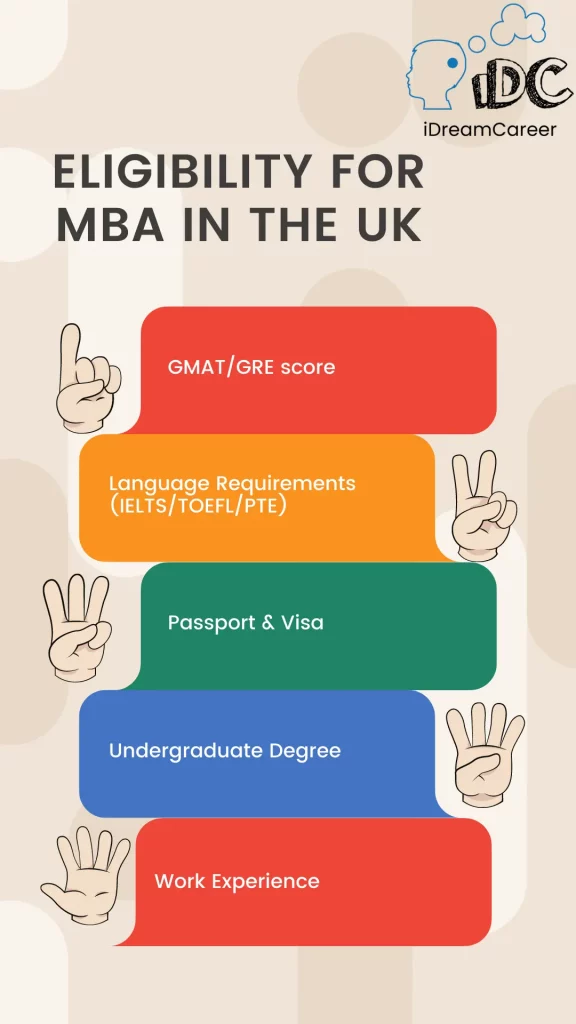 Bachelor's degree
All applicants must have completed a bachelor's degree from a recognized institute. A GPA of 3.0-3.5 on a 4.0 scale or a score of 60% or higher should be your goal for top universities.
GMAT or GRE scores
Top universities in the UK for MBA have made it mandatory for students to have a decent GMAT or GRE score. These are the key exam requirements to gain admission to the UK MBA. However, GMAT scores vary depending on the MBA program and university chosen. The general score requirements for these UK MBA entrance exams are
GMAT – 650 or higher
GRE – 160 (Verbal and Quantitative)
Work experience
One of the best UK MBA criteria for eligibility/admission is work experience. At least 3 years of professional experience in the relevant field is a must at the time of application. However, not all universities have a mandatory requirement, but it is always preferred.
Language requirements
An English proficiency test is another requirement for the UK MBA exam. It is mandatory for all international students to complete an MBA in the UK. The minimum scores for these UK MBA entrance exams are:
IELTS – 6.0 – 7.5
TOEFL – 110
Passport and visa
A valid passport and student visa are required for all international students to study any course at a UK university. Remember to apply for a UK student visa at least 3 months before your expected travel date.
It's a wrap!
Leaving your hometown to study abroad is always a difficult choice, but you have to overcome it to achieve your dream of pursuing an MBA from the best UK universities.
iDreamCareer is on a mission to reach every state and every child in order to ensure that talent is appropriately delivered to the industry.
Talk to our study abroad experts with 20+ years of experience to know yourself in and out! We have helped several brilliant but confused minds with the aim to select their most-suited career choices. Hear the success story of Aayush who got an offer from the top 3 universities and is now studying at a University in Ottawa in Canada after getting career guidance from our industry experts!
Useful Links
ALSO READ:
FAQs
How much does an MBA cost in the UK?
An MBA in the UK is a 12–21-month program that costs between £31,450 to £87,900 (approximately INR 29 to 81 million).
Is an MBA in the UK cheap?
A one-year low-fee MBA will cost an average of £11,000-15,000, with MBA programs at top business schools such as the University of Oxford and the University of Cambridge costing up to £45,000.
Can I study for an MBA in the UK for free?
While UK MBA scholarships will cover most of your expenses, none of the available scholarships will cover a percentage of your educational expenses for an MBA in the UK.
Which MBA is most in demand in the UK?
Based on current trends, some of the top MBA majors include finance, marketing, operations management, international management, business analytics, etc.
Is it worth doing an MBA in the UK?
Well, of course. Many students only see the short picture, they only see the return on investment when they graduate, not in five or ten years. Education abroad is considered valuable by employers and what is even more valuable is foreign work experience.

Anushree has 4+ years of experience in the career counseling industry as a Senior Content Writer. She has also worked as a Social Media Marketing Expert for a startup and Content Quality Analyst for Publishing and E-learning Industry. She has done her Master's in Commerce and PGDM in Finance & Trade and Marketing & HR, but she is currently following her passion for writing.