Planning to improve your managerial and leadership skills? Want to get global exposure and practical experience in business administration? Dreaming of pursuing MBA in the UK? Look no further. You may find a ton of thought-provoking advice for an MBA in the UK here & there, but you will need to know these nondescript details too. Most sources will miss these as too common.
MBA in the UK (United Kingdom) is a program designed to equip students with information that can be used in real-world organizations and business situations. Studying in the UK is one of the most common dreams of international students.
Do you know?

One of the most exciting things about the UK education system is that it allows international students to mix and match courses and specializations from different fields.
The amount of information may be huge at first, but by organizing everything, you will be able to deal with the whole process easier. To make it easier for you, we have created a quick guide to everything you need to know about studying in the UK.
So, without taking much time let's dive into the info you wanted…
What all is covered in this post?
To make it easier for you, we have created a quick guide to everything you need to know about MBA in UK.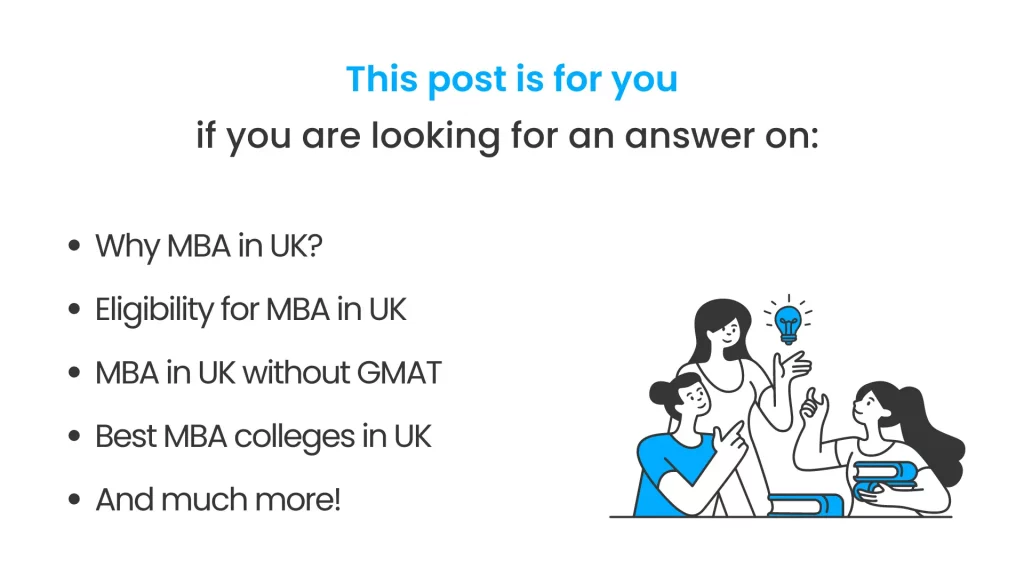 Why MBA in the UK?
Opting to study abroad UK is a popular choice. While there are many benefits of studying MBA in the UK, some of the main benefits are:
Programs for one year
Did you know that the duration of an MBA in the UK in just one year? This allows students to graduate faster, saving time and money, and allowing you to get out and start working much sooner.
Close ties with industry
Many UK universities and business schools have close links with industry leaders, giving students the opportunity to get to know the big companies and corporations they may one day work for.
The schools pride themselves on working closely with many of the world's leading professional organizations, and a UK MBA will prepare you for the demands of 21st-century business.
Business contacts and network
Thanks to the close links with business and industry that all UK business schools have, you will meet a wide range of people at special events, lectures, and seminars. Maintaining these relationships, they will benefit your future career.
UK business school reputation
Of the world's top 100 universities, the UK boasts 16 institutions, including four in the top ten, including Oxford, Cambridge, University College London, and Imperial College London. The UK is high on the list of international student destinations thanks to its history, global language, and reputation for high-quality courses at competitive prices. An MBA award will ensure that your resume stands out from the crowd.
Low cost
There is a wide variety of small and private colleges, especially around London, that offer inexpensive MBA programs for international students. Many of these colleges have university-level MBA programs and offer a low-cost alternative for international students with tuition fees starting at £7,000.
Highlights of MBA program in UK
Eligibility for MBA in the UK
Looking for an answer on "How to apply for MBA in the UK?" Here is your answer to it! It should be noted that simply meeting the minimum criteria does not guarantee admission to MBA courses at the best B-schools in the UK. Competitive scores and leadership and management skills reflected in LORs, SOPs, personal statements, and CVs make up your total application package. For an MBA in the UK, the general selection criteria for most business schools are as follows:
Academic requirements – UG degree with a 2:1 qualification equivalent to 50-60% (some schools may require higher marks).
GMAT Score – Required for most schools 600+ (minimum) Average score in 2019 across schools B 640-730.
Experience – not always required but preferably 2 years (minimum) 5-6 years (average for the class of 2019 of various B-schools)
Language Proficiency – International students must show an IELTS score of 6.5+ or a TOEFL iBT score of 95+.
Letters of recommendation – 1 to 3. Preferably professional or from a supervisor. In case only 1 LOR is required, no academic LOR is accepted.
Statement of Purpose/Essay – A 500-word personal statement/SOP that covers issues such as short- and long-term career goals, how an MBA will prepare you for the future, a description of your work experience, and why you chose this program.
The visa is a student visa for studying in the UK. A Tier 4 UK Study Visa applies to students who wish to pursue full-time higher education in the UK.
Funds – You will need to show that you have enough money to support yourself: £1,334 per month (~ INR 122,004) if you stay in London, or £1,023 per month (~ INR 93,560) in courses outside London.
Eligibility for MBA in the UK for Indian students
A degree in business or management is not a prerequisite for doing an MBA in the UK for Indian students or students in the US.
Even some of the best MBA colleges in the UK for Indian students have certain criteria that students must meet to gain admission. So, before you get a position at a business school, you need to consider several criteria:
GMAT Test Score Competitive
Work experience (depending on the school)
SOPs (Required by Business School)
Scorecard of the English language
Recommendations from former academic institutions and places of work
MBA without work experience in the UK
Some of the business schools that offer an MBA in the UK without work experience are
MBA in the UK without GMAT
To get an MBA without a GMAT score in the UK, you can either look for business schools that accept students without a GMAT score or take an alternative full-time MBA program that does not have the GMAT as an entry requirement. Some of the universities in the UK that accept full-time MBA applications without a GMAT are:
The University of Central Lancashire: Applications for the MBA program can be made if you are language-eligible, UG-eligible, and have basic work experience.
Warwick School of Business: International applicants may or may not require a GMAT score when applying. Although the probability of getting a GMAT score is high, this does not mean that it is the minimum requirement that must be met. However, you will need to submit a minimum score of 600+ if asked.
Birmingham Business School: Offering a full-time international MBA, it does not require international students to have a GMAT score when applying.
Lancaster University School of Management: You are required to either have an admissions essay or a GMAT score. Therefore, passing the GMAT is not the primary eligibility criteria.
Durham University Business School: You may be required to submit a GMAT score in cases where the student's portfolio or academic qualifications are deemed insufficient by the university.
In addition to these full-time MBA programs, you can look for online MBA programs where the GMAT is not a minimum selection criterion or Executive MBA programs.
Best MBA colleges in UK
Following are some of the top MBA colleges in the UK:
| | |
| --- | --- |
| MBA Universities in the UK | QS World University Rankings: MBA rankings 2022 |
| Alliance Manchester Business School, The University of Manchester | 45 |
| Cranfield School of Management, Cranfield University | 75 |
| Imperial College Business School, Imperial College London | 21 |
| London Business School | 6 |
| Said School of Business, University of Oxford | 13 |
| School of Business and Management– Queen Mary University of London | 64 |
| The Business School (formerly Cass), City, University of London | 78 |
| University of Cambridge, Judge Business School | 17 |
| University of Edinburgh Business School, The University of Edinburgh | 55 |
| Warwick Business School, University of Warwick | 32 |
List of MBA Colleges in London
Here is the list of the Best MBA colleges in London:
Brunel University London, (Brunel Business School)
City University of London (Bayes Business School)
Hult International Business School
Imperial College London (Imperial College Business School)
London Business School
Also, read Highest Paying Jobs in the UK
What is the fees for MBA in the UK for Indian students?
With more than 395 universities, the United Kingdom ranks second among international educational centers. In addition to its multicultural diversity, the country also hosts more than 5 lakh, international students. One of the biggest advantages of studying in this country is that students from all over the world have the opportunity to make meaningful connections that help them in networking.
Most international MBA students in the UK are concerned about paying for the university as their main source of financial worry. On MBA courses in the UK, you can expect to encounter a different set of international fees because business schools set their own fee policies for international students.
Moreover, the total fees for an MBA in the UK for Indian students depend on the university, course type, and nationality. Compared to local and EU students who pay a cap of up to €9,250 per year (INR 7 lakh), non-EU students pay higher fees of around €35,000 to €58,000 (from 29, 5 lakhs to INR 48) per annum.
Average fees for MBA in the UK for Indain Students
In this section, you will find out about the average fees of studying for an MBA in the UK and the cost of living in the UK for international students. The average first-year fees of an MBA in the UK is INR 21.01 lakhs. The average cost of living in the UK is around INR 6.03 lakhs per year.
Cost of UK Student Visa
There are two types of UK study visas:
The Tier 4 Student Visa (General) is a visa category for students coming to the UK for higher education. Applicant must be at least 16 years old.
The Tier 4 (Student) visa is a visa category for children aged between 4 and 15 who are coming to the UK to study. Children between the ages of 4 and 15 can only study in private schools that pay for their education.
Low fees colleges for MBA in the UK
The fee structure varies from university to university. If you want to do an MBA at a Russell Group university, the fee will be between £25,000 – £35,000. If you want to do an MBA at a state-funded university, the fee will be between £12,000 and £20,000.
International students will also benefit from the scholarship. The fee structure of some MBA universities in the UK (for session 2022-2023) is given below:
| | |
| --- | --- |
| Name of the University | Fee structure (1 year) |
| Anglia Ruskin University | £17,200 GBP |
| Birmingham City University | £16,300 GBP – £18,000 GBP |
| Coventry University | £18,500 GBP |
| De Montfort University | £17,000 GBP |
| London school of economics | £19,000 GBP – £30,000 GBP |
| Middlesex University | £19,000GBP |
| Queen's University Belfast | £19,000GBP – £26,250 GBP |
| Sheffield Hallam University | £17,105 GBP |
| Ulster University | £19,000 GBP |
| University for creative arts | £18,500GBP |
| University of East London | £16,200 GBP |
| University of Worcester | £14,400 GBP |
| York St. John University | £10,800 GBP |
MBA in UK Cost
MBA in the UK is well known which makes it slightly more expensive than in other fields. However, there are many ways in which you can afford the best education in the world. In addition, of course, it is important to learn about the various costs associated with education. Don't worry! We have put together a list of pre-departure expenses, tuition fees, and cost of living.
Cost before arrival to study MBA in the UK
It is the initial investment that is more important to start the application process. Typically, this includes exam fees, application fees, visa fees, and more. This may vary depending on circumstances prior to departure. The table below will help you understand and be informed before your departure.
| | |
| --- | --- |
| Particulars | Average Expense (USD) |
| TOEFL Fees | 226.24 |
| IELTS Fees | 226.24 |
| PTE Fees | 169.68 |
| VISA Application | 364.24 |
Average cost of MBA in the UK
Usually, as popularity increases, the cost of an MBA in the UK will be higher. International students make conscious decisions when choosing the best business school. Students need to manage their finances according to requirements in various areas such as applying for a UK student visa, application fees, and travel tickets. The cost upon arrival includes tuition fees and living expenses during your studies? The cost of attending an MBA in the UK includes all tuition fees incurred by students as well as the cost of living in the UK until the course is completed.
There is another advantage of the shorter length of MBA programs in the UK, and that is the total cost of tuition and living costs is almost halved. The cost of an MBA in the UK can vary from college to college. Tuition fees can range from £10,000 to £15,000 (except for Oxford and Cambridge which can cost up to £45,000).
MBA salary in the UK
The salary of an MBA graduate in the UK can vary depending on several factors, including the industry in which they work, their level of experience, and the specific job role. According to data from the Association of MBAs, the median salary for MBA graduates in the UK is around £60,000 per year. However, this can range from as low as £30,000 to as high as £100,000 or more for top executives.
It's important to keep in mind that MBA salaries can vary significantly depending on the specific job and industry. For example, MBA graduates who work in the finance and consulting industries tend to have higher salaries compared to those in the non-profit or public sectors. Additionally, MBA graduates who have several years of work experience and hold senior leadership positions may also command higher salaries.
It's also worth noting that MBA salaries can vary depending on the specific business school a graduate attended. Graduates of top-ranked business schools tend to have higher salaries compared to those from lower-ranked schools. However, it's important to keep in mind that MBA salary is just one aspect to consider when evaluating the value of an MBA program. Other factors, such as the quality of the program and the networking opportunities it offers, can also be important considerations.
How to get a scholarship for MBA in the UK?
Following are the steps you need to consider for availing scholarship for MBA in the UK: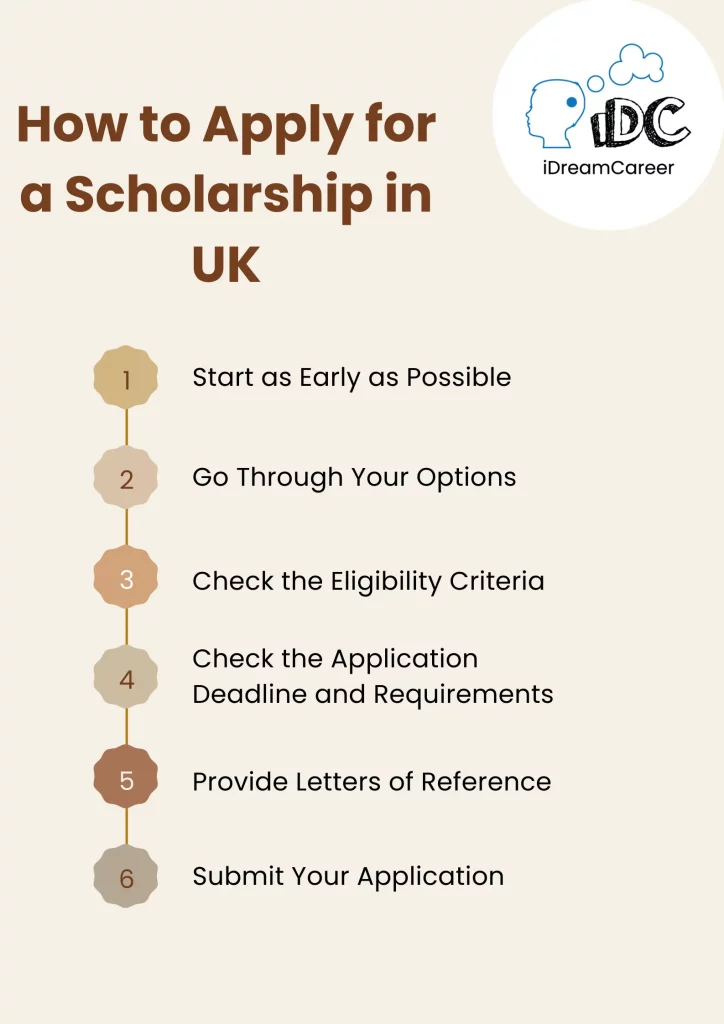 Below we have compiled a list of the best scholarships you can choose from to finance your chosen MBA program:
Brokerfish International Student Scholarship
Charles Wallace India Trust Scholarship
Chevening Scholarship
Commonwealth Scholarship and Fellowship
Education Grants by Tata Trusts Academy Senior Fellowship
Global Study Awards
Go Clean Scholarship
GREAT Scholarships
Hornby Scholarship
Inlaks Scholarships
The Financial Sumo Educational Scholarship Program
The Gates Cambridge Scholarships
The Oxford and Cambridge Society of India Scholarships– University of Cambridge
University of East Anglia Scholarship
Conclusion
Leaving your hometown to study abroad is always a difficult choice, but you have to overcome it to achieve your dream of pursuing an MBA in the UK.
iDreamCareer is on a mission to reach every state and every child in order to ensure that talent is appropriately delivered to the industry.
Talk to our study abroad experts who have 20+ years of experience to know yourself in and out! We have helped several brilliant but confused minds with the aim to select their most-suited career choices. Hear the success story of Aayush who got an offer from the top 3 universities and is now studying at a University in Ottawa in Canada after getting career guidance from our industry experts!
Useful Links
ALSO READ:
FAQs
Which MBA specialization is best paid in UK?
Some of the highly paid MBA specializations in the UK are finance, marketing, international business, information technology, & business analytics.
Is one year MBA from UK valid in India?
In context, one-year Masters degrees in the UK are not considered equivalent to two-year Masters degrees in India. Students with a one-year master's degree from the UK had to apply for a "certificate of equivalency" from the Association of Indian Universities.
Is work experience necessary for MBA in the UK?
Work experience is essential for admission to the UK's most prestigious universities. Most UK universities, in fact, require at least two to three years of work experience. However, there are some business schools that offer an MBA in the UK without work experience.
Is MBA in the UK worth it?
A UK MBA is a long-term investment in your career. It is undeniably worth the money. A UK MBA will also broaden your horizons and strengthen your resume.
…

Anushree has 4+ years of experience in the career counseling industry as a Senior Content Writer. She has also worked as a Social Media Marketing Expert for a startup and Content Quality Analyst for Publishing and E-learning Industry. She has done her Master's in Commerce and PGDM in Finance & Trade and Marketing & HR, but she is currently following her passion for writing.