The UK holds the enviable position of being one of the best study-abroad destinations in the world, second only to the US! Are you planning to study in the UK? But not sure how you can afford it. Looking for an answer to what are UK scholarships for Indian Students?
Universities in London and several other public and private organizations are providing thousands of scholarships to international students to ease their financial stress. Scholarships in the UK are offered to international students based on merit-based, need-based, student- or course-based grants. In addition to scholarships, most universities in the UK provide tuition fee concessions if initial deposits are made by the deadline. Merit-based scholarships are highly competitive and require a focused application and a compelling statement of purpose.
What to Know?

UK university scholarships vary in size depending on the student's profile and range from £1,000 to £6,000. PhDs in the UK are generally fully funded. These scholarships are awarded to those who have successfully passed the competitive assessments set by the educational institutions.
Come along to know more…
What all is covered in this post?
To make it easier for you, we have created a quick guide to everything you need to know about UK scholarships for Indian students.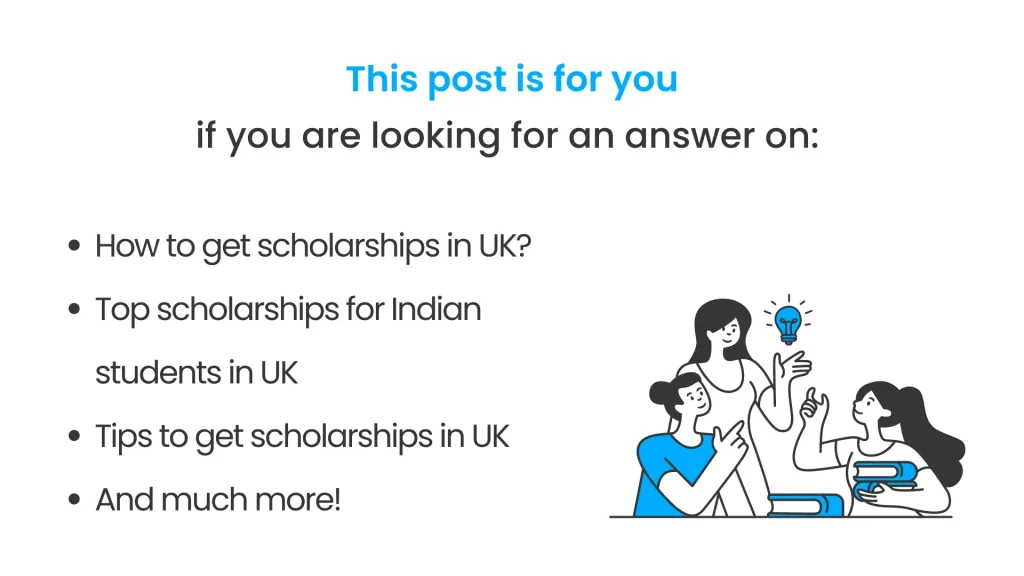 How Indian students can get scholarships in the UK?
To be eligible for a scholarship for Indian students to study in the UK, a candidate must have a good academic record. Scholarships also depend on many factors, such as your chosen location, level of education, and your preferred subject. For some scholarships, criteria include participation in social and community initiatives and extracurricular activities. Some scholarships may only require an application, while others require writing an essay and providing other documents.
Eligibility criteria for the scholarship include your nationality (Indian in this case), completion of previous education at an English-language institution, good academic scores, and other requirements such as co-curricular activities in some cases. The general selection of scholarships in the UK is held in September, the small ones – from January to March, and in July and November.
What expenses are covered by study abroad scholarships?
Generally, scholarships provide a deduction from the total tuition fee, but some scholarships provide other forms of assistance, such as living expenses, airfare, and visa fees, depending on the applicant's academic performance and experience. These scholarship programs and other types of financial assistance are administered by the British Council and other related organizations.
Top scholarships for Indian students in the UK
If you plan, you can apply for a wide range of UK scholarships for the Indian student government and universities. Here are the best scholarships for Indian students to study in the UK:
Chevening Scholarships for Indian and International Students
Rhodes Scholarships
Erasmus Mundus
Commonwealth Scholarship and Fellowship
GREAT Scholarships
Dr. Manmohan Singh Scholarships
Felix Scholarships
Scotland's Saltire Scholarships
Goa Education Trust Scholarships
Charles Wallace India Trust Scholarships
Hornby Scholarships
Inlaks Scholarships
About scholarships for Indian Students
In this section, we will introduce you to the explanation of the above-mentioned list of scholarships for Indian Students in the UK:
Chevening Scholarships for Indian and International Students
A global scholarship program of the United Kingdom (UK) government, the Chevening Scholarship supports outstanding students who have demonstrated previous leadership qualities and exceptional results in their fields. It covers tuition fees, flight, and accommodation costs for students. Students who wish to pursue a one-year master's program in the UK can apply for this scholarship. Also, note that these scholarships are fully funded. The following courses are not eligible for this scholarship: part-time, distance learning, less than 9 months duration, more than 12 months duration, Ph.D. or DPhil taught with more than one month of study outside the UK.
Rhodes Scholarships
A Rhodes Scholarship is a fully-funded postgraduate scholarship that enables talented young people from around the world to study at the University of Oxford. Rhodes Scholars come to the UK for two or more years. These scholars can apply for full-time postgraduate courses offered by the University of Oxford. This scholarship covers tuition fees at the University of Oxford and an actual stipend. With the scholarship, fellows can pay living expenses, including lodging. In 2021-2022 the bursary was £17,310 per year. Once selected for a scholarship, the Rhodes Trust covers the Oxford University application fee, student visa fee, additional international health fee, and two economy-class flights (to and from the UK, for the start and end of your studies).
Erasmus Mundus
Erasmus Mundus Joint Masters is offered by many higher education institutions and operates in different countries. The Erasmus Mundus Joint Master's Scholarship covers the student's participation in the program, travel, and accommodation expenses. The amount of the scholarship varies depending on the level of study/research/teaching, the nationality of the student, and the duration of the course.
Commonwealth Scholarships and Bursaries
The Commonwealth Scholarship Commission in the UK provides scholarships to students from Commonwealth countries. All Indian students who want to pursue a Master's or Ph.D. in the UK can apply for this scholarship. This scholarship covers tuition fees, airfare, personal expenses, and living expenses. The Commonwealth Scholarships Commission offers the following types of awards: Commonwealth Ph.D. Scholarships, Commonwealth Postgraduate Scholarships, Commonwealth Masters Scholarships, Commonwealth General Scholarships, Commonwealth Distance Learning Scholarships, Commonwealth Ph.D. Scholarships and Commonwealth Professional Scholarships. Students must apply through a national nominating agency, university, or non-governmental organization.
Great Scholarships
For the 2022-2023 academic year, UK universities are offering 20 scholarships for Indian students across a wide range of subjects. Each scholarship is worth a minimum of £10,000 towards one year's postgraduate tuition fees. This scholarship is jointly funded by the UK Government's GREAT Britain Campaign and the British Council with participation from UK higher education institutions.
Tips to get scholarships in the UK
Here are some things to keep in mind when applying for a UK scholarship:
Academic performance will always be the primary criterion for receiving a scholarship. Aim for a minimum score of 80-85% in your UG course. You will need to double down and work hard in your undergraduate program to build a solid academic background.
Create your profile to get access to a good scholarship program.
Other criteria include GMAT, GRE, TOEFL, and IELTS scores.
Popular UK Scholarships are available with limited openings for eligible applicants and limited funds. The eligibility criteria are strict and you should check them carefully before applying.
Some scholarships may require minimum scores on standardized tests such as TOEFL, IELTS, GMAT, and GRE.
University scholarships do not require separate applications as eligible candidates are assessed at the time of admission.
You have to fill out applications for scholarships at several universities. Do not limit the number of applications under any circumstances.
You should start researching your scholarship options in advance by continuing to apply well before the deadline. The application process usually starts a year before the admission process. The evaluation system is strict and you will have to start applications in advance.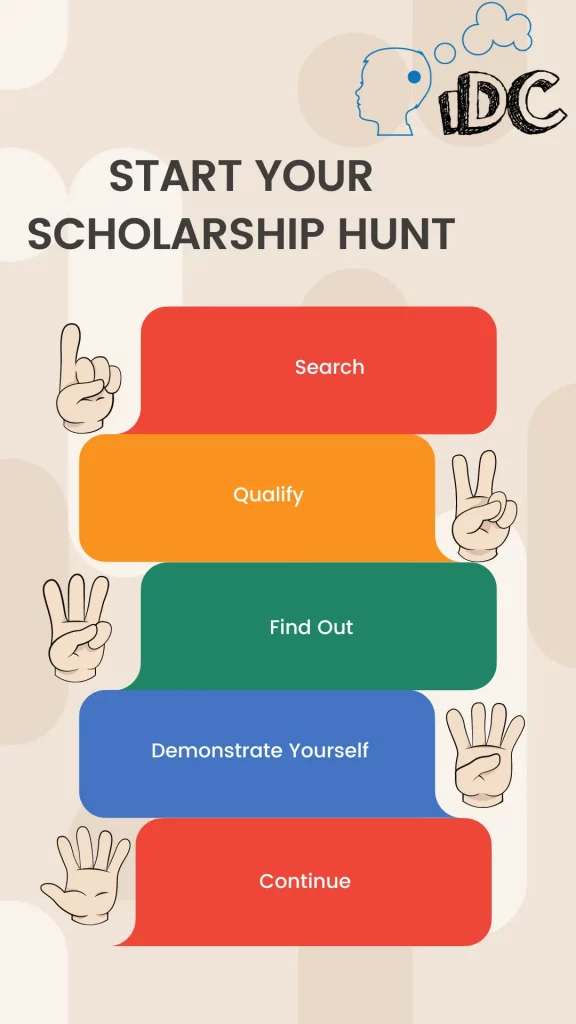 Epilogue
Now that you are armed with this information, we hope you're ready to make your next big career decision! Still confused? Do dial us up.
iDreamCareer is on a mission to reach every state and every child to ensure that talent is appropriately delivered to the industry.
Talk to our study abroad experts to know yourself in and out! We have helped several brilliant but confused minds to select their most-suited career choices. We have helped many students like Anjana Prasanna who was not very confident about her capabilities. Later with the help of career guidance and moral support from our study abroad experts she got an offer from King's College London! We have also helped several brilliant but confused minds like Aayush, and Tapan to select their most-suited career choices.
Also Read:
FAQs
How difficult is it to get a scholarship in the UK?
Getting a scholarship in the UK can be difficult, but planning will help. Some scholarships are paid for specific courses or disciplines and that too for a specific period. Once you have received your scholarship and started your studies, you cannot change your course or extend your scholarship period. However, you can still get a scholarship by applying to the right places and making sure you meet the eligibility criteria.
Is it possible to avail full scholarship to study in the UK?
Yes, there are many funding options available for international students who want to study in the UK. The fully-funded scholarships cover living expenses, program fees, and return flights to the UK.
What are the main selection criteria for Indian students for scholarships in the UK?
The main eligibility criteria for applying for a UK scholarship require that the student be a citizen of India. In addition, students must have a good academic background and obtain higher education in English.
Can an Indian student study in the UK for free?
Most of the universities that offer free education in the UK for Indian students have a wide range of scholarships to study abroad. These scholarships may include the BIG Scholarship, Chevening Scholarship, Commonwealth Scholarship, etc.

Anushree has 5 years of experience in the career counseling industry as a Senior Content Writer. She has also worked as a Social Media Marketing Expert for a startup and Content Quality Analyst for the Publishing and E-learning Industry. She has done her Master's in Commerce and PGDM in Finance & Trade and Marketing & HR, but she is currently following her passion for writing.