An MBA is still among the most coveted degrees among career aspirants. Here are 21 things that you must bear in mind while planning to appear for an MBA entrance exam and then enroll into an MBA program. The first 13 are the most popular exams for MBA including CAT exam, XAT, GMAT, MAT exam, etc.
An MBA is typically a 2-year course that provides a foundation in the core concepts of business. These concepts include management, finance, capital markets, economics, logistics, sales, telecommunications, human resource management, marketing, and supply chain management. These are also some of the most common and popular MBA specializations.
List of 13 Top MBA Entrance Exams in India
MBA Entrance Exams:
CAT
XAT
GMAT
MAT
CMAT
NMAT
SNAP
IIFT
MICAT
TISS-NET
IBSAT
ATMA
OPENMAT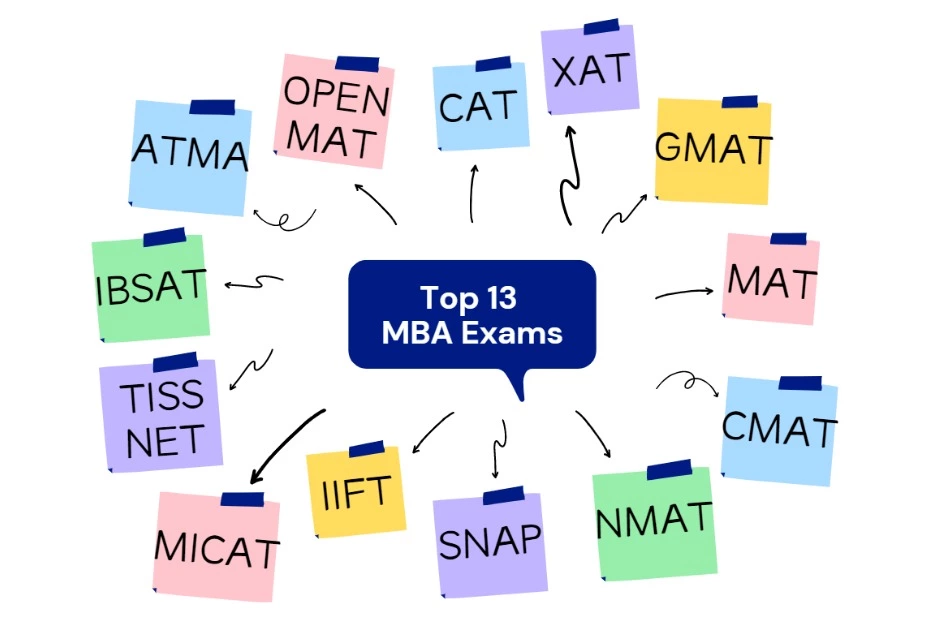 MBA Entrance Exam: CAT – Common Admission Test
CAT is a computer-based admission test (but not an online exam) conducted for admission to various management programs of IIMs, including Post Graduate Programs (PGP) in Management,Fellow Programs in Management (FPM/ PhD) etc.
CAT Exam Eligibility Criteria
You must hold a Bachelor's level degree, with at least 50% marks or equivalent CGPA (45% in case of SC, ST and Persons with Disability (PWD)).
In order to convert your CGPA to equivalent marks (if a scheme for such conversion does not exist according to your university), your CGPA will be divided by the maximum possible CGPA and the quotient will be multiplied with 100.
General Exam Pattern of CAT Exam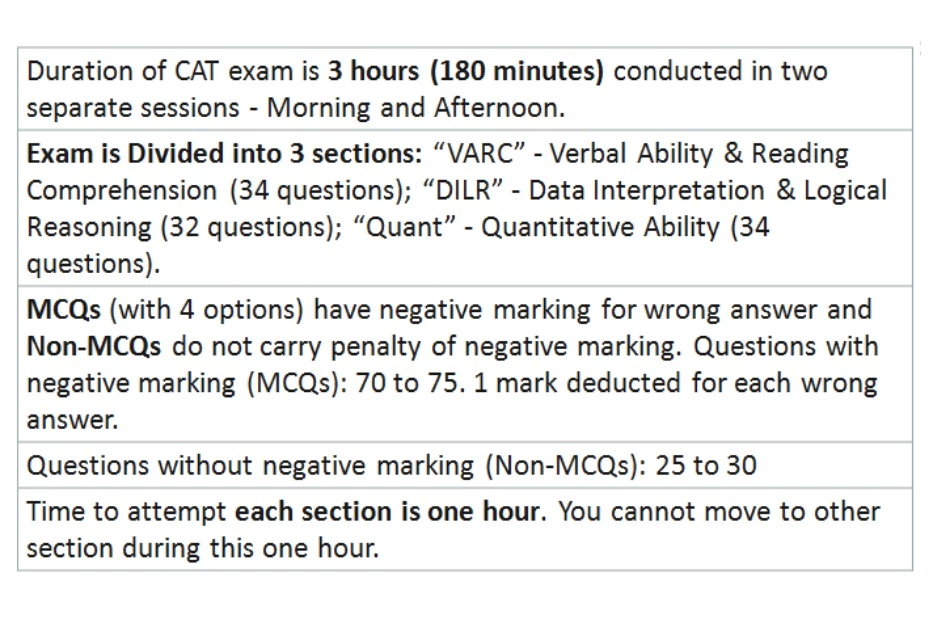 MBA Entrance Exam: XAT – XLRI Admission Test
XAT Eligibility Criteria
You may apply after your graduation. If you are appearing for the final-year exam of your Bachelor's degree, you can also apply.
XAT General Exam Pattern
| | | |
| --- | --- | --- |
| Section in XAT 2021 Exam Pattern | Number of Questions | Overall Time Duration |
| Part 1 | 75 Total MCQs | 165 Minutes |
| Verbal and Logical Ability | 26 | No Sectional Time Limit |
| Decision Making | 21 | No Sectional Time Limit |
| Quantitative Ability & Data Interpretation | 28 | No Sectional Time Limit |
| Part 2 | 25 Total MCQs | 15 Minutes |
| General Knowledge | 25 | |
| Total Questions ( Part 1 + Part 2) | 100 | |
XAT Entrance Exam for MBA: Scoring Pattern & Sectional Composition
XAT is a computer-based test.
Total number of questions in XAT Exam is 100
All questions are MCQs
Each question is followed by 5 options
Each un-answered question beyond 8 questions will carry a negative marking. 0.25 (¼) mark deducted for first 75 questions.
GK questions in XAT are free from negative marking
Essay Writing test does not contain any descriptive question
Numerical Answer Type (NAT) questions in XAT Exam pattern has been recently introduced. You have to use the virtual keypad appearing on your computer screen and enter the numerical answer for NAT questions.
Also Read: CAT Exam Syllabus & Pattern
MBA Entrance Exam: GMAT – Graduate Management Aptitude Test
GMAT is organized by the Graduate Management Admission Council (GMAC) throughout a year. Also, GMAT is required for getting admission to MBA programs globally or for Masters in Finance& related courses. And GMAT is held in 112 countries all over the world.
It is a computer–adaptive exam, which means that upcoming questions get tougher if you keep getting answers right. There is no negative marking in the GMAT exam pattern. Your GMAT score shall be valid for a period of 5 years.
GMAT Eligibility Criteria
You need to be over 18 years to be eligible to appear for GMAT entrance exam. For candidates between the ages 13 to 17, parental approval will be needed. There is no upper age limit to appear for GMAT. There is no specific eligibility criterion too.
GMAT General Exam Pattern
The GMAT Exam pattern consists of 4 sections:
Analytical Writing Assessment
Integrated Reasoning
Quantitative Reasoning
Verbal Reasoning
GMAT entrance Exam spans a total of approximately at 3 hours and 30 minutes including 2 optional breaks of 8 minutes each. Recently, GMAC announced the Select Section Order provision which will enable you to select the order of the sections in which you want to write your exam.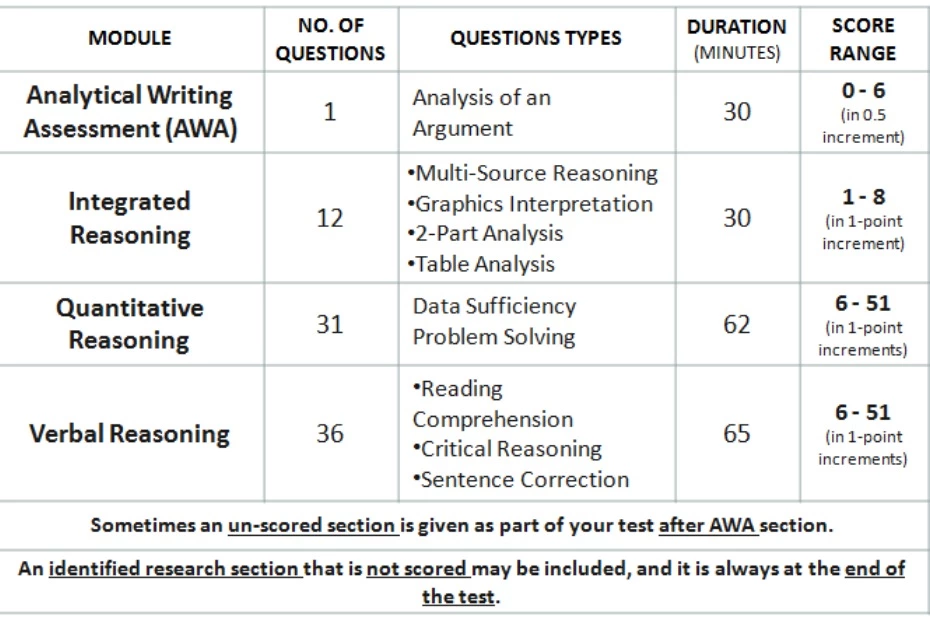 Discover More by accessing the Free Career Dashboard
This will help us share relevant information with you.
MBA Entrance Exam: MAT – Management Aptitude Test
Management Aptitude Test (MAT) Exam is being administered since 1988. MAT has been a national level test since 2003, approved by Ministry of HRD. Any B-School – national or international – can consider MAT Score during their respective screening. MAT has continued to be accepted by over 600 B-Schools across India.
MAT exam Eligibility Criteria
You may apply after your graduation. If you are appearing for the final-year exam of your Bachelor's degree, you can also apply.
MAT General Exam Pattern
You can take MAT as
Computer Based Test (CBT) or
Paper-Based Test (PBT) or
Both PBT & CBT or
Remote Proctored Internet Based Test (IBT)
The duration of the test is 2 hours 30 minutes. There are 200 questions. All questions are compulsory. Each question has 4 options.
All questions carry equal marks. There will be negative markings for wrong answers.
I Section : Language Comprehension
II Section : Mathematical Skills
III Section : Data Analysis & Sufficiency
IV Section : Intelligence &Critical Reasoning
V Section : Indian & Global Environment
MBA Entrance Exam: CMAT – Common Management Admission Test
CMAT Eligibility Criteria
Bachelor's degree in any stream, final year students can also apply.
CMAT General Exam Pattern
| | |
| --- | --- |
| Mode | Computer Based Omline Test |
| Number of Sections | 4 |
| Sections | Quantitative Techniques & Data Interpretation, Logical Reasoning, Language Comprehension & General Awarenes |
| Number of Questions | 100 ( Every Section has 25 Question ) |
| Duration of the Test | 180 Minutes ( 3 Hrs. ) |
| Marking Scheme | Every Question carries 4 marks. For every wrong answer, 1 mark will be deducted. |
| | | |
| --- | --- | --- |
| Sections | No. of Qustions | Total Marks |
| Quantitative Techniques & Data Interpretation | 25 | 100 |
| Logical Reasoning | 25 | 100 |
| Language Comprehension | 25 | 100 |
| General Awareness | 25 | 100 |
| Total | 100 | 100 |
MBA Entrance Exam: NMAT- NMIMS Management Aptitude Test (Narsee Monjee Institute of Management Studies)
MAT Eligibility Criteria
You must hold a valid Bachelor's Degree.
If you are waiting to appear for your final year bachelor's degree exam, you can also apply.
NMAT General Exam Pattern
| | | |
| --- | --- | --- |
| MODULE | NO. OF QUESTIONS | Maximum Sectional Duration ( Minutes) |
| Language Skills | 36 | 28 |
| Quantitative Skills | 36 | 52 |
| Logical Reasoning | 36 | 40 |
MBA Entrance Exam: SNAP- Symbiosis National Aptitude Test
SNAP Eligibility Criteria
50% marks in graduation
SNAP General Exam Pattern
SNAP is a computer-based test of 2 hours. The total no. of questions is 115 and the maximum marks is 150.
There are 4 topics in SNAP Exam:
General English: Reading Comprehension, Verbal Reasoning, Verbal Ability
Quantitative, Data Interpretation & Data Sufficiency
Analytical & Logical Reasoning
Current Affairs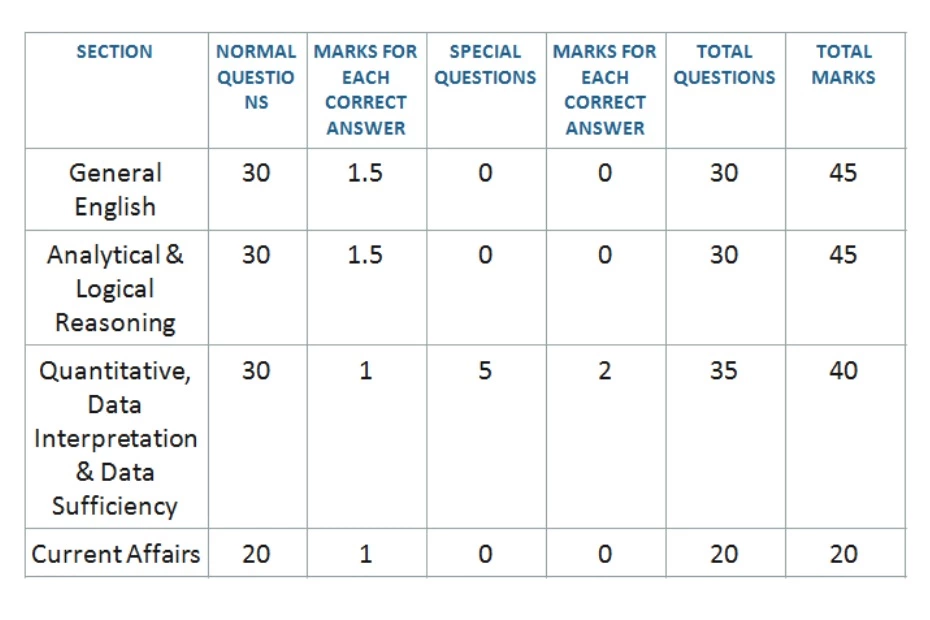 MBA Entrance Exam: IIFT – Indian Institute of Foreign Trade
IIFT Eligibility Criteria
You must have a Bachelor's degree of a minimum 3 years duration in any discipline.
If you will be appearing for your final year bachelor's degree exam or are awaiting results, you can also apply.
IIFT General Exam Pattern
This exam consists of 6 sections:
Verbal Ability
English Reading Comprehension
General Knowledge & Awareness
Logical Reasoning
Data Interpretation
Quantitative Analysis
Total marks: 300. Test Duration: 2 hours
| | | |
| --- | --- | --- |
| Module | No. of Questions | Marks Awarded for each Question |
| Verbal Ability & Reading Comprehension | 35 | 3 |
| Quantitative Analysis | 25 | 3 |
| Data Interpretation & Logical Reasoning | 30 | 3 |
| General Awareness ( GK ) | 20 | 15 |
MBA Entrance Exam: MICAT (MICA Admission Test)
MICA is famous for its flagship courses:
PGDM-C(Strategic Marketing and Communications)
FPM-C(Fellow Programme in Management)
CCC(Crafting Creative Communication).
Besides these MICA also offers a number of other courses, both online and offline.
MICAT Eligibility Criteria
Bachelor's degree
You are eligible to apply even if you are in the final year of your graduation.
'Section A' of MICAT (Psychometric test) is a qualifier. For those who qualify on the psychometrics, their relative performance on GMAT/ CAT/ XAT will be considered.
Candidates demonstrating an aptitude for expressing, assessing, and /or conceiving ideas that are capable of moving people to action and help in achieving business results stand at better stead.
MICAT General Selection Pattern
MICA selection is a 3-step process:
MICAT Entrance EXAM for MBA: Step I- GMAT/ CAT/ XAT
You must have taken at least 1 of the 3 exams.
You have to update your GMAT/ CAT/ XAT scores in the online application form before submitting. After receiving your CAT score, XAT Registration No. and GMAT score, you have to update the details on MICA website. (You are to mention your XAT Registration no. only and MICA will collect your score from XLRI).
MICAT Entrance test for MBA: Step II – MICA Admission Test (MICAT)
MICAT consists of 3 further sections
Section A is a Psychometric Test
Section B further has 4 sub-sections – Verbal ability (VA), Quantitative ability and Data Interpretation (QADI), General awareness; Divergent & Convergent Thinking
Section C is a Descriptive Test
MICAT Entrance EXAM for MBA: Step-III: GE & PI:
If you are shortlisted on the basis of your performance in GMAT/ CAT/ XAT & MICAT, you shall have to appear for both Group Exercise (GE) & Personal Interview (PI).
MICAT Entrance EXAM for MBA: Selection Process Highlights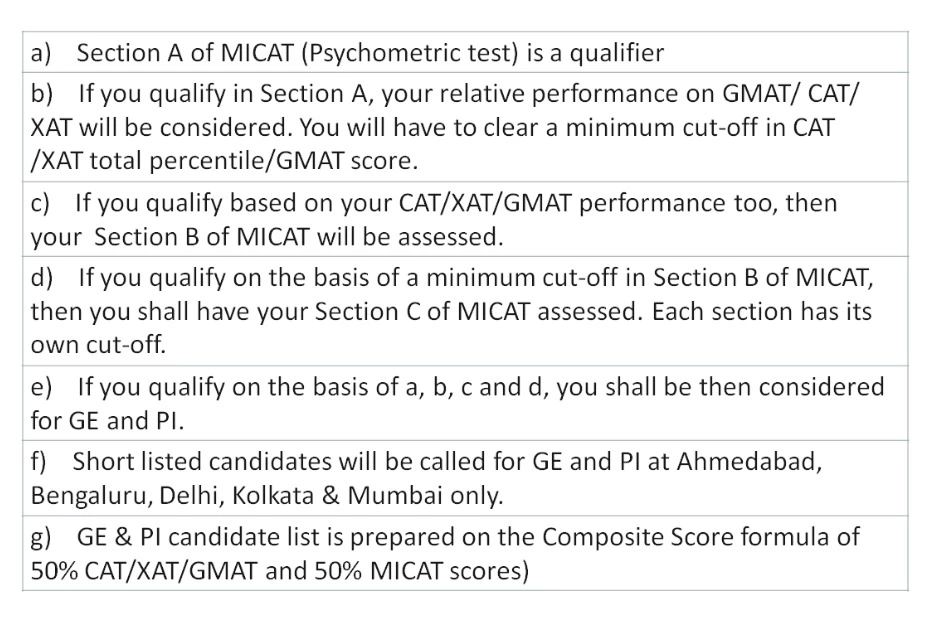 MBA Entrance Exam: TISS-NET & TISS-MAT (Tata Institute of Social Sciences)
TISS-NET is compulsory for admission into post-graduation courses in TISS campuses. This includes more than 50 Masters Programs at its different campuses. For MBA you will have to appear for TISS-MAT along with TISS-NET. The TISS-MAT is conducted immediately after TISS-NET.
TISS Eligibility Criteria
Bachelor's degree
You are eligible to apply even if you are in the final year of your graduation.
TISS General Exam Pattern
| | |
| --- | --- |
| TISS- NET (TATA Institute of Social Sciences National Entrance Test) | Highlights |
| Pattern | Online Computer-Based Test |
| No. of Questions | 100 |
| Maximum Score | 100 |
| Type of Questions | MCQS |
| Time Limit | 100 Minutes |
| Maximum Marks per Question | 1 |
| Negative Marking | No Negative Marking |
| No of Areas | 6 |
| No of Choices per Question | 4 |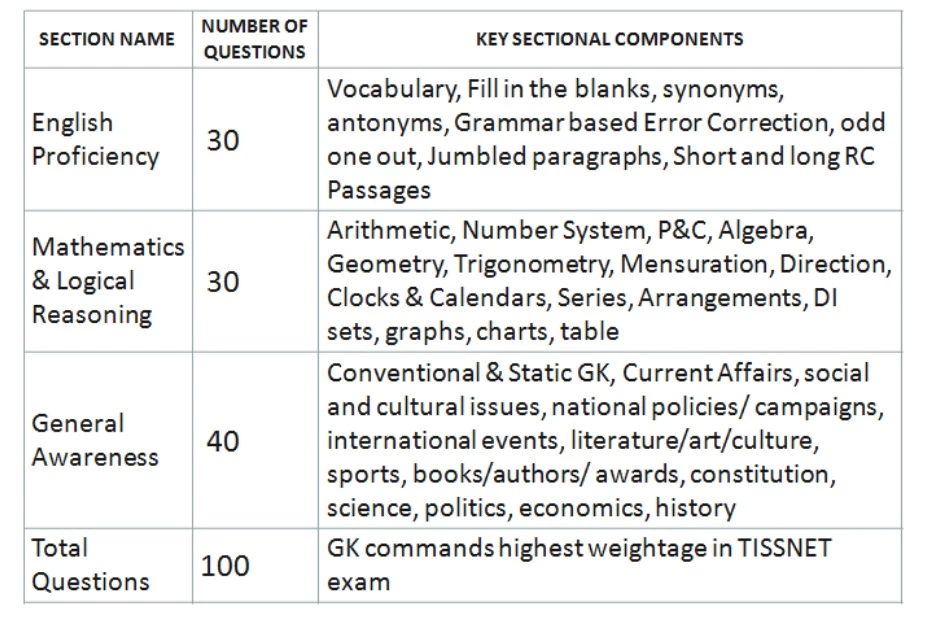 | | |
| --- | --- |
| TISS- MAT (TATA Institute of Social Sciences Management Entrance Test) | Conducted Immediately after TISSNET Exam is over |
| Maximum Marks | 45 |
| Total Questions | 45 |
| Total Time Duration | 30 Minutes |
| Number of Sections | 3 ( Comprehension, Management Data Interpretation, Business Awareness ) |
| Type of Questions | MCQs |
| Answer Options | 4 |
| Negative Marking | 0.25 Mark for each Wrong Answer |
TISS-MAT Highlights
MBA Entrance Exam: IBSAT- ICFAI Business School Admission Test
IBSAT Eligibility Criteria
You must be a graduate with a minimum 50% marks.
You must have completed a minimum of 15 years of education i.e. 10+2+3 or 10+2+4 basis.
You must be from English medium in graduation. If not, then you will have to submit the TOEFL/IELT/IELTS score.
IBSAT General Exam Pattern
| | |
| --- | --- |
| IBSAT Exam Component | Highlights |
| Verbal Ability (VA) | Grammar, Sentence formation, Vocabulary Usage, Idioms, Phrases, One-word substitution, Jumbled Paragraphs among others |
| Reading Comprehension (RC) | Questions based on RC passages, RC based questions are directly related to the information contained in the passage |
| Quantitative Aptitude (QA) | Each and every topic in Mathematics with greater emphasis on Arithmetic. (Moderate Difficulty Level) |
| Data Adequacy & Data Interpretation (DADI) | 2 types of questions -the first type is on DI which requires Data Analysis, Data comparison, Data Trends and other type of questions are on Data Sufficiency |
| | |
| --- | --- |
| No. of MBA Colleges under IBSAT | 9 |
| MODE of ISBAT | Online Computer-based Test |
| Duration | 2 Hrs |
| Total Questions | 140 |
| Sectional Division | 4 Section on VA, RC, QA, DADI |
| No. of Questions in Each Section | VA-50, RC-30, QA-30, DADI-30 |
| Type of Questions | MCQs |
| Scoring Pattern | +1 Mark for Correct Answer, No Negative Marking |
| IBSAT Exam Difficulty Level | Easy to Moderate |
| IBSAT Exam Application Process | Available Online & Offline |
MBA Entrance Exam: ATMA – AIMS Test for Management Admissions
AIMS exam pattern primarily consists of differentiated sections dedicated to verbal, quantitative and analytical reasoning skills. This test is conducted for admission to MBA, PGDM, PGDBA and other postgraduate-level management programs in 700 B-schools that are part of the Association of Indian Management Schools (AIMS).
ATMA Eligibility Criteria:
You may apply after your graduation. If you are appearing for the final-year exam of your Bachelor's degree, you can also apply.
There is no minimum percentage cut-off but participating institutes have their own eligibility criteria while screening.
Age Limit: The maximum age limit to appear for ATMA is 21 years.
ATMA General Paper Pattern
ATMA has 6 sections:
*2 sections on Analytical Reasoning Skills
It also consists of *2 sections on Verbal Skills
*2 sections on Quantitative Skills
All questions require objective-type answers.
Each section carries 30 questions and there are a total of 180 questions in the paper. Each question carries 1 mark. So, the total is 180 marks.
The total time allotted to the students is 180 minutes.
There will be negative markings. A mark is deducted for every 4 incorrect answers. An incorrect answer will mean, 1) the wrong option chosen or 2) many options chosen for the same question.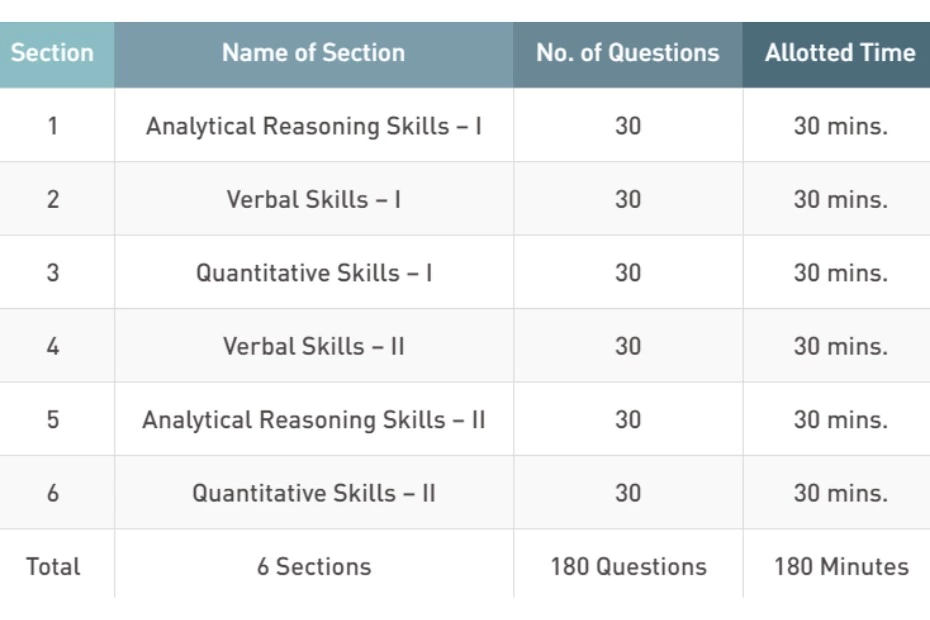 MBA Entrance Exam: IGNOU's "OPENMAT"- OPEN Management Aptitude Test
OPENMAT Eligibility Criteria
A bachelor's degree
The minimum duration of graduation must be 3-years. General category – at least 50% marks in aggregate of all subjects in graduation. SC, ST, PWD – 45% marks in graduation
OPENMAT General Exam Pattern
There will be 4 sections and 200 questions to be solved in 3 hours.
General Awareness: 30 Questions.
English Language: 50 Questions.
Quantitative Aptitude: 50 Questions.
Reasoning: 70 Questions
OPENMAT: General Awareness
Current Affairs
India:Government, Constitution, Laws, Politics, Achievements, Famous People, Organizations, History,Economy, Geography, States.
World: Countries, World Economy, Leaders, Organizations, Summits.
Science, Industry, Trade etc.
OPENMAT: English Language
Reading and Comprehension: read passages and answer the multiple choice questions
Grammar: fill in the blanks, sentence correction etc.
Synonyms, Antonyms ,Vocabulary, etc
OPENMAT: Quantitative Aptitude
The most frequent topics are:
Algebra, Ratios and Proportions, LCM, HCF,
Statistics, Mean, mode, median, Permutations, combinations,
Progressions, Arithmetic Progression, Geometric Progression
Geometry, Number Systems, Trigonometry etc
OPENMAT: Reasoning
The commonly asked topics are:
Assertion and reasons, Cause and Effect, Assumption-Premise-Conclusion, Critical reasoning, Coding and decoding, Family tree, Statements and Conclusions, Statements and assumptions, Visual reasoning Symbol Based problems, etc.
Now, we will discuss certain key aspects of MBA entrance exams and particular things you must bear in mind, before attempting.
Competencies you Must Have
Competencies, technically speaking, mean all your Interests, Aptitudes/Abilities, Skills and Personality/ Behavioral Traits put together. It is a sum that can be expressed as:
Interests + Aptitudes/Abilities + Skills + Personality/ Behavioral Traits + Knowledge
Out of these, Knowledge refers to what you gain from your training. In this case, it would essentially point at the knowledge you earn through training during an MBA program. The rest, are typically with you already while you're reading this! Yes, you will need these before your exam.
We will discuss some common 'already present' competencies (interests, abilities & skills in this section; personalities in the next section) for an exam, in a short while.
You must understand that these are the strengths that you will have to start with when you begin your preparation for exams. These are certain inherent attributes that are developed through the years of schooling and cannot be cultivated ad hoc only during the year(s) of your preparation for an exam.
For example, mathematical reasoning questions are not exactly about formulae or equations. You will need at least an average level of aptitudes for such numerical/ analytical approaches to formulate your answers to these questions.
These are qualities that are supposed to be inherent in MBA aspirants like you before your exam and cannot be built as & when required. These are attributed to your "temporal (with time) progression of knowledge" and are part of cognitive development through your childhood.
Interests you need
Enterprising: You should have interests in Enterprising Occupations. Enterprising occupations involve taking initiatives, initiating actions, and planning to achieve goals, often business goals. These involve gathering resources and leading people to get things done. These require decision making, risk-taking, and action orientation.
Conventional: You should have interests for Conventional Occupations. Conventional occupations involve repetitive and routine tasks as well as fixed processes or procedures for getting things done. These occupations involve working more with data, systems, and procedures and less with ideas or creativity.
Social: You should have interests for Social Occupations. Social occupations involve helping or assisting others; these involve working with and communicating with people to provide various services; these may involve educating and advising others.
Abilities you need
Abstract Reasoning: The ability to understand concepts which are not clearly expressed verbally or otherwise.
Deductive Reasoning: The ability to apply general rules and common logic to specific problems to produce answers that are logical and make sense.
Inductive Reasoning: The ability to combine pieces of information to form general rules or conclusions.
Numerical Reasoning: The ability to add, subtract, multiply, divide, and perform other basic numerical calculations correctly.
Problem Sensitivity: The ability to tell when something is wrong or is likely to go wrong. It does not involve solving the problem, only recognizing there is a problem.
Selective Attention: The ability to concentrate on a task over a long period without being distracted.
Speed of Closure: The ability to quickly make sense of, combine, and organize information into meaningful patterns.
Verbal Reasoning: The ability to think and reason with words; the ability to reason out ideas expressed in words.
Written Comprehension: The ability to read and understand information and ideas presented in writing.
Written Expression: The ability to communicate information and ideas in writing.
Articulation: The ability to speak clearly so others can understand you.
Emotional Intelligence: The ability to understand your own and others' emotions and feelings.
Fluency of Ideas: The ability to come up with several ideas about a topic.
Inter-Personal: The ability to build and maintain good relationships with others at workplaces and elsewhere.
Intrapersonal: The ability to clearly understand your strengths and weaknesses.
Oral Comprehension: The ability to listen to and understand information and ideas presented through spoken words and sentences.
Oral Expression: The ability to communicate information and ideas in speaking so others will understand.
Originality: The ability to come up with unusual or innovative ideas about a given topic or situation.
Skills you need
The following skills for exams are assessed typically through group discussions, interviews, individual psychometric tests, group assignments etc.
Active Learning skills: Focused and continuous learning from various sources of information, observation and otherwise for application in getting work done.
Active Listening skills: Giving full attention to what other people are saying, understanding the points being made by others, asking questions, etc.
Communication skills in English: Skills in communicating effectively in writing as well as verbally with others in the English language.
Coordination skills: Skills in working together with other people to get things done
Critical Thinking skills: Skills in an analysis of complex situations, using logic and reasoning to understand the situations and take appropriate actions or make interpretations and inferences.
Judgment and Decision Making: Skills in considering the pros and cons of various decision alternatives; considering costs and benefits; taking appropriate and suitable decisions.
Negotiation skills: Skills in bringing others together and trying to reconcile differences.
Persuasion skills: Skills in persuading others to change their minds or behaviour.
Problem-Solving skills: Skills in analysis and understanding of problems, evaluating various options to solve the problems and using the best option to solve the problems
What personality characteristics you should have to succeed in an exam?
These are the personality/ behavioral traits that are expected in you to get admission after an Exam.
You are required to be:
Organized
You are always or mostly organized in your day-to-day life and activities.
This means you can make yourself responsible for bringing structure & balance to your daily activities, making schedules & deadlines, prioritizing & re-prioritizing to de-clutter down.
Confident and secure
You always feel secure in your surroundings and in most situations
You can sensibly lighten up your surroundings to enhance the feeling of security within yourself. This is the customary practice that helps you maintain the levels of your confidence.
Self-aware and Self-motivated
You are always self-satisfied or feel satisfied with your life in most situations
This necessarily means that you do not feel the need to level yourself up to someone around you. You are almost always pleased about your achievements, however little those may be.
An extrovert
Fun-loving and enjoy interacting with people.
You are imaginative sometimes.
You prefer to experience new things and have new experiences sometimes.
Friendly
You are friendly and outgoing sometimes, but not always. You prefer company of people sometimes but not always.
Working well with others
You trust others sometimes but not always.
You act independently sometimes but do not do so in some other times.
Calm in difficult situations
You remain calm in difficult situations sometimes but some other times you are anxious.
You are a soft-hearted person sometimes.
Supporting and helpful to others
You are caring, supportive, sympathetic and kind to others sometimes
You are helpful to others sometimes.
Communication Skills
Verbal abilities and written skills are way too important to succeed. While you must know that, GDs (Group Discussions), which are part of almost every entrance exam for MBA, will put your managerial attributes like interpersonal skills, analytical application, rational thinking, leadership skills, and knowledge content to test in an Exam in India.
These will all be evaluated with respect to your communication skills and proficiency in spoken English through these GDs of an Exam.
Your written skills, however, are typically tested after you are shortlisted for the final admission round of an Exam. IIMs and other top B-schools test your writing skills through Written Ability Test (WAT), which is a pen-paper based writing test of 15 to 30 minutes duration in the final rounds of the Exams in India.
Here, it is important to note that, out of the 20 IIMs all except 2 have replaced GD round by WAT round as their final selection process for admission to their flagship programs. They have found WAT to be a better testing process to assess a candidate than GD.
This is due to the established fact that many candidates could not express their opinion & views, however logical they may be, during a GD because of many who could speak louder being capable of making their presence felt during the GD round.In WAT, however, a candidate can freely put down her views and thoughts on paper coherently without any fear of getting disrupted.
Whether it is spoken English or written, you must be able to communicate, convey, and corroborate (three C's) your ideas convincingly.
Whatever you speak or write, must be:
Clear
Concrete
Concise
Coherent
Correct
Courteous
Complete
B-Schools will essentially want the best of communication skills from MBA aspirants like you so naturally this skill is a top priority. This is particularly because later, while on job, you will be expected to ensure that your meetings, emails, conference calls, reports, and presentations are well constructed and clear – so your audience gets your message.
These are 5 important points that you must consider for effective and well-placed communication:
To know what you want to say
Why you want to say what you want to say?
How will you say it?
Patiently listen to the feedback
Reach an understanding, agreement or consensus.
Particularly while having a conversation, you must retain these other essential elements too:
Be a patient listener: Acknowledge others communicating with you by listening to them.
Rephrase and repeat what you heard: It is an excellent idea to re-establish what is being said to you, or rather what you've heard. This, not only, places the fact that you understood what you heard on record but more importantly what the speaker meant.
Use examples: Try to mention a few examples or personal experiences to explain. This is particularly helpful in communicating your ideas.
Communicate with a positive attitude: Whenever you speak, your audience will be more interested in what you say if you are using a positive sentence structure.
Read between the lines : Analyze what is being said to you. This is also very important as some speakers may have a hard time expressing themselves. You can help the speaker by trying to interpret what they mean.
Build an interaction: Try to construct a bonding so that your audience is more likely to exchange ideas with you.
Build a connection: Try to find a common ground or common interest to open the way to a good conversation.
MBA Entrance Exam Syllabus
There are multiple MBA entrance exams and every entrance exam for MBA has a syllabus that typically consists of similar topics. Always remember to first learn very well about the syllabus of your entrance exam for MBA, the one that you wish to appear for.
The number & order of papers may differ but the content is more or less equivalent in the exam patterns of the top exams for MBA.
There are typically 5 sections common to all exams in India and most exams for MBA are typically designed in a similar way. The number of questions, the order of the papers, the duration of each section, and the difficulty level of questions will vary.
Most Common Syllabus
We have curated and collated the most common syllabus with unique topics in various entrance exams
Verbal Ability Test
This section measures your ability to read & understand textual material in English, to evaluate arguments and to correct textual material to conform to standard written English.
Most entrance exams for MBA have Verbal Ability sections consisting of questions based on English Usage, Antonyms, Synonyms, Sentence Completion, Logical Arrangements, Sentence Sequencing, Arguments, etc.
Reading Comprehension Section
Reading Comprehension passages in exam play a huge role while aiming at high scores. You need to focus on improving your question-solving skills.
This section generally constitutes the highest weightage from 20% to 70% in all the entrance exams for MBA, including CAT, XAT, SNAP, NMAT, IIFT, CMAT, MH CET, MAT, ATMA among others. The questions may be of MCQ type or non-MCQ type. They may or may not carry a penalty of negative marking.
While the reading comprehension passages are mostly followed by indirect questions in the CAT exam for MBA, other exams place direct questions, the answers to which can be directly inferred from the contents of the passages.
Quantitative Ability Test
This section in most top MBA entrance exam patterns generally consists of:
Number Systems
Percentages
HCF and LCM
Ratios and Proportions
Profit & Loss
Interests
Time-Work
Time-Distance
Clocks
Calendars
Set Theory
Quadratics
Remainder Theorem
Functions
Permutations
Probability
Trigonometry
Data Interpretation Skills
The Data Interpretation Section consists of charts & tables and graph- function-based problems. The questions will include tables and graphs to test how well you can apply reasoning skills to different scenarios.
This section will measure your ability to evaluate and understand multiple sources and types of information. These shall include graphic, numeric, and verbal, sources & types.
You will have to use quantitative and verbal reasoning to solve complex problems.You will find text passages, tables, graphs, and other visual information from a variety of content areas in this section.
Logical Ability Test
This section will mainly consist of analogies, logical clustering, mathematical logic, critical reasoning, puzzles, etc. This section differs in the subject matter for the major exams for MBA. Each has its own pattern of questions pertaining to this section.
You will need a set of analytical skills that typically enable people to make effective arguments. For example, there is a hurricane outside, and I say it's a good day to go for a walk to get some fresh air, you know something is wrong with my argument.
But written and spoken arguments are often much more complicated, and the ability to think critically and judge the effectiveness of an argument is crucial to your success in these MBA entrance exams in India.
General Knowledge is Critical
Although this section is not common to all the major MBA entrance exams in India directly, this is a crucial part of scoring well. This is fairly because of the fact that questions are mostly direct with definitive answers. Scoring becomes easy.
The CAT exam for MBA, which is the most popular exams in India, does not have a General Awareness section. However, many other key exams for MBA like XAT, CMAT, IIFT, SNAP and TISSNET do.
General Awareness or GK is a critical component of the testing mechanism. This tests your general know-how about current affairs and static GK topics.
If you end up ignoring this section, it will cost you marks and eventually a fair chance at admission to a good b-school.
This is a section that again needs long-term preparation so you will need to build a good grasp over general ideas about industries and the market scenario etc. Scoring in this section is relatively easier as compared to the other sections.
Except CAT, all the key entrance exams for MBA degrees have GK as an important exam component. It has to be qualified separately.
| | | |
| --- | --- | --- |
| Exam | No. of GK Questions | Total No. of Questions |
| IIFT | 18 | 114 |
| XAT | 25 | 100 |
| SNAP | 30 | 130 |
| CMAT | 25 | 100 |
| MAT | 40 | 200 |
Industry and Business Knowledge is a Must
Your knowledge about the top contributing industry verticals and the corporate world as a whole shall be tested in the final rounds of interviews. You must be well prepped for it.
Each entrance exam for MBA has their own structure, some like of SNAP focus only on industry & business affairs limited to past 2 years or so.
You must be aware of some resounding names in the industry, few of the top enterprises and the industry vertical they are operating in as well as about their contributions (why they are famous if they are).
You must have a sound foundation over ideas about the types of industries existing in the current market scenario (primary, secondary etc.), their roles in an economy, especially banking or IT industries which have tremendous contributions to market dynamics.
Know the latest who's who, latest government policies affecting the industry altogether etc.
You must be aware of recent national & international developments or changes that have been introduced in terms of economic policies or in the corporate world by big honchos in an industry vertical.
You must be well equipped with firm knowledge about the best performers in a given industry vertical.
It is important to be able to recognize logos of different companies and have an idea of the possible thought behind it.
Be familiar with abbreviations of business houses, latest tie-ups of national & international companies and business achievements above all.
Awareness about Managerial Functions and Roles is a Must
You will be expected to have a fair idea of what you will be entrusted with if you get absorbed into a managerial role. Your knowledge in this area will only be tested in the final rounds of interviews.
Personnel in managerial roles are responsible for planning, directing & overseeing operations, performance or fiscal health of a business unit, division, department, or an operating unit within an organization. The duties & responsibilities associated with a managerial role vary with the kind of business that is being engaged with or with the department that the role is part of.
An MBA degree equips you with the skills to conduct, supervise, and handle people engaged in business & its operations efficiently, any kind of business or a business segment.
You will require a plethora of skills like delegation of responsibilities, emotional intelligence, team management skills, and effectively using business tools & strategies for costing, budgeting, to say the least.
Here are 11 examples of managerial roles:
You may be associated with some or all of these duties and additional ones too, as demanded by your recruiting company and its operations in the industry.
Directing and coordinating activities of businesses or departments concerned with the production, pricing, sales, or distribution of products.
Establishing or implementing departmental policies, goals, objectives, or procedures in conjunction with board members, organization officials, or staff members.
Reviewing financial statements, sales or activity reports, or other performance data to measure productivity or goal achievement or to identify areas needing cost reduction or program improvement.
Developing or implementing product-marketing strategies, including publicity campaigns or sales promotions.
Implementing or overseeing environmental management or sustainability programs addressing issues such as recycling, conservation, or waste management.
Monitoring suppliers to ensure that they efficiently and effectively provide needed goods or services within budgetary limits.
Managing the movement of goods into and out of production facilities to ensure efficiency, effectiveness, or sustainability of operations.
Preparing staff work schedules and assign specific duties.
Directing administrative activities directly related to making products or providing services.
Recommending locations for new facilities or oversee the remodeling or renovating of current facilities.
Directing non-merchandising departments of businesses, such as advertising or purchasing.
How to Select the Best Business School?
When you select a school that you wish to take admission to, you must keep the following in mind:
Remember to see the curriculum of the specializations offered by the school for MBA programs
Check out the teaching faculty of the school, their bio-profiles, their prior experience and things like that. See what inspires you. You must know all you can about the people who will be entrusted with the responsibilities of building the future you.
Verify the performance of the school. Conduct self investigations. Evaluate the school's research output as far as your prior knowledge permits. See what kind of research or studies or academic engagements the school has been participating in.
Also, read: GMAT vs CAT
Here is the checklist with 5 essential steps to pick the best B-school:
Check the quality of academics: see whether the courses point at the future, are they dynamic enough to match pace with futuristic developments? Does the faculty have extensive exposure to research and consulting? What are the specializations offered by the institution?
Check the teaching methods: see how learners are being nurtured. See whether there is scope for discussions, case studies, team assignments and project work.
Check whether the learning opportunities are practical: see if internships are available and their quality. Is the school offering real time projects? What is the possibility of co-curricular activities?
Check for career opportunities: see what sort of placement assistance is provided by the school. Are the recruiters awesome enough where you will be able to grow & learn?
Check the validity of the qualifying degree offered by the school: see if the final degree that will be offered to you, is recognized nationally?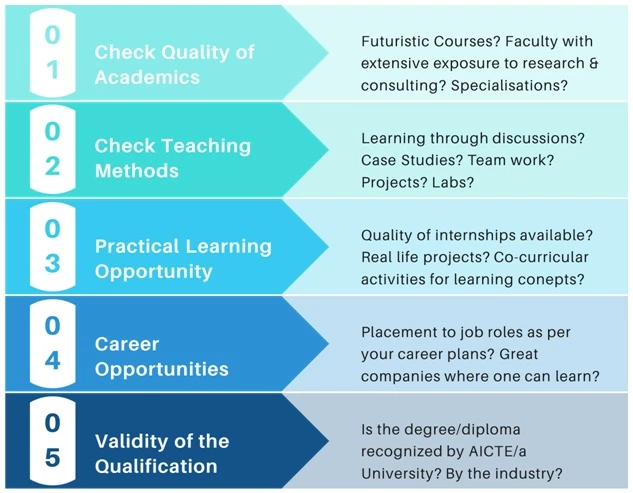 Interaction with a school alumnus
This is by far the most crucial exercise that you must accomplish before finalizing your evaluations of a b-school. You must try to establish contacts with 1 or more alumni of the school. This is fairly easy, given the current technological advancements of today.
Design and prepare a questionnaire that you can use to arrive at conclusions while communicating with the chosen alumni. Try to get definitive feedback from them before your exam and selection.
Useful Links:
Conclusions
Hello there! Looking forward to getting admission to an esteemed business school after clearing top MBA entrance exams like the CAT exam, XAT, GMAT, or the MAT exam? Hope we've been able to help you with all-round knowledge about exams for MBA as well as tiny details for each type of entrance exam for MBA. Nevertheless, do you need some handholding to get you through this? How about a discussion with our expert career counselors with decades of experience concerning education in the field of management?
Discover More by accessing the Free Career Dashboard
This will help us share relevant information with you
Trending Posts


Anushree has 4+ years of experience in the career counseling industry as a Senior Content Writer. She has also worked as a Social Media Marketing Expert for a startup and Content Quality Analyst for Publishing and E-learning Industry. She has done her Master's in Commerce and PGDM in Finance & Trade and Marketing & HR, but she is currently following her passion for writing.