Business degrees like online MBAs are one of the world's most popular cross-boundary options in higher education today. It has become very popular in higher education today, and some cost as little as half of their on-campus counterparts.
While the number of enrollments and applications for full-time MBA programs has declined consecutively over the past5 years, demand for online MBAs has exploded
How can we justify this vastly expanding market? These programs are quintessential business credentials and an ideal guide for prospective students who don't want to quit their jobs.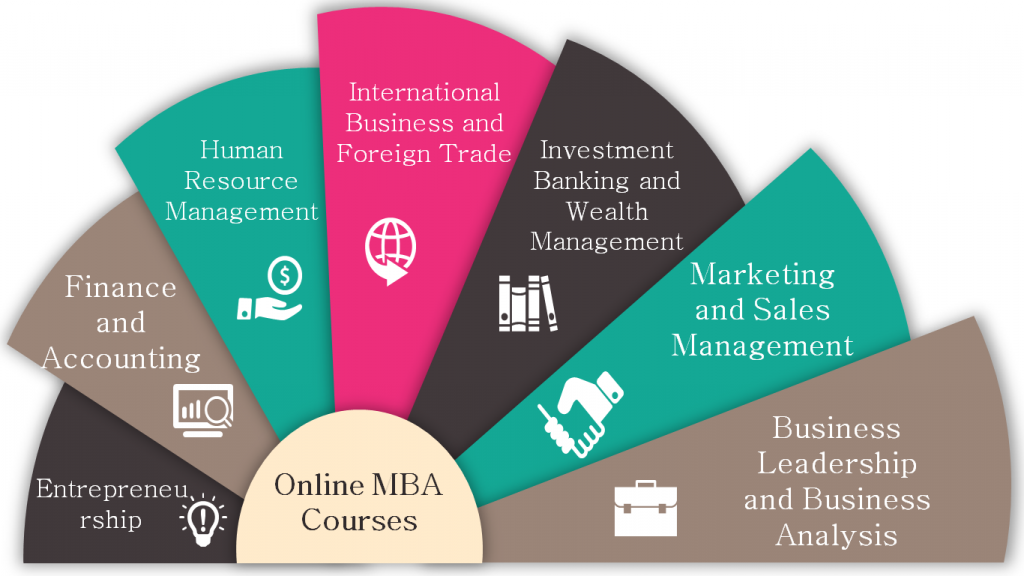 What is an Online MBA?
The intention of doing an online MBA is to give your career an upgrade and enhance your chances of swift promotions. It is an advanced version of distance learning.
The lectures are imparted through video conferencing and your notes & recordings of lectures can be carried in pen drives. The courses are offered by several management institutes across the world. The tenure of the courses can vary from 1 year to 2 years in some MBA colleges.
It is an extremely convenient mode of learning, particularly for those looking to complete their management degrees without sacrificing their jobs. In recent years, students have shown increased confidence in such online courses with the advancement in data connection & speed.
Because of its dependence on satellite/ online mediums, online MBA programs are also known as satellite management programs.
Grow your career with support from an incredible business school
Online MBAs are career-oriented degrees by nature. Educational content is typically rooted in case studies across a variety of industries. This makes it easy for you to apply your learnings. Group projects and virtual or regional live in-person networking events will help you to foster deep connections with your peers and faculty.
Online degrees in business promise a clear way to advance your career &build a fantastic network with a credential recognized across industries. As you think about a degree in business, the question you should be asking yourself is: what's next for my career?
Earn an MBA with faster ROI – Breakthrough Pricing
Thinking of return on your investment (ROI)? Well, it shouldn't be new to you that the cost of higher education has proved challenging in some economies around the world.
Online degrees often cost as little as half the cost of their on-campus counterparts. This also ensures you can see ROI faster on your hard work after the completion of your business degree program.
Earning your most coveted postsecondary degree in business and earning it online can provide a great return at a practical cost. This is coupled with the fact that you don't need to quit your job and lose your salary.
Effective Learning – Interactive & Engaging
They are more than just video lectures and case studies. Many programs offer weekly live class sessions across a video conferencing platform. Online degrees often meet for live sessions on Zoom and during faculty office hours.
This promises similar network building that you can expect from on-campus programs. The same is, more often than not, more efficient.
To put in other words, maximum students mostly care about two common things when it comes to an online degree:
Career growth
Return on investment
So, You Want An Online MBA. Know This.
You're determined that you want to get an MBA degree. However, you don't find the option of a full-time on-campus or maybe even a part-time on-campus program plausible for you.
What you're looking for is more flexibility as well as greater control and both at a lower cost. So, it is the best most reasonable option! There are multiple choices out there for this online course.
You will definitely need a program that will deliver the knowledge, skills, and network you need for success in your current and future jobs.
The primary elements of the program are:
Focus
Learning style
Delivery method
Duration
Colleges in India
In India, there is a dichotomy between an MBA and a PGDM (Post Graduate Diploma in Management). There are currently no colleges in India offering online full-time degree courses in Management which is equivalent to a full-time on-campus program.
Further, AICTE has a standing directive that states that an institution cannot run both PGDM and MBA courses in the same institution. They are permitted to run all courses as either MBA or PGDM.
We have a few noted establishments in India offering PGDM classes and PGDBA (Post Graduate Diploma in Business Administration) in the online mode. We also have PGCM courses (Post Graduate Certificate in Management) which are offered by select colleges in India, through both classrooms as well as online modes.
Online PGCM programs range typically from 12 to 15 months. You are required to complete the program in a minimum time, which is subject to extension, usually till a minimum of 3 years.
List of 20 Colleges in India: For PGDM, PGCM, and PGDBA Courses
While MBA colleges need an affiliation to a university, PGDM/ PGDBA/ PGCM courses (online or offline) need no such affiliations but AICTE/ UGC-DEB approval and/or NBA (National Board of Accreditation) accreditation to run their courses. However, a 2-year PGDM qualification is considered equivalent to an MBA.
The popular specializations offered for online PGCM/ PGDM/ PGDBA courses in India typically are Finance, Marketing, Operations, Human Resources, and Business Analytics.
The following are among noted institutions in India conducting AICTE/ UGC-DEB (Distance Education Board) approved online PGDM/ PGDBA/ PGCM classes (open & distance flexible learning modes).
Few colleges, like ICFAI, also provide online (distance flexible learning) 'Sectoral MBA' programs of 2-year duration focused in specific industrial sectors like Hospital Administration, Pharma Management, Telecom Management, Power, Energy, Transportation &Logistics, Aviation, Oil & Gas, Infrastructure, Banking & Insurance, Retail Management, and International Business.
All India Management Association (AIMA, Delhi)
Institute of Management Technology (IMT, Ghaziabad)
Maharashtra Institute of Technology (MIT, Pune)
Institute for Integrated Learning in Management (IILM) Graduate School of Management (Greater Noida)
NMIMS Global Access School for Continuing Education, Mumbai
Symbiosis Centre for Distance Learning
IIM Ahmedabad
Indian School of Business Management and Administration, Hyderabad
IIM Calcutta
Management Development Institute
IIM Lucknow
Amity School of Distance Learning
Great Lakes Institute of Management
ITM University Online, Navi Mumbai
Karnataka State Open University
Venkateshwara Open University, Pune
Sikkim Manipal University of Distance Education
ICFAI University
Indira Gandhi National Open University (IGNOU)
Yashwantrao Chavan Maharashtra Open University
Why They Are The Future?
In 2019, the University of Illinois at Urbana-Champaign announced the closure of its full-time and part-time MBA courses. This was sole because it intends to focus on the expansion of its courses.
The popularity of online-format MBAs has grown massively in recent years. According to Graduate Management Admission Council (GMAC-the body that conducts the GMAT exam), the majority of MBA courses in 2016 reported an increase (to 57%)in applications from just 50% in 2015.
The courses are also available in all price points and lots of different formats.
If you're hoping to get your MBA while working full-time, running your own small business, or even doing both, you may have a feeling that accommodating your classes in your busy schedule is going to be a tall task. Flexible study options like these online courses are becoming increasingly available and popular.
Because of the absence of any physical travel, you choose from a much broader range of schools when it comes to where you'd like to get your MBA. Some of the best colleges in the world offer these degrees.
Additionally, there are many cheaper options than the traditional MBA. Owing to the fact that the cost of running an online course is relatively low compared to teaching students on-campus, most institutions can afford to drive their tuition prices down to around one-third less.
The credibility of the online degree is certainly better than what it used to be. With the rise of online MBAs, the stigma attached to online degrees has long faded. Online delivery models have become far more trustworthy.
Recruiters today can recognize the amount of self-motivation, self-control, and commitment that online students put in to achieve their goals.
You will have exactly the same well-known and well-respected qualifications with an online course that you would expect with an on-campus qualification. Moreover, you can enjoy a far lower price tag and much more flexibility around learning.
How to choose an Online MBA program
Answer these 4 questions to make an informed choice
Look at the following questions. If you are confused as to which course to choose and have listed hundreds of college options, your answers to these questions can greatly help you to shortlist your options.
By understanding the parameters of various courses, defining your personal & career goals, and thoughtfully answering the following questions, you can build a target list of the best online MBA programs that are most suited to you.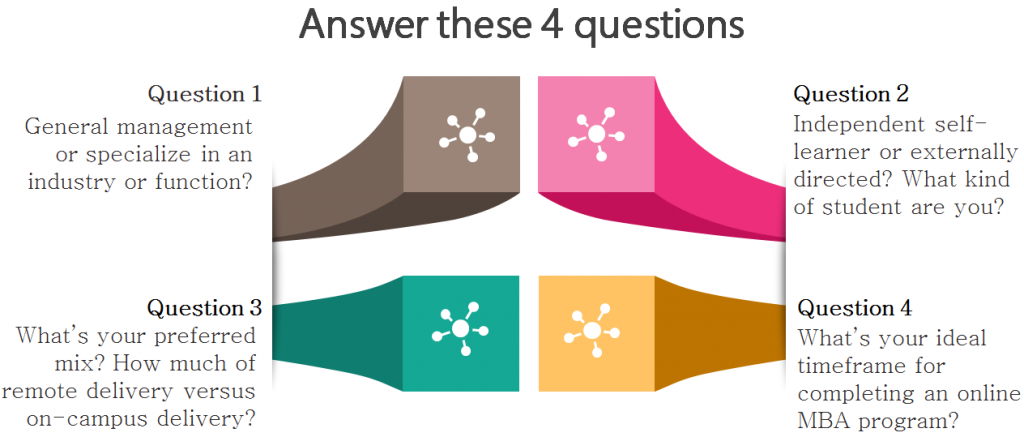 Question 1
Do you want a degree focused on general management or one specializing in an industry or function?
If you want to change direction to or advance your current career in entering a specific industry, consider a model focused on your desired field.
Alternatively, if you're looking at general management MBA education, you'll gain an overview of business, like basic disciplines such as accounting, marketing, strategy, finance, economics, etc.
Basic disciplines like accounting, marketing, strategy, finance, economics, etc. typically provide about half the credits necessary to earn an MBA degree. The other half comes from elective courses that you will have to choose from.
You may also choose a program model with your preferred focus in a specific industry such as sustainability, healthcare, sports management, etc.
You should, most importantly, make this choice between general management and specialization as fitted to your career goals.
The general management model offers you a break to pursue a range of opportunities and you can ultimately qualify for a C-suite job (CEO, CFO, CTO, COO, etc. positions).
The specific industry model offers depth in your chosen industry and helps you accelerate your advancement along that path.
Question 2
Independent self-learner or externally directed? What kind of student are you?
The courses are typically 'self-paced' so you will have more freedom in scheduling your classes. However, some offer limited two-way communication and stifled interactions which means inadequate relationship building, mentor input, or real-time student community participation.
Online programs offering more interaction are always more engaging and motivating for students who are basically self-learners. Real-time communication with classmates and instructors invites multiple perspectives and offers ways to analyze as well as solve problems.
Real-time communication models also foster enduring alliances and friendships with contemporary students as well as alums. Most programs with this model have a prescribed path to graduation.
Such online programs can help you stay on schedule and adequately paced toward completing your MBA studies. However, this model may offer less flexibility in scheduling classes and may also require more time to earn your degree.
Question 3
Many online MBA programs shave a required on-campus component, especially those from top-tier business schools.
So, what's your preferred mix? How much of remote delivery versus on-campus delivery?
Lasting anywhere between 2-3 days and an entire week, on-campus residencies can take place at the start, middle, and/or towards the end of the program.
Models that require you to start with an on-campus component will do so mostly to get you acquainted with other signees and integrate you with your counterparts in the residential program.
Some colleges with this approach may also introduce you to experiential learning, and various clubs. This improves the chances of team projects, class trips, future cohort meetings, and on-site company visits.
B-schools offering on-campus residency towards the end of an online program do so to provide common "capstone" projects for their program just before completion.
For online students with significant professional or personal obligations, the schedule, time, and travel required to attend residencies can be difficult or even impossible. So, you must discuss this parameter in advance with your employer and/or family before deciding on the right model for you.
Question 4
What's your ideal timeframe for completing an online MBA program?
The time frame for earning an MBA degree is another major consideration for online students. These courses may range from 10-24 months or up to several years. This must be considered with reference to your other goals.
Short programs can include less interaction with fellow students and faculty, more pre-recorded lectures, as well as the absence of a mandatory residential component.
Such programs typically offer fewer electives and a lesser number of extracurricular activities that include fewer real-time consulting, company visits, or team projects. This model, however, can provide you with flexibility as to when you want to "attend" your classes and focus your studies in a particular discipline.
Longer programs offer less flexibility however but offer more team projects, interaction, electives, and extracurricular. Additionally, students who go for this model typically sense a closer bond with the school's culture, practices, and alumni network.
Top 10 Best Online MBA Programs in the World
Tepper School of Business (Carnegie Mellon University), $137,200
Kelley School of Business (Indiana University), $74,520
Marshall School of Business (University of Southern California), $106,197
Lehigh University College of Business, $39,600
Chapel Hill Kenan-Flagler Business School (University of North Carolina), $125,589
Amherst Isenberg School of Management (University of Massachusetts), $35,983
Worcester Polytechnic Institute Foisie Business School, $75,168
Harbert College of Business (Auburn University), $35,100
The University of Nebraska-Lincoln, $30,240
Rochester Institute of Technology Saunders College of Business, $78,000
Top 10 Online MBA Courses in The World for Best Career Outcomes
Here is a curated list of the top 10 global b-schools offering online degrees in management which typically have the best placement percentages as well as career growth with respect to the alumni network.
USC Marshall School of Business
Carnegie Mellon Tepper School of Business
Rochester Institute of Technology Saunders College of Business
Worcester Polytechnic Institute, Foisie Business School
Kenan-Flagler Business School (University of North Carolina)
Auburn University Harbert College of Business
Indiana University Kelley School of Business
Jack Welch Management Institute
North Carolina State University Poole College of Management
Ohio University College of Business
Top 10 Online MBA Courses in The World with Best Student Satisfaction %
Prospective online students have some common worries. You will wonder if you'll learn as much online as you did when you sat in traditional classrooms during your undergraduate education or other regular-mode formal degrees.
You'll be concerned that the bonds you form on campus will be incredibly elusive in the Internet world. And you shall think that you may also have to sacrifice connections with faculty who could become valuable mentors over your professional lifetimes.
Student satisfaction matters, especially admissions standards, career outcomes, and academic & extracurricular online experience. It can be a powerful endorsement of a program for future students.
Here's the list of top MBA colleges in India:
Carnegie Mellon Tepper School of Business
Rochester Institute of Technology Saunders College of Business
University of North Carolina Kenan-Flagler Business School
Indiana University Kelley School of Business
Jack Welch Management Institute
Ohio University
Lehigh University College of Business & Economics
Worcester Polytechnic Institute, Foisie Business School
Hofstra University Zarb College of Business
USC Marshall School of Business
List of 34 In-Demand Specializations of Online MBA Courses around the world
Marketing and Sales Management
Digital Marketing
Finance And Accounting
Strategic Management
Logistics And Supply Chain Management
Human Resource Management
NGO Management
International Business
Retail Management
Advertising and Brand Management
Travel and Tourism Management
Public Accounting
Business Management
Banking Management
Digital Marketing
Investment Banking and wealth management
International Marketing
Financial Planning and Analysis
Healthcare Management
Finance Management
Marketing Management
Entrepreneurship
Operation and Production Management
Business Leadership
Business Analysis
Foreign Trade and Global Business Management
Human Resource Management
Mass Communication
Risk Management
Project Leadership Management
Branding and Advertising
Media and Entertainment Management
Ecommerce Marketing and Management
Information Technology Management
Conclusions
Looking forward to getting that long-coveted MBA degree? Confused about online MBA colleges in India or courses in India or the best programs abroad? Hope we've been able to help you with all-around knowledge about them as well as tiny other details you never knew about. Nevertheless, you need handholding to get you through this. How about a discussion with our expert career counselors with decades of experience concerning education in the field of management?
Useful Links

Anushree has 4+ years of experience in the career counseling industry as a Senior Content Writer. She has also worked as a Social Media Marketing Expert for a startup and Content Quality Analyst for Publishing and E-learning Industry. She has done her Master's in Commerce and PGDM in Finance & Trade and Marketing & HR, but she is currently following her passion for writing.