MBA or Master of Business Administration is a master's degree in business administration (management). The MBA degree is one of the most sought-after degrees in the world. MBA students study the theory and relevance of business and management principles. This study equips students with knowledge that can be applied to an array of real-world business situations. But the question is how to choose MBA specializations.
Did you know?

There are around 30 MBA specialization programs offered by several management institutes in India.
So, the most common dilemma (which is obvious) students face when planning to do an MBA is which specialist course to study. From marketing and finance to human resource management and information systems, an MBA is a broad field, and choosing a specialization that matches your interests and skills can be a daunting task. Nowadays, universities around the world offer highly specialized courses with world-class infrastructure.
Fascinated by this much info? Want to know more… Come along!
What all is covered in this post?
To make it easier for you, we have created a quick guide to everything you need to know about MBA specializations.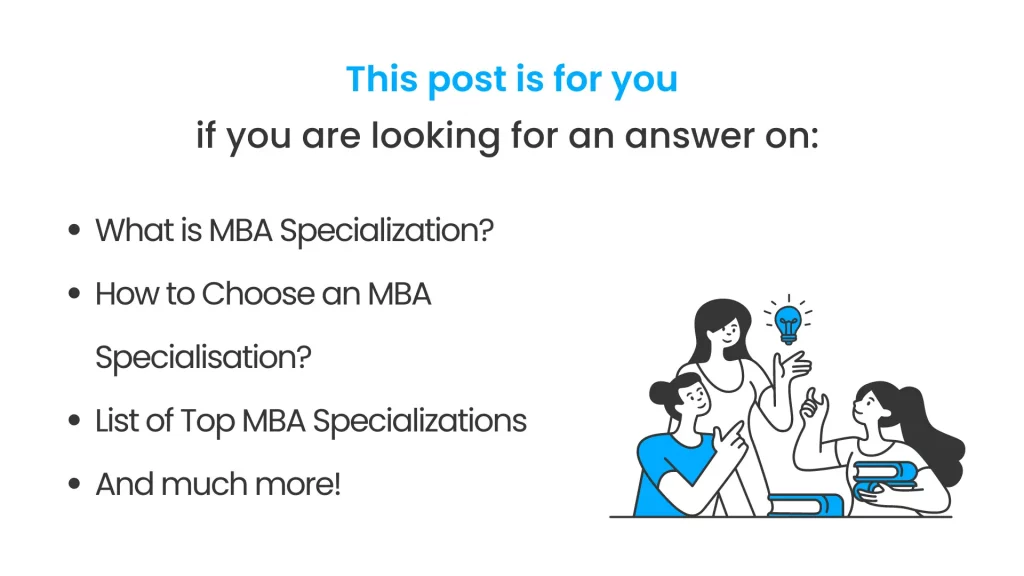 What is an MBA specialization?
A company or organization has several functions and departments. During an MBA program, business schools allow students to study more courses and assignments in a specific area/domain such as marketing, human resources, finance, etc., as part of an elective course.
When a student successfully completes this set of field-specific electives, he/she earns an MBA with a specialization in that particular field. It helps students to get jobs in the field of knowledge.
How to choose an MBA specialization?
MBA candidates can opt for a general MBA course or pursue a specialization of their choice in the said program. But choosing the right specialization is very important as this decision can make or break your career.
When choosing an MBA specialization, you should consider the following:
Scope of career development by specialization / placement / internship opportunities
Long-term career goal
The reputation of the institute's faculty in the specialty of your choice
Pedagogy of elective specialty
College infrastructure for the major of your choice
The cost of the course and the return on investment (ROI) of the program
Best MBA specializations courses
MBA specialization envelops an assortment of areas of business such as accounting, finance, marketing, human resources, and operations. These programs are designed so that students gain exposure to theory and practice alike. Choosing the right MBA specialization is very important. Following are some of them:
MBA Finance
MBA in Finance is the oldest form of MBA specialization. Finance is the backbone of any business. MBA Finance prepares you in various subjects like costing, budgeting, international finance, and capital management. Students who specialize in finance will find opportunities in more or less any industry.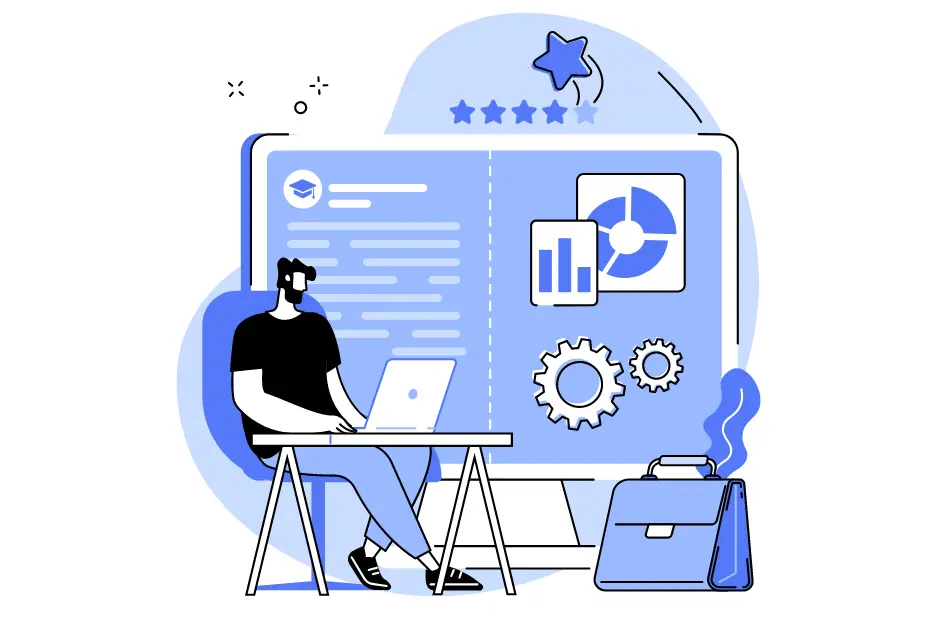 MBA Marketing
MBA in Marketing is very dynamic and competitive. It facilitates a student to understand consumer behavior, market advertising, and many other important fields including media, working with a creative team, or writing ad copy for an advertising agency or PR firm. One needs to have admirable communication skills and an enduring zeal to excel in marketing.
MBA Human Resource
MBA in Human Resource (HR) – if you have good communication skills, a charismatic personality & are dependable and confident, this course is for you. Prepares you to work as the head of the HR department, advertising for, recruiting, hiring, training, evaluating, and firing employees. It includes diversity, mergers &acquisitions, labor markets, and emerging economies.
MBA Operations
MBA Operations helps you deal with production management or floor management. You learn how to maintain process flows, and develop vendor, and inter-departmental relationships. It's a great choice for students with an engineering background as it gives them an edge over their contemporaries in product development and design and process optimization.
MBA in Health Care Management
MBA in Health Care Management prepares you for middle to upper-level management in healthcare. However, most of these positions require some medical credentials in addition to an MBA.
Discover More by accessing the Free Career Dashboard
This will help us share relevant information with you.
Other popular courses
Include an MBA in Communication which prepares you for jobs related to journalism, PR, media, and advertising. An MBA in Project Management is essential for fields like construction, technology, software development, architecture, and R&D firms.
MBA in Entrepreneurship and MBA in IT Management prepare those with a background in programming, database administration, software development, or IT to take on greater responsibilities in managing a team. A few other lesser-known specializations these days are MBA in Media, MBA in Telecommunications, MBA in Technology Management, and an MBA in Sports Management.
List of toughest MBA specialization
Here is the list of toughest MBA specialization programs:
Accounting
Entrepreneurship
Finance
Healthcare Management
Technology
Which MBA specialization is best paid?
In this section, we have mentioned the top 5 MBA specializations which are considered the highest paying specializations:
MBA in
Finance
Marketing
Business Analytics
Operations
Entrepreneurship
When do you choose a specialization in MBA?
If you are doing a general MBA from an IIM or other top B-schools, you can choose a specialization at the end of the first year, but if you join a specialized MBA program, you will choose a specialization on the first day of your first year. you cannot change your MBA specialization.
Conclusion
Choosing the right kind of degree that suits you is the most important step. Thus, when you finalize that you would be pursuing an MBA then it is equally important to evaluate and identify which MBA specialization you would take up as your major. Getting into a great college teamed with an enigmatic personality, good communication skills, and an enduring zeal to learn will take you to great heights. Start preparing for a tremendous future!
At iDreamCareer with the help of our Career Counselling and Guidance Services and educational counsellor, we try to help young confused minds from 9th class, 10th class, class 11, class 12 with an aim to select their most-suited career choices.
Useful links
Discover More by accessing the Free Career Dashboard
This will help us share relevant information with you
Trending Posts

FAQs
What are the benefits of getting a specialized MBA?
Specialized MBA programs provide students with a deep knowledge of the field, as well as the scope and challenges. This will provide students with a managerial experience that will help them build a solid career path in a particular industry sector in the long term.
Which MBA major is the highest paying?
Some of the highest paying MBA majors include finance, entrepreneurship, marketing, operations, international business, etc.
What are the best B-schools that offer specialized MBAs?
Some of the top B-schools that offer specialized MBA programs include the Indian Institute of Foreign Trade (International Business), Ananda Institute of Rural Management (Rural Management), and NMIMS Mumbai (Pharmaceutical Management, Sustainability Management), MDI Gurgaon (Energy Management), etc.

Anushree has 4+ years of experience in the career counseling industry as a Senior Content Writer. She has also worked as a Social Media Marketing Expert for a startup and Content Quality Analyst for Publishing and E-learning Industry. She has done her Master's in Commerce and PGDM in Finance & Trade and Marketing & HR, but she is currently following her passion for writing.