If you decide to study at a British institution, you should know that you must be fluent in English. There are standard assessment exams that can be used to assess your level of English. IELTS is one of them and is the most common test in the UK. IELTS is a standardized test that a student whose English is not their first language must take to demonstrate their knowledge of the English language. Would you believe us when we tell you that you can study in the UK without taking IELTS?
Yes, you read it right! International students can now study in the UK without IELTS. As international students around the world demonstrate excellent levels of English, several UK colleges refuse to take the IELTS test for international students. So put aside your preconceived notions about "Is IELTS important for studying in the UK?" Read on to find out how to study in the UK without taking IELTS.
Did you know?

The Government of the UK has also introduced a two-year stay-back policy after the completion of a degree for international students.
Let's get back to the post…
What all is covered in this post?
To make it easier for you, we have created a quick guide to everything you need to know about studying in the UK without IELTS.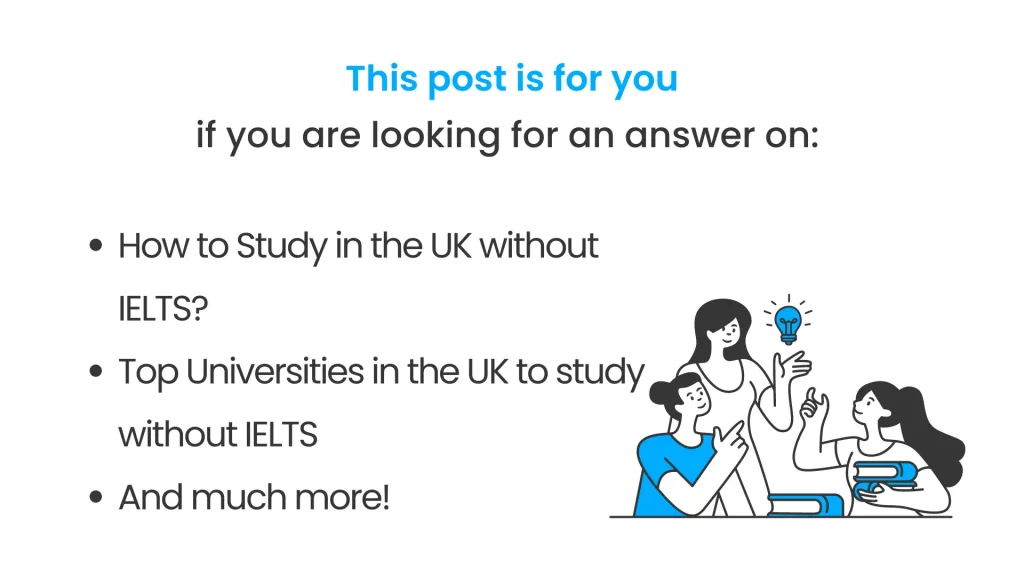 We assume most of you are aware of what the IELTS exam is all about, but those who are not they can read about the IELTS exam here.
How to study in the UK without IELTS?
IELTS is not the only way a university can test the English proficiency of applicants. There are certainly other options too that UK universities are offering to candidates who want to study in the UK but have not given IELTS exam.
Step 1: Application procedure
Select the courses and universities you want to apply to.
Check the eligibility criteria offered by the University on its official website as well as verify University rankings
Select the University which offers chosen course without an IELTS scorecard.
Step 2: Interview
Once your profile gets shortlisted, you will be required to appear for an online interview conducted by the university to check your English proficiency.
Step 3: Fees payment
Once you have cleared the interview round, you will receive a letter of acceptance from the UK college, to which you have applied. It is a confirmation that you have been selected to sign up for the program you have been interested in. The next step is to pay a tuition fee for the chosen program.
Step 4: Apply for a UK student Visa
You will be required to submit the following documents to qualify for the UK student visa process without IELTS:
Copy of filled student VISA application form
A letter of acceptance received from the university offering admission without IELTS
Passport
Copy of your financial documents to prove your financial stability during your stay in the UK.
Requirements to study in the UK without IELTS
Unsurprisingly, given how important an IELTS score is to stay and study in the UK, there are several alternatives you can consider to study in the UK without IELTS.
Following are the criteria to study in the UK without IELTS for Indian students:
If your previous education was in English: Some universities in the UK allow international students to study in the UK without IELTS, whose previous education was completed at English secondary school. To prove your knowledge of English, you need to obtain a Medium of Instruction (MOI) certificate from your previous institution.
Year 12 English scores: Many universities that offer admission to the UK without IELTS require students' Year 12 English scores. In exceptional cases, universities may require 10th-grade grades. For example, if you scored more than 70% in English in your 10th and 12th class, universities may consider it as proof of English proficiency.
Online interview: A few universities may ask students to appear for an online interview via Skype. They will assess your level of English during this interview.
In addition, there are universities that may not ask you to provide an IELTS or TOEFL score, but to write a separate exam to confirm your level of English.
Note: English proficiency is one of the requirements for Tier 4, the UK's most common student visa. However, if your university rejects your IELTS test scores, you can ask them to issue a document that you are eligible for a UK student visa.
Documents required to study in the UK without IELTS
After receiving an acceptance letter from a UK university, candidates can start applying for a student visa. You will be required to complete the application and pay the Immigration Health Fee (IHS), students must pay a visa fee of £348. Once the fees is paid, applicants need to make an appointment at the nearest VFS and provide biometrics along with the application and necessary supporting documents.
Here is a list of documents to fulfill UK student visa requirements for Indian students without IELTS.
Academic Transcripts (both HSC & SSLC)
Bachelor's semester marks sheet
Letters Of Recommendation (LORs)
Medium of Instruction certificate (Depending on the senior year scores in English)
Offer letter
Provisional certificate & consolidated marks
Resume
Statement Of Purpose (SOP)
Valid Passport
Work Experience letter (if required)
Now the question is which universities in the UK do not require IELTS?
Top universities in the UK to study without IELTS
Passing the IELTS exam is important because your stay depends on it. Knowledge of English is mandatory for obtaining a student visa, so admission to the university is not affected in any way. Those who do not want to take IELTS or any other English language test can now apply to universities that offer admission without asking for IELTS scores. However, there may be other criteria set by the university that you must meet to secure admission.
UK universities may ask students to prove their English language proficiency in other ways than through standardized test results. In this way, you can check with the university how it measures your level of English, thus saving your time, money, and effort at the same time. Following are the universities in the UK where you may study even if you have not qualified IELTS exam:
Aston University
Birmingham City University
Birmingham City University
London Southbank University
Northumbria University
Riga Technical University
Robert Gordon University
Sheffield Hallam University
Swansea University
University of Basel
University of Bolton
University of Bristol
University of Central Lancashire
University of Central Lancashire
University of Geneva
University of Greenwich
University of Northampton
University of Plymouth
University of Portsmouth
University of Warwick
Epilogue
Studying in the UK brings a variety of exploration options, job and research opportunities, a multicultural environment, and much more that you can expect at an affordable cost compared to other popular countries. We've served you much, isn't it? Now, to put all those existing doubts at the back of your mind to rest, why not ask expert professionals?
iDreamCareer is on a mission to reach every state and every child to ensure that talent is appropriately delivered to the industry.
Talk to our study abroad experts to know yourself in and out! We have helped several brilliant but confused minds to select their most-suited career choices. We have helped many students like Anjana Prasanna who was not very confident about her capabilities. Later with the help of career guidance and moral support from our study abroad experts she got an offer from King's College London! We have also helped several brilliant but confused minds like Aayush, and Tapan to select their most-suited career choices.
Also Read:
Study in the UK without IELTS: FAQs
Is it possible to study in the UK without IELTS?
Yes, it is possible to study in the UK without IELTS. To do this, you must meet the English language requirements, such as having more than 70% English proficiency in high school or passing an online interview conducted at the university, or proof of English as a medium of instruction at your school.
What is IELTS?
IELTS stands for International English Language Testing System. The IELTS exam analyzes a person's ability to read, write, speak and listen. It is basically a standardized test for non-native English student who wants to show their English proficiency.
Can I get a scholarship in the UK without IELTS?
Applicants can obtain a certificate of English proficiency from their former university. The university letter must state that the candidate has completed all courses in English. Instead of the IELTS certificate, you can use the letter form from this university.
Can Indian students work in the UK without IELTS?
You will be allowed to work legally in the UK after completing your degree without an IELTS requirement. The UK Higher Commission usually accepts students who have received a 'Confirmation of Admission to Study' (CAS) from the UK university to which they have applied.
Is the UK giving visas without IELTS?
Yes, you can get a UK study visa without IELTS. To do this, you can show the immigration authorities a certificate from the university you enrolled in that you are eligible for a study visa without IELTS.
Is IELTS necessary for UK Education?
No, you can study in the UK without IELTS.

Anushree has 4+ years of experience in the career counseling industry as a Senior Content Writer. She has also worked as a Social Media Marketing Expert for a startup and Content Quality Analyst for Publishing and E-learning Industry. She has done her Master's in Commerce and PGDM in Finance & Trade and Marketing & HR, but she is currently following her passion for writing.