Want to study in UK? But not sure how you can afford it. The UK is a world leader in many areas of education, including engineering, science, art and design, business and management, law, and finance. The UK's reputation and heritage as a world center for scientific research make it a magnet for some of the world's very best thinkers. Great Britain accounts for only one percent of the world's population, but it accounts for eight percent of the world's scientific publications.
Do you know?

One of the most exciting things about the UK education system is that it allows international students to mix and match courses and specializations from different fields.
The amount of information may be huge at first, but by organizing everything, you will be able to deal with the whole process easier. To make it easier for you, we have created a quick guide to everything you need to know about studying in the UK.
So, without taking much time let's dive into the info you wanted…
What all is covered in this post?
To make it easier for you, we have created a quick guide to everything you need to know about studying in the UK.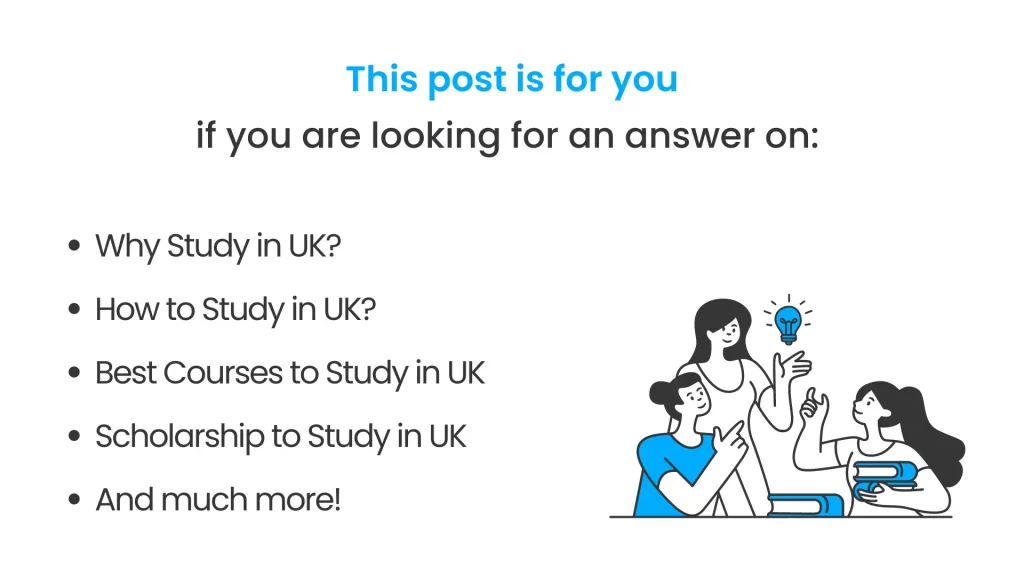 Why study in the UK?
Opting to study abroad UK is a popular choice. Every year, about 2,70,000 students come to the UK and receive a world-class education in a multicultural environment. Students have a wide range of opportunities to gain in-depth knowledge and experience to develop their skills to perform well in the future.
While there are many benefits of studying in the UK, some of the main benefits are:
The United Kingdom is the birthplace of the English language, making it an ideal place to develop language skills and increase employment opportunities globally.
Educational Institutions of the UK are always ranked among the best in the world, and their degrees are recognized worldwide.
UK universities offer you a variety of options, allowing you to combine academic and technical courses in the way you like.
You will also have a chance to learn from some of the world's leading scholars and professionals and receive ongoing academic assistance.
Degrees in the United Kingdom (UK) may be tailored to your interests and often contain specialized courses.
How to study in UK?
Applications to UK universities are usually made through UCAS (University and College Admission Service). Applications for PG (postgraduate) are usually made directly to the university, usually through the university's website.
If you're an international student, be sure to apply well before the deadline, especially if you want to get into one of the top UK academies. Check the course pages on the university website properly for how to apply and the eligibility criteria.
If you have completed your degree outside the UK, you will need to research the entry requirements of the university you wish to attend. Few universities have articles about this on their websites, or you can contact their administration for instructions.
Following are the steps to apply for UCAS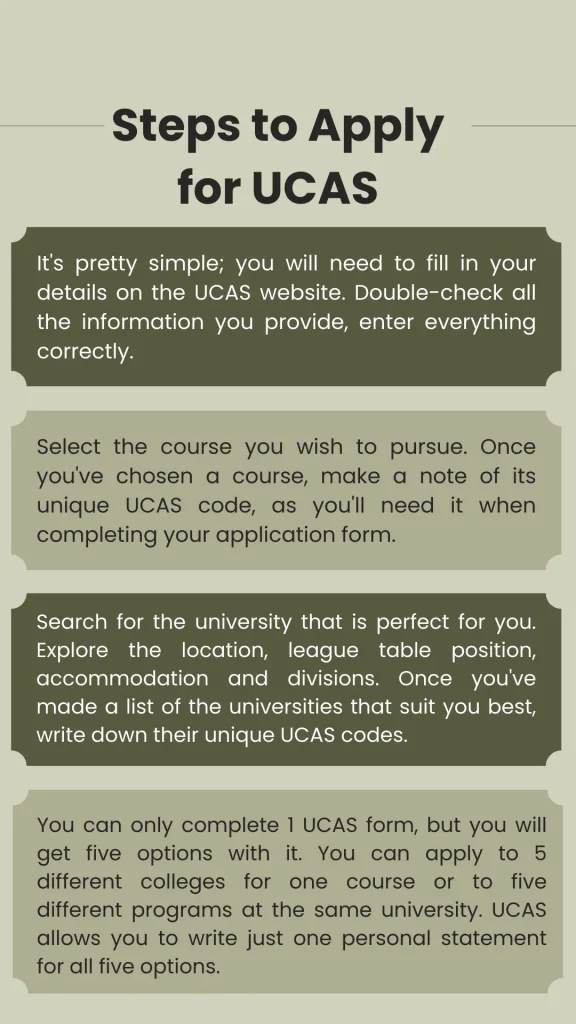 Requirements of documents to study in the UK
They vary by curriculum and level. For each course, Indian students must meet the minimum English language requirements. Minimum academic performance of 65% and above for the humanities stream in class XII, and 70 – 80% and above for the science/commerce stream in class XII will also be required. Foundation and Diploma programs are available to students who have secured below 60%. A student must be 18 years of age before enrolling in an educational program.
Documents required for UG courses in UK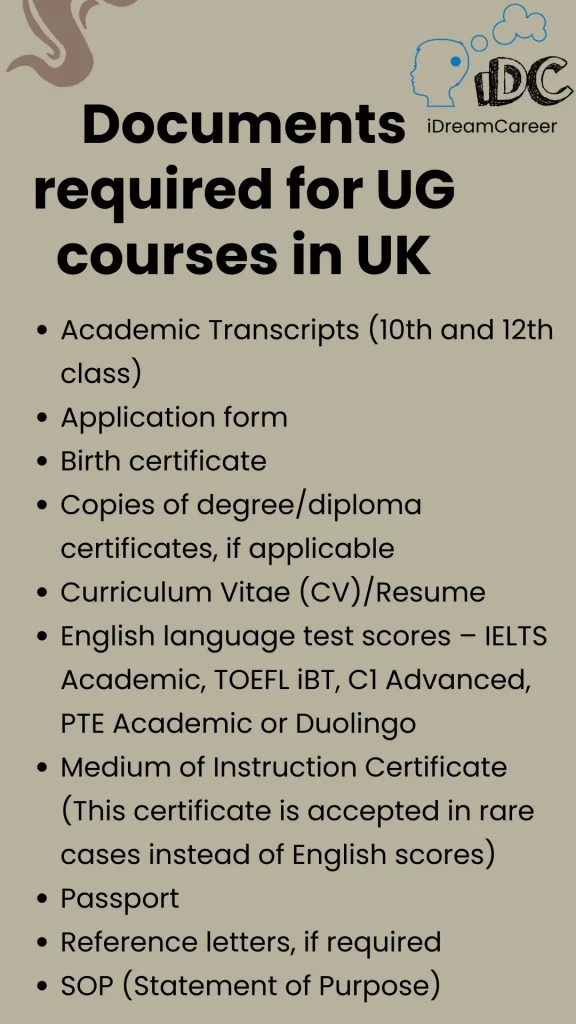 Note: Other entrance exams scores like LNAT Exam (for law), Mathematics Admissions Test or MAT (for bachelor in sciences & engineering), BioMedical Admissions Test or BMAT (for medical, biomedical, and dentistry program), and SAT, etc. are also required.
Documents required for PG courses in UK
Academic Transcripts (10th, 12th class, and bachelor's degree)
Application form
Birth certificate
Copies of degree/diploma certificates, if applicable
Curriculum Vitae (CV)/Resume
English language test scores – IELTS Academic, TOEFL iBT, C1 Advanced, PTE Academic or Duolingo
Medium of Instruction Certificate (in rare cases instead of English scores)
Other entrance exam scores like Graduate Medical School Admissions Test (GAMSAT Exam), GRE, GMAT, etc.
Passport
Reference letters, if required
Statement of Purpose
Research proposal/ Any Portfolio (for specific courses)
Best courses to study in the UK
Higher education system are universal and excel in several areas of study. The UK is considered one of the top destinations for students interested in business studies, engineering, humanities, and STEM.
Here is a list of the top 10 courses to study in the UK:
Business Analytics
Data Science
Computer Science
MBA and MIM
MBBS
Finance, International Business, and Accounting
Law
Architecture and Construction Management
Engineering
Fashion and Interior designing
Hey folks, read about the Project Management Courses in the UK here!
Also, Read: Doctor Salary in the UK
Types of Colleges in UK
The UK homes some of the oldest universities in the world. With universities like Oxford and Cambridge, UK has been providing a quality college education for more than 10 centuries. There are many private and state-owned universities in the UK. The fees differ a bit in these two types of universities, but the quality of education remains unaffected by the fees.
Oxford and Cambridge together referred to as Oxbridge college are the best universities in the UK and are compared with the Ivy League colleges of the USA. However, Ivy League colleges are privately run while Oxbridge colleges are state-owned. Colleges in the UK are grouped in the following way.
Ancient Universities: These are the universities that were founded in the UK and Ireland during the Middle Ages and the Renaissance Period. In other words, these universities were founded before the 16th century. Apart from being oldest universities, these universities are also lauded for their immense contribution to the scientific and academic realm. The following is a list of few Ancient Universities:
University of Oxford
University of Cambridge
University of St Andrews
University of Glasgow
University of Aberdeen
Red Brick Universities: These are the group of universities that were built in the Victorian Age that is mostly during the second half of the 19th century. These are so named because of the red brick type of architecture prevalent in those times. These universities are renowned for their contribution to practical education and consist of the following universities:
University of Birmingham
University of Bristol
University of Leeds
University of Liverpool
University of Manchester
Plate Glass Universities: These universities are the universities founded after 1960 and are so-called because of their use of postmodern architecture using plate glass. These are the underdog UK universities and don't have much reputation. However, recently these universities have gained some reputation especially in the field of research. Following are the top Plate Glass Universities:
Aston University
Brunel University
University of Bath
University of Bradford
University of Essex
Best universities to study in the UK
Now that you are familiar with the basic details of higher education in the UK, let's take a quick look at some of the most popular universities in the UK.
| | |
| --- | --- |
| Top Universities in the UK | QS World University Rankings 2023 |
| University of Oxford | 4 |
| University of Cambridge | 2 |
| University College London | 8 |
| Imperial College London | 6 |
| The University of Edinburgh | 15 |
| The University of Manchester | 28 |
| King's College London | 35 |
| London School of Economics and Political Science | 56 |
| University of Bristol | 61 |
| University of Warwick | 64 |
| Queen Mary University of London | 125 |
| University of Bath | 179 |
| University of East Anglia (UEA) | 342 |
| University of Essex | 439 |
Cost of studying in the UK for Indian students
The tuition fees in the UK vary on the basis of several factors like the type of college, opted course, the location of the college, etc. The average tuition fee for an international student can range between 12,000 to 35,000 British Pounds per year. Apart from the fees, the cost of living in the UK is comparatively expensive and can cost around 12,000 British Pounds per year. This is the most important factor one must consider before finalizing higher education in the UK.
Although the tuition fees in the UK might appear costlier than most of the other study destinations, the shorter duration of courses compensates for it. Most of the undergraduate courses are of three years duration while the masters' program is of one-year duration. This way, the student can save the expenses incurred on one year's tuition fees and living costs.
Part-time work options (on & off campus)
Just like the USA, the international students in the UK are allowed to work up to 20 hours per week when the term is going on and full time during the vacations. Most of the universities in the UK have limited on-campus jobs for international students and it is advisable to register for jobs right after enrolling for admission. When it comes to off-campus jobs, it is comparatively difficult to find such jobs in the UK and it is important to consult your international advisor regarding off-campus jobs so that you don't violate any of the immigration laws.
Accommodation
Finding the most fitting shelter is comparatively easier in the UK than in the US. The student has many options when it comes to finding accommodation in the UK. To give you a brief idea, the following are the accommodation options for students:
On-Campus Dormitories: Almost every university in the UK facilitates a well-functioning student dormitory. The students can apply for the on-campus dormitory with the admission department off the university. These dormitories are designed keeping in mind the students' needs and are the best and safest accommodation options for international students.
Off-Campus Apartments: If the University you select doesn't have a dorm or it is already occupied, you can look for off-campus accommodation. The off-campus apartments are widely available and one can easily find such accommodations online. Such accommodations are also available on the basis of shared occupancy and private hostels.
Popular scholarship to study in UK
Following are the top scholarships to study in the UK:
Charles Wallace India Trust Scholarships (CWIT)
Chevening Scholarships
Commonwealth Scholarship and Fellowship Plan
Dr. Manmohan Singh Scholarships
Erasmus Mundus Joint Master's Degree Scholarship
Felix Scholarships
Hornby Scholarships
Inlaks Scholarships
Rhodes Scholarship
Scotland Saltire Scholarships
Study in UK consultants
Study Abroad Consultants are professionals who are experts and have knowledge in the international education industry. They are not only consultants who can help you with admissions to international universities but they can also suggest to you what you can study and from where.
Here is the list of the top study abroad consultants for those who want to study in UK:
Studyin-UK
Edwise Education Consultants
Manya–The Princeton Review
Leverage Edu
iDreamCareer
KIA Consultant
XL Pathfinders
Jamboree Institute
Shiksha Abroad
IDP Education
Conclusion
Studying in the UK brings a variety of exploration options, job and research opportunities, a multicultural environment, and much more that you can expect at an affordable cost compared to other popular countries. We've served you much, isn't it? Now, to put all those existing doubts at the back of your mind to rest, why not ask expert professionals? Call us to gear up now! Take action!
iDreamCareer is on a mission to reach every state and every child in order to ensure that talent is appropriately delivered to the industry.
Talk to our study abroad experts to know yourself in and out! We have helped several brilliant but confused minds with the aim to select their most-suited career choices. We have helped many students like Anjana Prasanna who was not very confident about her capabilities. Later with the help of career guidance and moral support from our study abroad experts she got an offer from King's College London! We have helped several young confused minds like Aayush and Tapan with an aim to select their most-suited career choices.
Also read,
FAQs
How to get scholarship to study in the UK?
You can visit the UK Council for International Students (UKCISA) website to find out more about the funding available when you study in the UK as an undergraduate student, including whether you are eligible to apply for a scholarship. Just scroll down to the appropriate section of the web page.
How much cost to study in the UK?
The cost of studying in the UK depends on course fees, city/university, living costs and other student costs.
Is studying in UK worth it?
Opting to study abroad UK is a popular choice. Every year, about 2,70,000 students come to UK and receive world-class education in a multicultural environment. Students have a wide range of opportunities to gain in-depth knowledge and experience to develop their skills to perform well in the future. Excellent educational infrastructure, high-quality teaching methodology, quality research, rich heritage and diverse culture make the UK a great place to study.
What exams are required to study in the UK?
To study in the UK, students must pass certain English language entrance exams such as IELTS, TOEFL and PTE. Some master's level programs may require students to submit GRE/GMAT scores.
How much gap is accepted for study in the UK?
You can apply to any UK university for an undergraduate degree as long as your gap is no more than 2 years. A two-year study break is accepted for an international student seeking to study in the UK.

Anushree has 4+ years of experience in the career counseling industry as a Senior Content Writer. She has also worked as a Social Media Marketing Expert for a startup and Content Quality Analyst for Publishing and E-learning Industry. She has done her Master's in Commerce and PGDM in Finance & Trade and Marketing & HR, but she is currently following her passion for writing.