Being a medical student or a junior doctor, sitting and thinking about the future, do you also dream about what it would be like to get a postgraduate degree in an international university in the UK, USA, or other countries? Are you a medic planning to settle in the UK? Interested in practicing medicine in Britain? Do you have the right knowledge and skills? Don't worry, you will be tested for them through the PLAB exam.
The full form of the PLAB exam is "The Professional and Linguistic Assessment Board" Exam. It is conducted to assess the necessary skills of an international medical professional to be eligible to practice medicine in the UK. It is organized by the General Medical Council of Great Britain. Applicants from outside the European Economic Area and Switzerland must normally take the PLAB test. The PLAB test is organized by the General Medical Council of Great Britain and administered by the British Council.
Do you know?

If you have graduated from a medical college outside of the UK, European Economic Area (EEA), or Switzerland, you'll need to take the PLAB test. Hundreds of MBBS students from India take this test. In fact, out of all overseas locations, India is where the highest number of applications come in from.
Come along…
What all is covered in this post?
To make it easier for you, we have created a quick guide to everything you need to know about PLAB exam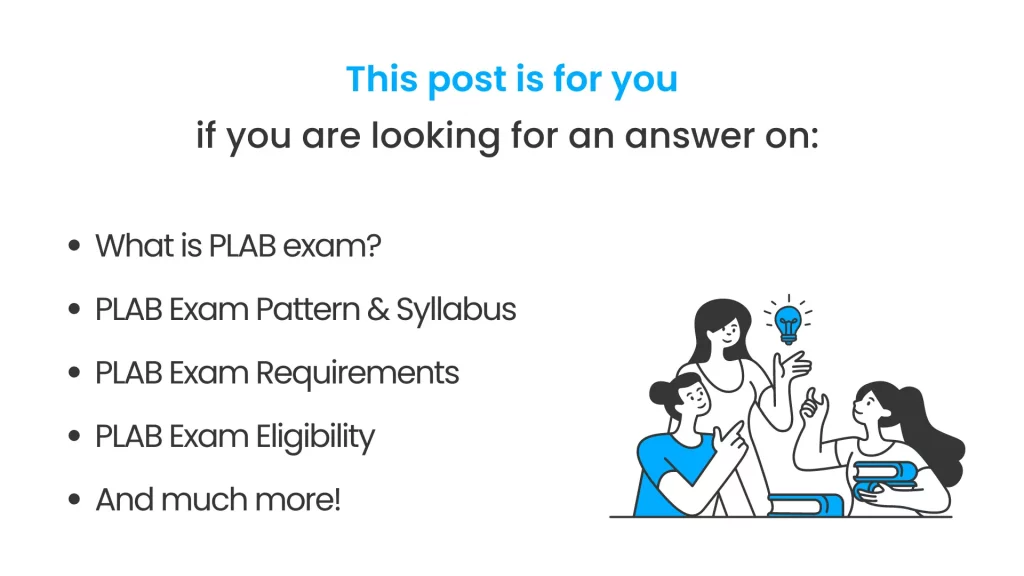 Before moving further let's first have a look…
Highlights of PLAB exam details
For clearing PLAB, you need to be as competent as a UK doctor in her 2nd year of foundational training. PLAB exam puts this to the test.
There are 2 segments to the test. PLAB Test 1 and PLAB Test 2. Once you've cleared both segments, you can apply for registration with a doctor's license to practice in the UK.
Your application for a license must be approved within 2 two years of passing the 2nd exam. Once your application is approved and you are granted registration, you can work as a doctor in the UK.
| | |
| --- | --- |
| Particulars | Highlights |
| Exam Name | PLAB |
| PLAB full form | The Professional and Linguistic Assessment Board Exam |
| Authority | GMC (General Medical Council), UK |
| Mode of Exam | Aptitude Exam – Multiple Choice Questions |
| Exam Duration | 3 hours |
| Number of Questions | 180 questions |
| Fees | GBP 1153 |
| PLAB is for which countries | Australia, Bangladesh, Canada, Egypt, Ghana, India, Kenya, Nigeria, Pakistan, Saudi Arabia, South Africa, Spain, Sri Lanka, Sudan UAE |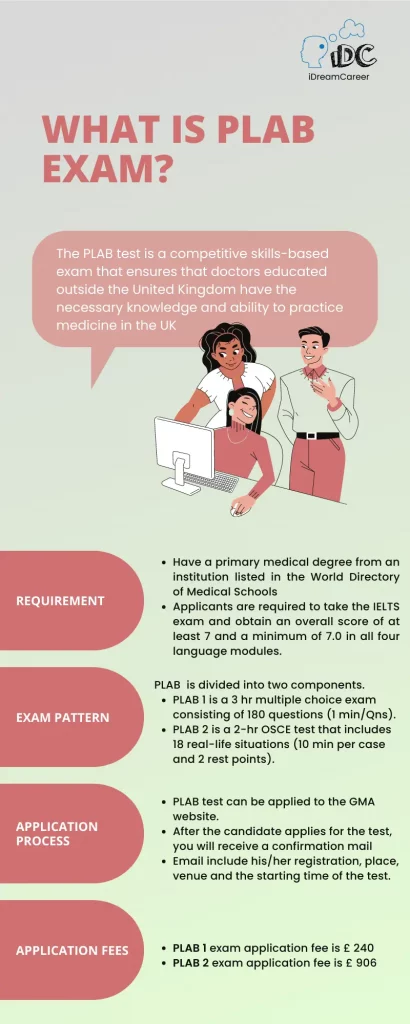 What is PLAB exam?
The PLAB test is a competitive skills-based examination that ensures that doctors educated outside the United Kingdom have the necessary knowledge and ability to practice medicine in the United Kingdom.
The PLAB is a two-part exam that foreign doctors from outside the European Economic Area and Switzerland must pass before they can legally practice medicine in the United Kingdom. This is conducted by the General Medical Council of Great Britain.
PLAB Exam Pattern
The PLAB test consists of 2 parts:
PLAB 1 – This exam is conducted in MCQ format consisting of 180 questions to be solved in 3 hours.
PLAB 2 – This part includes an Objective Structured Clinical Examination (OSCE) consisting of 18 clinical stations. Each station is 18 minutes long with 2 minutes of reading time. The exam is set at the physician competency level at the start of Year 2 (F2) in the Foundation programme.
Now before moving further, first understand…
PLAB Exam Requirements
Below are the requirements for medical graduates appearing for the test:
Applicants are required to take the IELTS exam and obtain an overall score of at least 7 and a minimum of 7.0 in all four language modules.
Candidates' primary qualifications must be accepted for limited enrollment by an institution listed as a medical school by the World Health Organization.
In addition, candidates must complete a minimum of 12 months of postgraduate clinical experience in a teaching hospital.
PLAB Exam Eligibility
Eligibility criteria for the PLAB exam require that a medical graduate:
Your primary medical qualification must be in the field of allopathic medicine and must meet all the following criteria.
It must be awarded after a program of study involving at least 5,500 hours over a minimum period of three years.
You can read more about the basic medical training requirements that your qualification must meet if you do not have a UK or equivalent European qualification.
Qualifications that meet these criteria are considered acceptable for taking the PLAB test or applying for registration with us. This does not mean that such a qualification will always be acceptable, as the criteria may change. The criteria applicable at the time of passing the PLAB or applying for registration with us apply.
World Directory of Medical Schools
Your qualification must be awarded by an institution listed in the World Directory of Medical Schools.
If a qualification is not listed in the catalogue, we may still accept it if the reason it is not listed is:
the qualifying country is not recognized by the UN, or
the institution that awarded the qualification no longer exists or no longer provides medical education and we are confident that the qualification is valid.
In each of these circumstances, the qualification must meet all other criteria for the foreign qualification to be acceptable.
Where appropriate, the institution listed in the directory must have sufficient contact information (address or email address, fax or telephone number) to enable the qualifications issued by it to be verified.
Clinical rotations
As part of your basic medical qualification, you must complete a clinical rotation (clinical placement) that has given you relevant clinical experience. This means clinical rotations:
had to be of acceptable duration
exposure to medicine and surgery is included
were supervised or approved by the institution you attended
is part of your overall training program.
If you studied at more than one institution
If you studied at more than one institution and the research contributed to your underlying medical qualification, we need to be sure that:
the institution is part of a recognized twinning program or a recognized campus of another institution, or
it was not possible to get a qualification in one institution for valid reasons.
Course credits that contributed to your qualification must not include credits transferred from another institution where you failed.
European medical qualification
If you have a medical qualification awarded in the EEA or Switzerland, it can be classified as a corresponding European qualification, unless it has been designated by the General Council.
Note: The GMC may from time-to-time issue notifications to change the PLAB eligibility criteria.
PLAB Exam Syllabus
PLAB as we all know is divided into two components. PLAB 1 is a three-hour multiple choice exam consisting of 180 questions (1 minute/Qns). PLAB 2 is a 2-hour OSCE test that includes 18 real-life situations (10 minutes per case and 2 rest points).
PLAB 1 exam
Here is the detailed syllabus for PLAB 1.
Blood and Lymph
Pallor
Generalized enlarged lymph nodes
Bruising/ bleeding/ purpura
Abnormal blood film
Breast
Cardiovascular
Peripheral venous problems
Peripheral edema, breathlessness
Peripheral arterial disease
Palpitations
Hypertension
Heart murmur
Fatigue
Chest pain
Child Health
Failure to thrive (Physical, Psychological, and social)
Developmental problems (Physical, Psychological, and social)
Congenital abnormalities
Digestive
Upper GI symptoms
Nutrition
Lower GI symptoms
Jaundice
Facial pain and swelling
Anorexia and weight loss
Abdominal pain
Abdominal mass
Endocrine
Thyroid abnormalities
General endocrine disorder
Abnormal blood sugar
ENT
Vertigo
Nasal symptoms
Hoarseness and/or stridor
Hearing problems
Earache
Ethical and Professional
Drawing from GMC explanatory guidance
Drawing from Good medical practice (2013) Duties of a doctor
Eye
Visual impairment
Red-eye
Orbital swelling
Eye pain
Genitourinary
Vaginal discharge
Urethral discharge
Homeostatic
Electrolyte abnormalities
Acid-base imbalance and blood gas abnormalities
Infectious diseases
Viral infections
Travel medicine and tropical infections
Serious infection
Hospital-acquired infection
Mental Health
Psychosis
Personality and behavioral disorders
Mood (affective) problems
Medically unexplained physical symptoms
Legal frameworks
Learning and communication problems
Eating problems
Deliberate self-harm
Confusion
Anxiety
Alcohol and drug use disorder and dependence
Muscul skeletal
Back and neck problems
Connective tissue disorders
Foot and ankle problems
Hand and wrist problems
Hip problems
Knee problems
Rheumatological problems
Shoulder/upper limb problems
Skeletal problems, including fractures
Neurological
Blackouts and faints (funny turns)
Cranial nerve problems
Falls
Headache
Movement disorders, including tremor and gait problems
Peripheral nerve problems and abnormalities of sensation
Seizures
Speech and language disorder
Weakness and fatigue
Older adults
Confusion
Symptoms of terminal illness
Pharmacological
Clinical pharmacology (Antimicrobial stewardship, Prescribing safety)
Renal
Abnormalities of the urine
Renal problems
Urinary excretion
Reproductive
Contraception
Fertility problems
Normal pregnancy and care
Problems in pregnancy, including bleeding
Irregular vaginal bleeding
Cervical smear/ colposcopy
Pelvic mass
Pelvic pain
Vulval and vaginal lumps/lesions
Prolapse
Urinary incontinence
Respiratory
Breathlessness
Chest pain
Cough and haemoptysis
Wheeze/ Stridor
Seriously ill patients
Collapse
Fever/ Infection
Multiple trauma
Shock
Skin
Bites and stings
Bullous
Dermatological manifestations of systemic disease
Extremes of temperature
Hair and nail problems
Itchy and scaly rashes
Infections
Lumps
Moles and pigmented lesions
Ulcers
Urological
Groin/scrotal pain and swelling
Urinary tract obstruction
Abnormalities of the urine
Urinary symptoms (UTI & Prostatic cancer)
PLAB 2 Exam Syllabus
As stated earlier, PLAB 2 is an OSCE test. As a result, there is no prescribed curriculum or diseases to study. The PLAB 2 exam will consist of 18 scenarios to be completed. Your abilities to diagnose, investigate, manage and treat will be tested.
PLAB Exam Fees
You should know that the PLAB test costs more than any other exam you have taken before, except the USMLE. It's like a financial investment. An investment with a positive return. Anyway, here is the breakdown of all the PLAB costs for you.
Passport – £ 20 – 30 (if you don't have it)
IELTS ~ £ 150 (payable by a Standard Chartered Bank transfer). If you're taking OET, it costs ~ £ 300. (These are only exam fees)
PLAB 1 exam fees– £ 240. (Only payable by a credit card)
PLAB 2 exam fees– £ 879. (Only payable by a credit card)
Standard visitor visa fees ~ £ 100
Airplane round trip tickets ~ £ 900
PLAB 2 Preparatory course fee ~ £ 600 (approximately)
EPIC Verification, roughly ~ £ 250
GMC registration fee – for doctors applying within five years of passing their MBBS – £153. If more than 5 years, £399.
Rent and living expenses in the UK ~ £500 to £600/month. Within 6 months of your visa being issued, if you plan your course dates and exam dates well – hopefully, you will have to stay in the UK for 3 months and return home to apply for a Tier 2 visa. So, 4 months is ~£ 1650.
A Tier 2 visa (general – health and care visa) costs £232 for a visa of up to 3 years. And £464 for a visa for more than 3 years.
Police clearance certificate for Tier 2 visa, ~ £ 5
TB clearance certificate at IOM – £ 65
The cost of a plane ticket to the UK to start (one way) is ~£400
Suggested £ to take with you to survive the first one to two months (until you start getting paid) ~ £1200.
The total cost of the PLAB exam from the start to your first month's salary will be between £6,900 and £7,500. In Indian Rupees, the cost will be approximately 7 lakhs.
PLAB Exam Dates
GMC runs PLAB test 1 only four times a year in a number of overseas locations and in the UK. However, PLAB is conducted in India only twice a year (February and November)
You'll need to register for a GMC Online account and look under the 'My Tests' section to see the locations & whether time slots are available.
There are limited exam locations and all are in high demand. Demand is carefully monitored so that possibilities are maximized & fairly distributed throughout the year.
PLAB 1 exam "Future and closing exam dates" (both UK and overseas) are listed below.
| | | |
| --- | --- | --- |
| Exam date | Overseas closing date | UK closing date |
| 17 February 2022 | 6 January 2022 | 3 February 2022 |
| 26 May 2022 | 14 April 2022 | 12 May 2022 |
| 11 August 2022 | 30 June 2022 | 28 July 2022 |
| 3 November 2022 | 22 September 2022 | 20 October 2022 |
What after PLAB exam?
Now the question comes what to do after PLAB exam? or How to join as a Doctor in UK? Here is the answer- In the UK there is a complex system of different doctors depending on their experience, competence, and knowledge. Let's put it plainly.
Let's say you have completed primary medicine (MBBS in India) with four and a half years of courses and one year of compulsory internship (this may vary from country to country).
But in the UK, this MBBS or primary medicine degree is obtained immediately after 4-6 years of study.
They will intern as Foundation Doctors for two years (FY1 and FY2). During this period, they will rotate between the departments of general surgery, general medicine, obstetrics and gynecology, paediatrics, geriatrics, emergency medicine, and psychiatry.
After passing the PLAB exam, when you enter the UK, you will be at the same level as the FY2 Foundation Doctors.
After PLAB, there will be several options for further action. And they are:
Starting FY1 without training is NOT recommended (because you are doing the same thing again and wasting your time)
Starting with a non-training level of FY 2 is highly recommended
It is recommended to start training at the CT1 / ST1 level
You will complete 2 to 3 years of basic or specialized training depending on your major (Completion of CT 1,2,3 or ST 1,2,3)
At this level you will need to pass the MRCP/MRCS exams
Then there will be specialty training from ST 3+ to ST9
You will now be recognized as a general practitioner or consultant
Important Insights
PLAB is pretty straightforward and easy with countless resources available to help you get ready. Starting the preparation as early as 6 months is a great idea! Take as many mock tests as you can. 4 groups of skills will be tested: diagnosis, investigations, management, and treatment.
Use the links given below to access the PLAB guides. That's about it. You have all the information you'll need and important links for the PLAB exam.
Ready to be a medic? No? Reach out to our star mobility experts and industry seniors for a helping hand in selecting a career for you. iDreamCareer is on a mission to reach every state and every child to ensure that talent is appropriately delivered to the industry.
Talk to our study abroad experts to know yourself in and out! We have helped several brilliant but confused minds to select their most-suited career choices. We have helped many students like Anjana Prasanna who was not very confident about her capabilities. Later with the help of career guidance and moral support from our study abroad experts she got an offer from King's College London! We have also helped several brilliant but confused minds like Aayush, and Tapan to select their most-suited career choices.
Also read,
Related Posts
FAQs
What is PLAB exam?
The PLAB test is a competitive skills-based examination that ensures that doctors educated outside the United Kingdom have the necessary knowledge and ability to practice medicine in the United Kingdom.
Is the PLAB exam difficult?
Many people find it difficult to answer all 180 questions in the 3-hour time limit. Leaving questions unanswered means automatic failure. Although you can take the exam four times, it is best to pass it on the first try. This can save time and money.
How to apply for the PLAB exam?
You must apply online through the General Medical Council (GMC) website. To find out how to do this, visit the GMC Registration and Licensing page.
How to register for PLAB 1 exam?
To register for the PLAB 1 exam, you need to set up a GMC online account and provide the following details – primary medical qualification, valid passport, postal address, and email address.
How long is PLAB 1 & PLAB 2 exam?
PLAB 1 – This exam is conducted in MCQ format consisting of 180 questions to be solved in 3 hours. PLAB 2 – This part includes an Objective Structured Clinical Examination (OSCE) consisting of 18 clinical stations. Each station is 18 minutes long with 2 minutes of reading time.
How difficult is the PLAB exam?
The PLAB test assesses you against the level of knowledge and skills expected of doctors starting their second year of Foundation training in the UK. To get a deeper understanding of the level of difficulty, you can explore the Foundation Program syllabus here. In 2020, only 69% of candidates passed PLAB 1. Therefore, it is vital that when you answer the questions, you read them fully and take note of the explanations.
Which is better – USMLE or PLAB?
USMLE is the licensing test for America and PLAB is for the UK. USMLE has basically 3 stages and PLAB is 2 stages. After completing or passing one of the tests, you will receive an MD degree, which is equivalent to our MBBS degree. A student's choice for USMLE or PLAB depends on several factors, which include the choice of residence, financial situation, relatives living in the US or UK, the culture and environment of the country to which they can easily adapt, and several other factors.

Anushree has 4+ years of experience in the career counseling industry as a Senior Content Writer. She has also worked as a Social Media Marketing Expert for a startup and Content Quality Analyst for Publishing and E-learning Industry. She has done her Master's in Commerce and PGDM in Finance & Trade and Marketing & HR, but she is currently following her passion for writing.