SAT exam is the first step toward achieving the dreams of every high school student! The Scholastic Assessment Test or SAT, conducted by the College Board, is one of the most popular studies abroad exams. It measures eagerness and academic curiosity and assists colleges in comparing applicants for the specific course.
In this post, we will provide you with a complete overview of the exam, it is fees, eligibility for the exam, and much more! Continue reading the post for everything you will need to prepare yourself for the exam.
But before moving on further, you may want to know what it exactly is?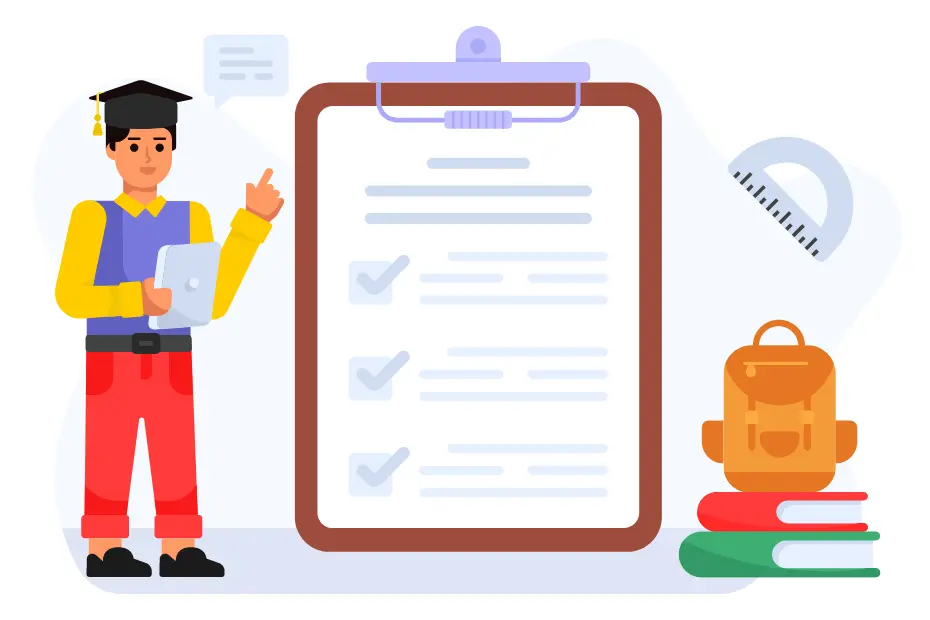 What is SAT exam full form?
Scholastic Assessment Test (SAT), earlier known as Scholastic Aptitude Test. This exam has been developed to test students' writing, speaking and mathematical skills. SAT is a paper-pencil test for those who wish to pursue an undergrad degree, especially in the US and Canada.
In simple terms, yes, SAT is a tough test. While some questions are quite straightforward, others are more complex. The Critical Reading section is the most challenging section. You should have a good command in English to qualify.
Highlights
| | |
| --- | --- |
| Features | Details |
| Name of the Exam | Scholastic Aptitude Test (SAT) |
| Eligibility | No specific eligibility or age limits |
| Conducting Body | College Board |
| Duration of Exam | 3 Hours + 50 Minutes for Essay (Optional) |
| Frequency of Exam | 5 times a year |
| Mode of the Exam | Offline |
| Section | Reading, Maths, Writing, and Language Tests |
| Total Questions | 154 |
| Language of Paper | English |
| SAT Exam Registration | Online and Mail |
What is SAT exam eligibility?
There are no strict SAT eligibility criteria set by the College Board. Students need to qualify for a successful examination. Those who want to appear on SAT need to comply with the following procedures:
Age limit
There is no minimum age limit for applying for SAT exam. You can apply for an SAT after completing class 12th.
Number of SAT test attempts
You can take the SAT exam as many times as you want, there is no set limits imposed by the SAT College Board. SAT exams is conducted 5 times a year in India, usually in March, May, August, October, and December.
Qualifications required
There is no particular education qualification required for appearing in SAT exam. The SAT can be taken after completing class 12th by anyone who wants to apply for a foreign degree as the next level of their studies.
How to check SAT exam dates?
You should keep track of all the SAT examination-related dates. Missing any important date might lead to missing important deadlines such as the last date to apply, examination date, date of result, etc. Hence, you must keep on visiting the SAT official website to know about important dates or any date-related changes.
What is SAT exam pattern?
The duration of SAT exam is 3 hours and the exam tests your writing skills, mathematical skills, and reading skills. Each category in the SAT has a score range of 200-800 points. The final grade contains points from all categories that can vary from 400 to 1600. However, the writing category is marked in the range 0-24 and can vary considerably.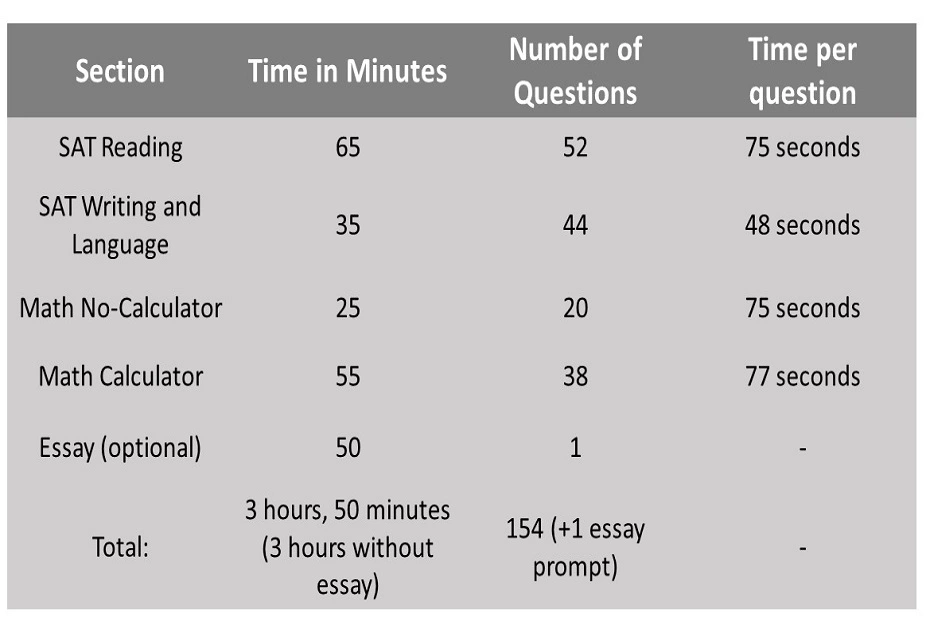 What is SAT exam fees?
Take a look for SAT exam fees structure:
| Particulars | Fees |
| --- | --- |
| SAT Exam Fees | $52 (approx. INR 3979.33) |
| SAT Exam Fees with Essay | $68 (approx. INR 5203.73) |
| Late registration Fees | $30 (approx. INR 2295.77) |
| Registration Fee | $26 (approx. INR 1989.66) |
| Waitlist Fees | $53 (approx. INR 4056.83) |
| Fees for Change in Registration | $30 (approx. INR 2295.77) |
| Each SAT Subject Test (Except Language Tests with Listening) | $22 additional per test (approx. INR 1683.56) |
| Language Tests with Listening | $26 additional per test (approx. INR 1989.66) |
In Conclusion
So, here you have the tricky essentials of SAT exam including eligibility, dates, exam pattern, etc. We hope you have some clarity about the matter now. Although if you are preparing for the SAT exam, it is enough evidence that you have decided where you want to see yourself in the future, but career decision is one of the most important things in your life and you may want to talk to industry experts. Know yourself in and out!
iDreamCareer is on a mission to reach every state and every child in order to ensure that talent is appropriately delivered into the industry. We try to help young confused minds from 9th class, 10th class, class 11, class 12 with an aim to select their most-suited career choices.
Also Read:
Career in Equity Research
Career in Mining Engineering
NTSE Exam: Flaunt your NTSE Scholarship
Study MBBS Abroad
A Career in Mining Engineering
How to be on Top in Exams to Study Abroad
DASA Exam
Anushree has 6+ years of experience and currently she is associated with idreamcareer.com as a Content Writer. She has also worked as a Social Media Marketing Expert for a startup and Content Quality Analyst for Publishing and E-learning Industry. She has done her Masters in Commerce and PGDM in Finance & Trade and Marketing & HR, but she is currently following her passion towards writing.