Being a famous, unique, and multicultural study abroad destination, Australia is one of the most preferred destinations for international students. When pursuing a master's in Australia, every student wants an enriching, inspiring, and unparalleled experience there. They would like to know the best Australian universities that offer master's degrees and jobs after completing a postgraduate program. So, we are here to help you with such matters!
Do you know?

The Australian Government has laid the best possible foundation for international students to make an effective transition to education, making it easier for them to adapt.
In addition to this, many high-ranking universities are the primary identity of Australia, which has attracted the attention of the world. These elements have combined to make Australia a favorite destination for students who love to study in higher education institutions. A master's degree from an Australian university is the ticket to a great career. An Australian qualification makes you highly attractive to a potential employer in Australia, at home, and worldwide.
But before you explore this post further– Pause. Reflect. Understand.
Why masters in Australia?
Science-oriented programs are always popular among applicants. When considering a student's long-term goal, making the right choice of higher education is definitely important. Obtaining a master's degree in a relevant field from a top university adds credibility to your profile. In short, making the right choice is an effective way to launch your passionate career.
Do you want to pursue MS in Australia? Here are some highlights for you:
In 2021, around 43 of Australia's leading universities offer Masters with a wide range of specializations.
7 universities from Australia are in the top 100 world universities – according to the Times Higher Education World University Rankings 2020.
About 7,00,000 international students study at more than 40 universities in Australia.
In terms of affordability, Australia has a proven track record in economic education. Studying for a master's in Australia with average program fees ranging from AUD 20,000 to AUD 50,000.
Thanks Australia! More than 3,000 scholarships have been awarded to international students.
The Master of Science in Australia is a postgraduate education program with a wide range of specializations that trains applicants to acquire analytical and problem-solving skills through research and laboratory work. The total duration of the course varies from 1 to 2 years depending on the chosen domain. A research thesis is expected from students at the end of the course.
Note: If you want to know why education in Australia is the best choice, refer to our Study in Australia blog.
Eligibility criteria for masters in Australia
To get the most out of your studies as an international student, you must meet certain entry requirements. These include English language, academic, health, and visa requirements.
Academic requirements
Bachelor's degree in relevant field
Work experience and professional qualifications required mainly for professional Masters's degrees in Australia
Admission tests to study in Australia: standardized test scores such as the GRE and GMAT are usually required by top universities. Other universities may not require you to show test scores.
Recommendations: Academic recommendations are an important requirement for admission to master's programs in Australia. A minimum of two letters of recommendation are required for applications.
Personal Statement/Statement of Intent/Research Statement: Additional documents such as a Research Statement (for MS-based research), Statement of Intent, or Personal Statements are required with the application package.
English language requirements
Foreign applicants from non-native English-speaking countries must provide evidence of English proficiency. You can submit your ELP test results as proof. The minimum requirements may vary depending on the universities and specializations chosen for the master's degree in Australia. The total score usually required for admission to some of the best MS universities in Australia is as follows:
IELTS – 6.5
PTE – 58
TOEFL iBT – 80
Health coverage for international students
International students in Australia are offered a special health insurance system. OSHC, offered by a number of providers, covers the duration of the course/stay in Australia. The lowest cost minimum coverage for singles is AUD 430/year, AUD 2,680/year for couples, and AUD 4,000/year for a family.
Australia visa requirements
Your Australian student visa will only be accepted if you meet the following minimum requirements:
Get an Electronic Certificate of Enrollment (eCOE)
Meet the valid requirements for temporary applicants
Proof of sufficient funds: According to the Australian Government, the cost of living for international students, which must be reflected in their financial position, is AUD$21,000 per year.
Comply with ELP requirements
Meet the requirements of health and character
Submit OSHC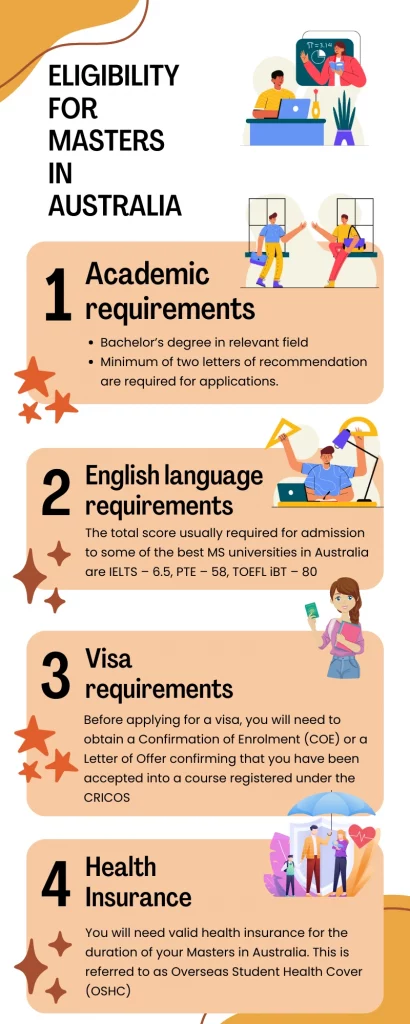 MS in Australia Cost
Generally, Master's tuition fees are set by both universities and the Australian Government. In addition to program fees, there are other factors to consider which include the cost of living in Australia, pre-arrival costs, exams, etc. Therefore, international students should be aware of the various costs associated with obtaining an MS. Don't worry, our team has sorted out the different categories in which the expenses occur.
With all the costs factored in, it's easy to make the right decision for higher education. According to a recent survey, to study MS in Australia, you may have to spend between 40,000 and 1,06,000 Australian dollars per year (including the cost of living). You can make it even less expensive by taking advantage of some of the best scholarships based on your profile.
Pre-departure cost
Below are the pre-departure costs for studying masters in Australia:
Application fees: Based on the universities
GMAT – 379 AUD
GRE – 230 AUD
IELTS – 340 AUD
TOEFL – 272 AUD
Visa – 575 AUD
Cost of MS in Australia
In this section, we will provide you with a list of top colleges along with popular specialization and average fee:
| | | |
| --- | --- | --- |
| University | Popular Program | Total Fees in AUD |
| Australian National University | Masters of Computing | 91,200 |
| Monash University | MS in Information Technology | 67,000 |
| University of Adelaide | MS in Civil & Structural Engineering | 59,000 |
| University of Melbourne | MS in Computer Science | 91,700 |
| University of Queensland | MS in Computer Science | 69,000 |
| University of Sydney | MS in Mechanical Engineering | 69,000 |
| University of Wollongong | Masters in Computer Science | 68,736 |
| UNSW Sydney | MS in Mechanical Engineering | 98,000 |
| UTS (University of Technology Sydney) | Masters in Finance | 68,040 |
Living cost in Australia
Generally, international students can make their living from 1400 AUD to 2500 AUD per month. In a multicultural society, students can get anything that feels like home in all essential aspects. With a proper plan of financial resources, one can be happy to focus on studies without any drawbacks. However, dissecting the various elements of life in Australia won't help you.
Boarding schools – 11,000 AUD to 22,000 AUD a year
Homestay – 235 AUD to 325 AUD per week
Hostels and individual houses – 90 AUD to 150 AUD per week
On campus – 110 AUD to 280 AUD per week
Rental – 185 AUD to 440 AUD per week
Shared Rental – 95 AUD to 215 AUD per week
Scholarships for Masters in Australia
Studying MS in Australia can burn a hole in your pockets. Tuition fees can range from 40,000-70,000 AUD/year. Planning ahead and being aware of these costs is an important aspect of studying abroad. International students can apply for various scholarships funded by the Australian government. Some of the popular scholarships for international students in Australia are
Griffith University
International Scientia Coursework Scholarship at the University of New South Wales
Monash MBA International Excellence in Leadership
Swinburne University
Sydney Scholars India Equity Scholarship
The University of New South Wales Business School
University of Melbourne Graduate Research Scholarship
University of Melbourne International Undergraduate Scholarship
University of Sydney's Dr. Abdul Kalam International Postgraduate Scholarship
Vice-Chancellor International Scholarships Scheme
Job opportunities after masters in Australia
Australia's open and friendly immigration policy attracts a large number of international students to further their careers. The easy availability of a post-graduate work visa in Australia is another added advantage for international students. The scope of post-graduate studies in Australia is highly dependent on the specialization or program was chosen by the student.
The average salary in Australia is around AUD 91,600.
After receiving a master's degree, the average annual salary of individuals with a bachelor's degree in the same field is expected to increase by 29%.
The minimum hourly wage in Australia is around 44 Australian dollars per hour.
Following is the list of some of the top job opportunities one can explore after pursuing master's in Australia:
Accountant
Aerospace Engineer
Architect
Business Analyst
CEO
Civil Engineer
Engineer
Financial Analyst
Information Technology Manager
Pharmacist
Sales Manager
Final words
The job prospects in Australia are huge and you can easily find job options related to your field of activity. If you intend to work after graduation, then in some cases your employer can sponsor a new visa, or if you need to stay for a longer period with the intention of developing your career, then you need to submit an expression of interest through SkillSelect.
There you go! You have the info you wanted. Do you want to make a career decision now? Not settled yet? In case, you feel indecisive or confused, do dial us up.
iDreamCareer is on a mission to reach every state and every child in order to ensure that talent is appropriately delivered to the industry.
Talk to our study abroad experts who have 20+ years of experience to know yourself in and out! We have helped several brilliant but confused minds with the aim to select their most-suited career choices. Hear the success story of Aayush who got an offer from the top 3 universities and is now studying at the University in Ottawa in Canada after getting career guidance from our industry experts!
ALSO READ:
FAQs
Is MS in Australia a good option?
MS in Australia receives one of the highest international applications. If you plan to settle in the country, your degree can increase your PR points. The country has not been affected by economic recession and is doing better than countries like USA and Canada. An MS in Australia is much cheaper than an MS in the US or Canada.
Is there a 1-year Masters in Australia?
Universities such as Monash and the University of Sydney offer a one-year master's program in Australia. There are also part-time Masters in Australia that offer working professionals the opportunity to continue their education while working.
How to get PR in Australia?
You can become a permanent resident of Australia by applying for and receiving a permanent visa, which allows you to stay in Australia indefinitely. The most common permanent visas include some skilled worker and family visas. Explore visa options to find the visa that best suits your needs.
What is the age limit to study in Australia?
There is no upper age limit for course enrollment in Australia. However, if you are under 18 and want to apply for a study visa in Australia, you will need certain additional documentation.

Anushree has 5 years of experience in the career counseling industry as a Senior Content Writer. She has also worked as a Social Media Marketing Expert for a startup and Content Quality Analyst for the Publishing and E-learning Industry. She has done her Master's in Commerce and PGDM in Finance & Trade and Marketing & HR, but she is currently following her passion for writing.