Competitive exams with flying colors are an important part of the application process if you want to go study abroad. Especially those that are needed to prove your knowledge of a certain language spoken in the country where you want to study. One such mandatory language proficiency exam is IELTS.
Yes, you landed on the right page! Today we are going to give you an overview of the IELTS exam! But before that…
Did you know?

With effect from August 2021, IELTS tests in India are administered by IDP after it acquired a 100% stake from the British Council.
All set?
What all is covered in this post?
To make it easier for you, we have created a quick guide to everything you need to know about the exam.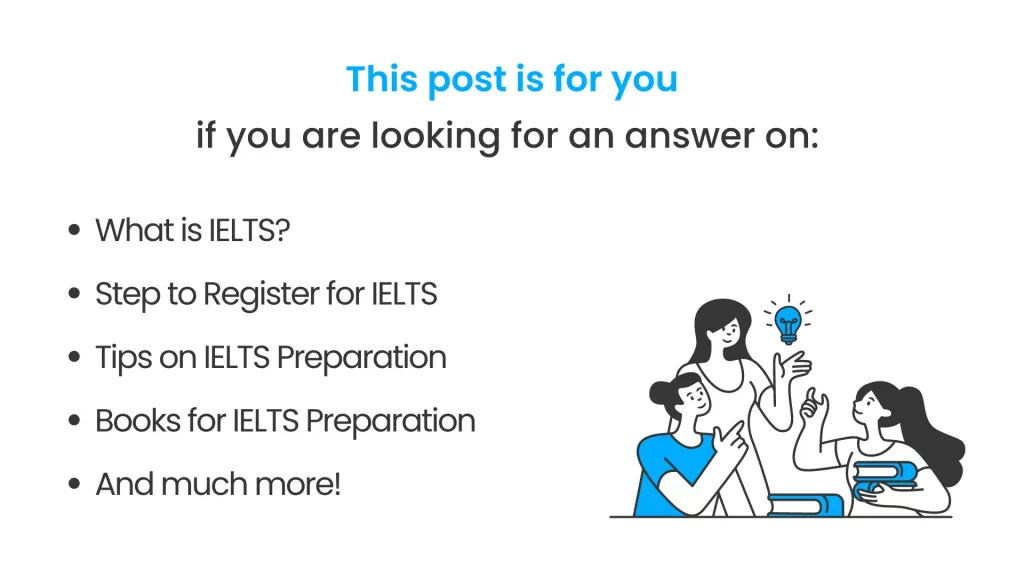 What is IELTS?
It is an English proficiency test.
Has 2 formats: Academic IELTS and General IELTS.
Academic IELTS is for those planning to study at a higher education level abroad.
General IELTS focuses on social skills and workplace contexts.
The test uses British English. It consists of 4 parts:
Reading
Listening
Writing
Speaking
It takes 2 hours and 45 minutes to complete the test. This includes the transfer time from one section to the next.
The test is widely accepted in many thousands of institutions in more than 140 countries. However, each institution has its own requirements for test scores.
After taking the test, you can then select up to 5 organizations where copies of your IELTS results will be sent free of charge.
IELTS full form
The full form of IELTS is International English Language Testing System.
Highlights of IELTS
This section will provide you an overview of the exam: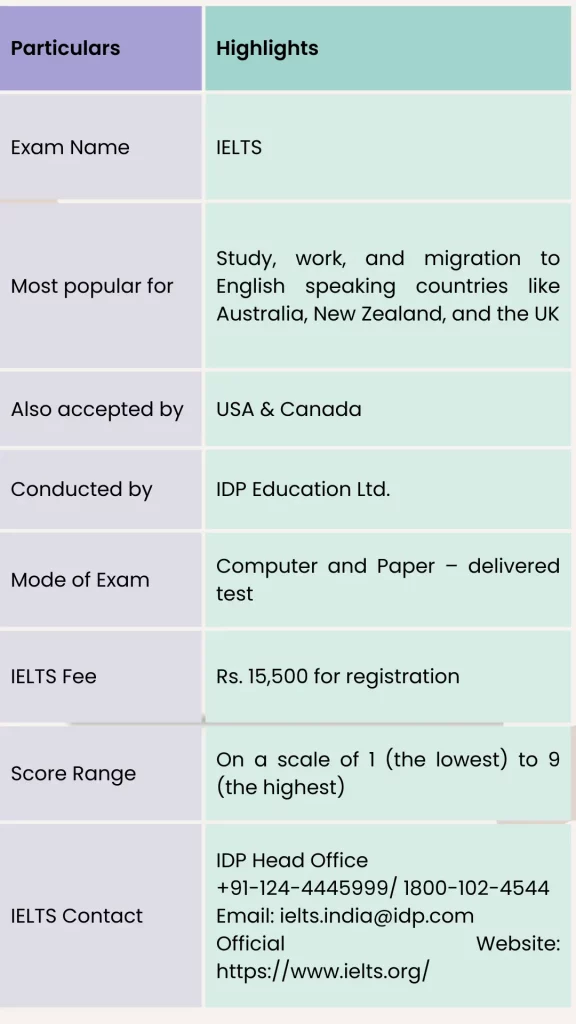 Tips on IELTS preparation
You may be nervous before the exam. Here are some tips on exam preparation to help you prepare well and be confident on exam day.
Understand the format of the test.
Keep in mind the time limits of the exam.
Develop your English skills and exam strategies.
Create an outline of the information presented while listening. Write main ideas, major points, and important details.
Use appropriate and clear English terms when writing.
Practice planning and writing at least one essay on each topic
Speak fluently or consistently in direct communication.
Note: For more details on essential tricks to success refer to this link
Ways to prepare for IELTS
There are two ways to prepare for the exam, one is self-study and the other is by attending coaching classes. Which method you choose depends on your language skills and comfort level. If you already speak English well, you don't need to attend training classes, you can prepare for the exam on your own.
Also, if money is an important factor, then self-study is the best option. However, remember that in order to study on your own, you need the latest preparation tips for each section of the exam.
On the other hand, if you are short on time and need professional supervision to prepare for the IELTS exam, coaching sessions are a good option. As regular attendance becomes part of your routine, your time will be better managed.
IELTS registration
The test is available on 48 fixed days per year (up to four times per month), depending on local demand. Candidates are free to take the exam on any of the 48 days at their convenience. Apart from this, candidates can also retake the exam if they want to. Also, there is no time limit for taking the test, candidates can take the exam as many times as they like or until they achieve their dream score. However, each time the candidate has to pay INR 15,500 for the examination.
Steps to register for the IELTS exam – Online
1: Visit the official website of IELTS India.
2: Go to the 'Register for Test' option.
3: Select the desired test, test type, and available test date in the city.
4: Provide your personal details.
5: Provide your registration details.
6: Upload copies of your passport.
7: Select the list of colleges where you want to send your score report.
8: Check your details one last time before paying.
9: Pay the test fee.
10: After payment. Candidates can take a printout of the receipt.
Do you know?

If you want to register in person then you can!
Yes, you read it right!
Steps to register for the IELTS exam – In person
You can register in person at the IDP India office.
You can download the form online or fill out a paper application at the office.
You will need to pay the fee through a Credit/Debit Card, Demand Draft, or ICICI Bank Deposit Slip.
You will receive an instant booking confirmation.
Best book for IELTS preparation
So, if you are choosing the self-study method then you may consider the following best books for IELTS preparation:
Barron's IELTS Superpack
Cambridge IELTS 14 Academic Student's Book with Answers with Audio
Check your English Vocabulary for IELTS
Focus on IELTS Foundation: Foundation Coursebook
IELTS Trainer
Mometrix IELTS Book for General Training and Academic 2022
Official IELTS Practice Materials
Road to IELTS
Simon Braveman's Target Band 7
The Official Cambridge Guide to IELTS
Best IELTS coaching
If you are looking for professional supervision, here is a list of coaching centers you may want to consider:
British Council
Camford Academy
Career Makers
Edwise
Fateh Education
IELTS Academy
IELTS Guru
Jamboree
Manya – The Princeton Review
Megamind
Olive
TIME Institute
As we all know today online training has gained power. Students can also use online resources such as YouTube channels, blogs, and websites. Here you can get an in-depth understanding of the exam pattern, free lectures, study tips, and practice tests.
Final words!
Good to have you, finally, on this other side! Looking forward to getting admission in an esteemed institution of global repute? Hope we've been able to help you with most of the knowledge that you were asking for. Your mind must be brimming with all the details of the IELTS pattern and every task type of the IELTS exam pattern papers. Nevertheless, how about some handholding to get you through this?
Talk to our study abroad experts to know yourself in and out! We have helped several brilliant but confused minds with an aim to select their most-suited career choices. We have helped many students like Anjana Prasanna who was not very confident about her capabilities. Later with the help of career guidance and moral support from our study abroad experts she got an offer from King's College London! We have helped several young confused minds like Aayush, Tapan with an aim to select their most-suited career choices.
Useful Links:
FAQs
Is the IELTS exam difficult?
The world's leading English language test, IELTS, is not difficult in itself. In less than 3 hours, it assesses your listening, reading, writing, and speaking skills.
What is an IELTS exam?
The International English Language Testing System (IELTS) is designed to help you work, study or move to a country where English is your first language. This includes countries such as Australia, Canada, New Zealand, the United Kingdom, and the United States.
What is the pass mark for IELTS?
There is no pass or fail score in IELTS. Your test scores are reported in a range of scores from 1.0, the lowest, to 9.0, the highest, in half-range increments. You will receive an overall score as well as individual scores for each section of the test – listening, reading, writing, and speaking.

Anushree has 4+ years of experience in the career counseling industry as a Content Writer. She has also worked as a Social Media Marketing Expert for a startup and Content Quality Analyst for Publishing and E-learning Industry. She has done her Master's in Commerce and PGDM in Finance & Trade and Marketing & HR, but she is currently following her passion for writing.