TOEFL iBT is one of the most popular English language proficiency tests accepted by American and Canadian universities and educational institutions abroad. The ETS-administered TOEFL Full Form is a Test of English as A Foreign Language, and the ETS TOEFL exam measures all four academic English skills – reading, listening, speaking, and writing – in a way that is used in the college and university classrooms. Do you think you know everything about the TOEFL exam to pass it? If not, read this blog.
What do you need to know?

TOEFL exam results are accepted and recognized by the world's leading economies, such as the United States, Canada, Great Britain, Australia, and Germany. The duration of the TOEFL exam is 3 hours.
The Educational Testing Service administers the TOEFL exam throughout the year because of its importance to students who wish to study abroad. Gathering all the necessary information about TOEFL preparation or the program can be overwhelming for a student who is already busy getting the grades they need for their dream school.
Before we move on: Relax, and take a deep breath! Remember it's just an exam don't get overwhelmed!
What all is covered in this post?
To make it easier for you, we have created a quick guide to everything you need to know about the TOEFL exam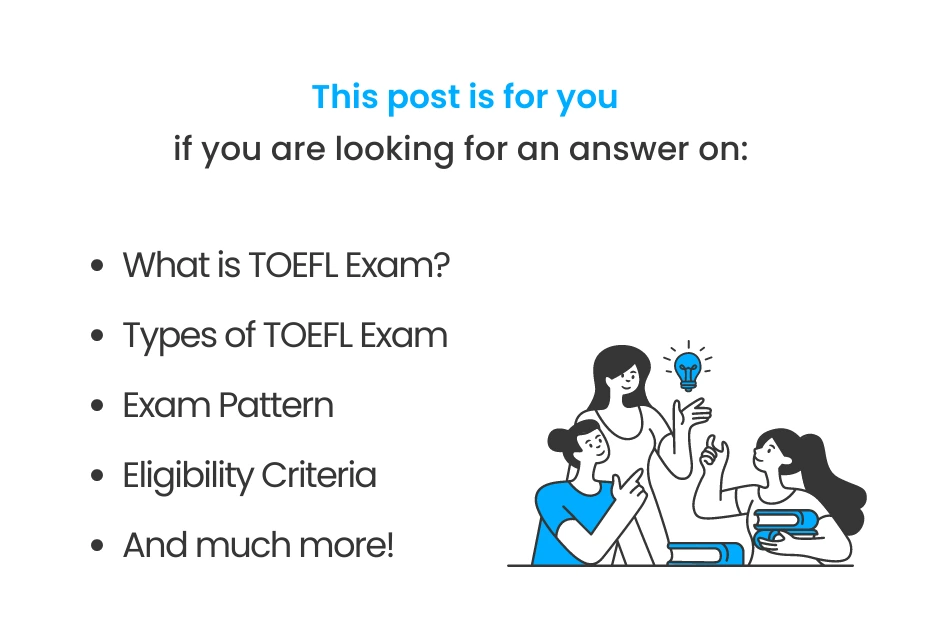 What is the TOEFL exam?
The TOEFL exam is an English proficiency test for students who plan to study in English-speaking countries. TOEFL scores become an important part of the application process for candidates who wish to study abroad in an English-speaking environment. Many times, the TOEFL requirement may be waived, however, this is entirely at the discretion of the university administration. The TOEFL administering body, ETS (Educational Testing Services), is responsible for the TOEFL test, administers the TOEFL iBT test, and sends each test taker their scorecard.
Do You Know?

Given the pandemic, the TOEFL test is also available to students from the safety of their homes with the launch of the "TOEFL Home Edition". ETS has also launched a shorter but no less effective version of the TOEFL test called the TOEFL Essential Test, which is available to students from August 21, 2021. Recently, ETS has also agreed to accept Aadhar cards as part of the student ID card for candidates registering for the TOEFL exam from India.
Students who wish to study abroad can choose from several TOEFL test dates available throughout the year, as well as from various test centers located in major cities, or take the TOEFL iBT Home Edition test remotely at home. Candidates who want to take the TOEFL exam will learn about the most important TOEFL exam topics while reading.
Overview of TOEFL Exam 2023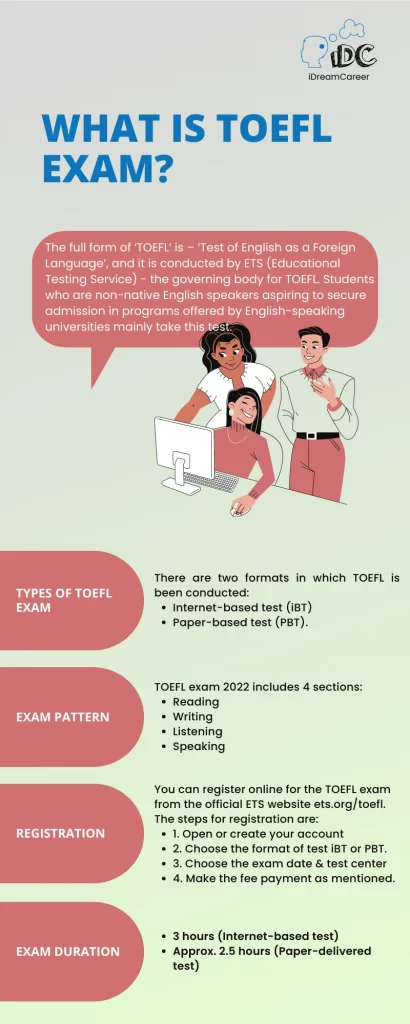 Types of TOEFL exam
ETS TOEFL conducts the English proficiency exam in two modes: i.e.) Online Test (TOEFL iBT) and Paper Test (TOEFL PBT).
ETS TOEFL – iBT test
The TOEFL-iBT test is the most preferred type, with more than 90% of students attempting the test in this online format. The TOEFL-iBT test consists of 4 sections: speaking, listening, writing, and reading. Students are encouraged to work through all sections on a computer equipped with a microphone and camera. As the iBT test pattern does not have a separate section to test candidates' knowledge of grammar, the writing section is monitored in detail.
ETS TOEFL – PBT
The TOEFL PBT is a paper-based English language test. Students located outside of online testing centers may take this test. The TOEFL PBT test format differs significantly from the iBT format in that it also contains a separate essay section. In the listening section, PBT has entries that are shorter than IBT.
TOEFL Exam Pattern
The TOEFL is administered about 50 times each year. It allows you to take the exam as many times as you like, but there must be a gap of 12 days between the previous and current tests. The test consists of four parts as explained below.
Reading
The reading part of the test consists of 3-4 multi-focus passages (comparison/contrast, cause-effect). Each passage consists of 10 questions. The time allotted for this section can vary from 54 to 72 minutes depending on the number of passages presented in the test. Scores for this part of the test can range from 0 to 30.
Listening
This unit contains 3 to 4 lectures and some lectures contain class discussions. Each lecture lasts about 3-5 minutes and you will be asked 6 questions at the end of each. This part also includes normal everyday conversations. You will have the opportunity to listen to 2-3 conversations of 3 minutes each. At the end of each conversation, you will be asked 5 questions. The accents used in the listening section are from native speakers from across North America. In addition to North American accents, you may also hear some accents from other English-speaking countries, such as
Australia
New Zealand
The United Kingdom
The total time allotted for this section can range from 41 to 57 minutes, and the score for this part of the test can range from 0 to 30.
Speaking
This part of the test consists of 4 tasks. You will be given 1 independent task to express your opinion on a topic you are familiar with. You will have 30 seconds to prepare your answer. In addition, you will have 3 integrated speaking tasks based on reading and listening. You will have 1 minute to and prepare your answer. The total time allotted for this section is 17 minutes. You will get 0-4 points; then your scores will be converted to a scale of 0 to 30.
Writing
You will have two tasks in this section of the test.
Section 1 – Integrated assignment based on reading and listening. You will have 20 minutes to complete it.
Section 2- Independent task to reinforce the opinion on the topic. You will have 30 minutes to complete it.
The total time allotted for this section is 50 minutes and you will receive scores ranging from 0 to 5, which will then be converted to a 0-to-30-point scale.
Note: If the applicant receives the appropriate scores, they will receive notification by mail approximately 6 days after the test. The applicant can also log in to the TOEFL registration website to view the results. A printed copy of TOEFL exam results is mailed approximately 10 days after the exam date.
TOEFL Eligibility Criteria
There are no strict eligibility criteria for taking the TOEFL exam. Anyone who wants to take the test can register and pay the necessary fees. However, the TOEFL is primarily intended for non-native speakers of English who are planning to study or work in an English-speaking environment.
If you are planning to take the TOEFL exam, it is important to have a good level of English language proficiency. This means that you should be able to understand spoken and written English at a level that is sufficient to participate in academic or professional activities in an English-speaking environment. You should also be able to speak and write in English at a level that is sufficient to communicate effectively with others.
If you are not sure whether you meet the required level of English language proficiency, you may want to consider taking an English language course or practice test to assess your skills. Many universities and other organizations that require the TOEFL exam offer resources and support for students who are preparing for the test, including practice materials and courses to help them improve their English language skills.
TOEFL Registration
The process for registering for the TOEFL test depends on the version of the test you are taking and your location.
If you are taking the TOEFL iBT (Internet-Based Test), you can register online on the ETS TOEFL website (www.ets.org/toefl). To register, you will need to create an ETS account and provide some personal information, such as your name, date of birth, and contact information. You will also need to select a test date and location and pay the test fee using a credit or debit card.
If you are taking the TOEFL PBT (Paper-Based Test), you can register by contacting the test center where you want to take the test. You can find a list of test centers on the ETS TOEFL website (www.ets.org/toefl). To register, you will need to provide some personal information and pay the test fee. You may also need to provide proof of identification, such as a passport or national identification card.
It is important to register for the TOEFL test well in advance, as test dates and locations can fill up quickly. ETS recommends that you register at least four weeks before your preferred test date to ensure that you have enough time to prepare and make any necessary travel arrangements.
If you have any questions about the TOEFL registration process, you can contact ETS customer service at 1-800-468-6335 or email [email protected].
TOEFL Exam Fees in India
TOEFL Test Fees in India 2023: TOEFL exam registration fees vary from location to location. The TOEFL exam fee in India is USD 190 or Rs. 14,242.11 ($1 = 74.96). Apart from this, candidates also have to pay for other services like late registration, exam rescheduling, or score viewing. The cost of various services is given below.
TOEFL Cancellation/Reschedule Fee
Candidates who have booked an exam date and wish to cancel or reschedule it will need to do so four days prior to the actual exam date. Test transfers by mail, email, or at the test center are NOT acceptable. Candidates would have to either call their Regional Registration Center (India – 91-124-4147700) or inform them of their full name and appointment number for rescheduling. Candidates can also log into their ETS account online and reschedule any subsequent tests. The test rescheduling fee is $60.
Special handling of TOEFL requests
Many times, candidates may need to avail themselves of certain services provided by ETS. Applicants may check the special request processing charges mentioned in the table below.
| | |
| --- | --- |
| Particulars | Charges |
| Additional TOEFL score reports (per institution or agency) | $20 each |
| Reinstatement of cancelled TOEFL scores | $20 |
| Speaking and Writing Section score review | $160 |
| Speaking or Writing Section score review | $80 |
| TOEFL Late Registration Fee | $40 |
| TOEFL Registration Fee | $190 |
| TOEFL Rescheduling Fees | $60 |
It's a wrap!
The TOEFL exam is a widely accepted and respected assessment of English language proficiency that is required by many universities, employers, and other organizations around the world. It is important for students to understand the format and content of the TOEFL exam and to make sure they meet the minimum score requirements of the institutions or organizations they are interested in.
Preparing for the TOEFL exam can be a challenging but rewarding process that involves improving language skills and practicing with test materials. By taking the time to prepare and perform well on the TOEFL exam, students can increase their chances of gaining admission to their desired university or abroad destination.
We wish you all the best! But if you still have queries do dial us now! Never hesitate if your query is small or just a curiosity! iDreamCareer is on a mission to reach every state and every child in order to ensure that talent is appropriately delivered to the industry.Talk to our study abroad experts with over 20 years of experience to find out for yourself! We have helped several brilliant but confused minds to choose the most suitable career. Hear the success story of Aayush who got an offer from three top universities and is currently studying at the University of Ottawa in Canada after receiving career guidance from our industry experts!
ALSO READ:
FAQs
What is a good TOEFL score?
There is no such thing as a good TOEFL score. Each university will have its own TOEFL score limit, and students must score at or above the set score. Applicants should keep in mind that higher TOEFL scores will automatically increase their chances of getting a place at the university and will also make them favorites for any scholarships the university offers.
Can I retake the TOEFL exam if I don't meet the minimum score requirements?
Yes, you can retake the TOEFL exam if you do not meet the minimum score requirements of the institutions or organizations you are applying to. There are no limits on the number of times you can take the TOEFL exam, but you will need to pay the test fee each time you take the exam.
Is there a time limit for the TOEFL exam?
Yes, the TOEFL exam is a multi-hour test with a specific time limit for each section. The total time for the TOEFL iBT is around 4 hours, including breaks. The total time for the TOEFL PBT is around 3 hours, including breaks.
Is the TOEFL exam very difficult?
Right off the bat, one of the most challenging aspects of the TOEFL is its length. Taking the TOEFL takes almost four hours. Even if you think many of the questions are easy, it will take you a long time to pass any test, especially a test in a language that is not your first language.

Anushree has 5 years of experience in the career counseling industry as a Senior Content Writer. She has also worked as a Social Media Marketing Expert for a startup and Content Quality Analyst for the Publishing and E-learning Industry. She has done her Master's in Commerce and PGDM in Finance & Trade and Marketing & HR, but she is currently following her passion for writing.