There is a growing need for professionals who can extract data from large amounts of data. The field of data science is becoming one of the fastest-growing technologies today. If you want to discover how to become a data scientist, this little guide will give you what you need to make a start in this high-tech industry. Come with us, have a look.
What do you need to know?

According to the US Bureau of Labor Statistics, the data scientist profession is one of the 10 fastest-growing occupations in the US, with a projected increase of 31.4% by 2030. Coupled with an average salary of $131,490, it's never been a better time to get into science. about the data.
Data science is everywhere now. One by one, companies around the world are turning to data science to solve a wide variety of problems. This situation has put data scientists in an advantageous position in terms of employment and pay.
Naturally, many people are starting to wonder how to become data scientists. If you are reading this article, you may be one of those people. Here, we'll show you everything you need to know about becoming a data scientist, including an effective and engaging way to learn what you need to get started in the world of data science.
What all is covered in this post?
To make it easier for you, we have created a quick guide to everything you need to know about how to become a data scientist.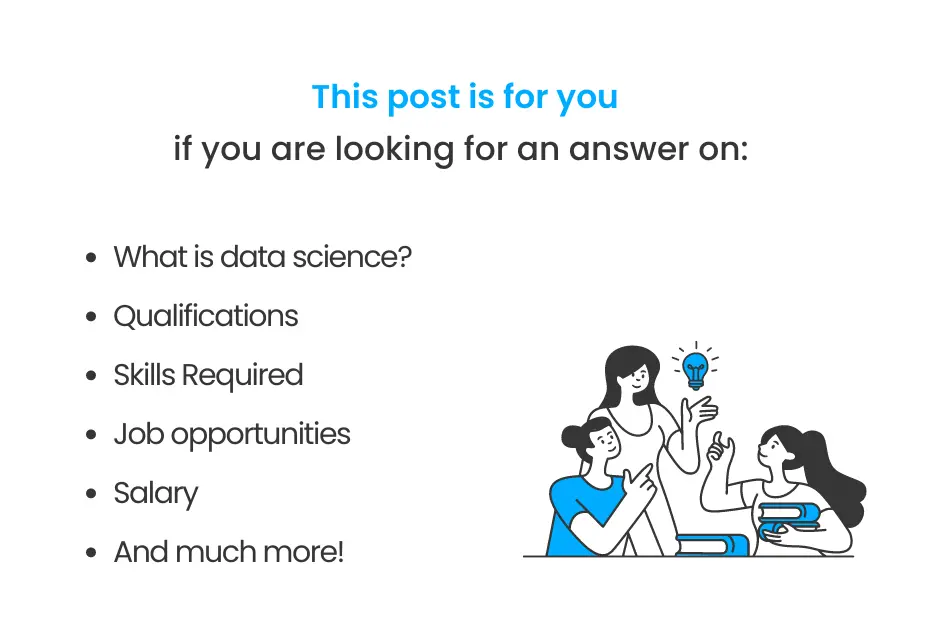 First, let's take a few seconds to discuss…
What is data science?
Data science is a field of research that combines domain technology, planning skills, and mathematical knowledge to produce sound data. Data science continues to emerge as one of the most promising and much-needed ways to work with skilled professionals. Today, successful data professionals realize that they need to go beyond traditional skills to analyze large amounts of data, data mining, and editing skills.
Who is a data scientist?
Data Scientist is a specialist who uses Mathematical and Statistical methods, computer modeling, and software to extract knowledge and information from structured (such as a database in MS Excel or SQL) or unstructured data (such as written text, images, and videos).
Data can be anything from:
Population data
Sales data
Customer data
Personal income data
Images
Video
Satellite data
Or anything else for that matter…
Discover More by accessing the Free Career Dashboard
This will help us share relevant information with you.
What does a data scientist do?
The following are the roles and responsibilities of a data scientist is responsible for –
Collect, clean and organize data: Data scientists collect data from various sources, clean it to remove any errors or inconsistencies, and organize it in a manner that makes sense.
Analyze data: Data scientists analyze data using various statistical and machine learning techniques to identify patterns and correlations that are not immediately visible.
Build models: Based on their analysis, data scientists build predictive models that can be used to make data-driven decisions.
Communicate insights: Data scientists present their findings and insights to stakeholders in a manner that is easy to understand.
Develop algorithms: Data scientists develop algorithms that can be used to process large amounts of data in real time.
Automate processes: Data scientists automate data-driven processes to make data analysis more efficient.
Collaborate with other departments: Data scientists collaborate with departments such as marketing, sales, and product development to help them make data-driven decisions.
Monitor data-driven processes: Data scientists monitor data-driven processes to ensure that they are working as expected.
Stay up-to-date with technology: Data scientists keep themselves updated with the latest technology and techniques in data science.
Problem-solving: Data scientists solve complex problems by analyzing data and creating predictive models.
Data Scientist Required Qualifications
Below are some of the qualifications that are required to become a data scientist.
Complete class12th Physics, Chemistry, and Mathematics along with any other subject as per the scheme of studies with at least 50% marks in aggregate
Bachelor's degree in Data Science, Mathematics, Statistics, Computer Science, or similar.
Some of the popular undergraduate degrees are B. Tech. in Information Technology, B.Sc. in Computer Science, B. Tech in Artificial Intelligence, B.Tech. in Data Science & Engineering, B.Sc. (Bachelor of Science) in Artificial Intelligence and Machine Learning, and B.Stat. etc.
After obtaining a bachelor's degree you may

Either enroll for a master's degree in data science in a related field such as computer science, information engineering or cybersecurity, etc.
Or you may begin to work in an entry-level role and then can apply for a master's degree such as MBA or M. Tech.

Some of the popular master's degree and doctorate programs are Post-Graduate Diploma in Business Analytics and M. Tech. (Master of Technology) in Data Science & Artificial Intelligence, MBA in Data Sciences & Data Analytics, and M. Tech. (Master of Technology) in Data Science and Engineering, etc.
Not only this you will be required to have the following skills required…
Also, read: Business Analyst vs. Data Analyst
Skills required for becoming a data scientist
Becoming a data scientist requires a unique set of skills that includes both technical and soft skills. Some of the key skills required are:
Technical skills: Strong knowledge of programming languages such as Python and R, database management, and machine learning algorithms are crucial. Additionally, data scientists should have a solid understanding of statistics, linear algebra, and calculus.
Data visualization skills: Data scientists should have the ability to communicate insights from data in a visual format that is easy to understand. Knowledge of tools like Tableau and PowerBI is useful.
Communication skills: Data scientists need to be able to articulate complex data analysis in simple terms for stakeholders. Good communication skills are key in ensuring that data insights are effectively translated into action.
Problem-solving skills: Data scientists are problem solvers and must be able to use data to identify and solve complex problems.
Creativity: A data scientist should be able to think creatively and find innovative solutions to problems.
Attention to detail: Data scientists need to have an eye for detail and be able to spot patterns and anomalies in large amounts of data.
Business acumen: Understanding business processes and operations is essential as data scientists work closely with other departments to support decision-making.
Continuous learning: The field of data science is constantly evolving, and data scientists must continuously keep themselves updated with the latest tools and techniques.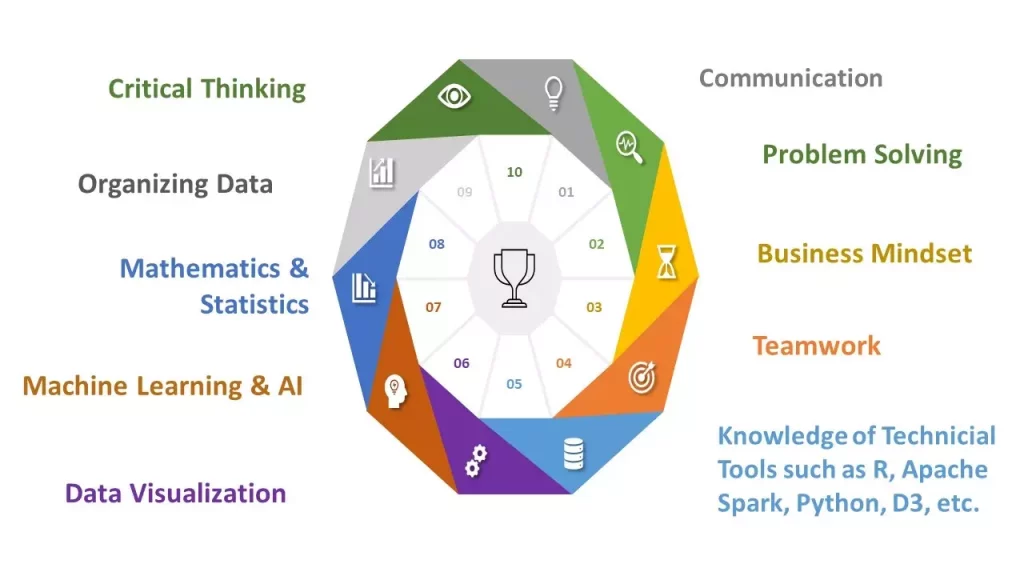 Steps to Becoming a Data Scientist
Data science is a field of study that involves extracting knowledge from all the data collected. There is a high demand for professionals who can turn data analysis into a competitive advantage for their organizations. In a career as a data scientist, you'll create data-driven business decisions and analytics.
Step 1: Get a bachelor's degree
A great way to get started in Data Science is to get a bachelor's degree in a related field, such as data science, statistics, or computer science. This is one of the most common criteria companies look at when hiring data scientists.
Step 2: Learn the appropriate programming languages
While a bachelor's degree can give you a theoretical understanding of a subject, it's essential to brush up on relevant programming languages ​​such as Python, R, SQL, and SAS. These are important languages ​​when it comes to working with large data sets.
Step 3: Learn the relevant skills
In addition to different languages, a data scientist also needs to know how to work with some tools for data visualization, machine learning, and big data. When working with large data sets, it is very important to know how to process large data sets and clean, sort, and analyze them.
Step 4: Get your certificates
Tool and skill-specific certifications are a great way to demonstrate your knowledge and expertise in your skills. Here are some great certifications to help you pave the way:
Tableau Certification Training Course
Power BI Certification Course
These two are the most popular tools used by Data Scientist experts and will be the perfect addition to start your career.
Step 5: Internships
Internships are a great way to get your foot in the door of companies hiring data scientists. Search for jobs that include keywords such as data analyst, business intelligence analyst, statistician, or data engineer. Internships are also a great way to get hands-on experience with what the job entails.
Step 6: Entry-level data science jobs
After your internship period is over, you can join the same company (if they are hiring) or you can start looking for entry-level positions for data scientists, data analysts, and data engineers. From there, you can gain experience and work your way up the ladder, expanding your knowledge and skills.
Job opportunities for data scientists
Researchers are in high demand, and this demand is expected to continue in the next decade. The U.S. Bureau of Labor Statistics estimates a 22 percent job growth in data science between 2020 and 2030, much higher than the 7.7 percent growth for other occupations. Data Science has been recognized by the World Economic Forum as one of the fastest-growing jobs of the next decade. According to a recent Monster report, 96% of organizations in India plan to hire Data Science-related roles by 2022.
Also, Data Scientists are not limited to a specific set of industries and are in demand in almost all industries such as finance, healthcare, information, manufacturing, professional services, retail, etc. Overall, the job outlook for a Data Scientist is quite promising and it offers many opportunities and a great career path to build or develop your career.
You may find the following job opportunities:
IT Systems Analyst
Operations Analyst
Quantitative Analyst
Digital Marketing Manager
Healthcare Data Analyst
Transportation Logistics Specialist
Project Manager
Data Analytics Consultant
Data Engineer
Data scientist salary in India
The salary of a data scientist in India varies greatly depending on several factors. However, the average salary of scientists is Rs 698,412. An entry-level scientist can earn around INR 500,000 per year with less than one year of work experience. Entry-level data scientists with 1 to 4 years of experience earn around INR 610,811 per year.
A mid-level scientist with 5 to 9 years of work experience earns INR 1,004,082 per year in India. As your experience and skills grow, your salary increases dramatically as a Senior Scientist in India to around INR 1,700,000 per year!
Some of the organizations that hire Data Scientists are:
Some of the leading consulting firms are Accenture, Bain & Company, Ernst & Young, Boston Consulting Group (BCG), KPMG, Deloitte, McKinsey, PwC, etc.
Online Retail Organizations like Amazon, Flipkart, Myntra, etc.
Banks like Axis Bank, HDFC, ICICI Bank, Citi Bank, etc.
Social Media like Facebook, Twitter, etc.
Technology companies like Apple, Microsoft, Intel, etc.
Conclusion
We hope we have served you with most of the answers. Thinking about wandering into the vast expanse of Data Science? It is undoubtedly one of the most sought-after job roles in the industry today. Whether you've already planned a career in it or just starting to dip your toes in the thoughts of it, allow us to make it a bit easier for you.
Talk to an expert today to figure out more of what you must know before you begin your journey. At iDreamCareer with the help of our Career Counselling and Guidance Services and educational counsellors, we try to help many young confused minds from the 9th class, 10th class, class 11, class 12 with an aim to select their suitable career choices.
Also, read:
FAQs
What is the educational background required to become a data scientist?
A data scientist typically holds a Bachelor's or Master's degree in computer science, statistics, mathematics, physics, or a related field. Some data scientists also hold a Ph.D. degree in a related field.
What skills are required to become a data scientist?
Some of the essential skills required to become a data scientist include programming skills, data analysis and modeling, statistical analysis, machine learning, data visualization, and communication skills.
What is the experience required to become a data scientist?
The experience required to become a data scientist varies based on the role and the company. Some entry-level positions in data science may require 1-2 years of experience, while senior-level positions may require 5-10 years of experience in the field.
What is the job market like for data scientists?
The demand for data scientists is on the rise, and it is expected to continue to grow in the coming years. According to recent studies, the demand for data scientists is growing at a rapid pace, and there is a shortage of skilled data scientists in the market.
How can I learn data science?
There are several ways to learn data science, including online courses, boot camps, and self-study. Some popular online courses for learning data science include Coursera, Udemy, and edX. Bootcamps are also a great way to get hands-on experience in data science, and they typically last for 4-6 months.
.
.
Discover More by accessing the Free Career Dashboard
This will help us share relevant information with you
Trending Posts


Anushree has 4+ years of experience in the career counseling industry as a Senior Content Writer. She has also worked as a Social Media Marketing Expert for a startup and Content Quality Analyst for Publishing and E-learning Industry. She has done her Master's in Commerce and PGDM in Finance & Trade and Marketing & HR, but she is currently following her passion for writing.