There is a growing need for professionals who can extract data from large amounts of data. The field of data science is becoming one of the fastest-growing technologies today. If you want to discover how to become a data scientist, this little guide will give you what you need to make a start in this high-tech industry. Come with us, have a look.
"Without big data analytics, companies are blind and deaf, wandering out onto the web like deer on a freeway." And yes, that's true!

Geoffrey Moore
First , let's take a few seconds to discuss what data science is.
What is data science?
Data science is a field of research that combines domain technology, planning skills, and mathematical knowledge to produce sound data. Data science continues to emerge as one of the most promising and much-needed ways to work with skilled professionals. Today, successful data professionals realize that they need to go beyond traditional skills to analyse large amounts of data, data mining, and editing skills.
Who is a data scientist?
Data Scientist is a specialist who uses Mathematical and Statistical methods, computer modelling, and software to extract knowledge and information from structured (such as a database in MS-Excel or SQL) or unstructured data (such as written text, images, and videos).
Data can be anything from:
Population data
Sales data
Customer data
Personal income data
Images
Video
Satellite data
.
Or anything else for that matter…
Data Scientist vs. Data Analyst
A Data Scientist is different from Data Analyst.
Data Scientists use computer modeling and write algorithms to extract information from a large set of data that is normally not possible by using Statistical and Mathematical tools only.
Discover More by accessing the Free Career Dashboard
This will help us share relevant information with you.
What does a data scientist do?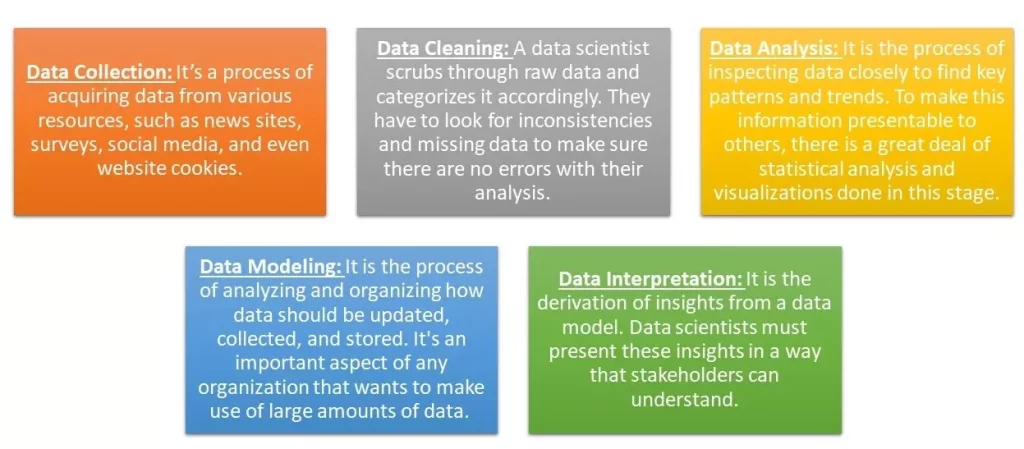 Data Scientist Qualifications
Complete class12th Physics, Chemistry, and Mathematics along with any other subject as per the scheme of studies with at least 50% marks in aggregate
Bachelor's degree in Data Science, Mathematics, Statistics, Computer Science or similar.
Some of the popular undergraduate degrees are B.Tech. in Information Technology, B.Sc. in Computer Science, B. Tech in Artificial Intelligence, B.Tech. in Data Science & Engineering, B.Sc. (Bachelor of Science) Artificial Intelligence and Machine Learning, and B.Stat. etc.

You will be required to qualify for the entrance exam conducted by many institutes & colleges to get enrolled for a graduate degree. Some of the popular entrance exams are JEE Mains, JEE Advanced, VITEEE, BITSAT, and SRMJEE, etc.

After obtaining a bachelor's degree you may

Either enroll for a master's degree in data science in a related field such as computer science, information engineering or cybersecurity, etc.

Or you may begin to work in an entry-level role and then can apply for a master's degree such as MBA or M. Tech.

Some of the popular master's degree and doctorate programmes are Post-Graduate Diploma in Business Analytics, M. Tech. (Master of Technology) in Data Science & Artificial Intelligence, MBA in Data Sciences & Data Analytics, and M. Tech. (Master of Technology) in Data Science and Engineering, etc.
Skills required for being a data scientist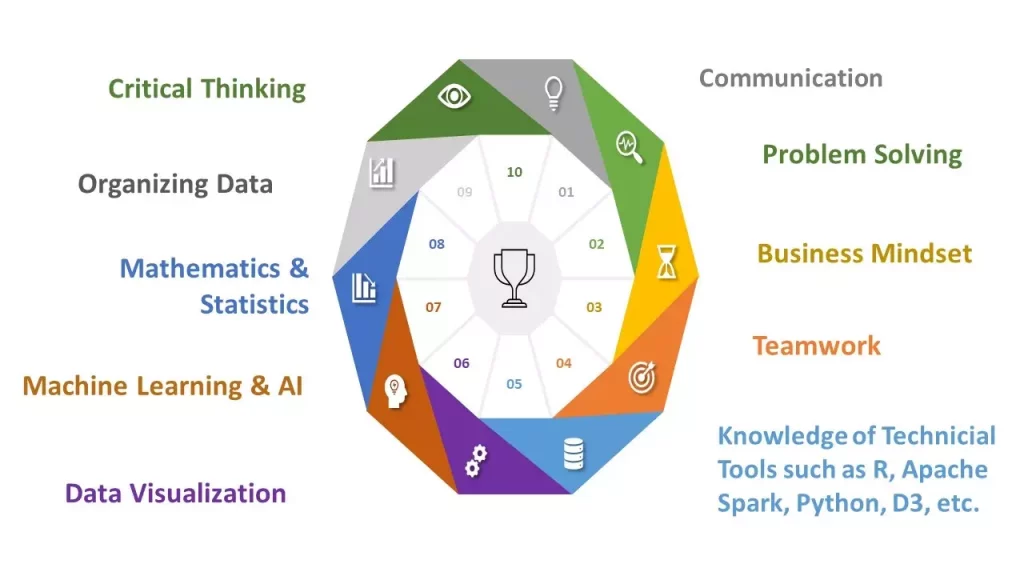 Job opportunities for data scientists
You may find the following job opportunities:
IT Systems Analyst
Operations Analyst
Quantitative Analyst
Digital Marketing Manager
Healthcare Data Analyst
Transportation Logistics Specialist
Project Manager
Data Analytics Consultant
Data Engineer
.
Some of the organizations that hire Data Scientists are:
Some of the leading consulting firms are Accenture, Bain & Company, Ernst & Young, Boston Consulting Group (BCG), KPMG, Deloitte, McKinsey, PwC, etc.
Online Retail Organizations like Amazon, Flipkart, Myntra, etc.
Banks like Axis Bank, HDFC, ICICI Bank, Citi Bank, etc.
Social Media like Facebook, Twitter, etc.
Technology companies like Apple, Microsoft, Intel, etc.
Data scientist salary in India
At the entry-level, expect anything between Rs. 25,000 to 50, 000+ per month.
Junior level: expect anywhere between Rs 50,000 to 1,00,000+ per month.
Middle level (6-12 years): expect Rs 70,000-2,00,000+ per month.
At the senior level after 12 years of work experience, your earning will be between Rs. 2,00,000 to 6,00,000 or more per month. You'll be Chief Technical Officer, Board member or Director or something around that time with that much experience, not a data scientist anymore!
.
Note: Figures are indicative only. Discretion is advised for further transmission of this data in any form.
Conclusion
We hope we have served you most of the answers. Thinking about wandering into the vast expanse of Data Science? It is undoubtedly one of the most sought-after job roles in the industry today. Whether you've already planned a career in it or just starting to dip your toes in the thoughts of it, allow us to make it a bit easier for you.
Talk to an expert today to figure out more of what you must know before you begin your journey. At iDreamCareer with the help of our Career Counselling and Guidance Services and educational counsellors, we try to help many young confused minds from 9th class, 10th class, class 11, class 12 with an aim to select their suitable career choices.
Also, read:
.
Recent Releases
.
Discover More by accessing the Free Career Dashboard
This will help us share relevant information with you
Trending Posts

Anushree has 5+ years of experience and currently she is associated with idreamcareer.com as a Content Writer. She has also worked as a Social Media Marketing Expert for a startup and Content Quality Analyst for Publishing and E-learning Industry. She has done her Masters in Commerce and PGDM in Finance & Trade and Marketing & HR, but she is currently following her passion towards writing.