Do you like working with numbers and data? You might want to think about having a career as a data geek! Data analyst vs data scientist? Thinking hard? And confused about which to choose?
Which one is for you?
Come along, we have an answer to that as we discuss.
Which is better data analyst or data scientist, who gets paid more data scientist or data analyst, can data scientist work as a data analyst, what is the difference between a data scientist and data analysis and things like that..
Who are they?
Data analysts typically use computer systems and various data analysis software such as SAS, SAP Hana, IBM Cognos, and IBM SPSS to check, compile, clean, transform and analyse data to discover useful information, suggest conclusions, and support decision-making.
Data scientists are specialists who use various mathematical and statistical methods, computer modelling, and software to extract knowledge and information from structured (such as a database in MS-Excel or SQL) or unstructured data (such as written text, images, and videos).
What is the difference between a data analyst & a data scientist?
Although both types of professions analyse the data to understand the truth, the angles they take from their work are slightly different.
---
Data analysts can be said to examine data to better understand the past
While,
Data scientists use data to make predictions
---
Data analysts examine data sets to draw information about events and present related stories by visualization.
Whereas data scientists use materials such as raw data, mathematics, and in-depth learning to make predictions and analysis of possibilities.
Get Free Career Dashboard Access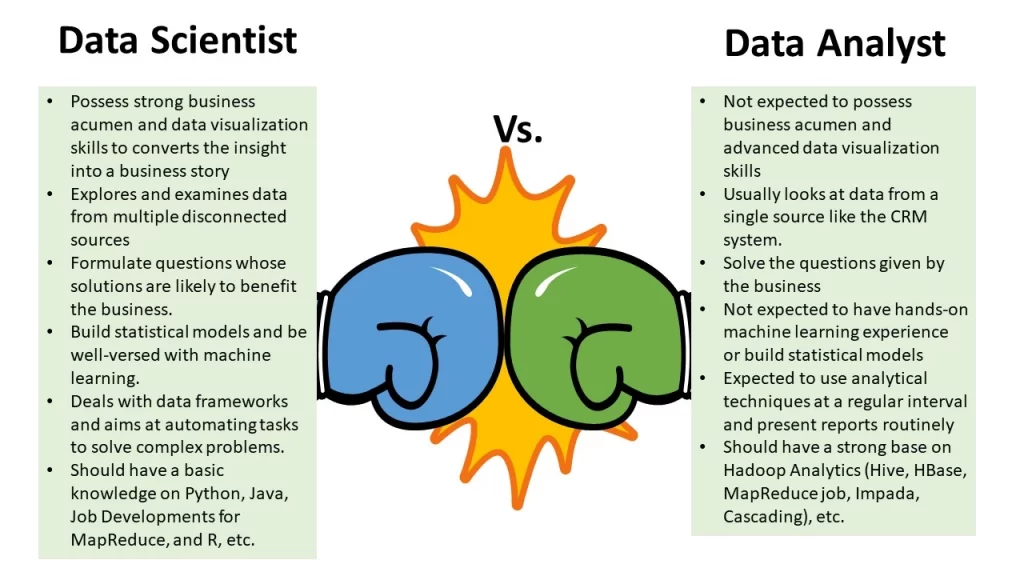 Which is better data analyst or data scientist?
Businesses experience great benefits and growth with the help of obtained data available within the organization. This is primarily why there is a huge increase in the number of job opportunities for data scientists and data analysts across most large industrial sectors.
Data has become the new fuel for any big or small business, more so for startups.
Data Science is useful for analysing raw and unstructured databases to obtain useful information to drive a business further towards higher profitability & growth through useful predictions.

This field focuses on finding answers to questions that the company does not know about. Data scientists use a variety of methods and tools to find answers.

Data Analytics uses available data sets and performs statistical analyses to determine which data can be extracted.

It focuses on solving current business problems from available data by presenting information in a visual way that is easy to understand for everyone.

In addition, data analysis focuses on coming up with results that can provide rapid improvement for a business.
.
According to a Future of Jobs Report by the World Economic Forum, both data scientists and data analysts have a huge demand in the market.
Whether you view it from a broader perspective or income, both are excellent options.
Who gets paid more data scientists or data analysts?
The average salaries depend on what type of data you are handling and which industrial sector you are working in. Top paying sectors are BFSI, consumer cyclicals/non-cyclicals, IT & engineering, healthcare, energy & climate change etc.
As a data scientist, you can expect:
Entry-level: Rs. 35,000 to 65,000+ per month.
Junior-level: Rs 40,000 to 80,000+ per month.
Middle-level: Rs 85, 000-2,00,000+ per month.
Senior-level: Rs. 1,50,000 to 4,40,000+ per month.
.
On the other hand, as a data analyst, you can expect:
As a Trainee Analyst – Rs. 20,000 to 35,000+ per month.
Entry-level:

As a Business Analyst – Rs. 35,000 to 50,000+ per month.

As a Market Research Associate – Rs. 30,000 to 60,000+ per month.

Junior-level: Rs 30,000 – 85,000+ per month.
Middle-level: 90,000-2,30,000+ per month.
Senior-level: Rs. 2,00,000 to 4,00,000+ per month.
.
Can data scientists work as data analysts?
Data scientists are experts at data interpretation, but they also often can write codes and work on mathematical modeling.
Most data scientists have advanced qualifications, and many go from data analysts to data scientists.
They can do the job of a data analyst, but also participate in machine learning, have advanced editing skills, and can create new data modeling processes. They can work with algorithms, speculative models, and more.
It's a wrap
No wonder, both careers seem to hold great potential, and one needs to feel confident enough while choosing any of the careers.
Still not sure how or what or have further questions?
Consider talking to iDreamCareer expert career counselors to get rid of your apprehensions. We work with millions of young minds from 9th class, 10th class, class 11, class 12 & suggest suitable career choices to them.
Don't hesitate. Even if your questions are silly, they may be very crucial for your future career, our career counselors are just a call away to answer all your queries.
Also, read:
.
Recent Releases
.
Get Free Career Dashboard Access
Trending Posts

.
Anushree has 4+ years of experience and currently she is associated with idreamcareer.com as a Content Analyst. She has also worked as a Social Media Marketing Expert for a startup and Content Quality Analyst for Publishing and E-learning Industry. She has done her Masters in Commerce and PGDM in Finance & Trade and Marketing & HR. In her free time she loves building content for her blog, sketching and exploring new food joints.