The legal profession is in high demand today. Due to the changing social and economic circumstances and the ever-increasing regulatory role that the government is taking on, the demand for lawyers is increasing. Law is not only financially lucrative but also an adventurous and exciting career option. Gone are the days when students chose only engineering and medical professions. The legal profession has evolved tremendously over the past few years. But the question that most students have is how to become a lawyer in India.
Becoming a lawyer is one of the most rewarding career options in terms of both job satisfaction and salary potential in India. According to the Bar Council of India, the Indian legal profession has about 12 lakh registered advocates, 950 law schools, and 4-5 lakh law students. In India, about 60,000-70,000 law graduates enter the legal profession every year.
To become a lawyer, certain eligibility criteria must be met. The first and primary eligibility criteria are that the candidate must have passed the 12th class examination from a recognized board or university. After which he can take various law entrance exams like CLAT, AILET, SLAT, etc. Read the full article to know all the details about how to become a lawyer in India.
What is covered in this post?
To make it easier for you, we have created a quick guide to everything you need to know about how to become a lawyer.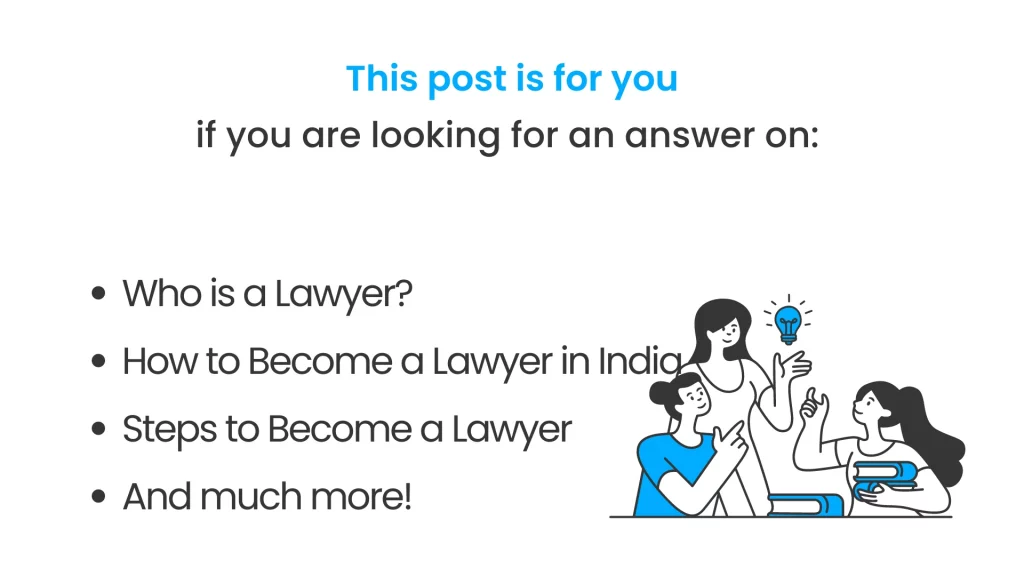 Before we move further, let's understand…
Who is a Lawyer?
A lawyer is a qualified, licensed practitioner who drafts legal documents for the administration, prosecution, or defense of legal actions. Lawyers are mainly responsible for solving the legal problems of their clients. According to their specialization, lawyers handle a wide range of cases, including divorce, property disputes, marital problems, and criminal offenses. They are compensated for the causes they fight.
What does a lawyer do?
Using legal knowledge, lawyers help clients understand and resolve legal issues. Although lawyers have different roles and responsibilities depending on their area of ​​expertise, most lawyers work with the following roles and responsibilities:
Creating legal documents and submitting them to the relevant courts and authorities
Attending courts and client hearings
Lawyers work with police and detectives and help them prepare case evidence for trials and mediation
Case handling and advising clients on the choice of court
Conducting investigations and arguments in favor of their clients before the judge
Read about Difference Between a Lawyer and Advocate
Discover More by accessing the Free Career Dashboard
This will help us share relevant information with you.
Types of Lawyers
The work of a lawyer is not easy, there are different specifications that study the details and subtleties in different fields and sectors. Below are the types of lawyers you can consider after becoming a lawyer.
Corporate lawyer
Corporate Lawyer main work is to ensure the legality of the company's operations, such as gathering and analyzing evidence for legal proceedings, drafting contracts, advising on legal rights and obligations in business transactions
Patent lawyer
They evaluate and analyze whether the invention is patentable or not. They guide and advise private inventors as well as corporations in the process of obtaining a patent. Once a patent is granted, patent lawyers defend the patent in case of infringement.
Criminal lawyer
It includes the protection of individuals, organizations, and companies that are brought to criminal responsibility. Some of the main responsibilities of a criminal defense attorney are investigating the case, cross-examining witnesses, planning the case strategy, etc.
Tax lawyers
They represent a company organization or an individual in tax disputes. Advise businesses and individuals on all aspects of tax law.
Family lawyers
Family law is a broad field. Family lawyers can be involved in custody, adoption, and divorce cases. Many lawyers in this field specialize in one particular area.
Cyber Lawyers
A cyber lawyer is a specialist lawyer, who deals with all kinds of cases related to cybercrimes (through the internet or mobile). These crimes can be theft, harassment, stalking, illegal deals, etc. Cyber lawyer helps their client in cases related to these issues by representing them in court. As a cyber lawyer, you will fight a civil or criminal case involving cyber laws (like online harassment, online theft, protecting trade secrets, freedom of speech, etc.).
Eligibility Criteria to Become a Lawyer
If you looking forward to an answer on how to become a lawyer after the 12th, here is the answer to your question. There are various eligibility criteria that must be met to be eligible to become a lawyer. Some of the basic criteria for becoming a lawyer are given below for your reference,
Students must have passed their 12th class exams with a minimum of 60% aggregate marks or equivalent CGPA
They have to pass various national-level or university-level entrance exams like CLAT, AILET, LSAT, etc.
They must have completed a 5-year undergraduate course such as B.B.L., B.B.L., BCom B.L.
How to become a lawyer in India
In order to become a lawyer in India, aspiring candidates must complete legal courses and also clear the AIBE (All India Bar Examination) exam to strengthen their career as a lawyer. Below are some of the most important steps to take to become a lawyer.
School-level preparation: There are no fixed or compulsory subjects or fields of study to become a lawyer, but a background in political science, sociology, etc. will ultimately help you better understand the subject.
How to become a lawyer after 12th
To become a barrister after Year 12, aspiring candidates must complete the steps outlined below,
Undergraduate Preparation: To become a lawyer, students must complete an undergraduate law course such as LLB, BA LLB, BBA LLB, or BSc LLB. However, before enrolling in these courses, they have to clear the law entrance exams like CLAT, AILET, LSAT, etc. Almost all Tier 1 law colleges admit students who score the highest in these entrance exams. legal sciences.
Postgraduate preparation: Postgraduate courses, such as the LL.M., can be attended by students who wish to become lawyers. Admission to postgraduate law courses is also done on the basis of law entrance exams like CLAT PG, LSAT, etc.
Steps to Become a Lawyer
Following are the steps you need to consider to become a lawyer-
Step 1: Complete upper secondary education
To become a lawyer, you must have a bachelor's degree from an accredited university. A person is eligible for admission to a law college or university only after obtaining higher secondary education from a recognized board of education. A student from any stream including Arts, Science, or Commerce is eligible for admission to the Bachelor of Laws degree program.
Step 2: Complete the release in any thread
If you have already completed your studies in any of the streams, you have another route to get an LL.B. which is a 3-year LL.B. after graduation. If you decide to go down this route, you need to complete a bachelor's degree in any stream.
Step 3 – Take the law entrance exam
Most law schools select applicants based on their performance on law school entrance exams. One of the most popular exams at the national level is the Common Law Entrance Test. This two-hour exam consisted of 150 multiple-choice questions with one mark for each correct answer and a deduction of 0.25 for each incorrect answer.
Candidates must score a minimum of 50% marks in CLAT to be eligible for admission. Most colleges accept CLAT scores. Other law entrance exams
AILET – All India Law Entrance Test
SLAT-Symbiosis Law Entrance Test
LSAT – Law School Admission Test
MC-CET-Maharashtra Common Entry Test-Law
Step 4 – Apply to law school
After receiving qualifying scores on the law entrance exam, you can apply to law schools. Each application requires the submission of official transcripts, law school entrance exam scores, and letters of recommendation with other additional information.
Many law schools accept candidates with high CLAT scores who have top-notch letters of recommendation and experience in extracurricular activities.
Step 5 – Obtain a Bachelor of Laws degree
If you decide to pursue a career in law, this will be a much better opportunity. While pursuing a Bachelor of Laws degree, the subjects you study such as political science, economics, sociology, etc. will help you learn more about the society in which you practice law.
Along with this, you should study legal subjects like family law, criminal law, constitutional law, etc. To graduate from law school, you need to pass all subjects in your final year.
Step 6: Pass the All-India Bar Examination
According to government guidelines, law graduates must pass the All-India Bar Examination to be eligible to practice law in India. Every year Bar Council of India conducts this exam every year. To become a member of AIBE, you must be registered as a solicitor with the State Bar Council.
Step 7 – Gain experience
After passing the AIBE, you are eligible to practice law. The next best step would be to apply for a position as an attorney at a law firm or start practicing law on your own.
Epilogue
Phew! So that was way too long and seriously if you're bored or yawning, you must not take this weird passion of yours to be a Lawyer, seriously.
No wait, I am serious. If you found this article long then, pal, you are in for the wrong option. Choose wisely. The law may not be the best place for you.
Still, wondering how to become a lawyer? Well, then you better get in touch with our experts who can guide you specifically after assessing your troubles. They need to peek into that mind of yours to find what's cooking and suggest the best possible option.
iDreamCareer has been rebuilding relationships between the industry & academia by planning millions of careers. You can get your queries resolved in just 60 seconds from our Career counselors. So, what are you waiting for? Download the iDreamCareer app now!
We always believe in helping young minds discover their true mettle. We try to help young confused minds from 9th class, 10th class, class 11, class 12 with an aim to select their most-suited career choices.
Also Read:
How to Become a Lawyer: FAQs
What do I have to do to become a lawyer?
After completing the 12th year, students have to apply for law entrance exams like CLAT, LSAT, etc. Based on their entrance exam scores, they can take admitted to Bachelor of Laws (LLB), BA LLB (BA LLB), BBA LLB (Bachelor of Laws), BCom LLB, or BSc LLB. After graduation, they can apply for the All-India Bar Examination (AIBE) and pass the exam to start practicing as a lawyer.
How do I start studying law?
To pursue a career in law, candidates can pursue a five-year integrated law degree course at the undergraduate level such as BA LLB, BBA LLB, BLS-LLB, BSc LLB, or BCom LLB. If the candidates have already completed their studies in other streams and now they want to pursue a career in law, then they pursue the three-year LLB course.
Is studying for a law course difficult?
Law school coursework is varied and extensive, which means you can't afford to relax. You need to put in the necessary work throughout the program if you want to succeed. So, law school is hard. More difficult than a regular college or university in terms of stress, workload, and commitment required.
Which stream is best for a lawyer?
If you are sure to try your law career in CLAT, it is best to go for Commerce Stream and then go for B.Com and do LB. Alternatively, after completing the 12th standard, you can go straight for CLAT.
Is a lawyer good for the future?
Good time management and organizational skills are also important skills to have. The answer to the common question: "Is law a career in India?" would be so. It's a great career in India with high pay and different paths to choose from after completing the course.
Discover More by accessing the Free Career Dashboard
This will help us share relevant information with you
Trending Posts


Anushree has 4+ years of experience in the career counseling industry as a Content Writer. She has also worked as a Social Media Marketing Expert for a startup and Content Quality Analyst for Publishing and E-learning Industry. She has done her Master's in Commerce and PGDM in Finance & Trade and Marketing & HR, but she is currently following her passion for writing.