Engineering still stands to be one of the most sought-after career choices in India. To make an impact in this technologically advanced age, you need to stop following the herd. To set yourself apart as a technical professional, you can choose an alternative i.e., Bachelor of Engineering, rather than going down the obvious route of choosing a Btech degree.
If you want to delve deeper into Science Stream subjects and want to learn the basic concepts, a BE degree can be the perfect option for you. No wonder, to build a career in this academy, the most suitable program would be a Bachelor of Engineering.
Do you know?

As per the reports of IBEF, the engineering sector is the largest industrial sector in India. It accounts for 27% of the total number of factories in the industrial sector and 63% of the total volume of cooperation with foreign countries.
This shows that the demand for engineers is never going to stop! Want to know more about this career? Come along…
What all is covered in this post?
To make it easier for you, we have created a quick guide to everything you need to know about the Bachelor of Engineer program.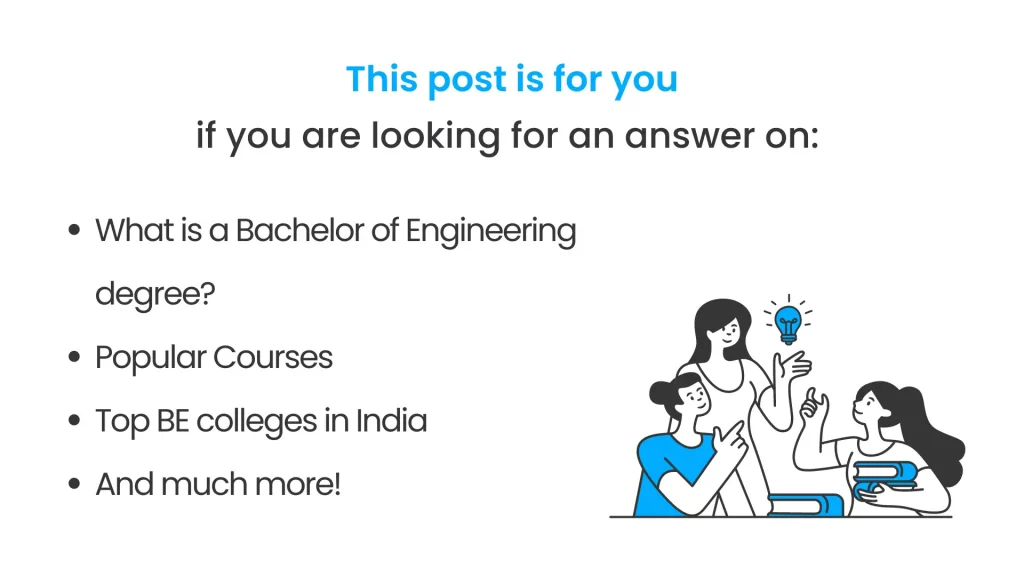 What is a Bachelor of Engineering degree?
A Bachelor of Engineering is an undergraduate academic degree that is awarded to you after typically a period of 4 years, in any one of the many engineering disciplines.
There are 4 career pathways after your graduation with a Bachelor of Engineering:
You can take up a job opportunity in various fields depending upon your area of specialization; or
You can go for a higher study and enroll either to a Post Graduate Degree (2-year duration) or to an Integrated Ph.D. degree (5-year duration) in Engineering; or
Make a career switch and enroll in a Post Graduate degree program from a different field such as Management; or
Prepare for and get a job in a different field such as in the Indian Administrative Services.
Highlights of the course
Take a look at the highlight of BE course.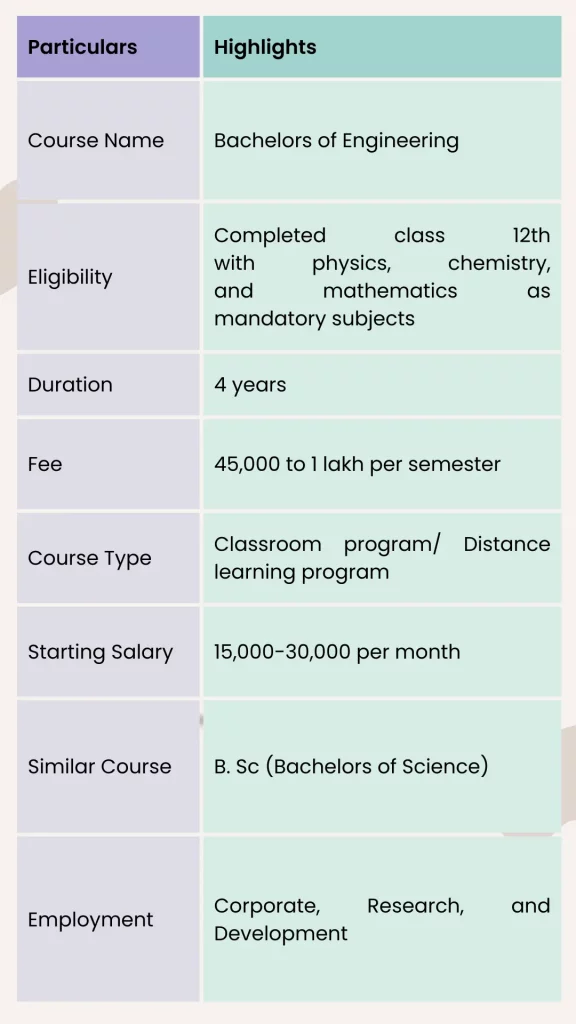 Discover More by accessing the Free Career Dashboard
This will help us share relevant information with you.
Bachelor of Engineering Courses List
For those applying for a bachelor's degree in engineering, there are many specializations to choose from and start your career. Deciding which program to choose can be confusing, so you should consult an expert when choosing a field. Studying abroad involves a large financial investment, so you need to do your research on the various engineering fields and their job markets! While some tackle the task on their own, many others run to career guidance counselors.
We have collected some of the most popular engineering streams in the list below:
Aeronautical Engineering
Aerospace Engineering
Agriculture and Food Engineering
Architectural Engineering
Automobile Engineering
BE Mechanical Engineering
Biochemical Engineering
Biomedical Engineering
Biotechnology Engineering
Chemical Engineering
Civil Engineering
Computer Science Engineering
Environmental Engineering
Fire and Safety Engineering
Geotechnical Engineering
Industrial Engineering
Information Technology Engineering
Marine Engineering
Metallurgical Engineering
Mining Engineering
Robotics Engineering
Textile Engineering
Tool Engineering
Top BE colleges in India
Now you know all the key points related to Bachelor of Engineering. The next step is to choose the right college. Here is the list of best engineering colleges in India:
Anna University
Delhi – Indian Institute of Technology
IIT (Indian Institute of Technology) Kanpur
IIT Bombay
IIT, Kharagpur
Indian Institute of Technology BHU, Varanasi
Indian Institute of Technology, Madras
Institute of Chemical Technology, Maharashtra
Jadavpur University, Kolkata
NIT, Tiruchirappalli
Bachelor of Engineering course fee
Since the Bachelor of Engineering or B.E. course is a theoretical course. This course is an undergraduate course that helps students choose a specialization for better career opportunities in the future.
Below is a table that highlights the types of Bachelors of Engineering along with the fee structure.
| | |
| --- | --- |
| Type of course | Course fees (approx..) |
| Bachelor of Engineering or B.E. Full time | Rs. 2,00,000 – Rs. 3,00,000 per year |
| Bachelor of Engineering or B.E. Part-time | Rs. 10000 – Rs. 1,50,000 per year |
| Bachelor of Engineering or B.E. Distance | Rs. 10,000 – Rs. 2,00,000 per year |
Subjects in bachelor of engineering
BE course topics vary by specialization and university. There are a few subjects that are common to all engineering fields; which are listed below:
Advanced Calculus
Basic Electrical Engineering
Basic Ethics and Laws
C++
Engineering Chemistry
English
Environmental Science
Linear Algebra
Physics
Final words!
Hey! Good to see you on this other side. We've just presented to you all the details about doing graduation with a Bachelor of Engineering degree as well as the details about your options after the degree. It might all be quite confusing to you still unless you are clear about your strengths and weaknesses. Which field of Engineering is best for you? You must find out with the help of expert career counselors. A little help may save a lot of heartburn later.
At iDreamCareer with the help of our Career Counselling and Guidance Services and educational counsellors, we try to help many young confused minds from 9th class, 10th class, class 11, class 12 with an aim to select their suitable career choices.
Also Read:
Offbeat engineering disciplines to discover –
Must Read
FAQs
Is B Tech and Bachelor of Engineering same?
BE stands for Bachelor of Engineering, while BTech stands for Bachelor of Technology. The main difference is that BE is more knowledge-based and BTech is more skill-based. In this regard, the BTech curriculum is more updated as the skills change as per the industrial needs.
Is engineering hard to study?
Engineering education is among the most challenging degrees you can get. The degree requires you to possess everything from logic and common sense to an enormous amount of patience when things go wrong. Designing can be very challenging because you essentially become a "professional problem solver".
Which engineering is best?
Following are the best engineering courses: Computer Science Engineering; Aeronautical Engineering; Mechanical Engineering; Electrical and Electronics Engineering; Biotech Engineering, etc.
Discover More by accessing the Free Career Dashboard
This will help us share relevant information with you
Trending Posts


Anushree has 4+ years of experience in the career counseling industry as a Senior Content Writer. She has also worked as a Social Media Marketing Expert for a startup and Content Quality Analyst for Publishing and E-learning Industry. She has done her Master's in Commerce and PGDM in Finance & Trade and Marketing & HR, but she is currently following her passion for writing.