Wondering what is big data? Want to know about the career path for becoming a big data engineer? Are you one of those people who have big data engineering in their mind, but do not know where to start? Don't worry, you are not alone!
It is one of the most important and most talked about careers in the technology industry. The job involves storing data securely and correctly by creating and managing data silos. This makes them essential for most companies, especially those that work with large amounts of data.
Did You Know?

According to a 2019 report commissioned by the Royal Society (the UK's national academy of sciences), data engineering is becoming the UK's most in-demand data-related role.
Interested? International trends follow. So, a career in this field is a great move and is just one exciting path you can take.
What all is covered in this post?
To make it easier for you, we have created a quick guide to everything you need to know about the big data engineer.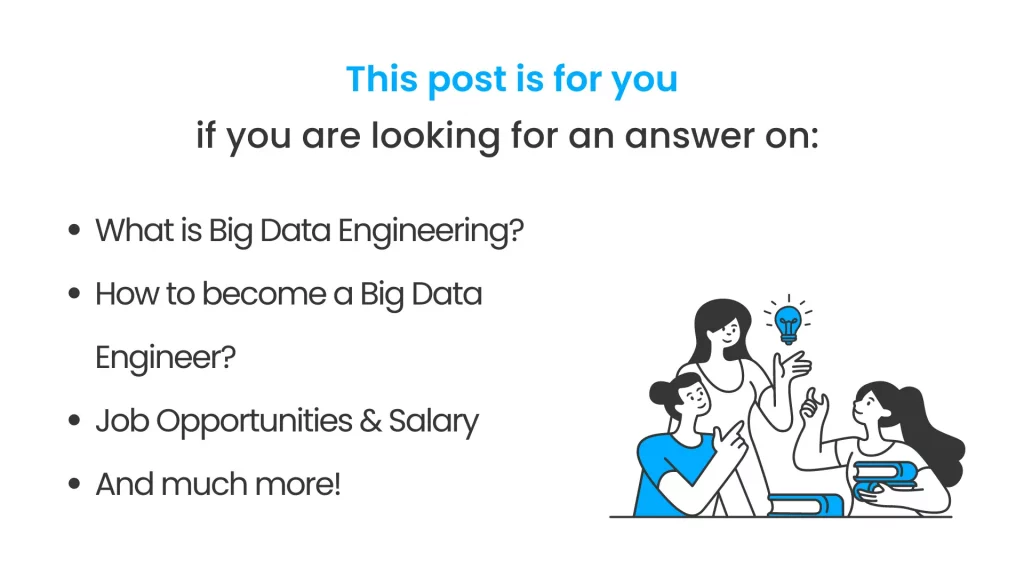 What is big data engineering?
Big data engineering is a career profile in which a professional is responsible for developing, maintaining, testing, analyzing, and evaluating company data. Big data refers to extremely large data sets. In today's economy, companies routinely collect large amounts of data throughout their operations.
When used correctly, big data can be very useful for organizations to help them improve efficiency, profitability, and scalability. However, companies' big data is not useful without these professionals to build systems to collect, store and mine the data. Therefore, as a professional, they are ultimately responsible for helping companies manage their big data.
What skills are required for being a big data engineer?
A career in this field requires specific skills to perform day-to-day tasks in a work environment. Here we have provided details about this field skills.
Machine Learning Skills
They must possess machine learning skills. He or she must sort and process large amounts of data in a short amount of time. And must be familiar with how to use algorithms required for the data ingestion process.
Cloud Computing
Clouds provide distributed access and better scalability. This is why they are important for data storage and processing. Popular cloud services for Big Data are AWS, Azure Data Lake, and Google Cloud. They must be familiar with cloud storage types, security levels, and their service providers.
Hadoop
Hadoop has a varying degree of scale which depends on data and mode. They need to know which mode they should use and for what purpose. He or she needs to know in which data set and where he or she can apply Hadoop.
Analytical skills
They are required to understand complex data. He or she must know how to use analytical tools in big data to solve problems. They must apply mathematics and certain scientific skills to become an expert in Big Data.
Data Visualization
The role must be able to visualize data. Data visualization is critical to developing imagination and creativity. Visual interpretation of data requires a big data engineer.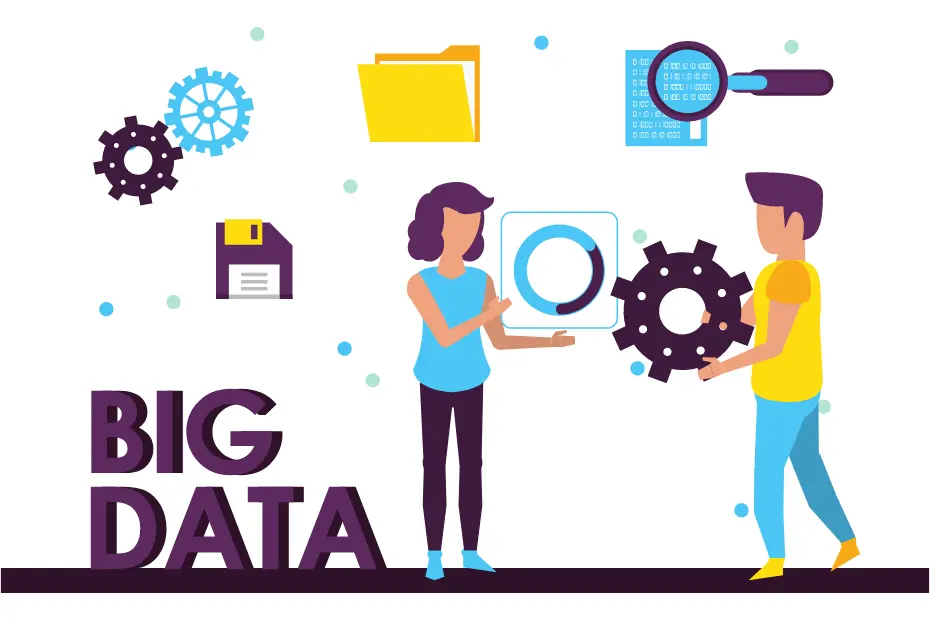 How to become a big data engineer
We have prepared a list of easy step guide that will make you successful in this field:
Candidates must have passed class 12th in Physics, Chemistry, Mathematics, or Computer Science from a recognized board with a minimum of 50 % marks.
After passing the class 12th exam, the candidates have to appear for the entrance exams conducted by universities, colleges, and other examination bodies at the national and state level.
After completing Class 12th candidates should register for Bachelor's degree like B.Tech. and B.E. are preferred degrees for big data engineering careers.
After completing a Bachelor's course, individuals have several options to pursue a career as a Big Data Engineer.
Option 1: After completing the Big Data Engineering Undergraduate Course, candidates can enroll in the Big Data Engineering Postgraduate Course. After graduation, he or she can start working as an entry-level big data engineer. M. Tech. and M.E. are preferred post-graduate degrees in big data.
Option 2: After completing the Bachelor's course, candidates can start working in the industry as an entry-level Engineer. After gaining a few years of experience as a professional, they can enroll in a postgraduate course in this field.
Point to be Noted:

For executive or managerial roles, an MBA in Data Analytics may also be considered.
List of top 10 big data engineering colleges in India
Here is the list of top colleges in India:
AIACTR Delhi – Ambedkar Institute of Advanced Communication Technologies and Research
Annamalai University, Annamalai Nagar
Great Lakes International University, Sri City
JECRC University, Jaipur
MIT School of Engineering, Pune
PIET Vadodara – Parul Institute of Engineering and Technology
Presidency University, Bangalore
School of Computer Science, University of Petroleum and Energy Studies, Dehradun
SRM Institute of Science and Technology, Ramapuram Campus
Vel Tech Chennai – Vel Tech Rangarajan Dr Sagunthala R and D Institute of Science and Technology
Big data engineer salary in India
According to Glassdoor, the average annual salary for big data engineers is Rs 7,61,962 per year. There are more people considering careers in big data, and the demand for them is growing as technology advances. There is huge potential in this field as more and more companies become more aware of the need for these experts, which will also increase the demand for them.
The average salary at the junior level varies depending on the candidates' skills, academic qualifications, and the organization they work for. The average salary for a Junior Big Data Engineer is Rs. 7,22,721 per annum.
The salary at the senior level varies based on various factors such as skills, experience, and previous experience. The average salary of a Big Data Engineer is Rs. 1,681,640 per year.
Discover More by accessing the Free Career Dashboard
This will help us share relevant information with you.
Big data engineering courses online
In this section, we have listed the top 10 big data engineering courses that you can pursue online:
CCP Spark and Hadoop Developer certification (Cloudera)
Data Engineer Nanodegree Program (Udacity)
Data Engineer with Python (DataCamp)
Data Engineering Career Path (Dataquest)
Google Data Analytics (Google)
Introduction to Designing Data Lakes in AWS (Amazon)
Microsoft Azure Data Engineering Associate DP-203 Exam Prep Specialization
Post Graduate Program in Data Engineering (Simplilearn)
Professional Certificate in Data Engineering (IBM)
Professional Certificate in Data Warehouse Engineering (IBM)
Big data engineer jobs
Career opportunities in Big Data are endless as organizations rely on Big Data to make critical decisions. In addition to the position, there are several other professional profiles in this field: Data Architect, Business Intelligence Architect, and Senior Big Data Engineer.
It's a wrap!
We hope we have served you most of the answers about the big data engineer career. It is undoubtedly one of the most sought-after job roles in the industry today. Whether you've already planned a career in it or just starting to dip your toes in the thoughts of it, allow us to make it a bit easier for you.
Talk to an expert today to figure out more of what you must know before you begin your journey. At iDreamCareer with the help of our Career Counselling and Guidance Services and educational counsellors, we try to help many young confused minds from 9th class, 10th class, class 11, class 12 with an aim to select their suitable career choices.
Also Read:
Discover More by accessing the Free Career Dashboard
This will help us share relevant information with you
Trending Posts

FAQs
What is the minimum qualification required to become a Big Data Engineer?
The minimum qualification required to become a big data engineer is the successful completion of a bachelor's degree in big data.
What are the best Big Data Engineer recruiters?
Top Big Data Engineer Recruiters – Amazon, Facebook, Airbnb, AT&T, Microsoft, Google, IBM, Capital One, etc.
Is Big Data easy to learn?
One can easily learn and code new big data technologies by simply diving into any of the Apache projects and other big data software offerings. The problem is that we are not robots and cannot learn everything.

Anushree has 5 years of experience in the career counseling industry as a Senior Content Writer. She has also worked as a Social Media Marketing Expert for a startup and Content Quality Analyst for the Publishing and E-learning Industry. She has done her Master's in Commerce and PGDM in Finance & Trade and Marketing & HR, but she is currently following her passion for writing.