VITEEE 2023 Application Form is now available online. Candidates will be able to pre-register for VITEEE 2023 by March 31. The authorities have also announced the dates of the VITEEE 2023 exam. The entrance exam will be held tentatively from 15 to 21 April 2023. Before registering, candidates are advised to read the official eligibility criteria of VITEEE 2023.
VITEEE exam is a B Tech and B Des engineering entrance exam. The VITEEE exam is one of the top choices for an engineering aspirant in India today. The VITEEE entrance exam is conducted by the Vellore Institute of Technology. The institute has branches in Vellore, Chennai, Bhopal, and Amravati.
Do You Know?

Approximately 2 lakh students compete for around 5000 seats in VITs every year.

This is really huge so having all the information about the exam is a must! Hence, without further ado! Let's get started…
What all is covered in this post?
To make it easier for you, we have created a quick guide to everything you need to know about VITEEE 2023 exam.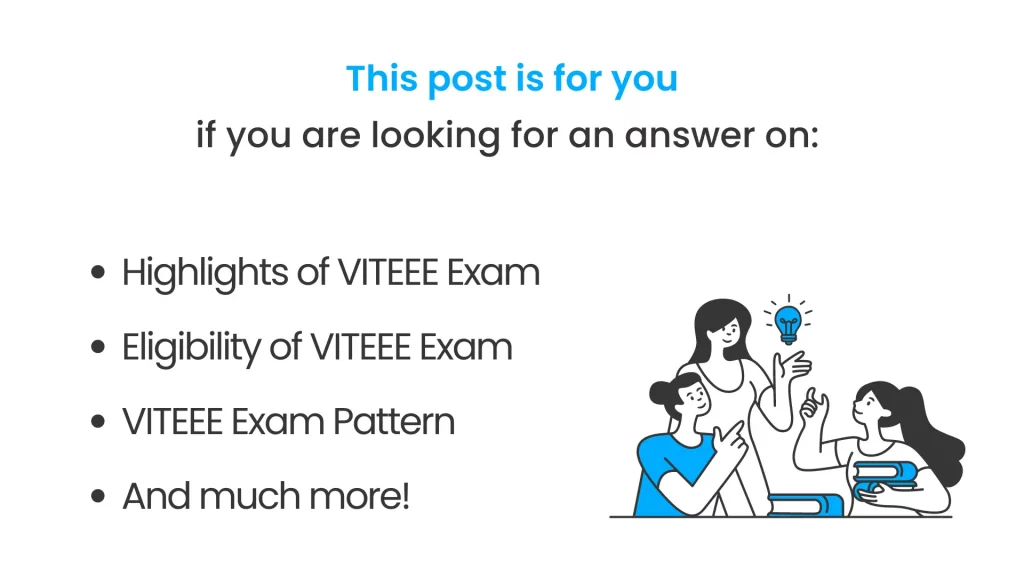 Highlights of VITEEE 2023 exam
Vellore Institute of Technology Engineering Entrance Exam is conducted every year by the Vellore Institute of Technology for admission to Bachelor of Engineering (BTech) courses of participating institutes. Every year VITEEE is conducted to recruit students for various undergraduate courses. Around two lakh students apply for VITEEE every year. All eligible candidates will be offered admission to B. Tech programs at VIT Vellore, Chennai, Bhopal, and Amravati. From 2018, the university also offers admission to B. Des (Industrial Design) through VITEEE.
| | |
| --- | --- |
| Particulars | Highlights |
| Mode of VITEEE Exam | Online |
| Duration of VITEEE Exam | 2.5 hours |
| Language of VITEEE Exam question paper | English language only |
| VITEEE Exam question Type | Multiple Choice Questions (MCQ) |
| Number of Questions in VITEEE exam | 125 |
| Sections of VITEEE exam | Physics, Chemistry, Mathematics/Biology, Aptitude & English |
| Slots | 3 sessions each day |
| Marking Scheme of VITEEE exam | 1 mark for each right answer |
| Penalty Marking | No negative marking |
| Colleges in India accepting VITEEE | VIT Vellore – Vellore Institute of Technology; VIT Chennai – Vellore Institute of Technology; VIT Bhopal – VIT University; VIT-AP University, Amaravati; and Woxsen University, Hyderabad |
Eligibility of VITEEE Exam
VIT Vellore publishes the VITEEE 2023 selection criteria on the official website. Candidates have to clear the eligibility criteria before applying for VITEEE 2023. According to the eligibility criteria, Indian citizens, NRIs and foreign nationals are also eligible to take the exam. The complete eligibility criteria for VITEEE 2023 is given below:
VITEEE entrance exam 2023 Nationality
You should be a Resident / Non-Resident Indian National / PIO.
Foreign Candidates can apply directly through the foreign category only. Visit https://vit.ac.in/admissions/international/overview.
VITEEE entrance exam 2023 Age Limit
Date of birth on or after 1st July 1998 are eligible
DOB as recorded in the High School / SSC / X certificate shall only be considered.
You should produce this certificate in original as proof of your age at the time of counseling, failing for which you will be disqualified.
Discover More by accessing the Free Career Dashboard
This will help us share relevant information with you.
VITEEE 2023 Qualifying Examination
You should have either completed or shall be appearing in 2023, in any one of the following qualifying examinations:
Class 12thexam of State Board; Central Board of Secondary Education (CBSE, New Delhi), The Council for
ISC, New Delhi.
Intermediate or Two-year Pre-University Examination
Advanced (A) level General Certificate Education (GCE) examination (Cambridge/London/Sri Lanka)
High School Certificate Examination (Cambridge University) or International Baccalaureate Diploma (International Baccalaureate Office, Geneva).
Regular 'NIOS' board candidates are also eligible. If this applies to you, you should produce the Migration Cum Transfer Certificate at the time of joining.
VITEEE exam 2023 Qualifying Marks
Candidates must secure a minimum of 55% in Physics, Chemistry, and Mathematics/Biology in the qualifying examination to apply for admission to the Bachelor of Engineering in VITEEE 2023.
Candidates belonging to the SC/ST category and hailing from Jammu & Kashmir/Ladakh and North Eastern states of Arunachal Pradesh, Assam, Mizoram, Manipur, Meghalaya, Sikkim, Nagaland, and Tripura will be eligible with aggregate marks of 46% qualifying exam.
VITEEE exam 2023 Subject Eligibility
Maths, Physics, Chemistry in Class 12th or Higher Secondary Board
If you have Biology, Physics, Chemistry and no Mathematics in Class 12th/ Higher Secondary Board, you are eligible for the following only.

B.Tech. Biotechnology (VIT, Vellore)
B.Tech. Bio-engineering (VIT-Bhopal)
B.Tech. ECE (with Biomedical Engineering specialization at VIT, Vellore)
B.Tech. CSE (with Bioinformatics specialization at VIT, Vellore)
Important Dates on VITEEE 2023
VIT Vellore has already announced the VITEEE Exam Final Dates 2023. The important dates for VITEEE 2023 are tabulated in the section below.
| | |
| --- | --- |
| Events | Dates  |
| VITEEE Registration Opening Date | November 11, 2022, |
| Last Date for the Submission of Application form | March 31, 2023 (Tentative) |
| Slot Booking | 2nd week of December 2022 |
| Release of Admit Card | 1st week of January 2023 |
| Mock Test Phase | 3rd week of January 2023 |
| Date of Examination | April 15 – 21, 2023 (Tentative) |
| Announcement of VITEEE Results | Last week of March 2023 |
| VITEEE Counselling (Choice-Filling) | 2nd week of May 2023 |
VITEEE Exam Pattern
VITEEE Exam Pattern 2023 is now available online at vit.ac.in. Candidates can check the details of how the entrance exam will be conducted through the VITEEE Exam Pattern 2023. Various information like exam mode, duration, question type, sections, marking scheme, and more are available through VITEEE Exam Pattern. Candidates can check the VIT Exam Pattern to prepare well for the exam. VITEEE 2023 will be conducted in computer format.
The revised VITEEE exam pattern has 5 sections instead of 4.
Chemistry
Physics
Mathematics/ Biology
Aptitude
English
The newly added Aptitude section has 10 questions. As mentioned earlier, the paper (all 5 sections) is for a total of 2.5 hours.
Read the complete article to know more about VITEEE 2023 Exam Pattern.
| | | |
| --- | --- | --- |
| Subjects | Total Marks | Number of Questions |
| Physics | 35 | 35 |
| Chemistry | 35 | 35 |
| Biology/Mathematics | 40 | 40 |
| Aptitude | 10 | 10 |
| English | 5 | 5 |
| Total (2.5 hours) | 125 marks | 125 questions |
Question paper
All questions are MCQs divided into 5 parts.
Part 1 – Mathematics/Biology
Part 2 – Physics
Part 3 – Chemistry
Part 4 – English
Part 5 – Aptitude
Your order will be either MPCEA or BPCEA
1) MPCEA
If you are appearing for this order i.e., Mathematics/Physics/Chemistry/English/Aptitude, you will be eligible for all the engineering degree programs.
2) BPCEA
If you are appearing for this order i.e., Biology/Physics/Chemistry/English/Aptitude will be eligible for only B. Tech Bio Stream degree programs which are:
Bio-engineering – VIT Bhopal
Biotechnology – VIT Vellore
B. Tech. ECE (with Biomedical Engineering specialization at VIT, Vellore)
B. Tech. CSE (with Bioinformatics specialization at VIT, Vellore)
VITEEE Syllabus
VITEEE Syllabus will be released by VIT University. The VITEEE 2023 question paper will consist of 125 MCQs across 5 subjects including Physics, Chemistry, Maths/Biology, English, and Aptitude. Candidates are expected to study the syllabus well so that they can prepare for the examination. VITEEE 2023 Syllabus contains syllabus for Class 12 & 11 (Science) including CBSE and Tamil Nadu State Board of Higher Secondary Education.
Some of the important topics for VITEEE 2023 are
| | |
| --- | --- |
| Subjects | Important Topics |
| Aptitude syllabus | Verbal and Logical Reasoning, Time and Work, Directions, Puzzles, Blood Relations, Series, Coding-Decoding, Rank, and Order, etc. |
| Biology syllabus | Taxonomy, Cell and Molecular Biology, Plant Physiology, Genetics and Evolution, Human health and diseases, Biochemistry, Human Physiology, Biotechnology and its applications, Biodiversity and ecology, Reproduction, and environment |
| Chemistry syllabus | Atomic Structure, p, d, and f – Block Elements, Thermodynamics, Chemical Equilibrium and Chemical Kinetics, Isomerism in Organic Compounds, Alcohols and Ethers, Carbonyl Compounds, Electrochemistry, Carboxylic Acids, and their derivatives and Organic Nitrogen Compounds, Coordination Chemistry and Solid-State Chemistry, and Biomolecules (Carbohydrates – Distinction, Amino acids, and Lipid) |
| English syllabus | Reading Comprehension, Grammar and vocabulary |
| Mathematics syllabus | Matrices and their Applications, Vector Algebra, Differential Equations, Trigonometry and Complex Numbers, Analytical Geometry of two dimensions, Differential Calculus, Analytical Geometry of Three Dimensions, Integral Calculus and its Applications, Probability Distributions and Discrete Mathematics |
| Physics Syllabus | Laws of Motion & Work, Properties of Matter, Electrostatics, Current Electricity, Magnetic, Effects of Electric Current, Energy and Power, Electromagnetic Induction and Alternating Current, Optics, Dual Nature of Radiation and Atomic Physics and Nuclear Physics Semiconductor Devices and their Applications |
Conclusion
Learning about individual engineering entrance exams like the VITEEE exam is only one of the important steps to prepare for your transition from school to an engineering college. But a smooth transition depends upon a lot of factors. Understanding those is critical. Making an informed choice of your education and career is very important.
Hope we have served you enough! Still, got questions? Why don't you connect with our industry experts? Yes, you read it right! You can get your queries resolved in just 60 seconds from our Career counselors. So, what are you waiting for? Download the app now! 
iDreamCareer has helped millions of young minds like you from 9th class, 10th class, class 11, and class 12 discover their true mettle and is ready to help you too. 
Useful Link
VITEEE : FAQs
What is the duration of VITEEE 2023?
The duration of the VITEEE 2023 exam is 2 hours and 30 minutes. A total of 125 questions will be asked, the correct answers of which will bring you 1 point. There is no negative mark.
When Will VITEEE Results 2023 Be Declared?
The date of the VITEEE 2023 results is yet to be announced.
How many attempts are allowed in VITEEE 2023?
There is no fixed number of attempts in VITEEE 2023 but candidates should not exceed 22 years of age to be eligible to apply for the exam.
Discover More by accessing the Free Career Dashboard
This will help us share relevant information with you
Trending Posts


Anushree has 4+ years of experience in the career counseling industry as a Content Writer. She has also worked as a Social Media Marketing Expert for a startup and Content Quality Analyst for Publishing and E-learning Industry. She has done her Master's in Commerce and PGDM in Finance & Trade and Marketing & HR, but she is currently following her passion for writing.