Data Science is among the most fascinating industrial roles out there today. As one of the most promising and in-demand career paths, this field continues to evolve with skilled professionals such as Data Scientists.
Today's Data Scientists are past the traditional skills of analyzing large amounts of data, data mining, and flawless programming skills. They are uncovering useful intelligence for their organizations, businesses, and enterprises the world over.
"Without big data analytics, companies are blind and deaf, wandering out onto the web like deer on a freeway." And yes, that's true!

By Geoffrey Moore
Interested? Want to know more… Continue reading!
What all is covered in this post?
To make it easier for you, we have created a quick guide to everything you need to know about the data science.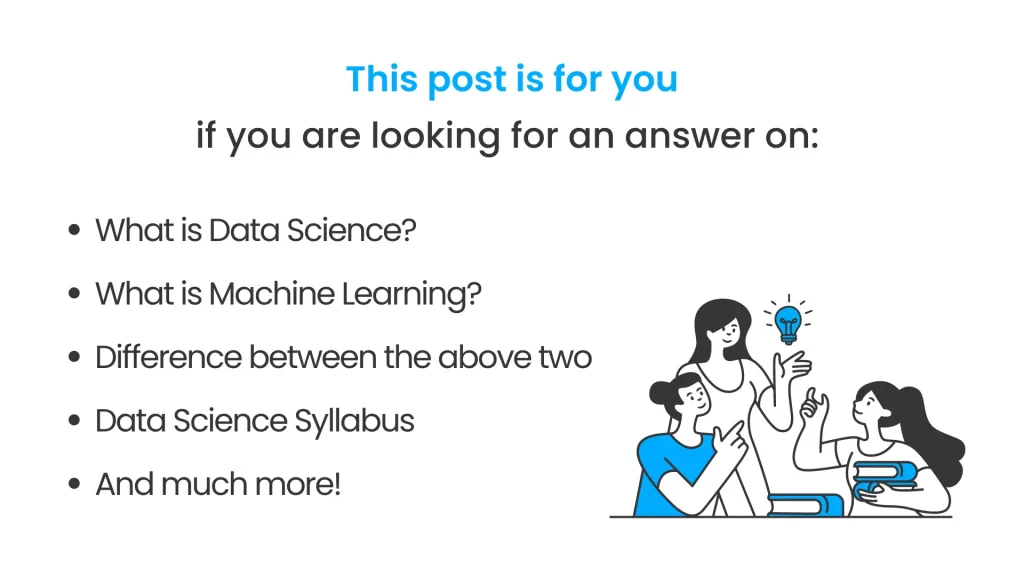 What is Data Science and Machine Learning?
Data Science
Data science is a field of research that combines domain technology, planning skills, and mathematical knowledge to produce sound data. It continues to emerge as one of the most promising and much-needed ways to work with skilled professionals.
Today, successful data professionals realize that they need to go beyond traditional skills to analyze large amounts of data, data mining, and editing skills.
Machine Learning
Machine learning is a branch of artificial intelligence (AI) and computer science that focuses on using data and algorithms to mimic the way humans learn, gradually increasing its accuracy.
It is an important tool in the emerging field of data science. Using statistical techniques, algorithms are trained to make classifications or predictions by identifying key insights in data mining projects. This information then drives programmatic and business decision-making, ideally influencing key growth metrics.
Difference between data science and machine learning
Data science is a field that studies data and how to make sense of it, while machine learning is a field dedicated to understanding and creating techniques that use data to improve performance or inform predictions.
In the below diagram we have provided you a difference between the two: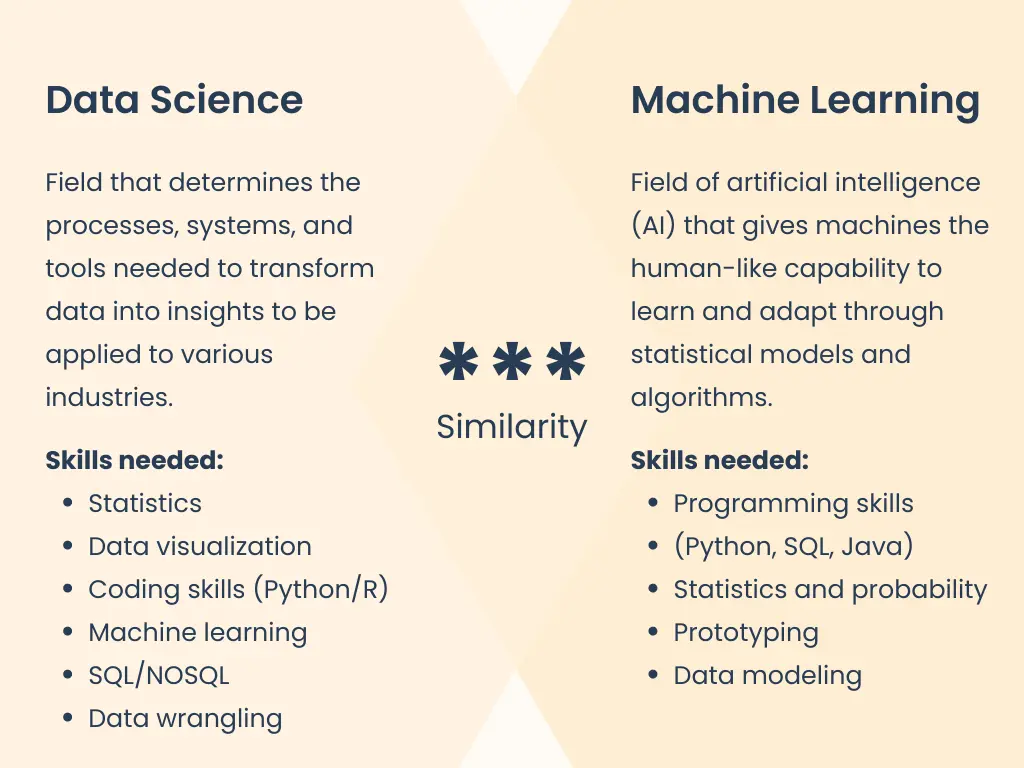 Discover More by accessing the Free Career Dashboard
This will help us share relevant information with you.
*** Similarity
Machine learning is a part of data science. Its algorithms are trained on data generated by data science to "learn".
Common skills:
Mathematics, statistics, and probability
Convenient work with data
Programming skills
What data scientist do?
Data Scientist is a specialist who uses Mathematical and Statistical methods, computer modeling, and software to extract knowledge and information from structured (such as a database in MS-Excel or SQL) or unstructured data (such as written text, images, and videos).
Data can be anything from:
Population data
Sales data
Customer data
Personal income data
Images
Video
Satellite data
Or anything else for that matter…
Role of data scientist
Following are the roles and responsibilities of data scientists:
Data Collection
Data Modeling
Data Cleaning
Data Analysis
Data interpretation
Do you know?

IBM has a rich history with machine learning. One of its own, Arthur Samuel, is credited for coining the term, "machine learning" with his research around the game of checkers. Robert Nealey, the self-proclaimed checkers master, played the game on an IBM 7094 computer in 1962, and he lost to the computer.
What is data science in python?
Python is a programming language widely used by data science professionals for various projects/applications. It is an open, high-level, interpreted language and provides an excellent approach for object-oriented programming.
This tool has built-in math libraries and functions that make it easy to solve math problems and analyze data.
Data science syllabus
Data Science courses are offered at different levels such as undergraduate, postgraduate, diplomas and certificates, and in different specializations, so the curriculum may vary. However, here we have mentioned the common subjects taught in every course:
Business Acumen & Artificial Intelligence
Coding
Data Analysis
Data Structures and Algorithms
Data Visualization
Data Wrangling
Domain Expertise
Experimentation, Evaluation, and Project Deployment Tools
Exploratory Data Analysis
Introduction to Data Science
Machine Learning Algorithms
Mathematics and Statistics
Matrix Computations
Optimization Techniques
Predictive Analytics and Segmentation using Clustering
Scholastic Model
Scientific Computing
Statistical Foundations for Data Science
Data science jobs
You may find the following job opportunities:
IT Systems Analyst
Operations Analyst
Quantitative Analyst
Digital Marketing Manager
Healthcare Data Analyst
Transportation Logistics Specialist
Project Manager
Data Analytics Consultant
Data Engineer
Some of the organizations that hire Data Scientists are:
Some of the leading consulting firms are Accenture, Bain & Company, Ernst & Young, Boston Consulting Group (BCG), KPMG, Deloitte, McKinsey, PwC, etc.
Online Retail Organizations like Amazon, Flipkart, Myntra, etc.
Banks like Axis Bank, HDFC, ICICI Bank, Citi Bank, etc.
Social Media like Facebook, Twitter, etc.
Technology companies like Apple, Microsoft, Intel, etc.
Epilogue
We hope we have served you most of the answers about the data science course. It is undoubtedly one of the most sought-after job roles in the industry today. Whether you've already planned a career in it or just starting to dip your toes in the thoughts of it, allow us to make it a bit easier for you.
Talk to an expert today to figure out more of what you must know before you begin your journey. At iDreamCareer with the help of our Career Counselling and Guidance Services and educational counsellors, we try to help many young confused minds from 9th class, 10th class, class 11, class 12 with an aim to select their suitable career choices.
Also, read:
FAQs
What are the skills required for pursuing data science course?
The following skills are critical to a data scientist's job, learning data science courses in Python, Tableau, R, and having a deep knowledge of Hadoop.
Is data science a good career?
Yes, data science is a very good career with huge opportunities for advancement in the future. Demand is already high, salaries are competitive, and benefits are plentiful – which is why Data Scientist has been named a "Most Promising Career" by LinkedIn.
Does data science require coding?
You should be familiar with various programming languages ​​such as Python, Perl, C/C++, SQL, and Java, with Python being the most common coding language required for data science jobs. These programming languages ​​help scientists organize unstructured data sets.
Discover More by accessing the Free Career Dashboard
This will help us share relevant information with you
Trending Posts


Anushree has 4+ years of experience in the career counseling industry as a Content Writer. She has also worked as a Social Media Marketing Expert for a startup and Content Quality Analyst for Publishing and E-learning Industry. She has done her Master's in Commerce and PGDM in Finance & Trade and Marketing & HR, but she is currently following her passion for writing.