Are you a tech geek and want to gain expertise in computing, applications and software? Do you find technology and its ever changing nature fascinating? If you happen to be passionate in any of the above things, then you are in for a treat as this article will tell you all that you must know about a Master of Computer Application course.
Master of Computer Application (MCA): Some facts
● The MCA course or the Master of Computer Application is a 3-year academic program offered by many colleges/ universities in India.
● The program is divided into a total of 6 semesters and is built to expand the knowledge in the field of computing and programming.
● From programming to modeling and simulation, management information systems to hardware and troubleshooting, master of computer application covers everything you would need to understand the ever-so complex network systems in the IT industry.
To know what are the specializations offered in Masters of Computer Application by various colleges/ universities, read the following list:
Top 20 Specializations in Master of Computer Application (MCA course)
Systems Management
Systems Development
Systems Engineering
Application Software
Management Information Systems [MIS]
Software Development
Hardware Technology
Troubleshooting
Business Analytics
Cloud Computing
Database Technology
Web Design and Development
Machine Learning
Software Engineering
Software Process and metrics
Cloud Security
Cloud application architecture
Augmented and Virtual Reality
Web analytics
Big Data Analytics
Eligibility for MCA Course: Graduation with Mathematics
You can apply for admission to MCA course if you fulfill the following eligibility criteria:
After completing class 12th with mathematics, you can pursue bachelors in any subject with Mathematics as major/minor subject.
After completing graduation, apply for and qualify for the MCA entrance exam.
Eligibility for MCA course: Graduation in Engineering
After completing class 12th in science stream with Physics, Chemistry and Mathematics, you can go for a Bachelors in Engineering in any discipline
After Bachelors in Engineering, you can apply for and qualify MCA entrance exams
Eligibility for MCA course: BCA/ B.Sc. Computer Science / B.Sc. IT
After completing class 12th with Mathematics/ Computer science or similar, you can do bachelors in computer application/ B.Sc. in Computer Science/ IT or a similar subject with Mathematics
After graduation, you can apply for and qualify MCA entrance exams
Eligibility for MCA Course: Graduation in Any Subject
After completing class 12th in any stream with Mathematics, you can go for bachelors in any subject
After graduation, you can apply for and qualify MCA entrance exams. (Most colleges/universities accept students with qualifications in any subject or stream but having mathematics in either class 12th or graduation)
Masters in Computer Application (MCA): Admission Procedure
Admission to MCA course is different in different colleges/universities. Some universities consider only entrance exams as part of their admission process, some universities consider merit based admissions whereas some universities consider both entrance exams and merit basis for admission.
The national entrance exam NIMCET is conducted for admission to various National Institutes of Technology (NITs)
Some states such as UP, Maharashtra, Punjab, and Kerala conduct a common entrance test for admission to MCA in various state universities and affiliated colleges such as UPSEE, MAH MCA CET, AP ICET, etc.
Master of Computer Application (MCA) Entrance Examinations
To pursue master in computer application, candidates must look at the following entrance examinations that take place at national and state levels. Here's a list of the number of entrances as well as the participating colleges/institutes/universities for admission to MCA course:
Check the table below to know more about the entrance examination pattern, tentative* date of exam and other important details: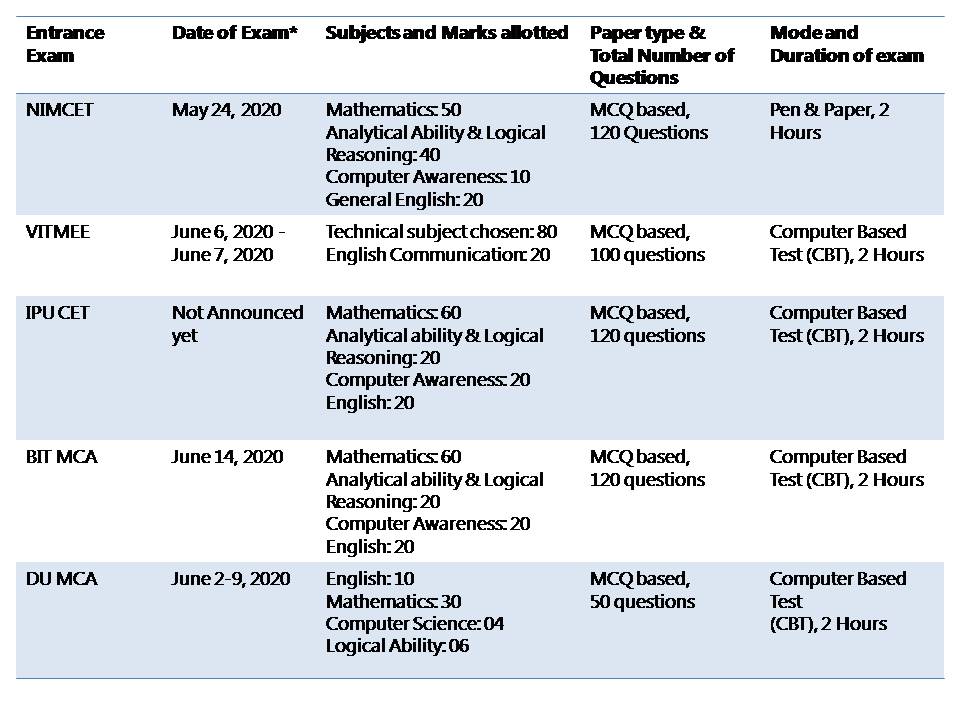 Master of Computer Application (MCA) Fees Structure
Master of computer application is a three-year program offered by various colleges and universities. Usually, the cost of an MCA course ranges around Rs. 25, 000 to 2, 00, 000 for a full three-year program. Please note that these charges may vary as per the institution.
Top 20 Colleges for MCA in India
Jobs after Master of Computer Application
Students who have pursued or who want to pursue an MCA course must know that a lot of job opportunities are available in this field. Those having an MCA degree may find numerous opportunities in top IT companies and consultancy firms.
Along with competitive IT skills and qualifications, students can be offered attractive packages and candidates may get competitive job offers from companies such as Infosys, Wipro, Genpact, Deloitte India, TCS, BHEL, etc. as software developers, software engineers, systems analyst, web designer/developer among many other roles. To know more about the job opportunities, check out the below mentioned job roles that are ever in demand in the IT sector:
Best 5 Job Roles after Master of Computer Application
Knowing which job roles are highest in demand has always been a challenge. Here is a brief description of the best 5 jobs after MCA which you can consider after completing master of computer application. Let us look at these top profiles:
Software Engineer: Software developers develop software applications; design and analyze existing software. They are involved in handling the entire development process for a software program.
Among many other works, software engineers oversee the installation of software systems; modify and troubleshoot the existing software; perform testing and validation of software systems to ensure that applications work properly.

System Analyst: System Analysts are professionals who analyze and design techniques to provide solutions for business problems using information technology. They identify the improvements needed by the vendors or organizations; design the systems to implement the changes and assist them in using the systems.

Database Administrator: Database administrators use specialized software to organize and store the data. They install, maintain, and upgrade the database applications.
Their role generally includes configuring, database designing, migrating, performance monitoring, checking for security as well as data backup and recovery settings. They must have skills set such as knowledge of Microsoft SQL Server or MySQL, SQL/PSM, or Transact-SQL, as well as the general understanding of operating systems (Windows/Linux).

Mobile App Developer: Mobile Application Developers are professionals specialized in software technology used in mobile phones. They select and study the programming languages and software development tools to build applications for Google's Android, apple's IOS, and Microsoft's Windows Phone platforms.

Web Developer: Professionals specializing in the development of World Wide Web applications using the client-server model are web developers. They usually work as Front-end developers or Back-end developers and focus on the technologies sent to clients such as HTML, JavaScript, CSS, ReactJs, etc.
They also focus their work on the server-side frameworks like Python, Java, PHP, etc. which are used to deliver content to clients. They also work alongside content creators, marketing adviser, UX designer, web designer, web producer, project manager, software architect, or database administrator.
Master of Computer Application (MCA) Syllabus: Details of Subjects
The MCA course is divided into three parts and each part has two semesters. Look at the following tables for detailed subject list in each semester: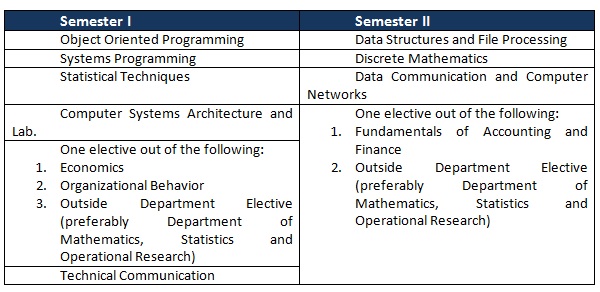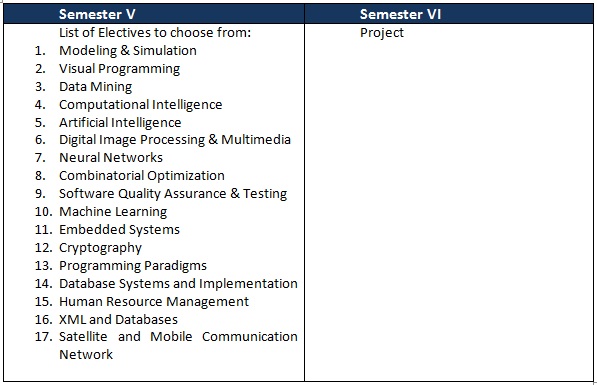 Future Prospects for Master of Computer Application (MCA) course
Did you know that the IT-BPM sector in India was estimated at US$177 billion in 2019 and witnessed a growth of 6.1% year-on-year and is expected that the size of the industry will grow to US$ 350 billion by 2025 according to Indian Brand Equity Foundation (IBEF) reports.
Most of the leading IT firms such as Infosys, Wipro, TCS are diversifying and showcasing leading ideas in blockchain, artificial intelligence to clients using innovation hubs, R&D centers, which means that demand for jobs after MCA would rise in the upcoming years as well.
The future for graduates in Master of Computer Application is exciting and highly rewarding. Therefore, those of you, who want to acquire expertise in the computer applications and software, must surely pursue this course.
Conclusion
Now that you are aware of everything you need to know about a Master of Computer Application, you must have planned a great deal of how to go about in this career. Even if you are still having second thoughts of taking up an MCA course, then without wasting any more of your precious time, you must take further guidance from expert career counselors.
So, what are you waiting for?
Talk to the career experts now!
Some more interesting topics to read:
Shruti Verma is a researcher and analyst in the areas of careers, industries, and education. She has completed her Masters in English Literature and is an alumnus of Delhi University and IP University. She interned during her masters at iDreamCareer and later joined iDC full-time as a Content Analyst. She is determined to secure an expert position in content space with the guidance of experienced mentors within the iDC team.