Dreaming of a vibrant destination to pursue your higher education? Want to study in Greece? A country is renowned for its rich history, breathtaking landscapes, and exceptional academic opportunities. From ancient ruins to pristine beaches, Greece offers an unparalleled experience that seamlessly blends academia and adventure. Let's dive into the remarkable world of studying in Greece!
Did you know?

Greece is home to one of the oldest universities in the world. The University of Athens, established in 1837, has been a beacon of knowledge for generations of scholars. But that's just the tip of the iceberg when it comes to the educational opportunities this captivating country offers.
With its remarkable academic heritage, Greece presents a unique opportunity for students seeking an education that transcends conventional boundaries. Picture yourself studying philosophy amidst the remnants of Plato's Academy or unraveling the secrets of Greek mythology while being surrounded by the very landscapes that inspired these epic tales.
But it's not just the captivating historical sites that make Greece an ideal study destination. The country boasts a wide range of contemporary universities and institutions offering diverse programs taught by experienced faculty members. Whether you aspire to excel in arts and humanities, engineering, business, or natural sciences, Greece has something to cater to every passion and interest.
So, are you ready to immerse yourself in an educational experience like no other? Pack your bags and get ready to unlock the wonders of education as you study in Greece. Come along…
Why study in Greece?
Studying in Greece offers a multitude of compelling reasons that make it an excellent choice for international students. Here are some benefits of studying in Greece:
Rich Historical and Cultural Heritage
Greece is renowned worldwide for its fascinating history and cultural contributions. Studying in Greece allows you to immerse yourself in a land that birthed democracy, philosophy, and the foundations of Western civilization. You can explore ancient ruins, visit world-famous archaeological sites, and experience firsthand the legacy of great thinkers like Socrates and Aristotle.
Acclaimed Academic Institutions
Greece is home to prestigious universities and research centers that provide high-quality education. With a focus on academic excellence and a commitment to innovation, Greek universities offer a wide range of programs taught by experienced faculty members. From humanities and social sciences to engineering and technology, you can find diverse fields of study to suit your interests.
Affordable Education
Compared to many other European countries and the United States, Greece offers relatively affordable tuition fees and living costs for international students. This makes it an attractive option for those seeking quality education without breaking the bank.
Vibrant Student Life
Studying in Greece means immersing yourself in a vibrant student community. Greek universities organize various extracurricular activities, clubs, and events that foster social connections and create a dynamic campus life. You'll have the opportunity to engage with both local and international students, forming lifelong friendships and expanding your global network.
Natural Beauty and Outdoor Adventures
Greece's breathtaking landscapes, crystal-clear waters, and picturesque islands offer endless opportunities for exploration and adventure. From hiking in the mountains to sailing the Aegean Sea, Greece provides a stunning backdrop for outdoor enthusiasts. Balancing your studies with memorable experiences in nature is an integral part of the Greek student lifestyle.
Warm Climate and Mediterranean Lifestyle
Greece enjoys a Mediterranean climate, with mild winters and long, sunny summers. The pleasant weather allows for an outdoor-oriented lifestyle, where you can enjoy outdoor cafes, seaside walks, and a vibrant social scene year-round. The relaxed and welcoming atmosphere contributes to a positive and enjoyable study experience.
Also, read: Best Countries to Study in Europe
How to study in Greece after the 12th?
Here's a step-by-step guide on how to study in Greece after completing 12th grade: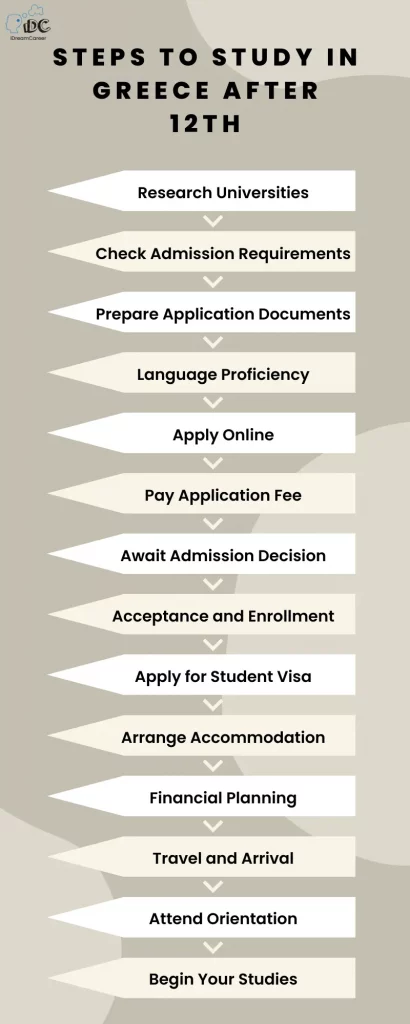 | | |
| --- | --- |
| Step | Description |
| 1 | Explore Greek universities and their programs to find the best fit for your desired field. |
| 2 | Review the admission criteria, including academic qualifications and language proficiency tests (usually Greek or English). |
| 3 | Gather necessary documents such as transcripts, certificates, identification, and recommendation letters. |
| 4 | If required, take language proficiency exams (such as Greek language proficiency tests or IELTS/TOEFL for English). |
| 5 | Submit your application through the university's online portal or follow the designated application process. |
| 6 | Pay any applicable fees as required by the university. |
| 7 | Wait for the university's decision on your application. This may take several weeks to months. |
| 8 | If accepted, follow the university's instructions to accept the offer and proceed with enrollment. |
| 9 | Begin the process of applying for a student visa at the Greek embassy or consulate in your home country. |
| 10 | Secure housing options, either through the university's accommodation services or privately. |
| 11 | Make arrangements for tuition fees, living expenses, and any scholarships or financial aid you may be eligible for. |
| 12 | Book your travel arrangements to Greece and make sure to arrive before the start of your academic program. |
| 13 | Participate in the university's orientation program to familiarize yourself with campus facilities, academic policies, and student support services. |
| 14 | Start your academic journey in Greece, by attending classes, engaging in extracurricular activities, and immersing yourself in the Greek culture and education system. |
Eligibility criteria to study in Greece
In this section, we will be exploring the eligibility criteria to study in Greece for Indian students. To study in Greece as an Indian student, you will generally need to fulfill certain eligibility criteria. While the specific requirements may vary depending on the university and program you choose.
Here are some common criteria:
Academic Qualifications: You should have completed a recognized secondary education program (equivalent to the Greek high school diploma). In India, this is typically the completion of 12 years of schooling
Language Proficiency: You may be required to demonstrate proficiency in the Greek language or the language of instruction for your chosen program. Some universities offer programs taught in English, in which case you may need to provide proof of English language proficiency through tests like TOEFL or IELTS.
Entrance Exams: Certain fields of study, such as medicine or engineering, may require you to take specific entrance exams, like the Greek National Entrance Examinations (Panellinios) or additional subject-specific tests.
Documentation: You will need to prepare and submit the necessary documents, which typically include your academic transcripts, certificates, passport copies, and any additional documentation specified by the university.
Financial Proof: You may be required to demonstrate that you have sufficient funds to cover your tuition fees, living expenses, and other costs while studying in Greece. This can be shown through bank statements or sponsorship letters.
Visa Requirements: Once you receive an acceptance letter from a Greek university, you will need to apply for a student visa at the Greek Embassy or Consulate in your home country. The visa application process will require additional documents such as a valid passport, proof of acceptance to a Greek university, proof of financial resources, and health insurance coverage.
Now, the question is how much it cost to study abroad in Greece for Indian students. Let's dive in to know
Cost of studying in Greece
The cost of studying in Greece for Indian students can vary depending on several factors, including the university, the program of study, the level of study (undergraduate or postgraduate), and the city in which the university is located. Here are some general cost considerations:
Tuition Fees
Tuition fees in Greece are generally lower compared to many other European countries. The exact fees will depend on the university and program you choose. On average, undergraduate programs can range from around €1,500 to €6,000 per year, while postgraduate programs can range from €2,000 to €8,000 per year. However, some specialized programs or private universities may have higher tuition fees.
Living Expenses
The cost of living in Greece is relatively affordable compared to other European countries. However, it can still vary depending on the city. In major cities like Athens and Thessaloniki, monthly living expenses including accommodation, food, transportation, and other miscellaneous expenses can range from €600 to €1,000 or more. Living in smaller cities or towns can be less expensive.
Accommodation
The cost of accommodation will depend on the type and location of housing. University dormitories or shared apartments are usually more affordable options. On average, monthly accommodation costs can range from €200 to €500, depending on whether you choose to live on-campus or rent privately.
Health Insurance
All international students studying in Greece are required to have health insurance coverage. This can be obtained through private health insurance providers, and the cost will depend on the coverage and duration of the policy.
Cost of student visa
The student visa required to study in Greece is called the Student Visa (National visa – type D). The cost of the visa is approximately EUR 150, but it's important to note that the price may vary and is subject to change. Citizens of the EU/EEA are exempt from obtaining a visa for studying in Greece. However, if you are a non-EU/EEA citizen, you will need to apply for a student visa. It's crucial to check the specific requirements and procedures at the Greek embassy or consulate in your country.
List of scholarships to study in Greece
Greece offers a variety of scholarships for both Greek and international students, including funded and fully-funded opportunities. These scholarships provide an excellent opportunity for students who aspire to study in Europe but face financial constraints. Greece's top universities are offering a range of prestigious scholarships in various fields of study, catering to students at all levels of education. These scholarships aim to attract and support talented individuals, ensuring that the best minds have access to quality education at Greek universities.
Some of them are:
ACT Scholarship
Aristotle University Scholarship
Bodossaki Foundation Scholarships
Eugenides Foundation Scholarships
Fulbright Greece Scholarship Program
Sasakawa Young Leaders Fellowship Fund (SYLFF) Program
TEI of Epirus, Arta, Greece Scholarship
The top college in Greece
In this section, we will provide you with the list of top colleges in Greece along with the Best Global Universities (US News) Ranking:
| | |
| --- | --- |
| Name of the college | US News (Global Universities Ranking) |
| National & Kapodistrian University of Athens | #250 |
| Aristotle University of Thessaloniki | #363 |
| National Technical University of Athens | #441 |
| University of Crete | #605 |
| University of Ioannina | #693 |
| University of Patras | #860 |
| University of Thessaly | #964 |
| University of Aegean | #1022 |
| Athens Medical School | #1103 |
| Agricultural University of Athens | #1158 |
Conclusion
Greece, known as the birthplace of education, presents a myriad of opportunities for both academic and extracurricular pursuits. Immerse yourself in a vibrant cultural scene, where art exhibitions, film screenings, and live performances abound.
Explore the rich architectural heritage of Greece, with magnificent landmarks that tell stories of ancient civilizations. Indulge in the local café culture, or unwind at buzzing bars and lively nightspots, like the famous bouzouki venues, where you can mingle and relax with newfound friends. With its unparalleled blend of educational heritage and recreational offerings, Greece promises a truly captivating and fulfilling experience for students seeking both intellectual growth and unforgettable adventures.
Discover new horizons and broaden your educational experience with iDreamCareer's study abroad program. Our program is designed to provide students with the opportunity to explore diverse cultures, gain international exposure, and acquire valuable global perspectives. With a wide range of destinations and universities to choose from, we cater to the unique interests and aspirations of each student.
We have helped several brilliant but confused minds intending to select their most-suited career choices. Hear the success story of Aayush who got an offer from the top 3 universities and is now studying at a University in Ottawa in Canada after getting career guidance from our industry experts!
Want to explore other European study-abroad destinations:
FAQs
Can international student study in Greece?
Yes, international students are welcome to study in Greece. The country offers various programs and universities that accept international students.
What are the language requirements for studying in Greece?
Most courses in Greece are taught in Greek, so proficiency in the Greek language is typically required. However, some universities offer programs taught in English, especially at the postgraduate level. Language proficiency tests may still be required for admission.
Do international students need a visa to study in Greece?
Yes, international students from non-EU countries typically require a student visa to study in Greece. It is necessary to apply for a student visa at the Greek embassy or consulate in your home country.
What is the academic calendar in Greece?
The academic year in Greece generally runs from September/October to June/July, with two semesters. However, specific dates may vary between universities and programs.
Can international students work while studying in Greece?
International students are allowed to work part-time in Greece, but there are restrictions and regulations. Students should check the specific work regulations and consult with their university's international student office.

Anushree has 4+ years of experience in the career counseling industry as a Senior Content Writer. She has also worked as a Social Media Marketing Expert for a startup and Content Quality Analyst for Publishing and E-learning Industry. She has done her Master's in Commerce and PGDM in Finance & Trade and Marketing & HR, but she is currently following her passion for writing.