Looking to study in Norway? Attracted towards the Aurora Borealis or Northern Lights? Do you want to meet a diverse group of people? Enhance your skills? Opt for the opportunity to live a happy life close to nature and receive a quality education?
Wish to be part of a society expected to be carbon-neutral by 2030?
Most Norwegian public universities do not charge any tuition fees. This applies to all international students, regardless of their background.
Studying abroad in Norway might be challenging but can be a rewarding experience too. To make it easier for you, we have created a quick guide to everything you need to know about studying in Norway.
Why study in Norway?
High Standard of Living
No need to worry about Language Barriers
Free Tuition Fees for International Students
High Quality and Affordable Education
Nature and Outdoor Adventures
Critical Thinking is Encouraged
What is the application process?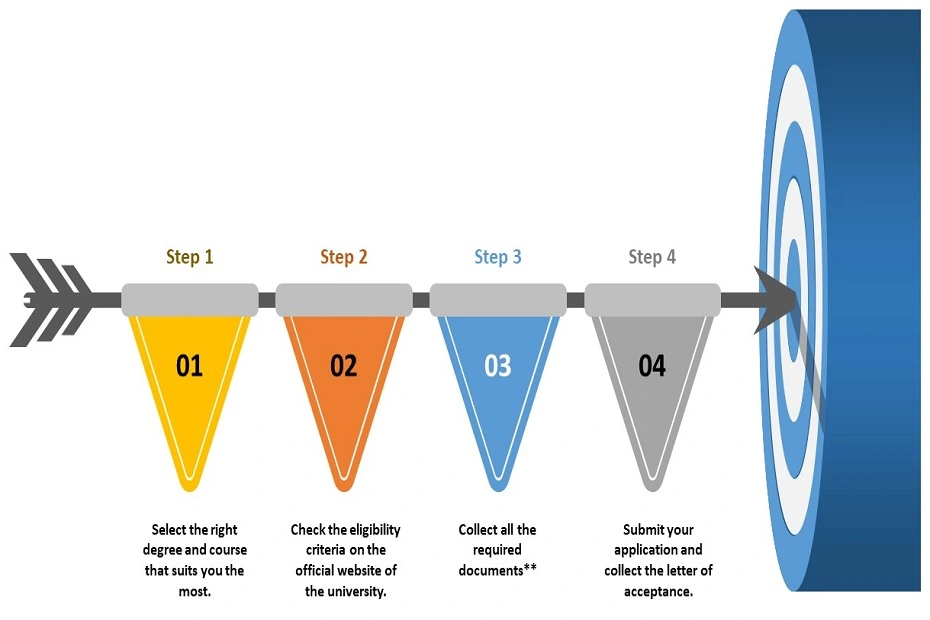 Required Documents to study in Norway:
TOEFL, C1 Advanced, or IELTS certificate to prove competent in the English language.
Letter from a previous institution that will reflect your previous qualifications.
Letter of Reference
Proof of financial ability
Birth certificate
A valid passport
2 passport-sized photographs
Receipt of the fees that you have paid for the course
Statement of Purpose (SOP)
Your mark sheet or bachelor's degree
Any evidence supports that you will leave Norway after completion of the course.
.
Note: You can use an online or offline process. If you are applying offline, it is advisable to contact your nearest Norwegian ambassador or consultant to prevent delays. It can take up to 2-3 months to get a visa that allows you to study in Norway.
Cost of study in Norway for Indian Students
The cost of education is relatively low, but since Norway is within the European continent, the cost of living is high. You will need to spend more than you expect on everyday necessities and if you plan to study in Norway.
Listed below are the estimated costs that may be incurred during study duration: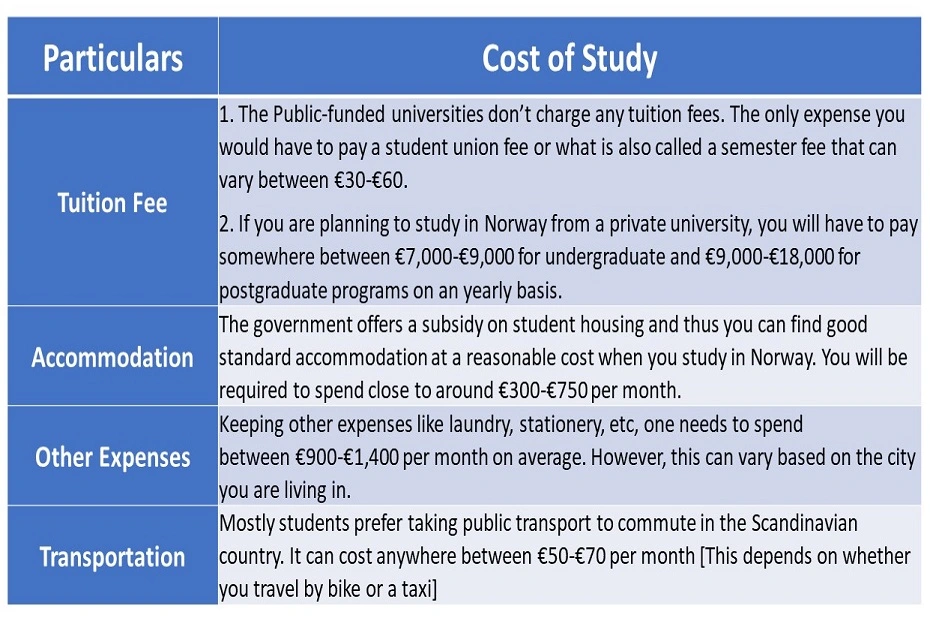 Scholarship for Indian students to study in Norway
SCAR Fellowships in Antarctic Research
Microsoft Research Ph.D. Fellowship
NTNU Scholarship
Mobility Grant for Norwegian Language and Literature
Scholarship Grant for Undergraduate Students
Become JACK and JONES Scholar (Masters and Ph.D.)
The ERASMUS+ Grant
Wilhelmsen Foundation Scholarship Programme
BI Presidential Scholarship
The $2000 "Privacy Matter" College Scholarship
CLIFF-GRAD Scholarship (Ph.D.)
Exams required to study in Norway
If you want to study in Norway, you will need an English certificate. Universities generally accept the following scorecards:
10 Best colleges or universities in Norway
Buskerud University College
University of Tromso
Stavanger University
Nordland University
Vestfold University College
It's a wrap!
If you have always wanted to pursue education abroad without having to dig a hole in your pocket, Norway might be one of the best options for you to study. It may seem difficult to choose an international university and courses that are most suitable for you.
Don't Worry! Do reach out to us. iDreamCareer is on a mission to reach every state and every child to ensure that talent is appropriately delivered into the industry. We try to help young confused minds from 9th class, 10th class, class 11, class 12 with an aim to select their most-suited career choices.
Also, read

Anushree has 5 years of experience in the career counseling industry as a Senior Content Writer. She has also worked as a Social Media Marketing Expert for a startup and Content Quality Analyst for the Publishing and E-learning Industry. She has done her Master's in Commerce and PGDM in Finance & Trade and Marketing & HR, but she is currently following her passion for writing.