Sweden was named the 2nd most innovative nation in Europe in 2022 and is praised for the excellence of its academic research. The booming digital sector in Sweden is replete with startups, Spotify being perhaps the most well-known recent example.
Traditional university education and professional training are both part of the Swedish higher education system. There are 61 universities and university colleges in all, and the Swedish university system has seen significant changes ever since it joined the Bologna Process, an effort to synchronies all higher education across Europe.
Why should I study in Sweden?
While almost everything has advantages and disadvantages, we must admit that Sweden is an extremely appealing destination for International students. Studying in Sweden means quickly adjusting to a new environment, people, language, routines, education system, and so on.
Top universities: Sweden has about eight universities that have made to the top 100 list in QS rankings.
Ease of admission: Almost every university in Sweden has quite a simple admission process.
Course curriculum: The curriculum of programmes in Sweden includes theoretical knowledge and practical learning.
Affordable programs: In Swedish universities fees is quite affordable compared to other countries.
Safety: Sweden has ranked high as safe and modern country
Bringing Your Family: your family members can get residence permits for the same period of your studies.
Work Permit: Though there is no official limit to the amount of hours that you can work during your studies, However, it's important to keep in mind that you'll be expected to spend approximately 40 hours per week attending lectures, studying, and working on assignments.
Study in Sweden for Indian students
you probably don't know, but the number of international admissions in Sweden has increased to 27,329 in 2020–21 from 24,099 in 2019–20. Students from more than 117 countries have expressed interest in studying in Sweden, with students from Finland, India, and China having the largest representation, data generated by the Swedish Council of Higher Education,
Undergraduate studies – After earning at least 120 credits, the Högskoleexamen (diploma) is granted. After earning at least 180 credits, or three years of full-time study, the Kandidatexamen (bachelor's degree) is awarded. Professional degrees could take four to six years to complete in the fields of medicine, pharmacy, psychology, dentistry, architecture, civil engineering, and law.
Master's degree programmes – There are two different types of master's degree programmes. The Masterexamen lasts two years, while the Magisterexamen is one year long. In addition to these academic degrees, there are roughly 60 professional degrees (Yrkesexamen Qualification), whose length varies according to their area of study. Doctoral programmes typically take four years to complete (Licentiat/Doktor). They mix research for a thesis with taught course work.
How can I study in Sweden?
In order to be eligible for any program, you must fulfil both general admission criteria and program-specific entry requirements. You can find detailed prerequisites for various academic programmes on University websites. When you're prepared to apply, submit the required documents in accordance with both sets of instructions using universityadmissions.se.
Requirements for a Bachelor Degree
To meet the general entry requirements for bachelor's level studies, all students must:
have successfully completed their upper secondary (high school) education (post-16).
be able to demonstrate proficiency in English.
The student must have successfully completed courses in mathematics to reach the level of the Swedish courses Mathematics 1a, 1b or 1c.
A note about previous university studies:
For some courses and programs, students are only offered places based on their upper secondary qualifications and NOT on their university qualifications so submit both the qualifications.
Requirements for a Master Degree
To meet the entry requirements for master's level studies, you must:
have been awarded a Bachelor's degree (equivalent to a Swedish Kandidatexamen) from an internationally recognized university.
be able to demonstrate proficiency in English. You can do this by means of an internationally recognized test, such as TOEFL, IELTS, etc.
Cost of Education in Sweden
Do you know, exactly how expensive is it to study in Sweden? let's find out.
Tuition Fee
The cost of higher education in Sweden varies by university and programme for international students other than EU/EA. The cost of tuition, however, might only be SEK 80,000 (about 7,915 EUR or 6,37,387 INR) for a single year, otherwise up to SEK 295,000 (or approximately 29,188 EUR or 23,50,772 INR).
Accommodation
International students can choose from a variety of housing options depending on their university and city. Some overseas students may not receive the guaranteed housing that your university offers. Although living expenses vary depending on where you study (major cities are typically more expensive), they average 8,568 SEK per month, including rent (approximately 848 EUR or 68,297 INR ).
Both rent and demand for student housing tend to be higher in traditional student cities like Uppsala and Lund as well as in large cities like Stockholm.
Rent varies from SEK 2,500 to 6,500 per month. The amount of rent you pay will often vary depending on the city, the size, and the type of housing.
Scope of development studies in Sweden
The programmes in Sweden are those in the multidisciplinary social sciences, following technical and cutting-edge entrepreneurial business degrees. These programmes are designed to give you not only information and practical skills you need to comprehend, evaluate, and work in disciplines directly relevant to Social impact or other facets of social and institutional development.
One such programmes are available in LUND University, and Linnaeus University which you can explore.
Medium of Instruction: English*
Opportunities: Internships, Exchange Programmes, elective courses
Networking: Big MNCs, Industry Giants
Work- Academia or Social sector
Study MBBS in Sweden
With such a fierce competition in NEET India, Many Indian medical aspirants look out for opportunities aboard. Students can complete their MBBS programme in just five and a half years in Sweden which is a shorter time compared to other countries. You can study an MBBS degree completely in English language in Sweden without sitting for any entrance examination.
The eligibility requirements should be carefully considered when searching for universities where Indian students can study MBBS in Sweden. The requirements for an MBBS in Sweden may vary depending on the university. These are the fundamental conditions for admission if you intend to apply for an MBBS programme in Sweden for international students.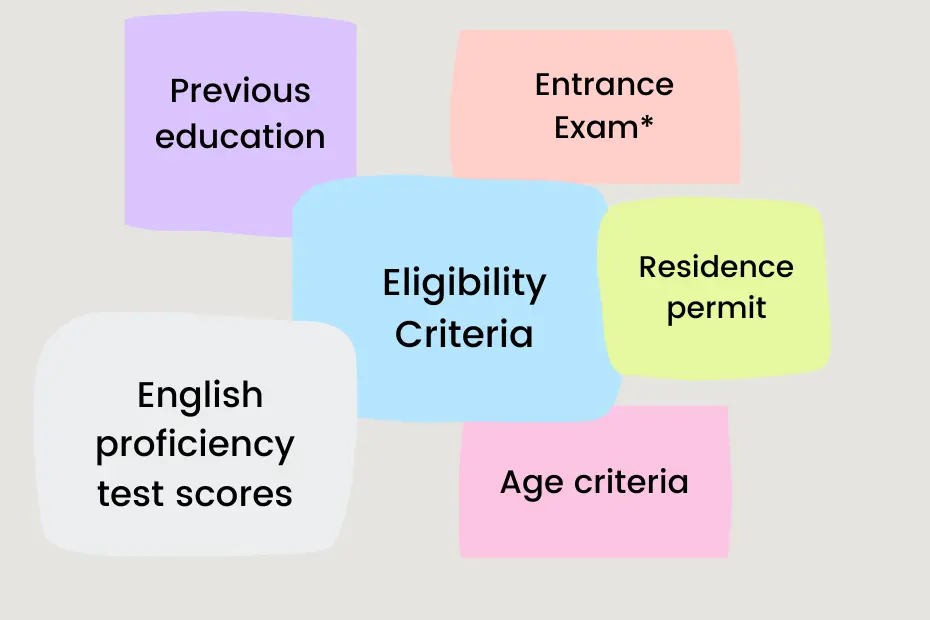 Note- *Requirement of MBBS in Sweden may vary depending on the university
Study medicine in Sweden
Sweden is a popular location for healthcare, pharmaceuticals, and life sciences. Top pharmaceutical companies with a global presence and reputation, like AstraZeneca, GlaxoSmithKline, Pfizer, Bayer, and others, call it home. One of the most well-liked educational programmes in Sweden is the MBBS, which is acknowledged not only in India but also all around the world. Moreover, if you're interested in pursing careers in medicine research and Biotechnology Sweden can be a good option to give a thought.
Study in Sweden consultants India
The best way to research about any country is to look through their official website, explore the FAQ section for more specific information. However, There are many students seek professional help for their applications, Few listed below consultants can be looked up to for study in Sweden.
iDreamcareer.com
Leverage Edu
Univadmithelp.com
Edwise international
Europe study Centre
Edusky global
Academic and Professional studies abroad (APSA)
Colluni
So which one would you pick?
Note: We are not endorsing any of the above mentioned consultants. It is advised to do a research before connecting with any of the consultant!
Final words
Initially it can be challenging to adjust specially for the non native speakers, but learning the local language will help anyone settle in the country and enhance the overall experience. However, with the right guidance and preparation you will sail through with much ease.
iDreamCareer is on a mission to reach every state and every child in order to ensure that talent is appropriately delivered into the industry. Talk to our industry experts and know yourself in and out! We try to help young confused minds from 9th class, 10th class, class 11, class 12 with an aim to select their most-suited career choices.
Must Read
FAQs
Is it free for International students to study in Sweden?
Yes! only students from the EU and EEA are eligible for free tuition in Sweden; students from India and other countries must pay tuition. There are alternative ways to fund your studies abroad, such scholarships.
Can spouse or family member go with the student in Sweden?
Under the terms of the residence visa, a spouse and unmarried children under the age of 18 may accompany the student to Sweden. The dependent/s or spouse may have a work permit if the student visa holder's residence permit is valid for more than six months.
How long I can stay back in Sweden after my studies?
You can seek to extend your residence visa for up to six months in order to look for employment or establish your own business, if you are a citizen of a non-EU country and wish to continue living and working in Sweden after completing your education.
Bushra Irfan is an experienced counselor and holds expertise in the academic counselling of students. She is an alumna of Jamia Millia Islamia and has done her Master's in Applied Psychology. She has conducted career guidance workshops for brands like Amar Ujala, Dainik Baskar, Smile Foundation, and more. And loves to paint and plant at her leisure.