If you are a student who loves chocolate, luxury items, and beautiful scenery, Switzerland is made for you. Not only that but known for its world-class education and cutting-edge research, Switzerland is fast becoming a top destination for international students. Are you the one who wants to study in Switzerland? Find top courses, popular universities, educational requirments, Cost of studying, scholarship, post study visa. Then this post is for you!
Known for its innovative research-oriented universities, Switzerland is one of the most sought-after study destinations in Europe. As an international student in Switzerland, you can witness amazing scenery. The scenic beauty of the Swiss Alps and the Jura Mountains can make your study abroad trip one to remember for decades. When it comes to Swiss universities, the country is famous for providing a wide range of courses and Swiss Ph.D. & MBA are popular among international students.
Do you know?

More than 20% of Switzerland's workforce are foreign nationals; most of them are former international students in Switzerland who decided to get a job in Switzerland after graduation. More than 12 Fortune 500 companies are headquartered in Switzerland, the highest number of any country in the world. Being a European financial and business center, foreign nationals dream of studying in Switzerland and want to continue their career in Switzerland after graduation.
The list is not limited to the above… Want to know more? Come along…
What all is covered in this post?
To make it easier for you, we have created a quick guide to everything you need to know about studying in Switzerland.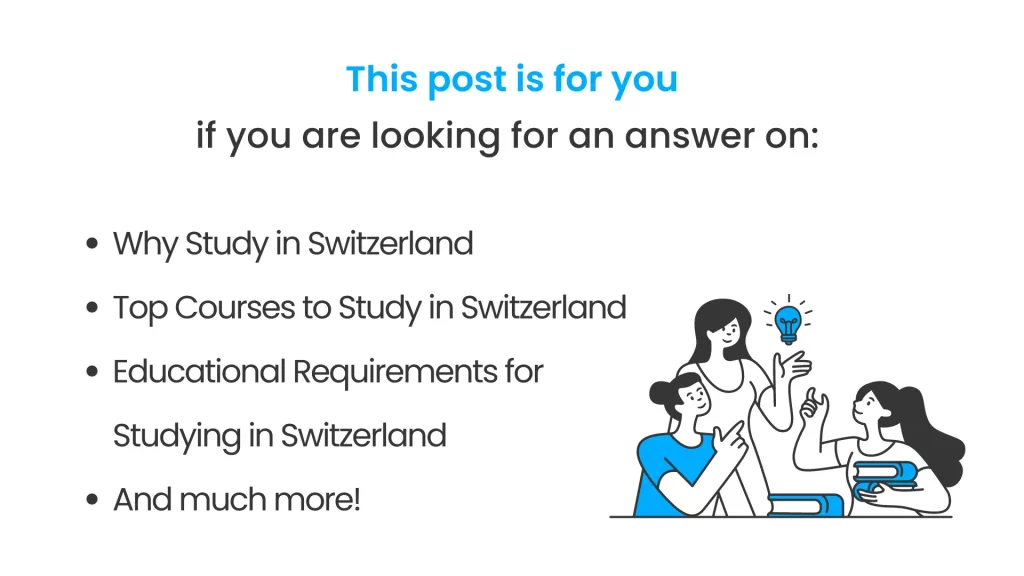 Why study in Switzerland?
The Swiss brand is recognized internationally. Think of Swiss chocolate, cheese, watches, and Swiss Army knives. What is less well known, however, is the prestigious place the Swiss university system holds in the world.
The Swiss higher education system with several top universities offers students the opportunity to further their education and future career! Besides being a promoter of global engagement, Switzerland is also an ideal choice for international students to study abroad.
Want to learn more about what makes Switzerland one of the best places to study abroad? Here are some reasons: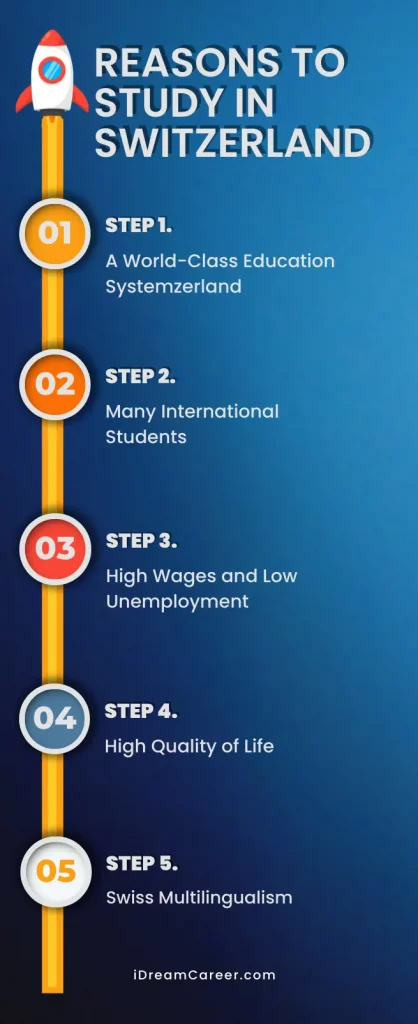 A world-class education system
Switzerland has a renowned education system, so choosing to study abroad in Switzerland just makes sense! This country is known for its high standards and teaching methods based on active learning. It is not only a quality education system but also an affordable one. Tuition fees at many well-known public universities in Switzerland do not exceed 1,000 Swiss francs or 1,100 USD.
There are many international students
Each country accepts several international students. Switzerland too! A significant part of the students in Switzerland are foreigners. The renowned education system, moderate prices, and many scholarship options attract international students to move and study in Switzerland to obtain a degree.
High wages and low unemployment
As one of the countries with the highest standard of living and a stable economy, it makes sense that workers in this country would receive some of the highest wages in Europe. Workers in Switzerland earn an average of 6,502 Swiss francs (US$7,140) per month. Among OECD countries, Switzerland has the second-highest average annual salary at 62,300 Swiss francs (US$68,400).
High quality of life
While Switzerland is one of the most expensive countries to live in, its residents certainly get value for money. In a report by the Social Progress Imperative, Switzerland scored 88.87 out of 100 on three key indicators — basic human needs (health care, housing, and sanitation), the foundations of well-being (education, life expectancy, and access to technology), and opportunity (freedom of choice, tolerance and personal rights).
Swiss multilingualism
Four languages ​​are spoken in Switzerland: German, French, Italian, and Romansh. All of them retain equal status as official languages ​​in the Swiss Confederation. However, the Swiss are not limited to these languages; English is also widely spoken there.
So, even if you don't speak one of the four official languages, you can still live and communicate with the locals in English — and enjoy the incredible opportunities to learn foreign languages ​​while studying abroad in Switzerland.
Also, read: Study in Belgium
Top courses to study in Switzerland
There are several courses in Switzerland that are sure to meet the needs of international students. Higher education in Switzerland can give you the opportunity to choose from a wide range of courses offered by leading universities. They are as follows:
Finance
Hospitality
Management
Business Administration
International Law
Mathematics
International Business
Psychology
After exploring some of the popular courses in Switzerland, let's check out the best universities to study abroad from which aspiring students can continue their education in Switzerland.
Popular Universities in Switzerland
There is no doubt that Switzerland has some of the best universities. Swiss universities offer several courses in each subject, however, if you are planning to study in Switzerland, you should know that some of the best universities in Switzerland are:
| | |
| --- | --- |
| University | Average Fees per semester |
| EPFL | 780 CHF |
| ETH Zurich | 730 CHF |
| Université de Fribourg | 2,000 CHF |
| University of Basel | 850 CHF |
| University of Bern | 950 CHF |
| University of Geneva | 500 CHF |
| University of Lausanne | 580 CHF |
| University of St.Gallen (HSG) | 3,000 CHF |
| University of Zurich | 1,220 CHF |
| USI – Università Della Svizzera Italiana | 4,000 CHF |
Educational requirements for studying in Switzerland
In this section, we will elaborate on the educational requirement for studying in Switzerland.
Language requirements
Switzerland has 3 official languages: French, German, and Italian. Students must have a good command of the language of instruction in their course. However, most educational programs offered by Swiss universities are also taught in English. If a candidate wants to study in Switzerland, he must pass a test of knowledge of the language of instruction of his program.
Below are the most common and recognized language tests you can take:
For English – IELTS (score must be at least 7), TOEFL (score 600 for paper and 100 points for online), or CAE.
For Italian – CELI or PLIDA
For German – Goethe C1 or TestDaF certificate
For French – DALF C1
Necessary documents
Swiss university requirements for international students vary from university to university, but some common documents required to study in Switzerland are as follows:
A valid passport
Academic transcripts and diplomas
Application fee receipt
Complete application form
Language proficiency certificates
Motivation letter
Passport-size photographs
Cost of studying in Switzerland for Indian students
Unlike other European countries, the tuition fees for Indonesian students in Switzerland are the same as for domestic students. Swiss public universities receive matching funding from the government; therefore, tuition fees are available at all public universities in Switzerland.
Private universities in Switzerland charge higher tuition fees of up to €40,000 per year. Several universities in Switzerland offer discounts to Indonesian students for full payment at the start of the program. For some courses, tuition is calculated based on the total number of credits or courses.
Particulars
Cost of studying in Switzerland
Bachelor's
Public Universities 400 – 3,700 EUR/year
Private Universities 43,000 EUR/year


Master's
Public Universities 400 – 5,000 EUR/year
Private Universities 75,000 EUR/year
Accommodation Cost
between 600 and 700 EUR/month
Living Cost
between 1,500 and 2,500 EUR/month
Scholarships to study in Switzerland
Top Universities in Switzerland and the Swiss government offers many scholarships to international students. These scholarships can help you cover your tuition fees and living expenses. Scholarships are usually awarded to international students engaged in postgraduate or research work.
Various scholarships are available at Swiss universities for international students. They are as follows:
EPFL Excellence Fellowships
ETH Excellence scholarships
Graduate institute scholarships
IMD MBA Scholarship
Swiss government excellence scholarships
Swiss Universities that offer Scholarships for International Students
University of Geneva Excellence Master Fellowships
University of Lausanne Master's Grants for foreign students
Post-study visa in Switzerland
After completing your studies in Switzerland, you can extend your temporary residence permit, allowing you to stay for the next six months to look for permanent full-time work. During this job search period, you can work up to 15 hours per week. This authorization cannot be renewed after six months.
To apply, you need to go to the cantonal migration office and submit:
A certificate or other proof that you have completed the course
Evidence that you can support yourself financially at this time
Proof that you have a place to live
If you have found a job in Switzerland, your employer must submit an application to the cantonal authorities where you will be working. Although foreign graduates of Swiss universities are treated in the same way as Swiss graduates in terms of entering the labor market – that is, the job does not have to be offered first to a Swiss or EU candidate – the employer does not care must prove that the work (or you) is of particular economic or scientific importance before you will be granted a work permit in Switzerland.
If you want to continue your studies as a postgraduate student at a Swiss university, you can apply to extend your residence permit, but you must already have an offer of a place. The maximum term of extension is two years.
Conclusion
Hey there! Finally, you've reached this end. We've served you much, isn't it? Now, to put all those existing doubts at the back of your mind to rest, why not ask expert professionals? Call us to gear up now! Take action!
iDreamCareer is on a mission to reach every state and every child to ensure that talent is appropriately delivered to the industry.
Talk to our study abroad experts to know yourself in and out! We have helped several brilliant but confused minds to select their most-suited career choices. We have helped many students like Anjana Prasanna who was not very confident about her capabilities. Later with the help of career guidance and moral support from our study abroad experts she got an offer from King's College London! We have also helped several brilliant but confused minds like Aayush, and Tapan to select their most-suited career choices.
Also Read:
FAQs
How much will it cost to study in Switzerland?
Foreign students who come to Switzerland on an exchange program do not pay tuition fees. Average tuition fees at public universities in Switzerland: Bachelor's & Master's programs: 400 – 3700 EUR/year, and Doctoral degrees: 100 – 900 EUR/year.
Are there free Swiss universities for international students?
Well, technically no, there are no completely free universities in Switzerland. This applies not only to international students but there are no free programs for national students either.
Can I study in Switzerland with English?
Currently, most Swiss universities offer master's and doctoral programs in English. For undergraduate programs, most courses are taught in German, but English is also present, although to a lesser extent than in graduate studies.
Is it difficult to study in Switzerland?
Getting into many universities in Switzerland can be relatively easy, but staying is often not easy. One of the most difficult things you will face during your studies are exams. There is a large workload to be completed in a short period of time.

Anushree has 5 years of experience in the career counseling industry as a Senior Content Writer. She has also worked as a Social Media Marketing Expert for a startup and Content Quality Analyst for the Publishing and E-learning Industry. She has done her Master's in Commerce and PGDM in Finance & Trade and Marketing & HR, but she is currently following her passion for writing.