Who could have thought that the cute little 'Frodo Baggins' would defeat all-mighty forces and destroy the 'One Ring'? If you don't get it yet, I am referring to the movie Lord of the Rings. Don't worry, this post is not about an apprentice course under the great Gandalf, nor is it about an ode to the Lord of the Rings. This post can be an answer to your queries on study in New Zealand.
The blend of an internationally accepted education system, lower living and education costs and fantastic immigration laws makes NZ a perfect study destination. Moreover, the current government is on a mission to promote international education in the country.
Lashing the tuition fees, relaxing the immigration norms, providing extensive international student support facilities and offering various part-time work options are just some of the changes that the government has made and this has made higher education in New Zealand more popular among the students. The present scenario makes it the best time to head to New Zealand. We can totally understand if these things have got you all excited about studying in NZ.
Good News!!!

As announced by the Prime Minister of New Zealand, Jacinda Ardern, the border of New Zealand reopened w.e.f. August 1, 2022. The reopening applies to everyone, including international students and visa processing will resume as normal for all categories, including international students, and students can apply for a visa from 1 August 2022. In addition, international students do not require pre-departure testing from 23:59 on 31 July 2022.
Hurray!!! Excited!!! All set… Come along…
What all is covered in this post?
To make it easier for you, we have created a quick guide to everything you need to know about studying in New Zealand.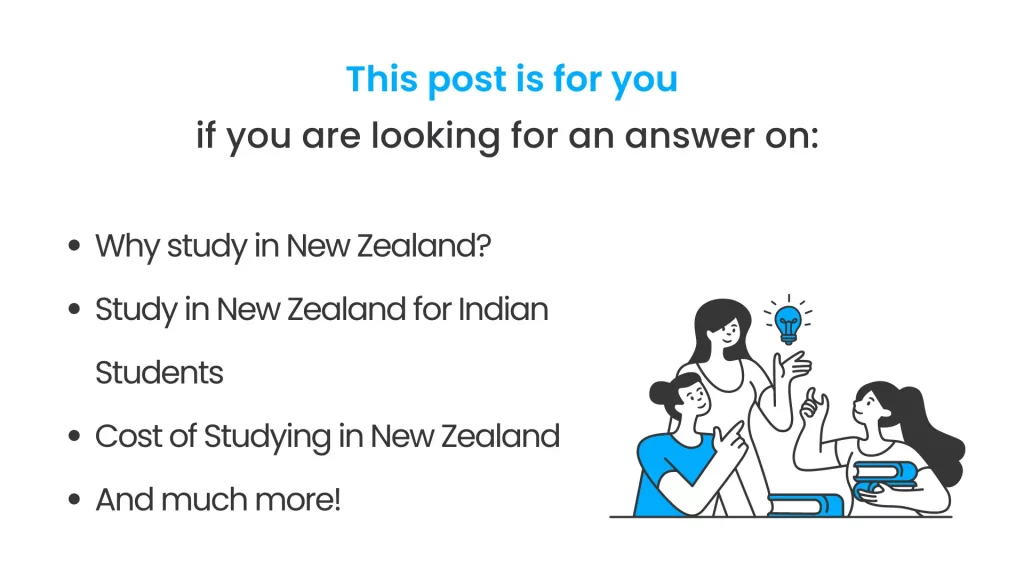 Why study in New Zealand?
Studying abroad in New Zealand offers many advantages in world-ranked universities, friendly culture and exceptional beauty. Below are the main reasons why you should continue your education in New Zealand universities: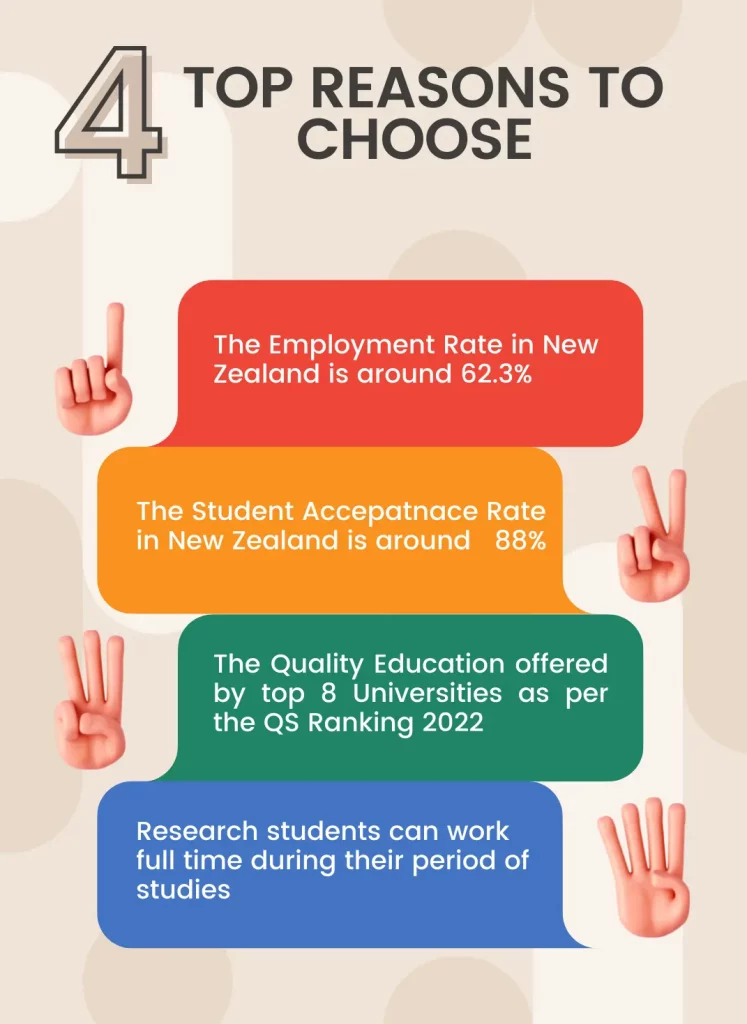 Being an English-speaking country, studying in New Zealand is convenient for Indian students as they do not need to learn a foreign language on their own.
Students are allowed to live in New Zealand for a further two years to find work after their studies. In this way, international students can explore professional paths and choose the job that best suits their needs.
There are many job opportunities in New Zealand in every field, especially in medicine and engineering. A high-paying job promises a rewarding career and student life in New Zealand.
To support themselves financially, students can easily get a part-time job in New Zealand. International students are allowed to work 20 hours per week during their study period.
Apart from your career and quality education, the serene breath-taking views and many exciting adventures are definitely reasons to choose to study for New Zealand international students.
Also, read: New Zealand PR Process
Study in New Zealand for Indian students – Eligibility
To study in New Zealand, universities have set different requirements and selection criteria for different programs. Depending on your entry-level, course and academic qualifications, you can apply to different universities and their programs.
Here are the general requirements that all students must meet.
Relevant 12th Certificate / Bachelor's Degree / Master's Degree from a recognized university in the relevant field (minimum marks depend on university and department chosen)
Proficiency in English as valid IELTS/TOEFL/PTE/Duolingo scores
Input like GMAT or GRE scores
Resume/CV (course requirement)
Statement of Purpose
Letters of recommendation
A valid passport
Bank statements and proof of financial coverage for the entire period of study abroad
Cost of studying in New Zealand for Indian students
The course fee and the living cost in New Zealand are the main factors behind the popularity of this country as an education destination. It offers the quality of a British Education for just a fraction of the cost you incur in the USA or the UK. The average tuition fees for undergraduate courses range between NZ$ 18,000 and NZ$ 25,000 per year that is equivalent to INR 7.5 lacs to 10.5 lacs per year.
The government is also trying to attract students by further reducing the tuition fees of individual courses that cater to skill shortage areas. Living in New Zealand is comparatively more economical than in other countries. There are many options available for international students, and the annual living expense can be anywhere between INR 3.5 to 5 lacs.
Study in New Zealand MBA cost
Cost of living in New Zealand is about 197% higher than in India. However, tuition fees are much lower than MBAs in Canada, USA, Australia, etc. The cost of studying abroad can be divided into pre-arrival costs, tuition fees and cost of living. All three of these are briefly discussed in this section.
| | |
| --- | --- |
| Expenses | Fees (in NZD) |
| New Zealand Student Visa | 346 |
| IELTS | 420 |
| TOEFL fees | 410 |
| GMAT fees | 382 |
| Air Tickets | 450 – 700 |
Pre arrival cost
Cost of studying MBA in New Zealand
The total fee for an MBA at the best universities in New Zealand is between NZD 45,000 and NZD 67,000. The University of Canterbury charges the highest annual fee of NZ$73,400.
Where to study abroad in New Zealand?
Now that you know the eligibility and cost of study in New Zealand; let's have a look at the top universities: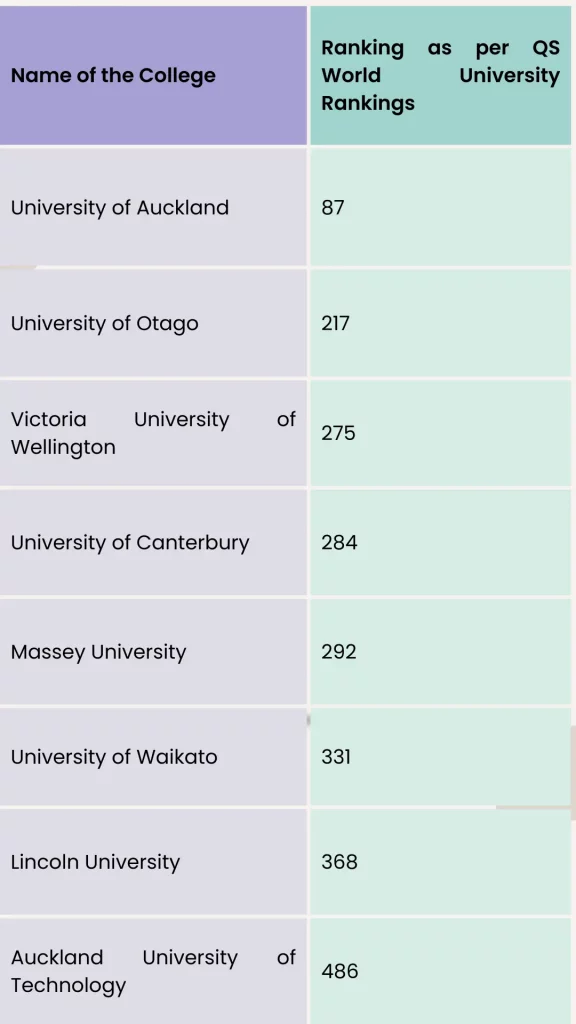 Study in New Zealand without IELTS
Here is a list of universities where you can apply to New Zealand without the stress of taking IELTS! Applicants can submit English language proficiency scores from another source or obtain an English language certificate from their schools and programs. Here is a list of universities to check out:
Lincoln University
Unitec Institute of Technology
University of Auckland
University of Canterbury
University of Otago
Universities to study engineering in New Zealand
Here is the list of top universities to study engineering-
Auckland University of Technology
Lincoln University
Massey University
University of Auckland
University of Canterbury
University of Otago
University of Waikato
Victoria University of Wellington
Popular universities to study hospitality in New Zealand
Following are the 8 popular universities to study hospitality in New Zealand-
Auckland University of Technology
Southern Institute of Technology
Ara Institute of Canterbury Limited
Toi Ohomai Institute of Technology
Otago Polytechnic
Le Cordon Bleu New Zealand
Lincoln University
Wellington Institute of Technology
Intakes in New Zealand
The education system in New Zealand has never failed to amaze us as the educational approach and curriculum in New Zealand are world-class. Many New Zealand universities are consistently at the top of the QS world rankings. Such a modern and adaptive education system has put the country in the minds of many foreign students who want to study abroad today. So, to get into any university in New Zealand, it is very important to know the admission process they follow. Unlike Indian universities, New Zealand universities and institutes follow two main admission systems, sometimes referred to as semesters. In New Zealand there are two receptions:
Semester 1 runs from February to June.
Semester 2 runs from July to November.
Conclusion
NZ is an amazing amalgamation of education, culture, natural beauty, tranquillity, and stability. New Zealand can offer you an excellent education, and chances are, you will have the best time of your life while you study.
iDreamCareer is on a mission to reach every state and every child in order to ensure that talent is appropriately delivered into the industry. Talk to our study abroad experts to know yourself in and out! We have helped several brilliant but confused minds with an aim to select their most-suited career choices. Hear the success story of Tapan who got an offer from top 4 universities and is now studying in DePauw University after getting career guidance from our study abroad experts! And not only this he has also received a scholarship of Rs. 1.3 crore.
Useful links
FAQs
Can students work while studying in New Zealand?
Students are allowed to work 20 hours per week, plus full-time work during vacations.
Are New Zealand degrees recognized worldwide?
Yes, degrees obtained in New Zealand are recognized worldwide and known for their quality of education.
What English language tests are accepted by New Zealand universities?
The International English Language Testing System (IELTS) is the most preferred English language test accepted by all New Zealand universities.
Which intake is good for New Zealand?
If you want to study in New Zealand, you need to first understand that there are two intakes, one in February and one in July. Although international students apply for admission in both semesters, they have a preference for July intake and most admissions take place during this session.
When can I apply for February admission in New Zealand?
Start early and by August make a shortlist of 8-12 New Zealand universities to which you will apply for admission in February 2023. Visit the university websites for application requirements, deadlines, etc. Before September, explore your options for bank loans and scholarships to finance your studies in New Zealand.

Anushree has 4+ years of experience in the career counseling industry as a Senior Content Writer. She has also worked as a Social Media Marketing Expert for a startup and Content Quality Analyst for Publishing and E-learning Industry. She has done her Master's in Commerce and PGDM in Finance & Trade and Marketing & HR, but she is currently following her passion for writing.