Paris or Denmark? Switzerland or Spain? The choice is endless – from high-ranking research universities to small specialized European colleges. Don't know what are the best countries to study in Europe? Don't worry, we've got you covered.
No matter where you choose to study, you'll be on a short train or flight away from other countries and cultures. Studying in Europe allows you to explore the world – during and after your studies in Europe
Europe has developed a quality assurance scheme covering all European higher education courses. You will find that European degrees are worth the money – tuition and living fees are very reasonable, international scholarships are widely available and education is highly valued in all countries.
What all is covered in this post?
To make it easier for you, we have created a quick guide to everything you need to know about the best countries to study in Europe.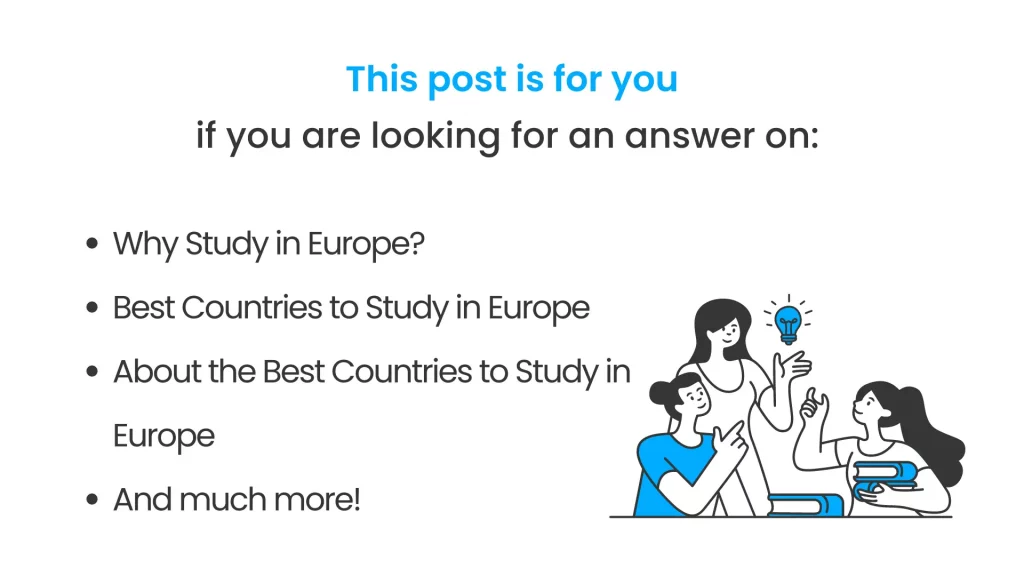 Why study in Europe?
Every year, millions of students study abroad in Europe. Europe is where you are European and want to go to another country for international experience, or if you are from another continent and want to study here.
Here are some of the best reasons to study in Europe:
Boost your career
International experience has become increasingly important in recent years. Both large and small companies are looking for employees who have stepped out of their comfort zone. Studying abroad in Europe sets you on a course for career success. Many European countries are also making efforts to persuade foreign graduates to stay after university. This means that if you decide to study in Europe, you have a good chance of getting a job offer and being able to stay for a longer period of time.
Europe offers world-class education and research
Many of the best universities in the world are located in Europe. Cross-border cooperation in Europe has formed a strong international academic community conducting cutting-edge research.
A wide range of educational options
There are thousands of universities in Europe that offer tens of thousands of study programs in English. You can find programs in any academic discipline from art to zoology; small, tight universities or large international research centers; advanced academic research programs or practice-oriented training. There is something for everyone.
Tuition is low
Compared to countries such as the USA, Canada, or Australia, tuition fees at most public universities in Europe are very low. Some European countries don't even have tuition fees – studying at university is free! There are also many opportunities for scholarships and other financial support options during your studies.
It's easy to travel and discover the entire continent
When you study in Europe, you should take the chance to see more countries than just one. With plenty of cheap flights, trains, and buses, as well as relatively short travel times, it's possible even on a tight student budget and tight semester schedules.
If you are not a European citizen and you are studying in the Schengen area of ​​26 European countries, you can easily get a student visa that allows you to visit other Schengen countries. Think of all the great experiences you can have even away from campus.
Higher education systems are well-respected and coherent
Thanks to the Bologna process of reforms, the national systems of higher education of all European countries were equalized. This means that any bachelor's or master's in Europe follows the same general academic structure. So, if you get a master's degree in Sweden, it will be equivalent to a master's degree in Germany, Lithuania, or the UK.
Best countries to study in Europe
Europe is considered one of the most desirable places in the world to study if you want to study abroad. Many European countries offer attractive opportunities. For young students, Europe is a good choice because of its renowned center of academic excellence.
Here are the best countries to study in Europe:
Ireland
Spain
Sweden
United Kingdom
Finland
France
Germany
Australia
Italy
Netherlands
Switzerland
About the best countries to study in Europe
In this section, we will introduce you to the explanation of the above-mentioned list of best countries to study in Europe:
Ireland
Ireland is one of the obvious choices when it comes to studying destinations in Europe that offer programs in English. The Republic of Ireland is known as one of the countries with the friendliest locals, and the universities really focus on helping international students to adapt more easily, as they bring together many student services and student organizations.
Top Universities: Trinity College Dublin, University College Dublin, National University of Ireland, Galway; University College Cork, Dublin City University, etc.
Fees: Tuition fees in Ireland vary depending on the student's country of origin. The tuition fee for such students will be about 3,000 euros. The cost of living for international students in Ireland depends on your lifestyle. The cost of living can reach up to 12,000 euros per year.
Portugal
Portugal may be one of Europe's smallest countries, but it's full of character, and the capital, Lisbon, is the best country to study in Europe. Lisbon is home to half a million residents, making it small enough to explore on foot, but big enough to never run out of things to do.
Top Universities: Catolica Lisbon School of Business & Economics, Católica Porto Business School, CESPU – Higher Polytechnic and University Cooperative, ESAD Art + Design, Lisbon University Institute, Politécnico de Leiria, Universidade de Aveiro, etc.
Fees: EU and international students should expect to pay between €950 and €1,250 per year for a bachelor's and master's degree and between €2,500 and €3,000 for a Ph.D. It is recommended to set aside €8,000 to €10,500 per year for living expenses, but living in a bigger city like Lisbon will make your living expenses more expensive. If you choose to live in university accommodation, it will cost between 150 and 250 euros per month, while private accommodation will cost around 400 euros per month.
Spain
Spain is famous for its friendly environment, optimal climate, affordable tuition fees, and low cost of living. There are several undergraduate, graduate, and even doctoral degrees. Most study programs in Spain are taught in English. However, many students who choose to study in Spain have the opportunity to study Spanish. Among the many disciplines on offer, you can choose from business, journalism, social sciences, and hospitality.
Top Universities: University of Valencia (La Universitat de València), Pablo de Olavide University (Universidad Pablo de Olavide), The University of Granada (Universidad de Granada), The University of Salamanca (Universidad de Salamanca), University of Deusto (Universidad Deusto), etc.
Fees: In general, expect to pay: €700 – €3,500 per year for undergraduate programs at public universities. €1000 – €3500 for Master's programs at public universities. 960 – 1,800 euros for an MBA program at a public university. To live in Spain, you will need between 900 and 1100 euros.
Sweden
Sweden was named the 2nd most innovative nation in Europe in 2022 and is one of the best countries to study in Europe. The booming digital sector in Sweden is replete with startups, Spotify being perhaps the most well-known recent example.
Top Universities: KTH Royal Institute of Technology, Uppsala University, Chalmers University of Technology, Stockholm University, University of Gothenburg, Umea University, Linköping University, etc.
Fees: The cost of tuition, might only be SEK 80,000 (about 7,915 EUR or 6,37,387 INR) for a single year, otherwise up to SEK 295,000 (or approximately 29,188 EUR or 23,50,772 INR). Although living expenses vary depending on where you study (major cities are typically more expensive), they average 8,568 SEK per month, including rent (approximately 848 EUR or 68,297 INR).
United Kingdom
The United Kingdom is classified as the largest island in Europe, formed by four countries (England, Wales, Scotland, and Northern Ireland) and many tiny islands. It is one of the best countries to study in Europe for several reasons. In addition, Great Britain is one of the most famous countries in the world, primarily due to its notable advantages for the global economy.
Top Universities: University of Glasgow, University of Warwick, King's College, London, Imperial College, London, University of Cambridge, University of Oxford, etc.
Fees: The price is not too low, and there are a few things to consider before making a final decision. Tuition fees for international students vary greatly depending on the course and location of study. It can range from GBP 9,000 to GBP 38,000. As a single student living in the UK, the average weekly budget including rent should be around £240.89 (US$317.92).
Also, Read: Study in Hungary & Study in Greece
Summing Up!
In the above article, we discussed in detail about best countries to study in Europe. Although studying abroad is a dream for many students it is equally important for students to be aware of everything that it takes to pursue higher education in Europe.
iDreamCareer is on a mission to reach every state and every child in order to ensure that talent is appropriately delivered to the industry.
Talk to our study abroad experts who have 20+ years of experience to know yourself in and out! We have helped several brilliant but confused minds with the aim to select their most-suited career choices. Hear the success story of Aayush who got an offer from the top 3 universities and is now studying at a University in Ottawa in Canada after getting career guidance from our industry experts!
Also Read:
FAQs
Can I study in Europe for free?
Europe offers many affordable study options for international students. In many countries, education for European students is free. And there are even some places where non-European students can study for free.
Which European country is best for student immigration?
While there are several countries that offer easy permanent residency programs for international students graduating from their universities, some of the best European countries that offer easy student immigration include Germany, Ireland, and the UK.
Which European country is the best place to earn money?
While students in Switzerland, Denmark, and Germany enjoy the highest overall standard of living in Europe, Estonia, Greece, and Portugal, despite their affordable cost of living, are among the least favorable countries for students.

Anushree has 5 years of experience in the career counseling industry as a Senior Content Writer. She has also worked as a Social Media Marketing Expert for a startup and Content Quality Analyst for the Publishing and E-learning Industry. She has done her Master's in Commerce and PGDM in Finance & Trade and Marketing & HR, but she is currently following her passion for writing.