Do you want to study in Russia? Or if you are yet to figure out how to study in Russia, take a ride across this post. Thinking about the cost or fees? What will be your future after completing your education in Russia?
This curated guide shall take you through the many depths that you need to be familiar with like admission criteria, why study in Russia, cost involved, and much more!
All set to dig in further? Come along!
Why study in Russia?
Besides being the largest country in the world by location, Russia is also a popular choice for international students. Following are some of the reasons:
Top universities
Affordable fees structure
Global recognition of degree
Comfortable and well-equipped campuses
Affordable cost of living in Russia
Easy admission procedure
Renowned research facilities
Exciting student life
How can I study in Russia – Procedure
This is the most common question among students who wish to study abroad. Here are some key steps you need to consider to achieve your dream: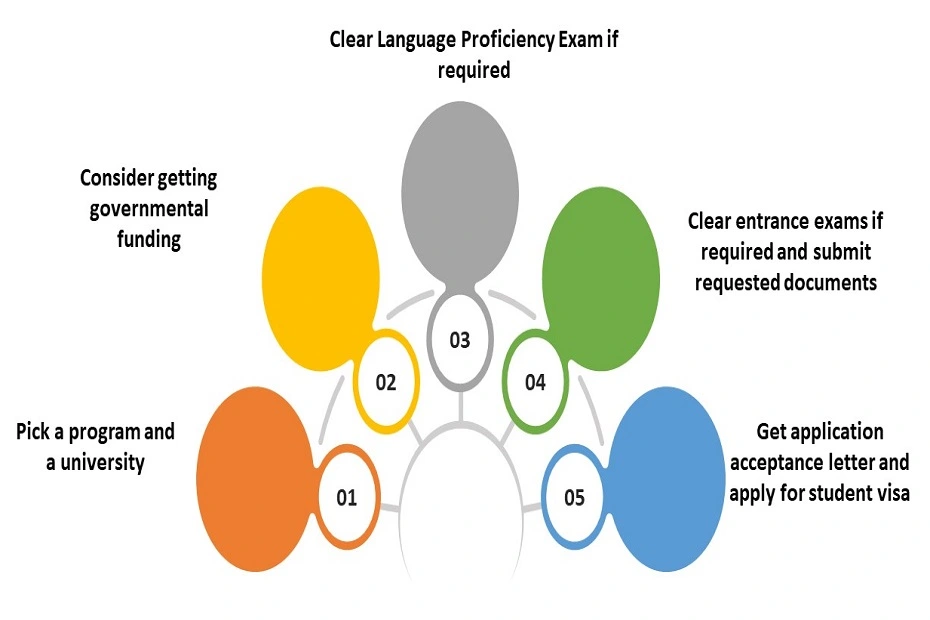 Scholarship for Indian students to study in Russia
If you are planning to study abroad one thing that could hinder your program is financial problems. But you should not worry because there are some Scholarships offered by the government and Universities throughout Russia to sponsor foreign students.
Below are some scholarships you may consider:
American Councils Scholarships
Benjamin A. Gilman Scholarships
BP in Russia Research Scholarships
Government of Russian Federation Scholarships
HSE University
Moscow Institute of Physics and Technology (MIPT)
Open Doors: Russian Scholarship Project
Saint Petersburg Polytechnic University
The School of Russian and Asian Studies (SRAS)
Tomsk State University
How much does it cost to study in Russia?
For students planning to pursue their dream education from Russia, it is important to know that your tuition fees will depend largely on the type of institution chosen.
Below are the basic costs-
| | |
| --- | --- |
| Level of Study | Tuition Fees (per year) |
| Undergraduate | Rs. 1,30,000 – Rs. 10,00,000 |
| Specialist Programs | Rs. 1, 30,000 – Rs. 7,00,000 |
| Postgraduate | Rs. 1,60,000 – Rs. 5,10,000 |
| PhD | Rs. 80,000 – Rs. 4,50,000 |
In addition to the basic costs of education, you will need to manage the cost of living alone. Your monthly living expenses will include the cost of accommodation, food, travel and other basic services.
Study in Russia for Indian students – Visa Process
A visa and passport are common requirements for applying to a Russian University. When it comes to a student visa, you should send your application to the Russian embassy/consulate/authorized centers in your country.
It is important to note that the application fee may vary depending on the country you are applying from, but the cost of applying for a 1-year extension is 1,600 rubbles.
Go through the following points to better understand the process: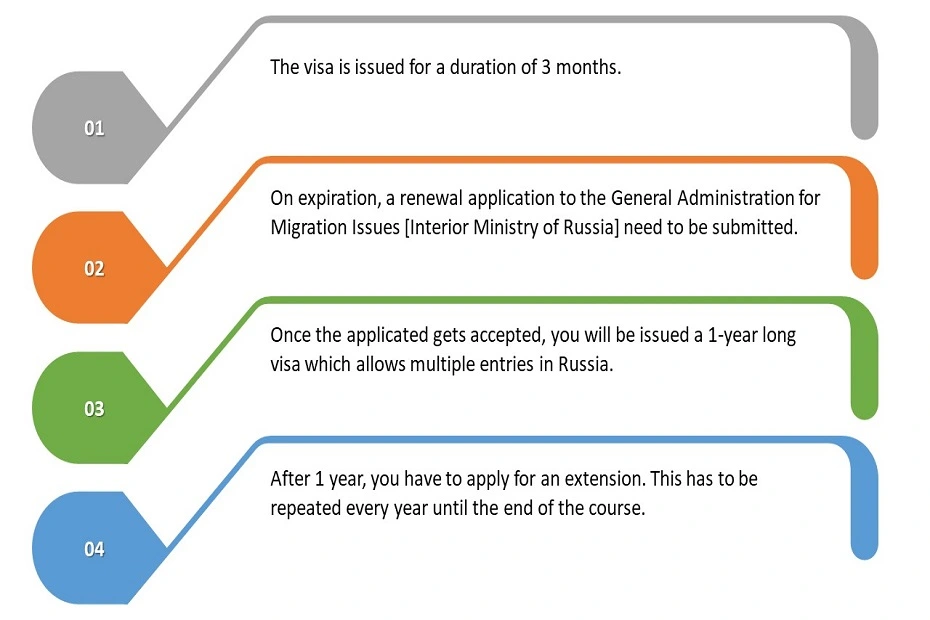 Epilogue
Are you ready to study in Russia? Or do you still have questions?
Don't Worry! Do reach out to us. iDreamCareer is on a mission to reach every state and every child to ensure that talent is appropriately delivered into the industry. We try to help young confused minds from 9th class, 10th class, class 11, class 12 with an aim to select their most-suited career choices.
Useful links;
FAQs
Is Russia cheap country to study?
Studying in Russia is affordable than any other European countries. Students from all countries can get an education in the Russian Federation in various specialization programs. The cost of studying in Russia depends on the location of the educational institution, specialty chosen.
Can a student study in Russia in English?
Yes, a student can study in Russia in English.
How much does it cost to study in Russia?
The minimum cost of study in Russia is 122,500 rubbles ($1,750) per year; maximum – 880,000 rubbles ($12,570) per year.

Anushree has 4+ years of experience in the career counseling industry as a Senior Content Writer. She has also worked as a Social Media Marketing Expert for a startup and Content Quality Analyst for Publishing and E-learning Industry. She has done her Master's in Commerce and PGDM in Finance & Trade and Marketing & HR, but she is currently following her passion for writing.