Are you planning to study in Ireland? It's the land of researchers & sages with excellent an academic culture. Do you know Ireland is home to many reputed companies such as Google, Microsoft, and Medtronics? If yes, make this post your first stepping stone to glory.
The country is rapidly gaining momentum among international students due to its scenic beauty and the excellent education it provides. Ireland is the 20th best provider of education in the world, along with Canada, the UK, the US, and Germany. Over 44,000 international students from over 160 different countries are part of Ireland's diverse student population. Ireland's economy is constantly growing and an employment rate of 90% favors potential international students.
Do you know?

According to figures published by the Ministry of External Affairs, Government of India, about 1.3 million Indian students are studying abroad, of which 5,000 are enrolled in various courses in Ireland. There are currently over 32,000 international students studying in Ireland, representing over 100 countries. The Irish education system is very similar to the British one.
What all is covered in this post?
To make it easier for you, we have created a quick guide to everything you need to know about studying in Ireland.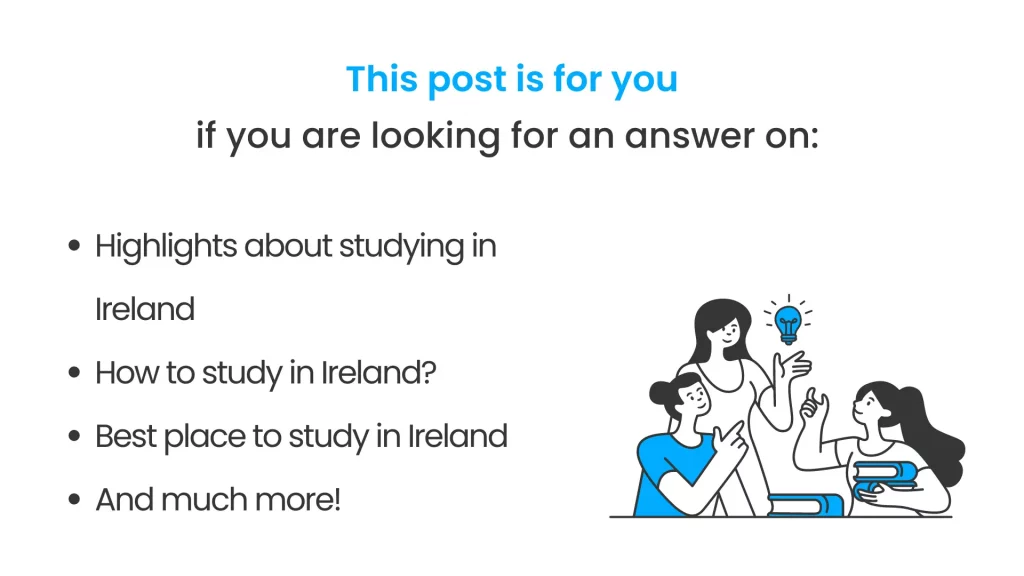 Highlights about studying in Ireland
| | |
| --- | --- |
| Particulars | Highlights |
| Capital City | Dublin |
| Currency | Euro (€) |
| Tuition Fees | The range between €9,000 and €45,000 per year to both at undergraduate and graduate levels |
| Cost of Living | Between €7,000 to €12,000 annually on accommodation, food, and other things. |
| First Official language | Irish |
| Second Official language | English |
| Listed Universities | 18 |
| Intakes | Autumn semester (begins early in September, continues till December) and the spring semester (begins late in January, continues until May). |
| Course Duration | Undergraduate courses require 3-4 years, while postgraduate course requires 1 year. Few courses come along with accompanying internships. |
| Available Courses | 2000+ |
Why study in Ireland?
Ireland has one of the best educational programs in the world and there are many reasons to study here. Following are the reasons why you should consider your higher studies in Ireland:
Exposure to a remarkable education system.
Chance of learning and earning at the same time.
Apply for a green card or work permit when you get a job.
A post-study work visa of 2 years for a master's and 1 year for a bachelor's can be obtained.
European headquarters of many IT & Pharmaceutical companies & home to many Multinational Companies.
Low cost of living.
Language is not at all a barrier because English is a widely spoken language.
How to study in Ireland from India?
The admission process in Ireland varies from university to university. However, they each follow one standard process, which is listed below:
Determine whether you are an EU or non-EU applicant and the level of study you wish to join – Bachelor or Master
Select the course you want to study.
Compare, contrast, and shortlist institutions offering your course.
Apply for the desired courses on the university website along with all relevant documents.
Be fully aware of the costs and scholarships available for the course.
Once accepted, apply for the appropriate student visa according to your studies.
Best place to study in Ireland
In section, we have tabulated a list of the best places to study in Ireland along with the universities and popular courses:
| | |
| --- | --- |
| Cities | Popular Universities & Courses |
| Dublin | Trinity College Dublin – BA Honors in Ancient History and Archaeology, Bachelor in Business Studies, B.A.I. in Computer Engineering, MBA, MSc Pharmaceutical Sciences, and MSc in Immunology. University College Dublin – BSc Cell & Molecular Biology, BSc Financial Mathematics, BE Engineering, Master of Accounting, MSc Finance, and MA Film Studies. Dublin City University – BSc in Psychology and Mathematics, BSc in Health and Society, MSc in Management (Business), and MSc in Human Resource Management. |
| Galway | NUI Galway – Law (BCL), Bachelor of Science in Business Information System, Bachelor of Commerce, MSc (Business Analytics), MSc (Marketing Management), and MA in Film Studies: Theory and Practice. |
| Maynooth | Maynooth University – BA Psychology, Bachelor of Social Science, BCL in Law and Accounting, MSc Data Science and Analytics, MSc in Computer Science (Software Engineering), and MA Critical and Creative Media. |
| Cork | University College Cork– BSc (Hons) in Physics, BSc (Hons) in Accounting, BA (Hons) Applied Psychology, and MSc in International Accounting Practice. |
| Limerick | University of Limerick – Bachelor of Arts in Journalism and Digital Communication, Bachelor of Arts in Psychology, Bachelor of Business Studies, LLM in International Commercial Law, MSc in Civil Engineering, and M.Sc in Design for Health and Wellbeing. |
Also, Read: Best Universities in Europe
Eligibility requirement to study in Ireland for Indian students
A minimum academic score of 60% and above in standard XII is required for each course. Foundation and diploma programs are available to students who have secured around 50%. A student must be 18 years of age before enrolling in an educational program. It is important to remember that even though the entry requirements for Irish universities are lower, the standard of education is not. Therefore, you should carefully improve your ability to cope with a high standard of education for the next few years in advance.
Documents to be submitted: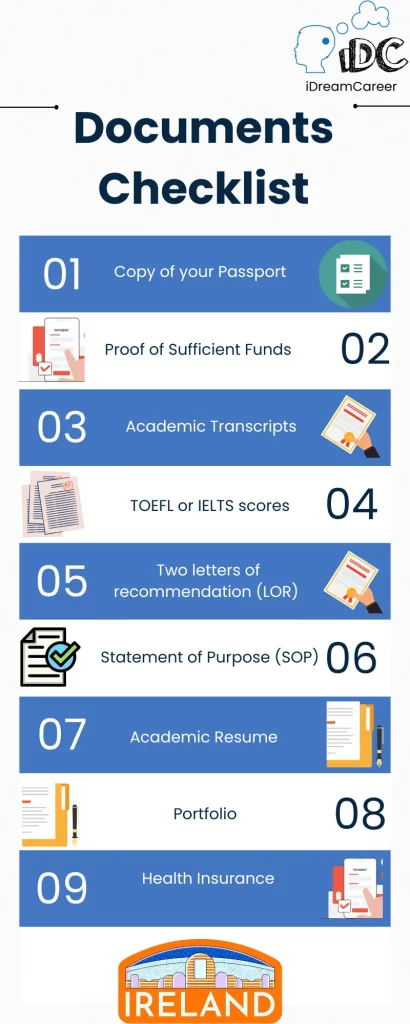 Academic Transcripts: Mark Sheets of Standard X, XII, and the bachelor's degree (if applicable)
Internet-based TOEFL or IELTS scores
If you have work experience then two letters of recommendation (LOR) from the employer/manager who knows you well and can comment on your professional abilities
Statement of Purpose (SOP)
Academic Resume
Portfolio (in case of students applying for art and design courses or architecture programs)
Others (Certificates/achievements at the state and national level and extracurricular activities)
Proof of funds
Health insurance
A copy of your passport
Note: Photocopies of these documents must be translated into English and certified by the educational institution or a notary public.
Study in Ireland without IELTS
There is no language test requirement if your previous education or qualification was taught in English. You are also exempt from IELTS if you have completed your previous education at an institution taught in English.
You will need to provide an official declaration or certificate from your institution to prove that your previous education was in English.
Here is a list of some universities where you can study without IELTS in Ireland:
National University of Ireland, Galway
University College Cork
University College Dublin
University of Limerick
Cost of study in Ireland for Indian students
The most important expense for students in Ireland is the cost of tuition. Here it is calculated based on the level of education and courses offered by the universities.
Undergraduate courses are between $10,443 and $52,215 per year
Postgraduate and Masters courses – US$ 10,620 – US$ 42,946 per year
If students need help with English, they are given the opportunity to study at universities in Ireland.
For such students who need a basic understanding of the language, join the International Basic Course, which costs between USD 7,468 and USD 15,167.
Cost of living in Ireland
Apart from accommodation, the daily amenities required for a month's stay are mentioned: –
The cost of living is 1,500 dollars
The range of expenses for food – 2500 dollars
Transportation (student ticket) – 18 USD
Other communal services – 300 USD
Conclusion
We hope this post has helped you understand all the important parts about study in Ireland. If you still have some questions, let our experts at iDreamCareer help you in finding the most suitable scholarship, course, or university. We try to help young confused minds from 9th class, 10th class, class 11, class 12 with an aim to select their most-suited career choices.
Also Read:
FAQs
Do I need IELTS to study in Ireland?
Yes, it is required to obtain a student visa in Ireland and also to get admission to Irish University. However, Indian students can now apply and pursue their careers in Ireland without IELTS as many universities are open to accepting students with alternative tests.
How much does it cost to study in Ireland?
For non-EU students, the average tuition fees at public universities range from 6,000 to 12,000; EUR/per year for undergraduate programs; and postgraduate/masters programs and research courses, University Ireland tuition fees at public universities range from €6,150 to €15,000 per year.
How many years of a gap is acceptable for studying in Ireland?
As a country, Ireland offers the best quality of life and many learning opportunities for students. While many countries do not accept applications from students with a gap of more than one or two years, Irish universities do not.
Can I get a student loan to study in Ireland?
Yes, the Eligibility Rules for applying for a student loan in Ireland – the student (borrower) must be a citizen of India. An applicant must be above 18 years of age to be eligible to apply for an education loan. Students under the age of 18 must apply for a loan together with their parents.
Is it easy to get PR in Ireland after studying?
A student visa is only one of the requirements for obtaining a PR in Ireland. You must find suitable work and obtain a work permit and stay in Ireland for a minimum of five years to obtain permanent residence.

Anushree has 4+ years of experience in the career counseling industry as a Senior Content Writer. She has also worked as a Social Media Marketing Expert for a startup and Content Quality Analyst for Publishing and E-learning Industry. She has done her Master's in Commerce and PGDM in Finance & Trade and Marketing & HR, but she is currently following her passion for writing.