Are you planning to study in Poland? Wondering to pursue higher studies in Poland? Confused about the best universities in Poland? Then you are on the right page. Poland or the Republic of Poland is a building party in central Europe. With the beautiful Baltic Sea on one of its borders and with countries such as Germany, Russia, Ukraine, the Czech Republic, and the Slovak Republic on the other, Poland is the birthplace of the great Nicholas Copernicus. The country has its own name derived from the tribe 'Polanie' which means "People living in open spaces".
Poland is the 9th largest country in Europe and is also one of the most popular destinations. Local universities offer a good return on investment with affordable degree programs and accommodation costs. Add in the low cost of living and you have a formula for (financial) success.
There are more than 400 universities and colleges in Poland, which welcome around 1.5 million students annually. Poland is known as an affordable European country with a rich history and numerous high-quality university degrees offered in the English language.
What all is covered in this post?
To make it easier for you, we have created a quick guide to everything you need to know about studying in Poland.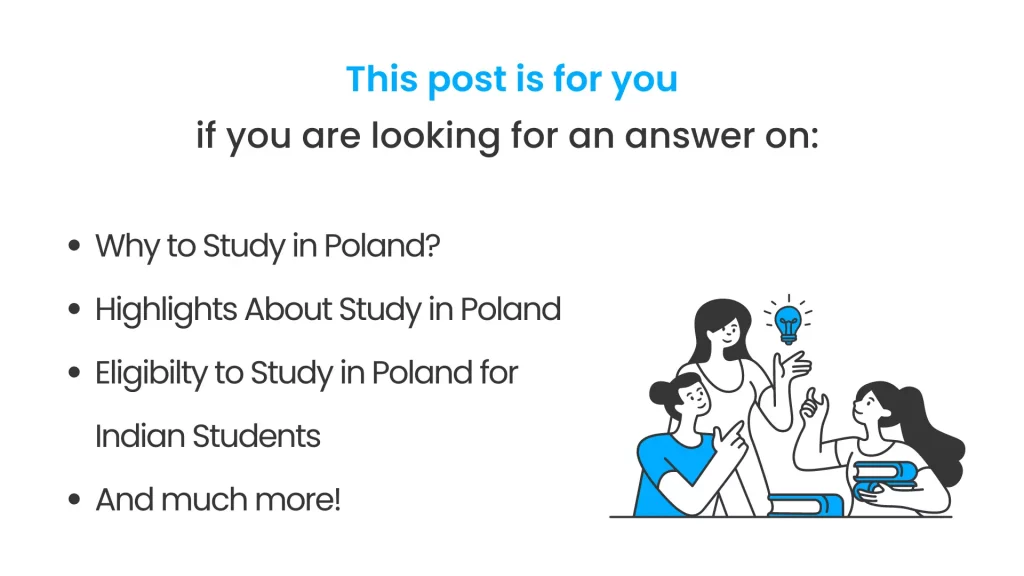 Why study in Poland?
Here are some of the top reasons for choosing Poland as your study-abroad destination:
Tradition
The Polish tradition of academic education dates back to 1364 when King Casimir the Great founded the Krakow Academy, now known as the Jagiellonian University. The Krakow Academy, one of the oldest in the world, succeeded the academies in Bologna and Padua and was the second university in Central Europe after Prague.
Modernity
Today, the Polish higher education system is developing rapidly. Poland ranks fourth in Europe (after the UK, Germany, and France) in terms of the number of people enrolled in higher education. The total number of students in more than 400 university schools is almost one and a half million. Almost half a million young people start their education at universities and colleges every year. Polish university schools offer more than 200 high-quality types of study as an integral part of the European Higher Education Area. Most schools offer foreign language courses.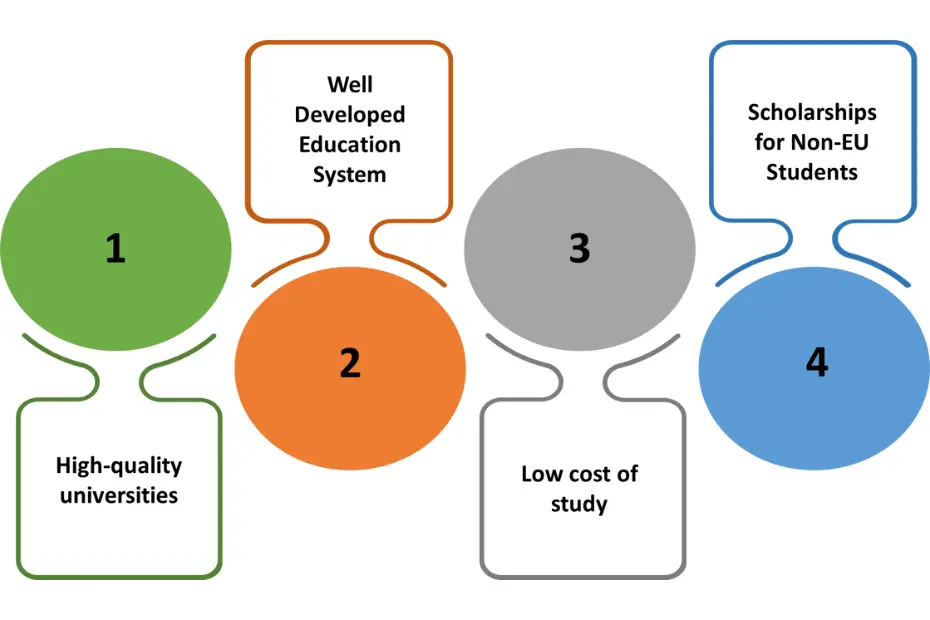 Bologna process
Poland plays an active role in the Bologna process. Over 43,000 foreign students came to study in Poland under the Erasmus program alone, which has been running for more than 20 years, while almost 100,000 students from Poland completed part of their education in another European Union country. Foreign students coming to Poland can expect the most attractive and diverse educational opportunities meeting high European standards. They can study medicine, biotechnology or engineering, but also art and business and many other fields. The diploma awarded to them after graduation is recognized not only in Europe but also in most countries of the world.
High-quality education
The Polish higher education system is well-developed. The main Polish institutions responsible for quality assurance in higher education are the Polish Accreditation Committee, the General Council for Higher Education, and the Conference of Rectors of Academic Schools in Poland. There are more than 5,000 courses available in Poland and each of them had to be approved by the Polish Accreditation Committee. Among them are a number of fields of study that received excellent grades.
Competitive housing and study costs
Compared to other EU countries, tuition fees in Poland are really competitive and the cost of living is a fraction of what a foreign student would have to spend in other European cities.
Highlights about study in Poland
| | |
| --- | --- |
| Particulars | Highlights |
| Capital City | Warsaw |
| Currency | zloty |
| First Official language | Polish |
| Second Official language | English |
| Number of Universities | 500+ |
| Intakes | Winter Intake – Begins in September/October & ends in February/MarchSummer Intake – Begins in February & ends in July/August |
Also, read: Study in Belgium
Eligibility to study in Poland for Indian students
Compared with other places of study abroad, the eligibility of international students to study in Poland is less complicated. By meeting the basic requirements and submitting important documents, you can achieve your dream of getting a foreign education in Poland.
Listed below are some of the important things one should keep in mind before applying for a program in Poland.
Certificate/ Diploma Courses: formal education of 10 + 2
Bachelor's Courses: Complete class 12th from a recognized board or institution
Master's courses: Undergraduate degree in a related field with the minimum required GPA
Scorecard of English language proficiency tests such as IELTS, TOEFL, etc.
For PG courses you may be required to submit score card of the GMAT or GRE exams as per the university guidelines.
At the time of the application process Letter of Recommendation (LOR) and Statement of Purpose (SOP) are also required.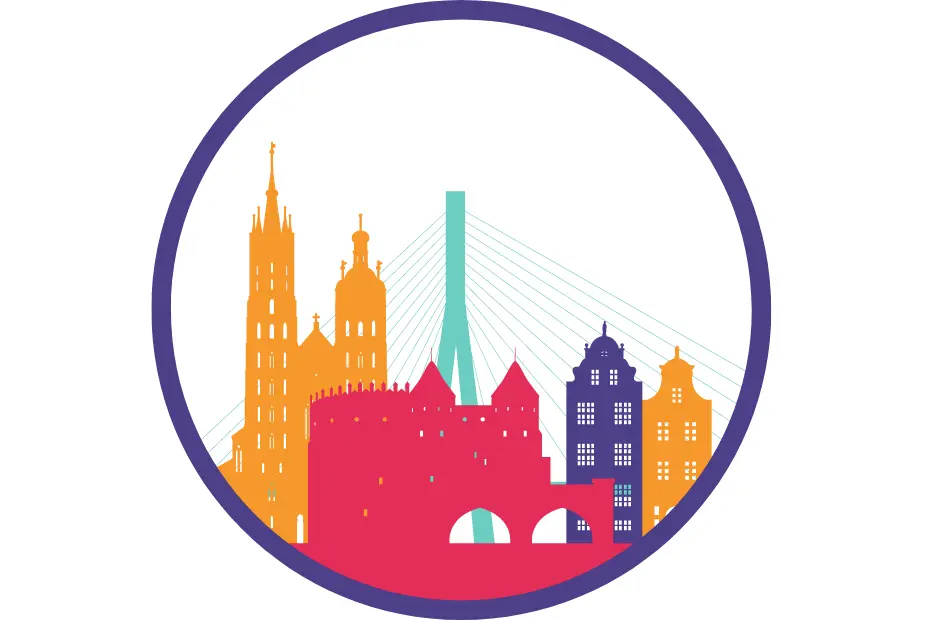 Documents required to study in Poland
Certain criteria must be met when applying to universities in Poland. Although the application requirement is university specific, there are certain common documents that must be available for admission. Below are some important documents that are needed:
A complete form of application
A scanned copy of documents that are needed for application in the university
A scorecard of IELTS
Additional documents that are required by the university
Copy of the passport
Letter of recommendation
Letter of work experience
Resume
Statement of Purpose
Ways to study in Poland without IELTS from India
There are many ways to study in Poland without IELTS. Here's how:
University administrators will have a video chat with the candidate. There will be common questions asked about the background, academic choice and why they chose a particular university.
One more way is if a candidate is coming from an English-speaking country, or a previous degree was completed in English, then some Polish universities did not ask for IELTS scores.
Some Universities in Poland have their own English language tests, which must be taken when a candidate reaches Poland.
Universities, where IELTS is not required, are Adam Mickiewicz University, Warsaw University of Technology, etc.
Note: The requirements and exemptions for IELTS may vary from university to university.
Also, read: MBBS in Poland
Popular universities to study MS in Poland
There are some of the best universities located in Poland. The country is known for its highest quality education standards that attract students from different parts of the world. Some of the best universities in Poland are worth mentioning.
University of Warsaw
This university is considered one of the most prestigious and one of the largest universities in the country. Completing a master's degree at this university opens up several career paths.
Jagiellonian University
It is one of the oldest universities in Poland. This university was founded in 1364. There are many campuses of the university and the main campus is located in Krakow. This university has 15 faculties which include humanities, law, natural and social sciences, and medicine.
Medical University of Łódź
The Medical University of Łódź is located in Kosciuszki, a city of Łódź in the province of Poland. The Medical University of Łódź was founded on October 1, 2002. This university is a recognized university for the study of medicine in Poland. This university is a merger of the Medical Academy in Łódź, which was founded on 1 January 1950, and the Military Medical Academy in Łódź, which was founded on 1 July 1958.
University of Warmia and Mazury
The Medical University of Warmia and Mazury was established by an agreement between the Polish and Episcopal governments in 1999. It has high-quality professionals for teaching purposes and a friendly environment, which is why so many students desire to study at the Medical University of Warmia. and Masuria in Poland. There are a lot of students all over the world who want to study medicine at a Polish university.
Adam Mickiewicz University, Poznań
This is one of the best universities located in Poznań. The origins of the university can be traced back to 1616, but the university was originally opened in 1919. This university is associated with four Nobel laureates, including Marie Curie, who was the first woman to win a Nobel Prize.
Gdańsk University of Technology
This is also one of the oldest universities in Poland. There are more than eight faculties at this university. The university is known for its old architecture and beautiful design.
The cost of studying in Poland
Poland is home to both public and private universities, so estimated tuition costs will vary depending on the type of institution you choose. Although Polish public institutions are tuition-free for local students, foreign students have to pay economic tuition fees. The table below is an approximate tuition fee for majors in which foreign students choose to study in Poland-
| | |
| --- | --- |
| Courses | Tuition Fee in Poland |
| Bachelors and Masters Courses | 2000-4000 Euro |
| Language and Foundation Courses | 2000 Euro |
| MBA | 8000-12000 Euro |
| PhD | 3000 Euro |
| Vocational Studies | 3000 Euro |
In addition to the standard tuition fees, the main expenses from the study abroad budget will be daily activities. Living costs in Poland will completely depend on your choices regarding accommodation, travel, food, and other services. That's why we recommend you use our study cost calculator and get an estimated cost with a few simple choices. However, the average cost of accommodation in the country is around 200-400 Euro (17,000-35,000 INR), food 100-150 Euro (9,000-13,000 INR), and other expenses 100-150 Euro (9,000-13,000 INR).
Universities for medical studies in Poland
Following are some of the top universities for studying MBBS in Poland:
Jagiellonian University
Wroclaw Medical University
Medical University Gdansk
Medical University Silesia
Pomeranian Medical University
Poznan University of Medical Sciences
Medical University of Bialystok
Centre of Postgraduate Medical Education
Nicolaus Copernicus University
University of Rzeszow
Universities to study MBA in Poland
Some of the popular universities to study MBA in Poland are
Cracow University of Economics, Cracow
ESCP Europe Business School, Warsaw
Institute for Business Development, Serock
Kozminski University, Warsaw
Lublin Business School, Lublin
National-Louis University, Nowy Sącz
Polish Academy of Sciences – Institute of Economics, Warsaw
Polish Open University, Warsaw
Poznan School of Banking, Pozan
Poznan University of Economics, Poznan
SWPS University of Social Sciences and Humanities, Warsaw
The Gdansk University of Technology, Gdańsk
University of Wroclaw, Wrocław
Warsaw School of Economics, Warsaw
Warsaw University of Technology Business School, Warsaw
Conclusion
Leaving your hometown to study abroad is always a difficult choice, but you have to overcome it to achieve your dream of studying in Poland.
iDreamCareer is on a mission to reach every state and every child to ensure that talent is appropriately delivered to the industry.
Talk to our study abroad experts to know yourself in and out! We have helped several brilliant but confused minds to select their most-suited career choices. We have helped many students like Anjana Prasanna who was not very confident about her capabilities. Later with the help of career guidance and moral support from our study abroad experts she got an offer from King's College London! We have also helped several brilliant but confused minds like Aayush, and Tapan to select their most-suited career choices.
Useful Links:
FAQs
Is it good to study in Poland?
Poland is not only a great place to study; it's also a great place to pursue a fantastic career or launch that tech Startup. In addition to a number of technology parks designed to nurture young companies, Warsaw is also the permanent home of the annual Polish Innovation Week.
Is IELTS not required to study in Poland?
In Poland, unlike other countries, IELTS or TOEFL certification is not mandatory. However, it is necessary to prove knowledge of English.
What are the best universities in Poland?
The top-ranked universities in Poland are the University of Warsaw (the largest in the country) and the Jagiellonian University in Krakow (the oldest in the country, dating back to the 14th century). In addition to these other top universities, there are universities in Poland, Warsaw University of Technology, and Wrocław University of Science and Technology (WRUST).
How much gap is acceptable for study in Poland?
In Poland a justifiable gap of three to four years is acceptable.

Anushree has 5 years of experience in the career counseling industry as a Senior Content Writer. She has also worked as a Social Media Marketing Expert for a startup and Content Quality Analyst for the Publishing and E-learning Industry. She has done her Master's in Commerce and PGDM in Finance & Trade and Marketing & HR, but she is currently following her passion for writing.