Are you planning to study abroad and particularly in Germany? Do you know, you can study in Germany even if you only speak English. Want to know how? Then this post is for you…
There are many options for studying in Germany in English for non-German speakers. This country is known for its dominance in the field of technology and proudly homes some of the preeminent car manufacturing companies like Audi, BMW, Mercedes-Benz, Opel, Porsche, Volkswagen, Pegasus, etc.
Studying in Germany is preferred mostly by students who are looking for deep subject knowledge and practical, hands-on experience. However, just like all good things come with a bit of hardship, you'll have to cross some hurdles while pursuing study in Germany. It is of paramount importance to be prepared and have a clear understanding of the requirements and challenges of studying in Germany.
All set… Come along…
What all is covered in this post?
To make it easier for you, we have created a quick guide to everything you need to know about studying in Germany.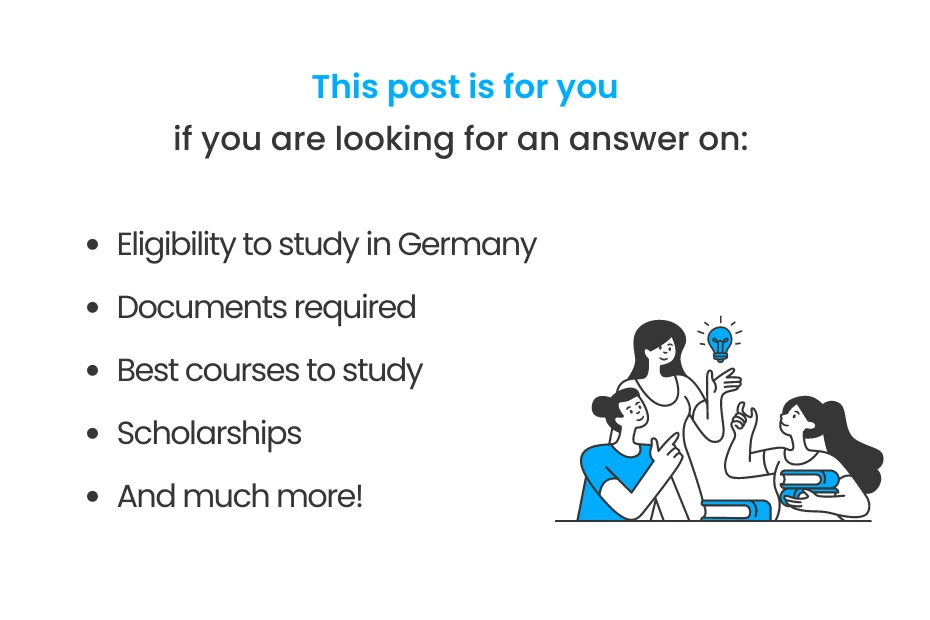 Overview of Studying in Germany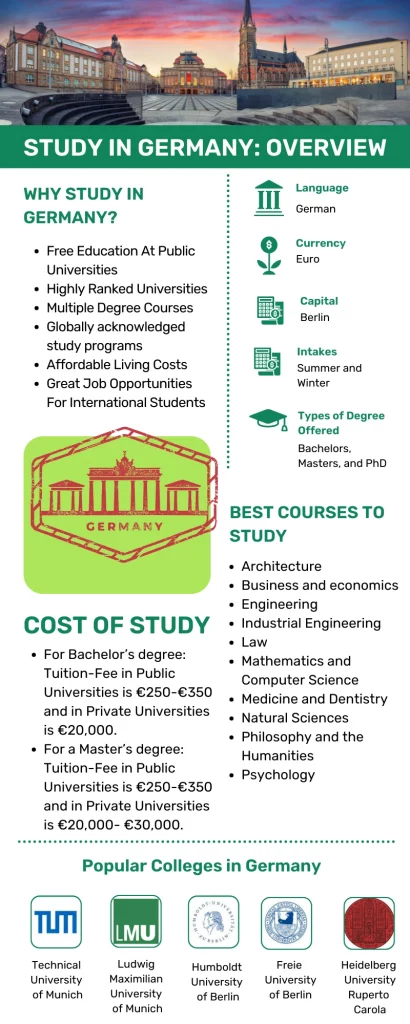 Eligibility to study in Germany for Indian Students
Now that students have set their goals, the next step is to find out what they need to do to achieve them. Students should check the entry requirements for the university of their choice.
They should visit the university website and carefully study the section on admission requirements. They can also take notes and form a strategy to complete each criterion one at a time if necessary. If they do not understand something about the procedures, they should contact the institution by email. Admission requirements for studying in Germany for Indian students vary from university to university depending on the course chosen.
Here is the eligibility for each degree:
For a Bachelor's degree
The student must be at least 18 years old.
The student must have a certified grade 12 grade.
Undergraduate courses often start in September or October. By March, students must make a shortlist of 8–12 universities to which they want to apply. Application deadlines usually end in May and June.
According to the university's requirements, the student must obtain the appropriate group scores on the English language proficiency test.
For a Master's degree
An Indian candidate who wishes to pursue a master's degree in Germany must have a bachelor's degree from a recognized institution.
Students must demonstrate English language proficiency by achieving at least 6.0 IELTS (minimum 5.5 in each component) or 50 PTE to be eligible to continue their master's studies in Germany.
In Germany, a student must be 21 years old to obtain a master's degree.
Each institution has its own set of application procedures, which may or may not be identical to those at other colleges. Students can apply for the summer session from December to January fifteenth. For winter semesters, it last from the beginning of April to July 15.
For Ph.D. degree
Bachelor's and/or Master's degree in a relevant field of study
Documents required to study in Germany
There are many documents that you may need to obtain a German student visa. Here is a list of essentials.
Your valid passport and application form
Passport size photos
Proof of financial resources
Your letter of enrollment from the institution you intend to study at
Academic documents
Medical insurance
Language certificate
Language proficiency requirements to study in Germany
Students will be required to submit scores on a standardized language proficiency test. In Germany, almost all undergraduate courses are taught in German. Therefore, if students plan to attend such a course, they will have to learn German. Very few German universities offer English-taught courses.
Unlike undergraduate courses, many graduate courses are taught in English, partly or entirely. Before applying, students must take a standardized language test to demonstrate their language skills.
The language skills required to apply for a master's degree in Germany vary depending on the university, the course, and the student's exam.
*There are many English-only courses in Germany. However, some courses are taught in English and German, which is a great opportunity to improve your German language skills.
DSH – German universities only accept this test and it is one of two German language exams accepted by German institutions.
TestDaF is a test recognized by colleges in more than 90 countries.
For courses taught entirely in English, students must pass English language tests:
PTE is academic
Academic IELTS
TOEFL iBT
Best courses to study in Germany
Over time, most countries open their doors to international students to encourage them to shape their country's education system and strengthen the international student community. But with the passage of time, Germany is becoming one of the countries that live up to its promises of offering quality education courses and programs of high quality. Even today, Germany can never attract many powerful foreign talents to turn it into a center for talented foreign students with quality courses that enhance their academic and research potential.
Here are the best courses to study in Germany a student can pursue from the best universities in Germany to get more opportunities in the global market:
Architecture
Business and economics
Engineering
Industrial Engineering
Law
Mathematics and Computer Science
Medicine and Dentistry
Natural Sciences
Philosophy and the Humanities
Psychology
Cost of studying in Germany
Studying in Germany is cheaper than in most European countries, as many courses are free at public universities. A nominal amount may be charged as an administrative fee for tuition at public universities. Private universities are not free, but international students can study on scholarships provided by colleges and institutions.
For Bachelor's degree: Tuition-Fee in Public Universities is €250-€350 and in Private Universities is €20,000.
For a Master's degree: Tuition-Fee in Public Universities is €250-€350 and in Private Universities is €20,000- €30,000.
For a Ph.D. degree: The tuition fee is €310.
Scholarships for Indian students to study in Germany
There are a number of scholarships, grants, and bursaries that can financially assist international students to study in this country. The German government, corporations, universities, and some private organizations subsidized education in Germany; therefore, public institutions do not charge tuition fees not only to local students but also to international students studying in Germany. Despite this, there are some excellent scholarships for master's programs in Germany. Doctoral degrees are generally fully funded.
We have compiled a list of the most famous scholarships for Indian students to study in Germany.
EMS Undergraduate Scholarship
KonradAdenauerStiftung (KAS)
Heinrich Boll
Kofi Annan MBA Scholarship
ESMT Women's Academic Scholarship
Goethe Goes Global
WHUOtto Beisheim School of Management
University of Stuttgart Master Scholarships
DLD Executive MBA
Frankfurt School of Finance & Management
Hamburg University of Applied Sciences
FRIAS COFUND Fellowship
Heidelberg University
Humboldt Research Fellowship
KAAD Scholarships for developing nations
Max Planck Institute for Chemical Physics of Solids
Universitat Hamburg Merit Scholarship
ULM University Scholarship
RWTH Aachen Scholarship
Conclusions
After all of that mind-bender, you must be full of facts now. If you've been endlessly looking for extensive knowledge about studying in Germany, we've served you much, isn't it? Want more help? Call us to study abroad! Take action!
iDreamCareer is on a mission to reach every state and every child to ensure that talent is appropriately delivered to the industry.
Talk to our study abroad experts to know yourself in and out! We have helped several brilliant but confused minds to select their most-suited career choices. We have helped many students like Anjana Prasanna who was not very confident about her capabilities. Later with the help of career guidance and moral support from our study abroad experts she got an offer from King's College London! We have also helped several brilliant but confused minds like Aayush, and Tapan to select their most-suited career choices.
ALSO READ:
FAQs
How much does it cost to study in Germany?
For non-consecutive programs, tuition fees are approximately €20,000 (INR 1,670,760.00) in public
colleges and €30,000 (INR 2,506,140.00) in private colleges.
Is studying at a university in Germany free?
Germans, Europeans, and all non-Europeans can study in Germany for free – no tuition fees. It doesn't
matter if you are from the EU or the EEA. This applies to almost all study programs at public
universities.
Is it cheaper to study in Germany?
Studying in Germany is definitely cheaper compared to other countries. Germany's tuition fee waiver
has increased the number of international students studying in the country.

Anushree has 5 years of experience in the career counseling industry as a Senior Content Writer. She has also worked as a Social Media Marketing Expert for a startup and Content Quality Analyst for the Publishing and E-learning Industry. She has done her Master's in Commerce and PGDM in Finance & Trade and Marketing & HR, but she is currently following her passion for writing.