Programs based on science and math education are always on international students' favorite lists. Modern technological inventions and a higher standard of living are the results of a love for science. Yes, you guessed it right! Getting a master's degree in Canada is something more special where you can try science, engineering, medicine, and more. Apart from personal passion, there is a great demand for ardent aspirants worldwide. Yes, professional opportunities are rising every year, which creates a lot of attention for this degree.
Do you know?

According to an Economic Times report, Canada has unveiled plans to significantly increase the number of immigrants entering the country, aiming for 500,000 arrivals each year by 2025 to address a critical labor shortage.
Canada boasts beautiful scenery, low crime rates, clean cities, excellent healthcare, and a tech-savvy population. Despite its small population, Canada has some of the best higher education institutions in the world, and master's degrees in Canada are widely recognized for their high quality.
Canadians understand the importance of a good education, which is why federal, provincial, and local governments fund public education in Canada. Canada has one of the highest enrollment rates in the world for students who complete high school and continue on to post-secondary education, that is, university education. Canada has many master's degrees for students from all over the world, creating a diverse educational environment.
What all is covered in this post?
To make it easier for you, we have created a quick guide to everything you need to know about masters in Canada.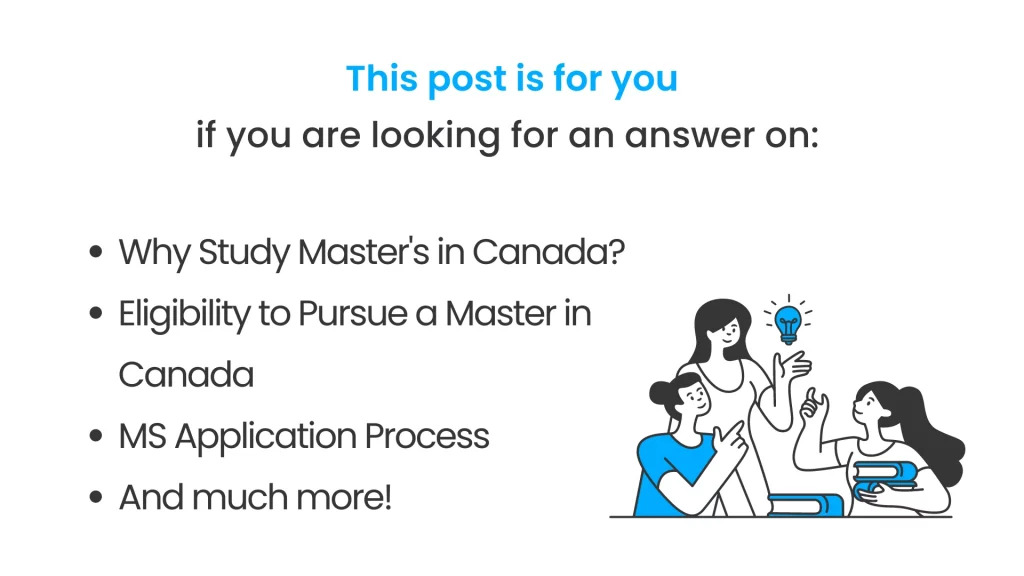 Why study Masters in Canada?
No wonder, there are several reasons why someone might choose to study in Canada. Some of the reasons why choosing Canada for pursuing a master's is the right choice:
World-class universities – According to the QS World University Rankings (2023), eight Canadian universities are among the top 200 universities in the world.
Possibility of Specialization – The Master's degree is offered in a number of fields of study such as medicine, IT, engineering and technology, finance, management, business administration, architecture, nursing, design, etc.
Affordability – Tuition fees in Canada range from CAD 30,000 to CAD 55,000. Master's studies in Canada are comparatively more affordable than master's studies in the USA (CAD 35,000 – CAD 82,000 annually) or Australia.
Funding Options – About 70% more funds and scholarships are offered to students in the form of scholarships, bursaries, etc. compared to the US.
Employment Opportunities – According to a survey conducted by the Canadian Bureau of International Education (CBIE), approximately 60% of international students wanted to stay in Canada after their master's degree.
Immigration and visa process – Immigration in Canada is more welcoming than in other areas of study abroad. Students seeking a PR can apply for a postgraduate work permit.
Work while studying – While studying, international students can apply for a variety of part-time employment options to gain valuable work experience as well as earn enough to at least cover their living expenses.
World leader in research and development – Canadian universities perform 40% of research and development, spending more than 13 billion Canadian dollars. The main research opportunities in Canada are in the areas of clinical medicine; biology; information and communication technologies; agriculture; fisheries and forestry; earth and environmental sciences; and economics and business.
Eligibility to pursue masters in Canada
Applying for admission to Canada can be competitive as the number of applicants far outnumbers the actual number accepted. Academic sessions start in September; however, some universities may have multiple start dates. It is always advisable that international students should apply for admission earlier and preferably apply for admission before the month of January.
To be eligible for admission to a master's program in Canada, an applicant must:
Have a minimum GPA of often 3.0/4.0 (equivalent to 65-70%) or an equivalent international UG degree in a relevant field of study.
Submit test scores, such as the GMAT or GRE, depending on the chosen program.
Minimum required GMAT score: 550
A minimum GRE score of 140 is required on the oral test. 150 in quantitative terms
For non-native speakers of English, proof of English proficiency through TOEFL, IELTS, or other equivalent examinations is required.
Some master's programs (such as business/management) also require 1-3 years of work experience.
👉 NOTE: Although most Master's programs are taught in English, some may be taught in French. It mostly depends on the province you are in (like Quebec). As proof of French proficiency, students must pass the TEF or DELF.
MS application process in Canada
Since many colleges in Canada compete for the quality of education and maintain high standards, choosing the best one can be a difficult task for you. Applying for MS in Canada seems like a difficult task, but it is not. Yes, with proper guidance and early efforts, you can do it very smoothly. To make it even easier, we've formulated the entire process into five simple steps.
Step 1 – Do extensive research on the various majors available at various colleges in Canada. You can get advice from leading education experts to get more insight into your choices.
Step 2 – You will have enough time to prepare for the standardized exams required to study in Canada. French language tests such as TEF & TEFAQ and English language test IELTS, TOEFL, PTE, and CAEL are required.
Step 3 – It is generally recommended to apply early to avoid the last-minute rush. You need to fill out the application form and submit the necessary documents.
Step 4 – Time to sit back and wait for the offer letter from the universities you applied to. Once you receive the offer, you can accept it and then proceed to make your first fee payment (self or education loan) as per the university norms.
Step 5 – everything is ready! Apply for a Canada Student Visa, take advantage of a scholarship, book your flight tickets and attend a pre-departure briefing. So simple, isn't it?
Top universities in Canada for masters
Here is the list of top universities in Canada for MS along with QS World Ranking along with the Tuition Fees in CAD/year:
| | | |
| --- | --- | --- |
| University | QS World University Rankings 2022 Canada | Average Tuition in CAD/Year |
| McGill University Montreal, Canada | #27 | 32,990 |
| McMaster University Hamilton, Canada | #140 | 43,575 |
| Université de Montréal Montreal, Canada | #111 | 46,430 |
| University of Alberta Edmonton, Canada | #126 | 33,530 |
| University of British Columbia Vancouver, Canada | #46 | 40,450 |
| University of Calgary Calgary, Canada | #235 | 68,800 |
| University of Ottawa Ottawa, Canada | #230 | 30,190 |
| University of Toronto Toronto, Canada | #26 | 45,110 |
| University of Waterloo Waterloo, Canada | #149 | 22,804 |
| Western University London, Canada | #170 | 17,300 |
Popular subjects for studying masters in Canada
There are many popular subjects that students choose to pursue a master's degree in Canada based on their interests and career goals. Some of the most popular items include
Business and Management: Master's programs in business and management such as MBA, MSc in Management, and MSc in Finance are popular among students who want to advance their careers in business and finance.
Engineering: Master's programs in mechanical engineering, such as MSc in Computer Science, MSc in Electrical Engineering, and MSc in Mechanical Engineering, are popular among students who want to advance their careers in technology and engineering.
Natural Sciences: MSc programs in natural sciences such as MSc in Biological Sciences, MSc in Environmental Sciences, and MSc in Chemistry are popular among students who want to advance their careers in research and development.
Social Sciences: Master's programs in the social sciences, such as the MA in Economics, MA in Political Science, and MA in Sociology, are popular with students who want to advance their careers in research, policy, or academia.
Computer Science: Master's programs in Computer Science such as Master in Artificial Intelligence, Master in Data Science, and Master in Cyber ​​Security are becoming increasingly popular among students who want to advance their careers in IT and technology.
Humanities: Master's programs in humanities such as MA in History, MA in Literature, and MA in Philosophy are also very popular among students who wish to advance in their chosen field.
Conclusion
Studying for a Master's degree in Canada can provide students with a high-quality education, valuable work experience, and a chance to immerse themselves in a diverse and welcoming culture. Canada is known for its excellent academic programs and research opportunities, and its universities are highly respected around the world. Furthermore, the country offers a multicultural society and affordable tuition fees for international students. It's always good to conduct your own research, visit the website of the universities, and contact their department for more information about specific programs and their admission requirements.
If you are looking for a career counseling platform that can help you with your study abroad aspirations, iDreamCareer is the perfect solution. With a team of experienced counselors, we provide personalized guidance to students at every step of the way. From finding the right program and university to preparing your application and building your profile (which is free of cost), iDreamCareer's experts will help you achieve your study abroad goals. If you are looking to study abroad, visit iDreamCareer.com today and take the first step toward your dream career.
We have helped several brilliant but confused minds with the aim to select their most-suited career choices. Hear the success story of Aayush who got an offer from the top 3 universities and is now studying at the University in Ottawa in Canada after getting career guidance from our industry experts!
Must Read:
Masters in Canada: FAQs
What is the duration of a Master's degree program in Canada?
Master's degree programs in Canada generally take about one to two years to complete, although some programs may be shorter or longer. Full-time programs typically take 12-24 months to complete.
How much does it cost to study for a Master's degree in Canada?
The cost of studying for a Master's degree in Canada varies depending on the program and the student's status (i.e., whether they are a Canadian citizen or permanent resident, or an international student). According to the information available on the universities' website, for the academic year 2021-2022, the average tuition fees for a Master's degree for Canadian students are around $4,000 CAD per year and for international students, it varies from $7,000 to $12,000 CAD per year, depending on the program.
Can I apply for permanent residency after completing a Master's degree in Canada?
After completing a Master's degree in Canada, international students may be eligible to apply for a post-graduation work permit, which allows them to gain valuable Canadian work experience and potentially qualify for permanent residency through programs such as Express Entry.
How can I find a Master's program in Canada that is right for me?
There are many resources available to help you find a Master's program in Canada that is right for you. You can start by researching universities and programs online, visiting the websites of universities, and searching for programs on websites such as Education in Canada. Additionally, you can reach out to the universities and departments directly to ask about specific programs and their admission requirements.

Anushree has 4+ years of experience in the career counseling industry as a Content Writer. She has also worked as a Social Media Marketing Expert for a startup and Content Quality Analyst for Publishing and E-learning Industry. She has done her Master's in Commerce and PGDM in Finance & Trade and Marketing & HR, but she is currently following her passion for writing.