Want to study abroad? Your global ambitions will require a little more than your love, interest, and commitment to the subjects of your choice. Knowledge of English is also important. Every ESOL (English Speakers of other languages) must take a standardized English proficiency test and get a good score. For decades, IELTS and TOEFL have been household names among English language test takers, but the introduction of the PTE exam has added a new English language test to the list.
In comparison, the PTE exam is a new entrant. The full Form of the PTE exam is "Pearson Test of English". It has quickly become an excellent alternative capable of accurately testing language skills with the latest technology. PTE's unique design, delivery, and scoring methods benefit test-takers as well as universities and institutes. Since its launch in 2009, the PTE has consistently proven its value in real-life and wider acceptance in various areas of English language use.
Do you know?

The PTE exam is an English language proficiency test accepted by more than 3,000 universities and colleges in Australia, New Zealand, and the UK.
What all is covered in this post?
To make it easier for you, we have created a quick guide to everything you need to know about the PTE exam.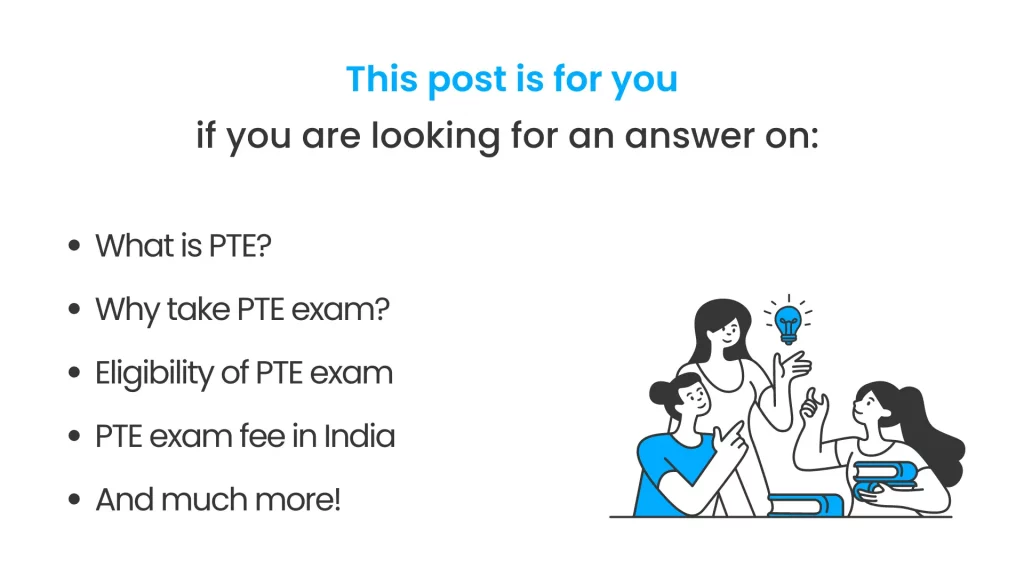 What is PTE?
PTE is an internationally recognized computer-based standardized test of speaking ability developed by Pearson Plc. and is managed worldwide in association with Edexcel. The test corresponds to the level of language proficiency and is defined by the CEFR (Common European Framework of Reference for Languages). The score of the test is scaled from 10 to 90.
It is specifically designed to assess and test language use and communication tasks in a university academic environment. This is why all major universities and institutes in the UK, Australia, Ireland, and New Zealand accept the Pearson English test. The Higher Education Admissions Council, the group that owns and administers the GMAT, endorses the PTE as an ELT (English Language Test) for its unique design to test spoken English skills. Thousands of academic programs in the US accept the PTE. You can use your academic PTE score at many top US institutions, such as Yale University, Harvard University, New York University, Columbia University, and Stanford Graduate School of Business. The list is growing every day.
Along with this, other famous countries that host PTE Academic are France, Spain, China, and Singapore. So, if you have global academic ambitions, you can never go wrong with PTE Academic, and you can also search for undergraduate and graduate programs through the University & College Finder.
Types of PTE exam
PTE exam is categorized into 3 main exams: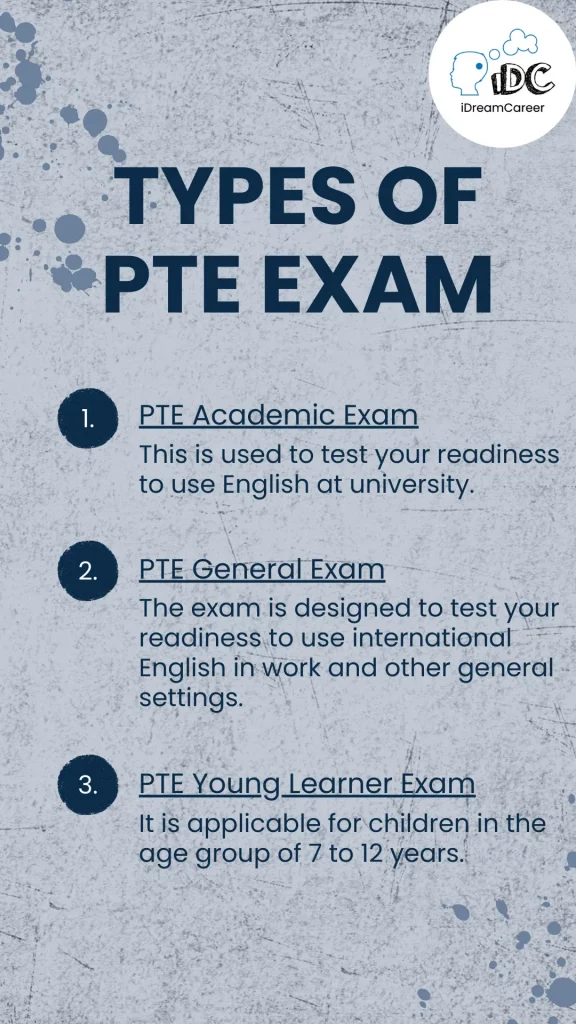 Why take the PTE exam?
Many still ask – why PTE? Here are the reasons why you should take the PTE exam:
PTE has a wider global recognition in countries and continents – in Europe, the USA, Australia, and Asia.
Test participants receive results faster; with the less waiting time.
The test leaves no room for human error as it is computer-assisted and machine-scored.
It is convenient because you can sign up for the test even 24 hours before the desired date (if there are places available).
PTE exam preparation can be beneficial for your global academic career as the exam depends on the use of English at university.
Eligibility for PTE exam
Students who wish to study at colleges and universities abroad should be aware of PTE eligibility. University or college programs interact in English. Also, the diversity is wide when it comes to interacting with people with different accents, which is one of the reasons why students should be good at English. The following sections provide a detailed assessment of eligibility for the PTE exam.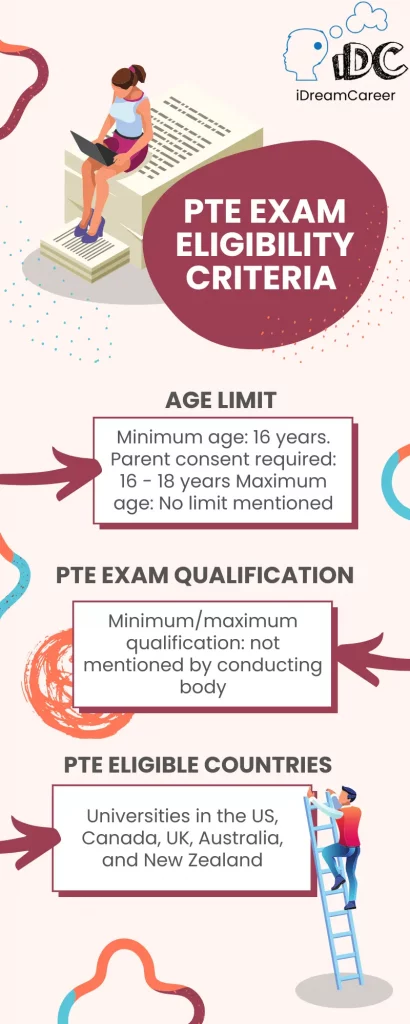 Age Limit for PTE Exam
There is a specific age limit for the PTE exam that candidates should be aware of. Applicants must be at least 16 years old to take the PTE Academic Test. Applicants under the age of 18 must obtain a parental consent form signed by a parent or guardian before taking the test. The consent form is available on the official website of PTE Academic.
PTE exam required qualification
There is no specific qualification for the PTE exam in terms of educational criteria for candidates who want to take the PTE Academic. The PTE Academic test tests students' ability to speak English fluently, so you must be fluent in English and writing.
PTE Test Acceptable Countries
Academic PTE scores are accepted worldwide by employers, governments, universities, and professional associations. Eligibility for the PTE exam can be determined in countries where PTE academic scores are accepted, including the US, UK, Canada, Australia, Germany, New Zealand, China, etc.
Also Read the Difference between PTE vs IELTS
PTE exam fee in India
The standard PTE exam fee in India is currently INR 13,700 inclusive of taxes. If you want to book your PTE exam dates and take the test within 48 hours, there is an additional late fee of 5% of the standard fees. So late registration for the PTE exam will cost around INR 14,385. If you want to retake the PTE exam, you need to pay the full amount of the reservation.
You can also opt for a rescore after paying the PTE rescore fee. However, the PTE exam is scored by a machine based on artificial intelligence algorithms. So, don't expect any mistakes in your PTE result, unlike other human-graded tests. However, if rescoring results in any change in your scores, PTE will refund you the rescoring fee.
PTE Cancellation Fee
Test takers receive a full refund of PTE fees for canceling their test booking at least 14 calendar days prior to the PTE exam date. For cancellations between the 13th and 8th full calendar days, they receive a partial refund of 50% of the PTE fees. In addition, the booking fee is waived.
Steps for booking the PTE exam
PTE exam registration is completely online and takes just a few steps. Once you are on the official Pearson PTE website, follow these simple steps:
Create a Pearson account by clicking Sign Up.
Log in to your myPTE account and set up your profile
Complete the booking questions
Find your preferred PTE exam location (Test Center, Date & Time)
View PTE booking details
Make payment and complete your PTE exam booking
PTE exam result
PTE results are usually available online within two business days of the test date. It is released online. It can be accessed from your PTE Academic student account. First, you will receive an email within five working days with instructions on how to access your results online. After that, you need to follow the instructions to sign in to your Pearson account. You can share your results with the colleges and universities of your choice through your Pearson account.
The PTE Academic Exam is scored on a scale of 10 to 90, with 10 being the lowest score, in 1-point increments. These scores indicate a person's ability to read, speak, understand oral instructions, and write in English. The scores are presented as a graph that provides an easy understanding of the candidate's basic language skills as well as areas for improvement.
How to Access PTE Results?
Candidates can access their PTE academic scores through their online accounts. Applicants will receive an email notifying them of the availability of their scores. Once notified, candidates will need to log into their Pearson VUE account they created to book their tests and access their scores.
In Conclusion
So, here you have the tricky essentials of PTE exam. We hope you have some clarity about the matter now. Although if you are preparing for the PTE exam, it is enough evidence that you have decided where you want to see yourself in the future, but career decision is one of the most important things in your life and you may want to talk to industry experts. Know yourself in and out!
iDreamCareer is on a mission to reach every state and every child to ensure that talent is appropriately delivered to the industry.
Talk to our study abroad experts to know yourself in and out! We have helped several brilliant but confused minds to select their most-suited career choices. We have helped many students like Anjana Prasanna who was not very confident about her capabilities. Later with the help of career guidance and moral support from our study abroad experts she got an offer from King's College London! We have also helped several brilliant but confused minds like Aayush, and Tapan to select their most-suited career choices.
Also Read:
FAQs
How to clear PTE exam?
Candidates should note that there is no set pattern for PTE preparation. What may work for Person A may not necessarily work for Person B, and vice versa. So, in this article we have provided a list of various PTE preparation methods and we expect our readers to choose the one that best suits their needs and follow it to get the best results in the PTE exams.
How to register for PTE exam?
Applicants who want to appear for PTE Academic must complete PTE Registration. They can apply through the Pearson website where the candidate must first register with PTE ID and password and complete the process. Once the PTE application form is filled, applicants can begin the PTE registration process by scheduling a date for the test.
Is passport required for PTE exam?
The most common identity document is a passport. You are not allowed to take anything except your passport into the PTE exam room.
How many marks are required for PTE exam?
Eligibility for the PTE exam does not require a minimum score for the PTE exam. However, out of a total range of 10-90, a score of 50-63 is considered competent. A score in the 65-75 range and above is expected for top and standard college options. 

Anushree has 5 years of experience in the career counseling industry as a Senior Content Writer. She has also worked as a Social Media Marketing Expert for a startup and Content Quality Analyst for the Publishing and E-learning Industry. She has done her Master's in Commerce and PGDM in Finance & Trade and Marketing & HR, but she is currently following her passion for writing.