MBA is a degree that has been gaining a lot of popularity over the years. But doing an MBA is not for everyone because of the high costs and high educational and job requirements. Because of this, many MBA replacement degrees have emerged in recent years. One such degree is the Masters in Management, also known as MIM. MIM is gradually becoming available worldwide and Canada is one of the destinations for Indian students to pursue a Master in Management. Yes, you guessed it right! We are here to give you a complete overview of MIM in Canada.
But before that…
Do you know?

Canadian universities accept applications from October to January.
And it usually takes several months for the university to respond. So, you will most likely hear back between March and May. Once you're accepted, the process doesn't end there. Now you need to apply for your student visa, organize your finances, book your tickets and prepare for your flight.
Okay, so now let's dive in…
What all is covered in this post?
To make it easier for you, we have created a quick guide to everything you need to know about studying MIM in Canada.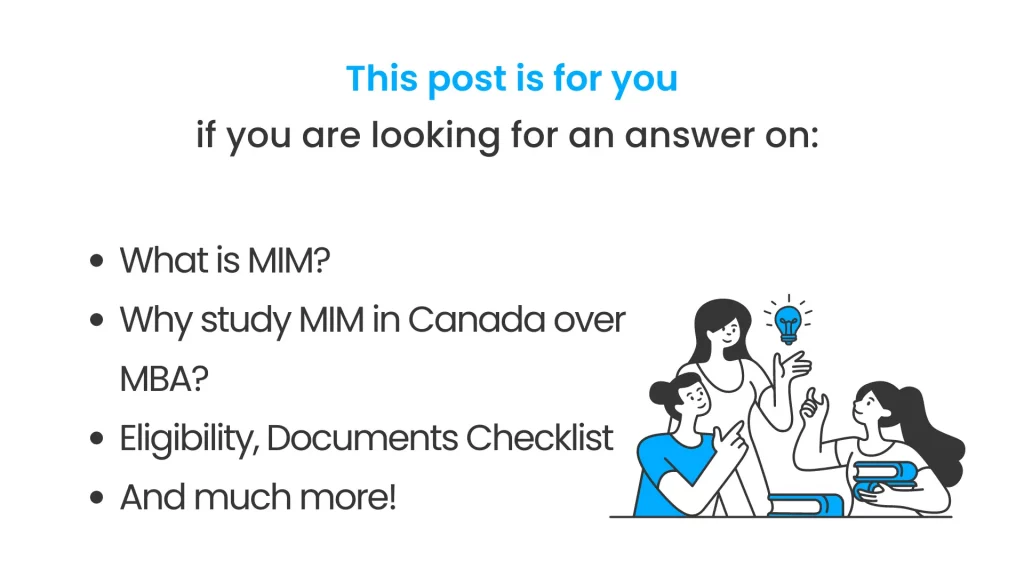 Before we know everything about the course, universities, fees, etc. first we need to understand what's MIM.
What is MIM?
MIM stands for Masters in Management. It is a two-year program designed for students who want to make a visible mark in management positions. This is a graduate program that focuses on specialization in entrepreneurship, marketing analytics, operations management, and more. It is a more globalized course and focuses more on critical thinking and theoretical parts of management applications.
Why Study MIM in Canada Over MBA?
Students are eager to study MIM in Canada for the following reasons:
Various specializations
MIM is a flexible course in Canada. While some management fundamentals classes are required, students can choose specializations. In Canada, a master's degree in management focuses on specialized disciplines such as entrepreneurship, marketing analytics, operations management, etc.
No prior work experience is required
Most importantly, unlike an MBA which requires at least 2 to 3 years of work experience, an MSc in Canada has liberal work requirements. Applicants do not need any previous work experience to participate in this Master's program in Canada, unlike the MBA in Canada.
Affordable Tuition Fees
Compared to an MBA degree, a Master of Management degree in Canada has lower tuition rates and more professional post-graduate opportunities. MIM is much more affordable than MBA and worth the investment. In Canada, the starting rate for a MIM is around CAD 14,000, while an MBA in Canada is around CAD 30,000.
The growing importance of MIM
Once available only in European and Canadian business schools, MIM is now available in many universities around the world. As a result, MIM courses are becoming increasingly popular and respected worldwide as master's degrees. As a result, MIM from Canada will have value in Canada and elsewhere. Over the past few decades, the number of graduate students in management has increased by more than 49 percent worldwide. Students usually choose to study in Canada because of its diverse culture.
Eligibility Requirements for Studying MIM
Eligibility criteria tend to vary for different universities and programs. Therefore, you should check the university website for more information about specific programs. However, the general criteria are
A candidate is required to have a four-year bachelor's degree or equivalent status from a University of Toronto mid-B minimum. Some programs accept exclusively business or commerce majors, while others welcome students from all fields. CGPA must be at least 3.0 out of 4.0 or B+ throughout education.
The minimum required GMAT or GRE score varies for each school, but you can find out more by visiting the university's website or emailing them. Additionally, the GMAT score may be waived if the candidate attended an undergraduate program in North America.
A TOEFL or IELTS score is required. Please confirm the actual cutoff score with the university. In general, a TOEFL score of 550 or higher is acceptable, as is an IELTS score of 6.5 or higher.
Document checklist for MIM in Canada
The following are the prerequisites for the document:
Scoreboard for the English Language Proficiency Test
Scanned copies of transcripts
Statement of Purpose (SOP) for Canada, or personal statement, essay,
Two LORs are required, as well as referee contact information.
An updated CV, no more than 1 page.
Note:
Make sure that the documents are in accepted formats (mostly .pdf or .rtf) and that their size is well below the specified limits (usually 500 KB).
The applicant has to pay the application fees before the application process. Depending on the university, the cost can vary from 100 to 200 CAD.
Top MIM Specializations in Canada
In this section, we will introduce the list of top MIM specialization courses in Canada:
Accounting and Finance
Data Science and Business Analytics
Economics
Energy Management
Entrepreneurship & Innovation
General Business Administration
Health Management
Human Resources Management
International Business
International Economics and Finance
Marketing and Consumer Studies
Supply Chain Management
Sustainable Leisure Management
Technology Management
Explore a broader range of courses available in Canada
Top MIM Colleges in Canada
To be honest, the list of schools that offer MIM in Canada is quite long. And choosing the right college requires good research. But don't worry, we've picked the best ones above. Here is the list of top MIM colleges in Canada along with 1st-year tuition fees:
| | |
| --- | --- |
| University | Tuition Fee (1st Year) |
| Dalhousie University | CAD 16,725 |
| McGill University | CAD 54,990 |
| McMaster University | CAD 11,397 |
| Queen's University | CAD 14,982 |
| Simon Fraser University | CAD 46,400 |
| The University of British Columbia | CAD 9,131 |
| University of Calgary | CAD 22,774 |
| University of Toronto | CAD 41,550 |
| University of Victoria | CAD 32,500 |
| University of Waterloo | CAD 41,688 |
Job Opportunities after MIM in Canada
As an international student studying for a Master's in Management in Canada, you are considered a temporary resident and must leave as soon as you graduate. But who wants to do that? Most students prefer to work in the country where they go for higher education. So, if you want to apply the skills you've learned after graduation and gain work experience, you can apply for a PGWP (Work Experience After Graduation). This is a visa that allows you to work in Canada after you graduate.
MIM has been a significant area of ​​interest for most applicants since the day they started preparing for admission to the Master of Management in Canada's specialty schools where they graduated from the program. The return on investment of a MIM in Canada is extremely high, as statistics show that students can recoup their fees in about 2-3 years after completing the program. The average salary offered after a Master of Management degree in Canada ranges from $50,000 to $65,000.
Following is the list of domains where one can explore after MIM in Canada:
Accounting
Business Management
Consulting
Data & Analytics
Entrepreneur
Finance
General Management
Human Resources
Marketing and Communications
Operations & Logistics
Product Management
Risk Manager
Sales
Social Media Manager
Technology
Epilogue
We have covered everything you need to know about MIM in Canada. For those who aspire to become an entrepreneur and hold leadership positions in various industries, the MIM course is most beneficial. We hope our post has helped you better understand MIM in Canada. However, if you have any questions/doubts, feel free to contact us and use our services.
iDreamCareer is on a mission to reach every state and every child in order to ensure that talent is appropriately delivered to the industry.
Talk to our study abroad experts who have 20+ years of experience to know yourself in and out! We have helped several brilliant but confused minds with the aim to select their most-suited career choices. Hear the success story of Aayush who got an offer from the top 3 universities and is now studying at the University in Ottawa in Canada after getting career guidance from our industry experts!
Useful Links:
MIM in Canada: FAQs
Is GMAT required for studying MIM in Canada?
No, taking the GMAT is not mandatory for MIM. That being said, we strongly recommend that you check your dream school's web pages to see if they require you to submit GMAT scores or not. If so, you will need to take the GMAT or another exam.
Is a Master's in Management in Canada worth it?
Yes, a Master's in Management in Canada is worth it. Many institutes in the country offer an excellent MIM program and are ranked among the best universities in the world. They also provide candidates with excellent placement and employment opportunities, making MIM worth it in Canada.
Is MIM as good as MBA?
While both will introduce you to management concepts and gain a solid understanding of business, you will need little to no work experience to pursue MIM. While in the case of an MBA minimum a 3-4 years of work experience is required.
What are the subjects in MIM?
There are many subjects in MIM like Economics, Business Ethics, Finance, Financial Management and Management Accounting, Human Resource Management, and Organizational Behavior, etc.

Anushree has 5 years of experience in the career counseling industry as a Senior Content Writer. She has also worked as a Social Media Marketing Expert for a startup and Content Quality Analyst for the Publishing and E-learning Industry. She has done her Master's in Commerce and PGDM in Finance & Trade and Marketing & HR, but she is currently following her passion for writing.