So what entails as an answer to the ever-confounding debate of psychologist vs psychiatrist?
.
.
This is certainly something we get asked quite often!
.
See, I myself found this particular thing baffling when I went to school. If you are not one of those without an answer to this question, then I must say you are a rare gem being in school!
.
You can skip to the last part if you don't need the details really, but I must advice you otherwise and ask you to stick on. This might just be a fine read if not anything else!
.
The biggest similarity is that both a psychiatrist and a psychologist share the same goal of helping you with your mental health.

Harley Therapy™

, London, England
So what's the difference, in brief please?
Psychologists
Psychologists have a degree in psychology. Well, this is sort of a no-brainer!
.
However, know that, most colleges essentially offer a Bachelor of Science (B.Sc.) degree in India for Psychology. Master's level degrees have specific sub-disciplines within Psychology like clinical, social, behavioral, organizational etc.
Psychologists are primarily concerned with the study of how people think, act, react and interact as a social being when placed in various situations/ settings whether alone or in a group.
Psychologists do not prescribe drugs / medicines / pills to a patient.
Most practicing psychologists assist psychiatrists (medical doctors) in examining a patient (primary examination) through various therapy modalities. We'll get into the types of therapies, that psychologists use, a little later.
.
Psychiatrists
A psychiatrist is a medically-qualified doctor who has had to first spend 5/6 years college level education as an MBBS student.
Psychiatrists are licensed to prescribe drugs / medicines / pills to a patient.
A psychiatrist has had further (after MBBS) specialist training in Psychiatry, which is a medical specialty.
.
In the US, you have to go through the grilling 5 years of medical training until you end up in a specialty-based residency which in this case is Psychiatry (although the lowest scores of USMLE exam will lead you to this specialty, the toppers go to other specialties!).
It's a similar case in India where a preceding MBBS is a mandate to your eventual Psychiatry specialty training.
---
.
What is Psychiatry, in brief please?
Psychiatry is a branch of medicine.
It focuses on the diagnosis, treatment, and prevention of mental health disorders only.
Many psychiatrists continue their training to become certified in areas of specialty, such as child and adolescent psychiatry, geriatric psychiatry, and addiction psychiatry.
In most cases, psychiatrists treat with medication.
But that's not all.
.
Some psychiatrists are also specialized in a variety of psychological treatment modalities that otherwise psychologists are trained to do, including psychotherapy, transcranial magnetic stimulation (TMS), and electroconvulsive therapy (ECT). However, this cannot be vice-versa, you cannot expect from a psychologist what a psychiatrist is licensed to do.
---
So in short, a psychiatrist may or can choose to double as a psychologist provided s/he has the necessary training but a psychologist cannot and should not try playing a psychiatrist's role.
---
.
.
What is Psychology, in brief please?
Psychology is the study of thought, emotion, behavior, and other factors and is primarily concerned with the study of how people think, act, react and interact as a social being when placed in various situations/ settings whether alone or in a group.
Psychologists' work includes the study of biological, cognitive, and social influences on behavior, assessing, diagnosing and attempting to treat them though use of therapies.
.
Psychologists are often "doctorates" with a PhD/ PsyD (for clinical sub-disciplines) so you may find the 'pre nominal letters of Dr.' before their names, but they are not medical doctors and cannot prescribe drugs for treatment.
.
.
Should a Patient First see a Psychologist or Psychiatrist?
This might help you form an idea about the professions too.
Psychiatrists and psychologists often refer patients to each other. But in general, here are some things patients consider when they want to get started.
.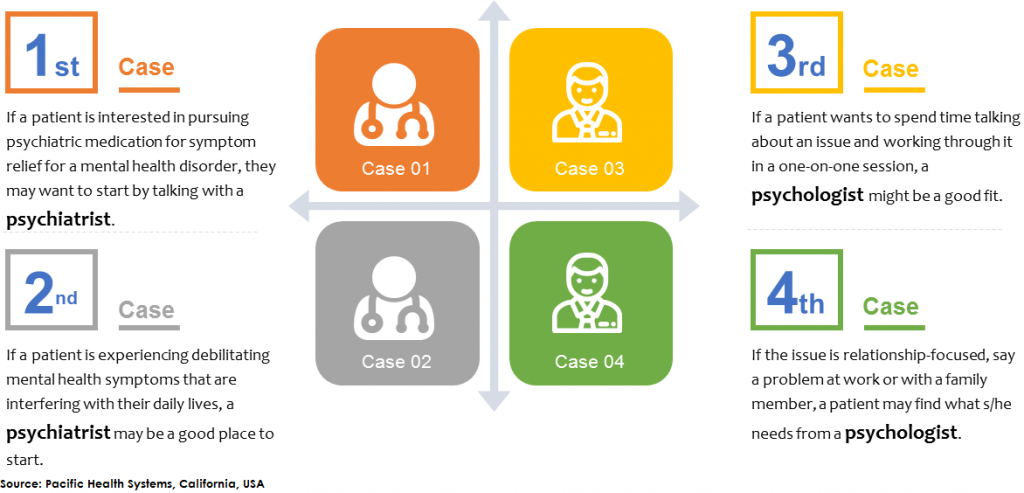 .
As mentioned above, psychiatrists and psychologists are both concerned with helping people optimize their mental wellness, and both are often trained in a variety of treatment modalities.
.
Any of them can be a first point of contact when a patient feels agony. Both are trained to assess symptoms, evaluate medical, psychiatric, and family history, and help a patient decide on a course of action moving forward.
.
But, their treatment modalities are different and there are medical conditions that a psychologist is not capable of handling and some behavioral conditions may first need attention from a psychologist rather than a psychiatrist. So they refer patients to relevant mental health practitioners as and when a need arises.
.
.
How are Mental Disorders Diagnosed?
Source: U.S. National Library of Medicine
The steps to getting a diagnosis include:
A medical history
A physical exam and possibly lab tests
A psychological evaluation. A patient will answer questions about their thought processes, feelings, and behaviors.
The 3rd phase is when a clinical psychologist comes into the scene. They mostly practice as in-house facilitators in a hospital setting. Other psychologists specializing in other disciplines may practice independently too.
.
.
What are the treatments?
Source: U.S. National Library of Medicine
Treatment depends on which mental disorder a patient has and how serious it is.
A treatment plan usually involves some type of therapy as advised by psychologists.
However, a patient may or may not take medicines as advised by a psychiatrist.
Also, some patients will additionally need social support and education on managing their condition.
In some cases, a patient may need more intensive treatment. S/he may need to go to a psychiatric hospital. This could be because the mental illness is severe. Or it could be because s/he is at risk of hurting yourself or someone else.
.
.
Words of Wisdom
My final suggestion to you will be to ponder about more intricate differences between the two professions yourself. Most of the answer to psychologist vs psychiatrist was shared in this post. Ahead of this, please do help yourself trudge along the path of self-discovery and true wisdom!
.
Career planning and development is very much an intense affair and involves complex tribulations. We, at iDreamCareer are helping millions of young minds uncover their true mettle. Join hands now!
.
.
.
[latest-selected-content limit="4″ display="title" titletag="b" url="yes" image="thumbnail" elements="3″ css="four-columns align-left as-overlay tall dark hover-zoom" type="post" status="publish" orderby="dateD"]
.
.
Currently associated with iDreamCareer (India) as the Principal Analyst.