Are you wondering what is counseling and how it can help you? Counseling is a type of therapy that helps individuals work through personal, mental health, and emotional issues. It involves working with a trained professional, such as a counselor or therapist, to understand your thoughts, feelings, and behaviors, and to find healthy ways to cope with and resolve any challenges you may be facing.
If you're feeling overwhelmed or struggling with challenges in your life, don't hesitate to seek support through counseling. It can be an effective treatment for many people, but it's important to find a counselor or therapist who is a good fit for you and your needs. Be open and honest with your counselor to get the most out of your sessions.
Don't let your mental health struggles hold you back. Consider seeking counseling to help you feel better and make positive changes in your life.
Before we move on further, take a deep breath and relax we are all here to help you and we will elaborate on everything about it in detail!
What all is covered in this post?
To make it easier for you, we have created a quick guide to everything you need to know about what is counselling and it's aspects.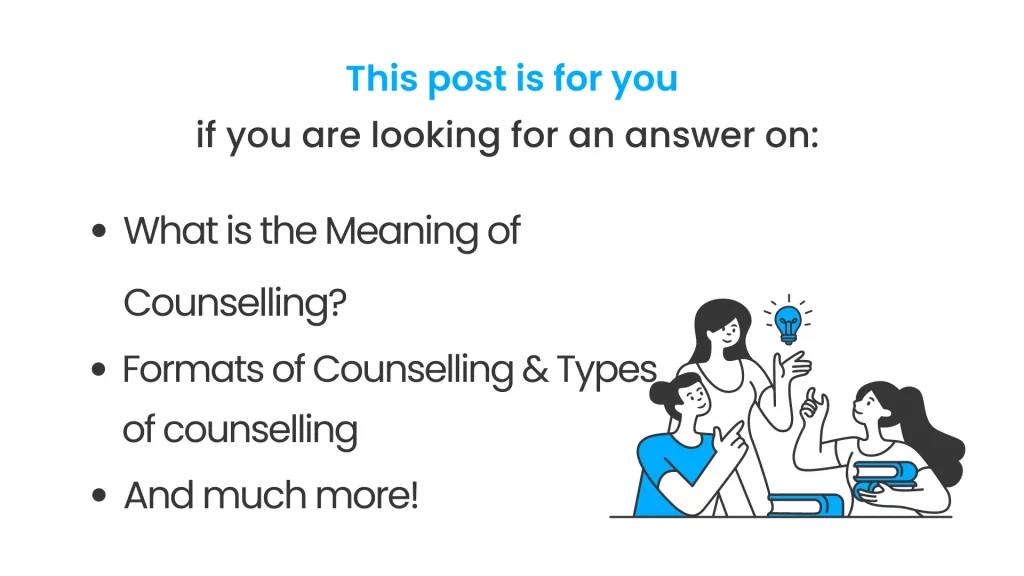 All set… Come along…
What is the meaning of Counselling?
According to the American Counseling Association, counseling is defined as "a professional relationship that empowers diverse individuals, families, and groups to achieve mental health, well-being, educational, and career goals."
Counseling involves helping people make needed changes in ways of thinking, feeling, and behaving, and is a purposeful collaborative process involving a non-judgmental, supportive counselor who works with the client to tell his or her story, set viable goals, and develop strategies and plans needed to achieve these goals.
The terms "counseling" and "psychotherapy" are often used interchangeably and have many similarities, but there are also some important differences. Counseling is similar to psychotherapy, and they can overlap
Who is a counselor?
A counselor is a trained professional who helps individuals address and works through personal, mental health, and emotional issues. Counselors may have different titles depending on their specific area of expertise, such as mental health counselor, marriage and family therapist, or addiction counselor.
Who needs counselling?
Counseling can be beneficial for people of all ages and backgrounds who are experiencing a wide range of personal, mental health, and emotional issues. Some common reasons why people seek counseling include
Struggling with anxiety or depression
Coping with the aftermath of trauma or abuse
Dealing with relationship problems or conflicts
Adjusting to major life changes or transitions
Struggling with addiction or substance abuse
Coping with grief or loss
Managing stress or stress-related health problems
Working through issues related to self-esteem or self-worth
Formats of Counselling
There are different formats in which consultations can take place. The customer can choose the format that best suits their needs. Below are the popular consultation formats that people mostly prefer:
Personal consultations
Personal consultations take place in the counsellor's office, where you meet them in person after making an appointment to discuss your concerns. This is one of the most popular counseling formats.
Group Counseling
Professionals conduct group counseling sessions that you can join to resolve issues. Joining such a group will help you find people with similar problems and you will also be able to develop a strong support network. However, if you want to focus on your problem, in-person sessions are better.
Phone Sessions
A great alternative to in-person consultations is phone sessions that can be scheduled from the comfort of your home. Telephone consultations are best for busy people who may find it difficult to get to the wards. In this flexible process, you can discuss your concerns with a counselor in a safe environment from the comfort of your room.
Online counseling
If you do not want to meet with a counselor face-to-face and wish to remain anonymous, you have the option of writing to a counselor by email. In this process, you have the opportunity to think carefully and decide what issues you want to discuss with him. The trend of online counseling is becoming much more popular these days.
Types of Counselling
A number of consultations are held these days. They are mainly divided into different fields. This allows people to choose a consultant based on their specific problem. Moreover, it ensures that the consultant doing the work is an expert in his field. Below are the most common types of counseling:
Marriage and Family Counseling
This type of counseling involves working with couples or families to address and resolve conflicts or other issues within the relationship. It can be helpful for improving communication and strengthening the bond between family members.
Educational Counseling
This type of counseling helps students develop academic and career goals and provides support and guidance as they work towards achieving those goals. It can be helpful for students who are struggling academically or who are unsure of what they want to do after graduation.
Rehabilitation Counseling
This type of counseling helps individuals with disabilities or other challenges develop the skills and resources they need to lead independent, fulfilling lives. It may include assistance with finding employment, accessing community resources, and developing self-advocacy skills.
Mental Health Counseling
This type of counseling helps individuals address and work through mental health issues such as anxiety, depression, and trauma. It can involve various therapeutic approaches such as cognitive-behavioral therapy or solution-focused therapy.
Substance Abuse Counseling
This type of counseling helps individuals who are struggling with addiction overcome their dependency on drugs or alcohol. It may involve individual or group therapy, as well as support for family members and loved ones.
What is the Purpose of Counselling?
The purpose of counseling is to provide individuals with a safe and supportive space to talk about their thoughts, feelings, and behaviors, and to work through any personal, mental health, or emotional challenges they may be facing. Counseling can help individuals better understand themselves and their problems, develop new coping skills and strategies, and make positive changes in their lives.
Following is the scope of counseling:
Reducing symptoms of anxiety, depression, or other mental health issues
Improving communication and problem-solving skills
Building self-esteem and self-worth
Enhancing relationships with others
Coping with grief or loss
Managing stress and stress-related health problems
Overcoming addiction or other destructive behaviors
Uplift career and educational goals
Counseling can be a valuable resource for anyone who is struggling to cope with challenges in their life or who just wants to feel better and make positive changes. It can help individuals feel more in control of their lives and more able to handle the ups and downs that life brings.
Discover More by accessing the Free Career Dashboard
This will help us share relevant information with you.
Steps of Counselling
Counselling involves several processes, including
Initial assessment
During the first session, the counselor will typically ask you questions about your concerns, your past experiences, and your goals for counseling. This helps the counselor understand your needs and develop a treatment plan.
Setting goals
Together, you and the counselor will identify specific goals you would like to achieve through counseling. This might include reducing anxiety, improving communication skills, or coping with a major life change.
Exploring thoughts and feelings
During sessions, the counselor will help you explore your thoughts, feelings, and behaviors in order to gain a better understanding of your challenges and how they may be impacting your life.
Identifying patterns and underlying issues
The counselor may help you identify patterns in your thoughts and behaviors and explore any underlying issues that may be contributing to your problems.
Developing coping skills and strategies
The counselor will work with you to develop coping skills and strategies that can help you better manage your challenges and improve your overall well-being.
Reviewing progress and adjusting the treatment plan
As you work through counseling, you and the counselor will regularly review your progress and make any necessary adjustments to the treatment plan.
In conclusion!
No one is born with a bag full of problems. However, as a person grows up over time, they tend to form certain beliefs and stick with them throughout their lives, which can cause some suffering in their current life that needs to be addressed before an effective solution can be found.
Suppose you are also facing problems and looking for proper guidance. Then you can visit India's largest career counseling platform iDreamCareer which offers you the best career counselors for a better future. Get your problems solved with iDreamCareer and avoid making a sad decision.
You can get your queries resolved in just 60 seconds from our Career counselors. So, what are you waiting for? Download the app now!
iDreamCareer has helped millions of young minds like you from 9th class, 10th class, class 11, and class 12 discover their true mettle and is ready to help you too. Apart from that, we have also helped several working professionals who wish to pursue their careers in the field of counselling by mentoring them.
Also Read:
What is Counselling: FAQs
What is counselling?
Counselling is a form of therapy that involves a trained professional helping an individual explore their feelings, thoughts, and behaviors in a safe and confidential environment.
What happens during counselling sessions?
During counselling sessions, the therapist will listen to you and help you work through any challenges or issues you are facing. They may also provide guidance and support as you work towards your goals.
Is counselling right for me?
Counselling can be helpful for individuals who are experiencing stress, anxiety, depression, or other mental health issues. It can also be beneficial for those who are going through a difficult life change or seeking personal growth.
How long does counselling take?
The duration of counselling can vary depending on the individual's needs and goals. Some people may benefit from a few sessions, while others may require longer-term treatment.
Is counselling confidential?
Counselling sessions are generally confidential, meaning that what is discussed during the session will not be shared with anyone else without your permission. This helps to create a safe and trusting environment for you to explore your thoughts and feelings.
Discover More by accessing the Free Career Dashboard
This will help us share relevant information with you
Trending Posts


Anushree has 5 years of experience in the career counseling industry as a Senior Content Writer. She has also worked as a Social Media Marketing Expert for a startup and Content Quality Analyst for the Publishing and E-learning Industry. She has done her Master's in Commerce and PGDM in Finance & Trade and Marketing & HR, but she is currently following her passion for writing.