Heard of a career aptitude test/ assessment yet? Exactly how does it help in making a defined career choice or whether it does at all? How would you know if it actually works for students? Does it really work? These are persisting questions in numerous minds of students as well as parents. Yours included, maybe. Well, here we give you the answers.
How would you know which is the best career aptitude test for students? Did you know these career aptitude tests or career assessment tests can actually give different results for different student populations in different countries? This is an extremely important point.
Career aptitude tests are conceived, tested, implemented & ratified by professional psychologists. Career/ Social Psychologists do not simply assume that their conceived measures work. Instead, they collect & assimilate data to demonstrate that their measures work. If the collated data does not point at the fact that a measure works, they stop using it.
As an informal example,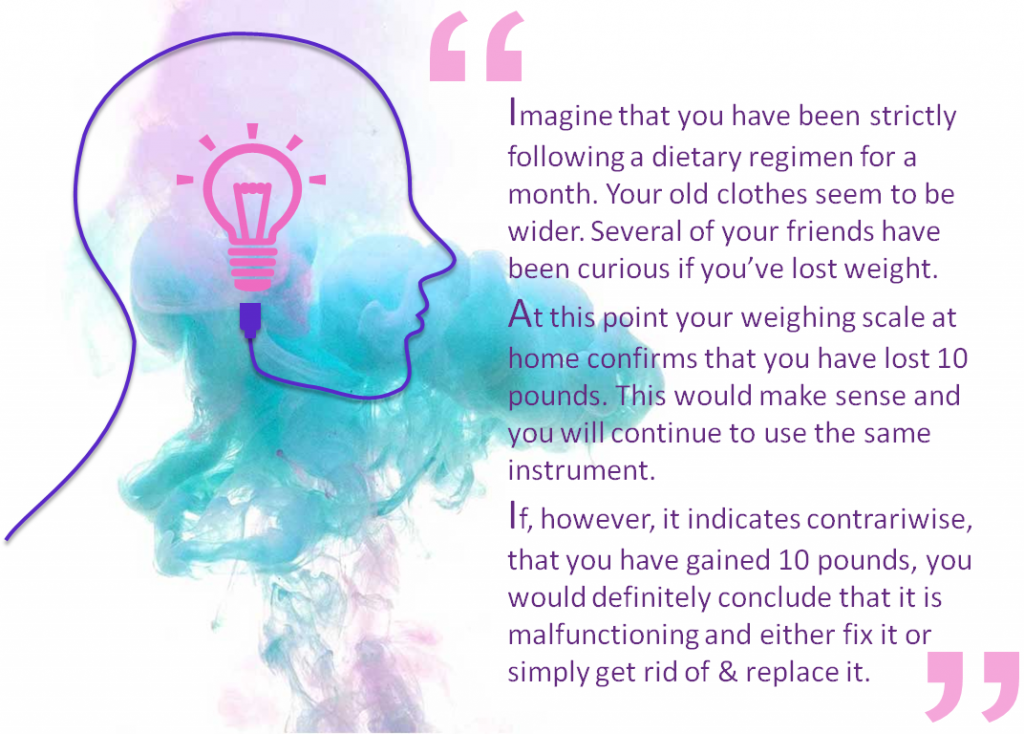 In evaluating whether a measurement method of theirs' work, Psychologists consider 2 general parameters: Reliability and Validity.
A valid Career Aptitude Test is said to be reliable but vice-versa need not be true. This, in essence, means, a Career Aptitude Test can be reliable without being valid. However, a Career Aptitude Test cannot be valid unless it is reliable.
Of course, there are several other parameters as well that you will need to counter-verify as a discerning adult/ guardian or a well-informed student who's herself taking a Career Aptitude Test.
This detailed post will explain all those factors. Firstly, let us together understand where we are standing currently in India and familiarize ourselves with the status quo in India. Be patient through this report, so you miss no critical theories.
India in a Nutshell – The Status Quo
India needs to confront, manage and combat the Great Indian Talent Conundrum (GITC) and build the most competitive knowledge-based economy and society in the world

According to a study done by Korn Ferry (an organisational consulting firm), India is expected to have a talent deficit of 85.2 million workers by 2030 (most visible in the financial services, technology, media, and telecommunications sectors).
The samestudy said that India is also projected to have a skilled labour surplus of 245.3 million workers by 2030.
Foremost Talent Assessment& Solutions Company in India, PeopleStrong's India Skills Report and CII (Confederation of Indian Industry) refer to this as GITC or the Great Indian Talent Conundrum.
Status quo, in India, is as explained in the following pointers.
A CRISIL Foundation(a market intelligence company, formerly under McGraw Hill Financial Inc., now under S&P Global, Manhattan, New York City) study points out, rather disturbingly, that although engineer turnout from institutes in India will almost double in the next 5 years– from 0.65 million to 1.3 million engineers, their employability will diminish further.
NASSCOM (a trade association of Indian IT and BPO companies) further adds that, every year only 10-15% out of over 3 million regular graduates/ postgraduates are considered employable by the Industry.
In India, students, even after completing their post-graduation, are not considered fit for jobs, while they are expected to be employable rather than just qualified. These qualified students lack the skills, which in today's fast-growing industries and companies are hunting for.
Apart from graduates from the elite IIMs, IITs and a handful of other similar top institutes, the rest struggle to place their students. India's labour productivity is $10,080 a year, compared with $23,888 in Brazil and $107,551 in the US, according to ourLabour Ministry.
India.inc, which refers to the formal (comprising government and corporate) sector of the nation (this only includes people employed by a company both non-govt & govt. companies), involves only 7-10% of the total workforce in India and contributes more than half of the country's GDP. This is a significant misuse of India's demographic dividend.
This entire situation of GITC (Great Indian Talent Conundrum) needs to be levitated, which again dovetails into the fact that career guidance and career consulting services must make an obligatory part of India'smacroeconomic policies, infrastructure, and concerted action.
5 Definitive Purposes of Career Aptitude Tests For Students
• Determination of career development: To find out where you stand in terms of career awareness, orientation, preparation, exploration, placement, or growth/maintenance
• Measurement: To identify your needs, abilities, strengths, capabilities, interests, potentials, and behaviors within the areas of functional/ academic, community/ independent, personal/social, employment and employability
• Prediction: To assess & match your abilities and interests with appropriate career locations & destinations (ultimate goals)
• Prescription: To identify and recommend, according to your assessed strengths & needs, types of adaptive techniques and/or remedial strategies that will lead to improved career preparation, future development, sustenance & stability
• Advocacy: To develop your career profile and help you, and your families, identify tangible ways to achieve your goals
(Table) 5 Definitive Purposes of Career Assessments & Career Aptitude Tests for Students
Source: Timmons, J., Podmostko, M., Bremer, C., Lavin, D., & Wills, J. (2004). Career planning begins with assessment: A guide for professionals serving youth with educational & career development challenges. Washington, D.C.: National Collaborative on Workforce and Disability for Youth, Institute for Educational Leadership
How to Select The Best Career Aptitude Test – Concrete Factors You Must Consider
Here we give you the basic considerations that you must evaluate when you opt for a career aptitude test anywhere in the world.
It is important that youhave access to and be familiar with this set of information prior to deciding which test to use in your practice.
Compiling sufficient data for planning your career will mandatorily require the use of commercially prepared and published career assessment tests.
These assessments are usually built with the eventual goal of helping a test-taker with her ultimate career choice, long-term stability & satisfaction.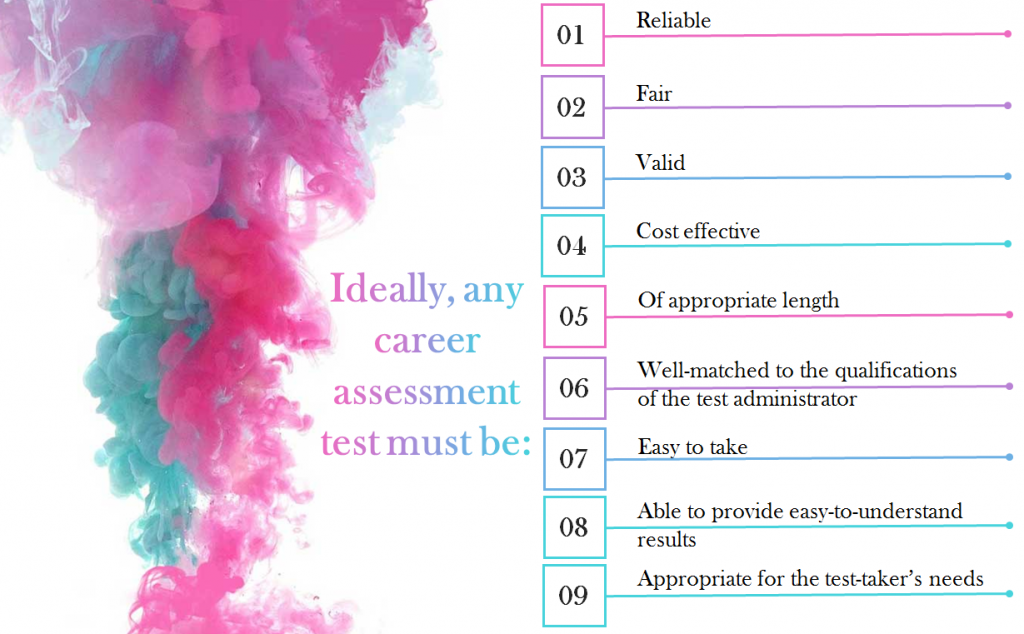 Balancing these factors within a single career assessment testing instrument is usually difficult.
Here are All The Factors to Consider when Choosing Career Tests for Students
Formal career assessment testing mechanisms are used to assess 6 broad areas related to career planning:
• Academic Performance or Achievement
• Cognitive Abilities
• Behavioral, Social, and Emotional Issues
• Vocational Interests
• Vocational Aptitudes
• Certification of Occupational Competencies
Career Aptitude Test: 6 Broad Areas
In the following section, we give you a general information guide and a technical evaluation guide that you can use before you choose the best one from the many available published career aptitude tests:
General Information Evaluation guide:
iDC conforms to each and every factor listed here.
1. Author, Publisher, Publication Year
It is obliging to be aware of who the authors are, knowing the publisher and noting the version of the career choice assessmentprogram you are choosing. You need to evaluate the year of publication.Though, older publication date does not always imply that a test is outdated.
2. Time required to take a test
Administration times varyfor psychological & educational testing. Age and attention span of the examinee arealso important considerations. Consider the impact of lengthy testing times (e.g.,a ridiculously long 4-hour testwill be difficult).
Tests that take a long time can lead to anxiety issues of the test-taker that may make scores less valid, compared to shorter tests. Additional time may be given for individuals with specific disabilities.
3. Qualification level of test administrators
Tests vary in the level of expertise and training needed bythose who administer. Consider asking for documentation ofexpertise prior to purchase of career choice assessment programs.
Use of these psychometric instruments by unqualified personnel is a serious ethicalviolation and may also result in invalid or misleading interpretation of test results.
Psychometricians/ or Career Guidance Experts(CEIAG providers – Careers Education, Information, Advice and Guidance) typically have an accumulated wealth of practical expertise with this form of assessment.
4. Type of test/ Item Characteristics
SelectedResponseType (MCQ, True-False, Matching) (iDC follows this type)
Constructed Response Type or Performance / Alternative Assessments (Open-ended, Problem-based, Scenario, performance tasks, research paper, project, oral presentations, portfolios)
Selected-response measures have been used for 75 yearson alarge scale.A major distinguishing feature is that humans must score all constructed-response assessments. Human scoring is more expensive and slower than machine scoring. Internet scoring is now widely available.
Tests that take a long time to be scored can lead to anxiety that may make scores less valid, compared to those taking a shorter scoring time. Someone must review each answer,compare it to a standard(be it an essay, performance, project, or portfolio), and decide whether it is acceptable!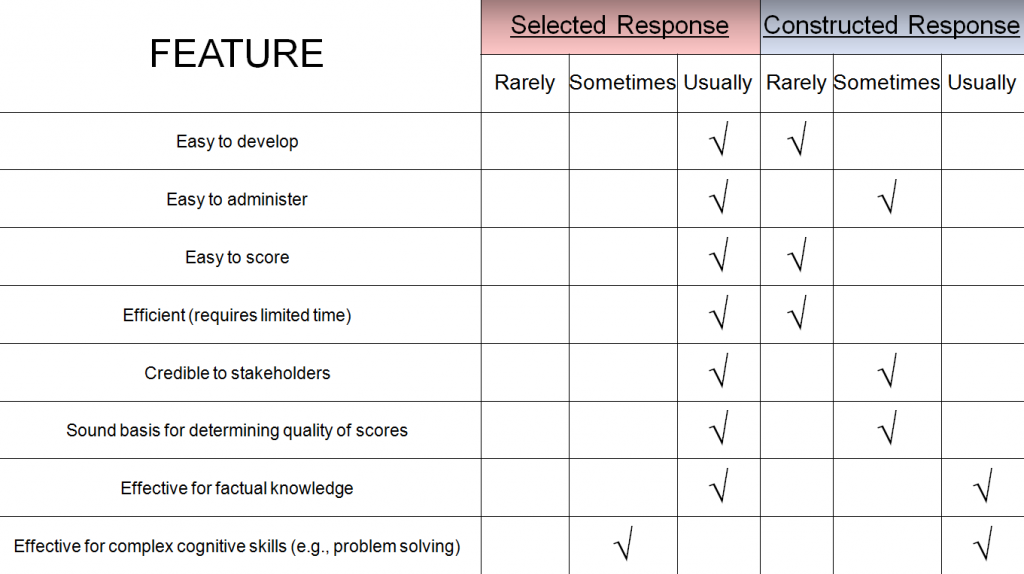 5. Population for whom it was designed
Who is the intended respondent or examinee of the career aptitude test? What is theappropriate age of a test-taker? These considerations are imperative because the scores must be relative toclearly defined demographic groups.
6. Nature of content
Majority of career choice & career assessmenttests cover a wide breadth ofconstructs (like spatial perceptual skills, reading fluency, internalizing behavior, verbal memory), whereas some others are designed to home in on a single construct. iDC falls in the former category.
iDC tests both:
Fluid Reasoning/ Intelligence (this type doesn't rely on acquired knowledge,it is about human wit that works in spontaneity)
Crystallized Reasoning/ Intelligence (experience and education form the base of this type).
iDC's career aptitude testing framework is based on Cattel-Horn-Carroll's (CHC) Theory of intelligence that tests both these types.
7. Sub-tests & Separate Scores
Not all tests are created equal. You must take a "clinical decision" to ensure that your choice of career assessment module meets necessary requirements. Two different testsmay measure the same construct; however, they can havevery different subtests and sub-scores.
iDC's suggestion mechanism passes through a 3-dimensional career fitment analytics system that gives you a 3-pronged result. Recommendations are made in terms of all three dimensions.
Latter sections (after the evaluation guide) will give you details of iDC's career fitment analytics system.
Technical Evaluation Guide:
iDC conforms to each and every factor listed here.
1. Reliability
Reliable and valid tests should have theoretical & technical underpinnings as well as well-documented evidence of their development. There are countless tests published in journal articles, available from test publishing companies, or in the public domain.
Reliability is the most common standard measure of consistency. It is expressed mathematically as "reliability coefficient" on a scale from 0 to 1.
| | |
| --- | --- |
| RELIABILITY COEFFICIENT VALUE | INTERPRETATION |
| below 0.70 | may have limited applicability |
| 0.70 – 0.79 | adequate |
| 0.80 – 0.89 | good |
| 0.90 and up | excellent |
Career Aptitude Test: Reliability
If a person takes the test again, will she get a similar test score, or if a different score, how much different is the new score? A test that yields similar scores for a person who retakes the test is said to perform reliably.
It is the degree to which student results are the same when:
Students take the same test on different occasion
Different scorers score the same item or task
Different but equivalent tests are taken at the same time or at different times
There are 4 types of reliability coefficients called "reliability estimates":
Test-retest reliability: repeatability of test scores with the passage of time. You should score the same/ close when taking the same test at different times.
However, this also depends on the type of test. For example, astudent's reading ability is more stable over a particular period of time than her anxiety level. Therefore, onemust expect a higher test-retest reliability coefficient on a reading test than on a test that measures anxiety.
Alternate or parallel form reliability: how consistent test scores are likely to be if you take two or more versions of a test.
A high PF reliability coefficient means the different formsare very similar. A low PF reliability coefficient means the different formsare not comparable and cannot be used interchangeably.
Inter-rater reliability: how consistent test scores are likely to be if the test is scored by two or more raters.
Since most career aptitude testing mechanisms use selected-response (MCQ, True-False, Matching) formats, this reliability estimate is clearly not applicable for them. Such is also the case for iDC.
Internal consistency reliability: the extent to which items on a test measure the same thing
The most common measure of reliability among career aptitude testing mechanisms in the world is internal consistency.Cronbach's Alpha is the statistic commonly used by almost all researchers across the world in this respect. A value of +0.80 or greater is generally taken to indicate good internal consistency.
The Cronbach's Alphas for iDC's 3 individual dimensional assessments are:
Aptitudes –0.84
Personality – 0.79
Interest – 0.78
Reliability coefficients typically measure how closely related the items tested are to the model/ theory used. The general rule of thumb is that a Cronbach's alpha of 0.70 and above is good, higher is even better.
Latter sections (after the evaluation guide) will give you details of iDC's career fitment analytics system.
2. Fairness
Fair tests conform to recognized test administration standards & ethics and are free from bias.
For example, culturalfamiliarity, linguistic (fluency in a language), social differences, prior experiences can affect the fairness of a test.3.
Say for an example, children from rural areas will have trouble with a reading comprehension test that is based on a passage describing a subway trip.
Again, students who have never used "bubble" answer sheets may become so confused that their scores will be ultimately affected. Nowadays, however, all career assessment tests and career aptitude tests are computer based tests, whether online or offline. Practice sessions can be useful.
3. Validity
How well a test measures what it is supposed to measure? This is the most important issue in selecting a test. It refers to what characteristic a career aptitude test measures and how well it measures that characteristic.
A valid test is reliable but a reliable test may or may not be valid.
Validity will tell you how good a test is; reliability will tell you how trustworthy a score on that test is.
Validity is a number (v) between 0 and 1.00. As a general rule, the higher the v the more beneficial it is. However, a single test can never fully predict. So, unlike reliability coefficients, validity coefficients rarely exceed v = +0.40
| | |
| --- | --- |
| VALIDITY COEFFICIENT VALUE | INTERPRETATION |
| below 0.11 | unlikely to be useful |
| 0.11 – 0.20 | depends on circumstances |
| 0.21 – 0.35 | likely to be useful |
| above 0.35 | very beneficial |
Career Aptitude Test: Vilidity
If a test is valid for one group of population, it may not be valid for another.
For example, if a test ofmathematical reasoning is valid for a Class 12 reading level, a low score for a student taking the same test with a Class 10 reading level may reflect either herreading level or mathematical reasoning ability. This will not measure intended characteristic well enough.
4. Cost
This can sometimes be a deciding factor. Higher priced tests are not necessarily better. Career assessment tests have a wide range of costs.
Some inexpensive tests are very useful, valuable, and can be used with a wide variety of individuals, while other expensive tests may have limited usefulness.
Internet sites now offer free tests but they lack evidence of their reliability and validity. We have also provided a list of such resources for your convenience at the end of this post.
These free internet tests (besides few government-backed ones)mostly do not provide well-researched interpretation of results too.Manypublishers also have several versions of tests and offer pricing based on quantity and scoring methods.
5. Time Needed for scoring
Scoring of tests has generally become more efficient, with computerized and Internet scoring being available.
Tests that take a long time to be scored can lead to anxiety that may make scores less valid, compared to those taking a shorter scoring time.
Selected-response measures have been used for 75 yearson a large scale.Human scoring is more expensive and slower than machine scoring.
6. Ease of Use
Tests should be as easy to take. Scores can be adversely affected if the test-taker does not understand the directions.Complex answer sheets can be difficult to use.
Many test-takers may only get half-way!Many may waste test time concentrating on the process rather than the content.
It is acceptable to take practice tests prior toofficial test administration. Consider other ways to simulate testing activities prior to actual testing if practice sections are not provided.
7. Reporting Format of test results
Test results must be reported in a useful, detailed, broken-down (granulated) and easy-to-understand format.
Sample test reports must be available to prove that scores, diagnoses, interpretive data,and recommendations are clearly expressed and understandable.
Reports must be available in textual format for your future reference with defined unfamiliar terms. The consultants/ Psychometricians should be available to answer questions or provide actionable insights.
8. Appropriateness
Besides all the factors described above, a career aptitude test or a career assessmenttest or a career choice test must be matched to yourreading ability, cognitivefunctioning level, math ability, and level of career development.
The uniqueness of vocabulary words must be considered.
If career tests are administered inappropriately, the results produced can be invalid.
For example, students may not understand certain questions about "careers"because they do not have any degree of career awareness and exploration in their past.
View a template report before enrolling with iDC.
Further Into Context: What are The Essential Characteristics of the Best Career Aptitude Test?
The base of any counselling activity is career assessments. Career assessments help provide a realistic evaluation of a test-taker's abilities and strengths.
Psychometric career aptitude testing mechanisms give a gauge of personality to ensure that the test-taker would be the right "fit" for the career they are being suggested.
There are several subsequent elements to a successful counseling exercise to complete the holistic evaluation of a test-taker, relating to their daily schedule, work-style, motivating factors, academic standing, and more for the attainment of a valid career decision taking into account the student's suitability for the particular career.
Such an evaluation helps the test-taker gain an unbiased and accurate insight into oneself.
Assessments also aid counsellors'(Careers Profession Expert's) understanding of the test-taker's core set of abilities, unique traits and factors which are responsible for influencing the ultimate career choice, long-term stability &satisfaction.
Key Attributes of an Ideal Career Aptitude Test:
Ideal Career & Needs Assessment Psychometric Tests (career aptitude tests) should be modeled on established theories with defined & quantifiable parameters (determinants) which are tested & re-tested over a large sample size as well as over time. For example, iDC's Career Assessment Framework has been tested over a very large number of participants.
If these tests are administered otherwise, without their relevance – reliability – validity being scored, it may be dangerous as well as ethically & legally not acceptable.
For an example, say a child, after being tested with an under-rated psychometric analysis, is recommended educational & future career pathways/ action plans according to the test results.

After a couple of years, she is diagnosed with chronic Bouffée délirante (French term for acute & transient psychotic disorders) or something similar, the company can be sued for gross negligence, data secrecy, statistical inadequacy etc.
iDC's Assessment (in following figure) is Based on 3 dimensions (A, B, C below)of a Test-taker.
Aptitudes: modeled on the lines of Cattel-Horn-Carroll's (CHC) Theory of 3-stratum structure of intelligence [Stratum I: narrow abilities, Stratum II: broad ability, and Stratum III: consisting of a single 'general ability']

CHC theory is narrowed down to Verbal Aptitude, Numerical Aptitude, Reasoning Aptitude, Spatial, and Mechanical Aptitude

Personality: modeled on the lines of Five Factor Model (FFM) as developed by Costa and Mc Crae, also well known as the "Big Five Factor Model" or the "OCEAN Model"

FFM theory's 5 verticals are Openness to experience, Conscientiousness, Extraversion, Agreeableness and Neuroticism

Interest: based upon the Holland's theory of Vocations

This theory classifies individuals based upon 6 basic interest types: Realistic, Investigative, Artistic, Social, Enterprising and Conventional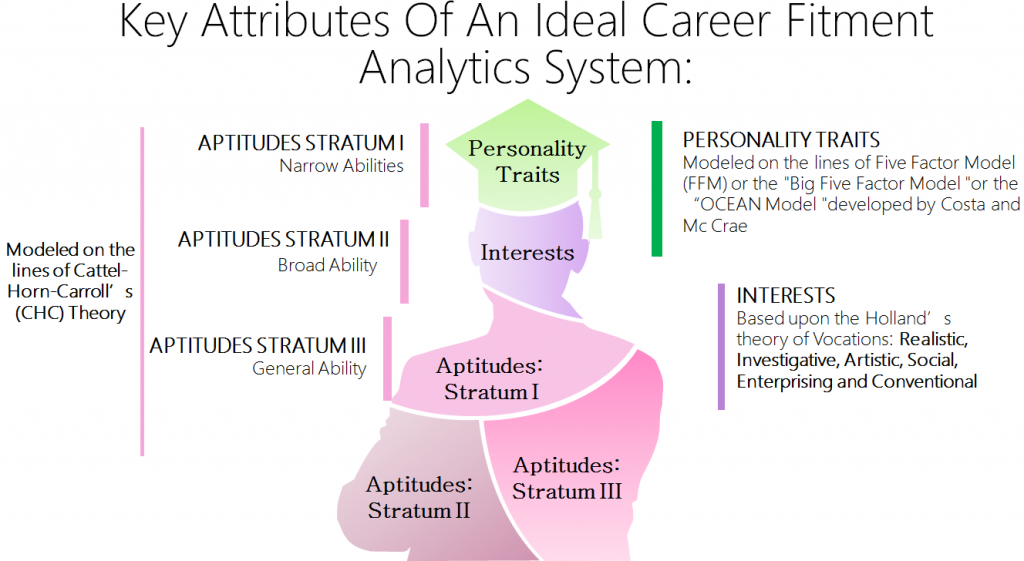 An Ideal Career Suggestion Mechanism Must Pass Through a Career Fitment Analytics System Explained Above
Every test taker may be suggested 5 or more top career choices based upon her scores in each of the dimensional assessments. This represents how each dimension type corresponds to different career fields.
Test-takers should also receive suggestions corresponding to their scores in two of the dimensions taken together at a time.
Finally, the report should also highlight the overall fitment to broad career clusters with respect to all 3 dimensions taken together.
An ideal Career Aptitude Test Report should have a 3-pronged suggestion concept:
Best suited career clusters with respect to each dimension
Best suited career clusters with respect to 2 dimensions taken at a time
Best suited broad career clusters with respect to all 3 dimensions taken together
Career Aptitude Tests – Conclusions
We've presented assertions and analyses in putting forward the reality of how to choose the best career test or career aptitude test or a career assessment test to discover the ultimate career choice for students.
Career consulting services & the full-stack solutions of iDC have created an enormous footprint & have directly impacted the lives of close to 5 million students!
iDC's expansive innovative & immersive tech-enabled platform, statistically reliable subjective assessment tests, &the comprehensively trained taskforce of Occupations Research professionals & career counselors bring to students CEIAG (Careers Education, Information, Advice and Guidance) programs using a partnership between notable industry stalwarts & leviathans.
Understanding the intricacies of any career is not child's play. It requires experiential assessment of competencies (skills, abilities, knowledge & a lot more). So, CEAIG is an indispensable tool for all young minds and we are India's leading CEAIG provider. iDC is also India's foremost test administrator in career design.
Must Check
To put more nagging doubts to rest: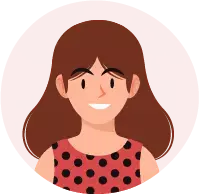 With a Master's in Biophysics-Biostatistics, Sreenanda acquired professional experience in computational proteomics of human molecules. She is currently working with the Research and Data Team at iDreamCareer.