Do you wish to become a doctor too, like many of your mates? Do we hear you say 'not in India'? Wish to study in Germany? Are you yet to figure out how to study MBBS in Germany? Or have you already begun your preparations for an MBBS in Germany? Whichever it is, this post welcomes you!
Studying MBBS in Germany comes in higher quality and at an affordable price, making it a highly sought-after choice for many passionate medical students from around the world. The quality of the education you receive at German universities and the relevant practical experience during your course will indicate your next career path in terms of job opportunities and academic achievements.
Do you know?

More than 2.5 million students study at German universities, and more than a quarter of a million of them are international students. About 85 percent of these students arrange their studies in Germany, while the remaining 15 percent come to Germany on exchange programs.
Want to be part of this huge number? Come along to know more…
What all is covered in this post?
To make it easier for you, we have created a quick guide to everything you need to know about studying MBBS in Germany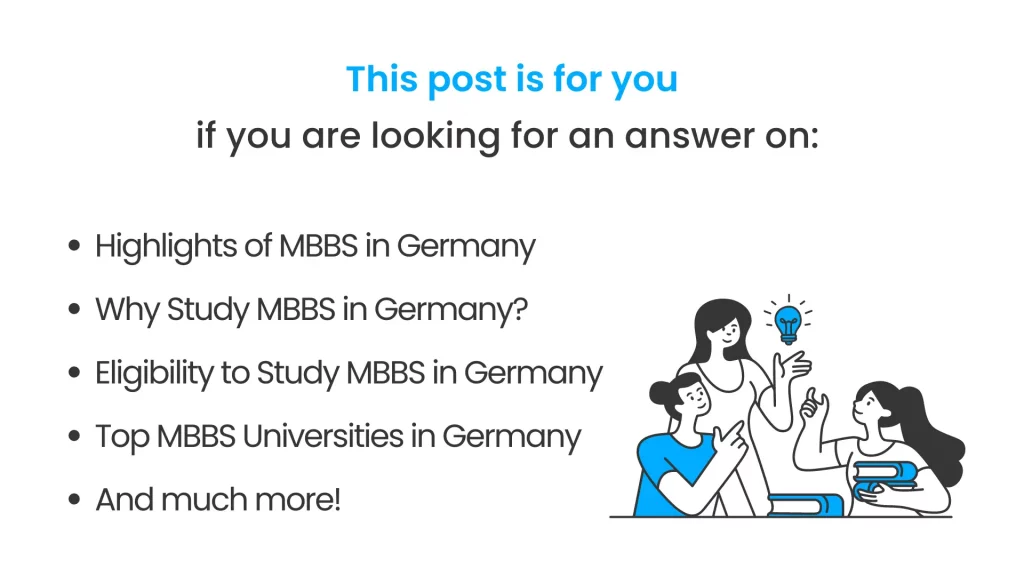 Highlights of MBBS in Germany for Indian students
In this section, we will give you a brief about the highlights of the course.
Particulars
Highlights
Name of the Course
Bachelor of Medicine and Bachelor of Surgery (MBBS)
No. of MBBS colleges in Germany
Approx. 30+ Colleges in Germany
Type of colleges
Both Private & Government
Medium of Instruction
German or English
Duration
5+1 (1 year of Internship)
Admission Requirement
High GPA in secondary school,
German language proficiency
Do 1-year preparatory course at Studienkellog and pass "Feststellungsprüfung"
Curriculum
2-year pre-clinical study
3-year clinical study
1-year practical placement
Universities Recognition
MCI & WHO
Why study MBBS in Germany?
Following are some of the reasons why you may consider studying MBBS in Germany: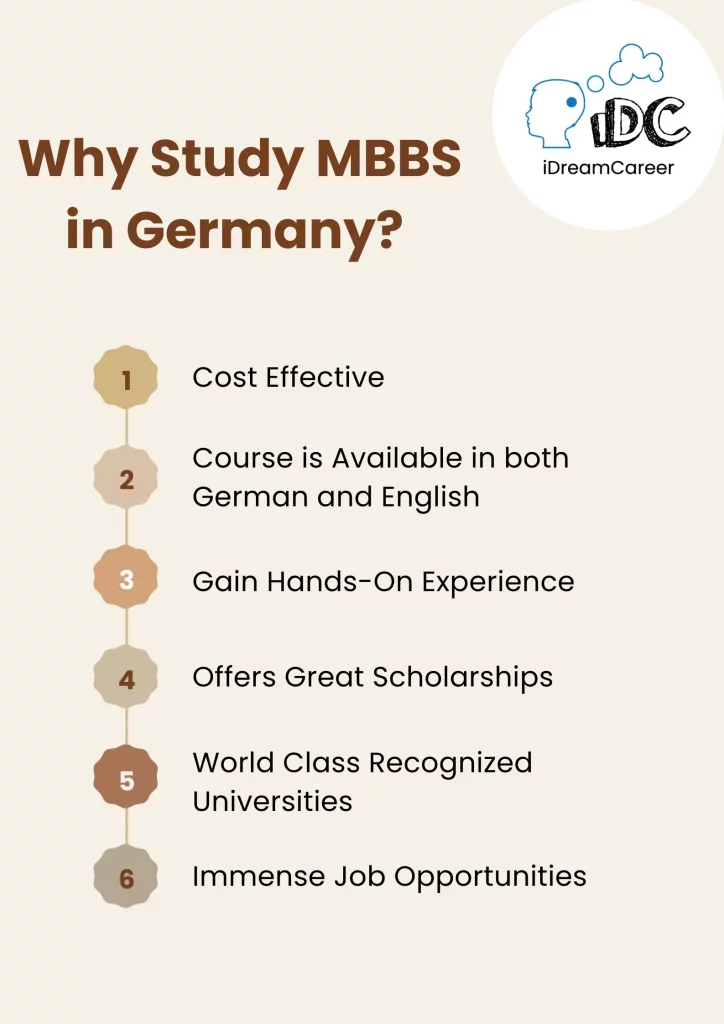 Cost Effective: Germany is world famous for its zero tuition fees and MBBS in Germany is no exception. The average cost of study ranges from five to eleven million per year. In addition, the student can work as an intern and receive an annual stipend of €20,000 to €30,000. The cost of living in the country is also extremely low thanks to cheap on-campus accommodation available at most universities and free travel services for active students.
EU Flexibility: Doing MBBS in Germany provides more flexibility as it opens job prospects not only in this country but also in its EU sister countries. Since Germany is part of the EU, a trained doctor can easily move around the EU without any restrictions.
Increase in vacancies: MBBS in Germany is in significant demand in the medical industry. The demand is also increased because the German MBBS degree is also valid in EU sister countries. So, job opportunities are huge after studying MBBS in Germany. A student can also apply for a work permit after graduation.
Study in English: One of the great advantages of studying medicine in Germany is the fact that one does not necessarily need to know the German language. The course is available in German and English. Knowledge of the German language is an advantage!
World-renowned universities: Universities for MBBS in Germany are among the best medical universities in the world. They are recognized by various organizations such as the World Health Organization (WHO), the Medical Council of India (MCI), and the United Nations (UN). They provide hands-on, hands-on learning with modern technologies and practices.
Eligibility to study MBBS in Germany for Indian Students
Although the eligibility to study MBBS in Germany may vary from university to university, there are some common features that remain the same for all. Common MBBS requirements in Germany are:
Academic qualification
Germany MBBS requirements at a German university will require you to provide a past academic record. These include high school transcripts, original grades, and more. As an international student, academic document requirements may differ slightly from those of local students. Therefore, do not forget to go through the university's website carefully.
Knowledge of the German language
Medical courses in Germany are taught in German. Universities, therefore, require their students to have a certain level of German as part of the MBBS eligibility in Germany. Some of the most widely used tests for this purpose are –
TestDaF – Level 4
Goethe Institute Certificate – Level C2
DSH German language exam – level 2 or 3
There are several courses that are taught in English. For such courses, students must submit IELTS or TOEFL scores. These are mandatory as part of the MBBS requirements in Germany.
Germany medical entrance exams
Many universities may require you to appear for additional exams or entrance tests when applying for an MBBS in Germany to admit international students. For example, TestAS or Test for Medical Studies is generally conducted for international and local applicants. NEET may be required for Indian students.
Documents required
Students may be required to submit the following documents to apply for MBBS in Germany.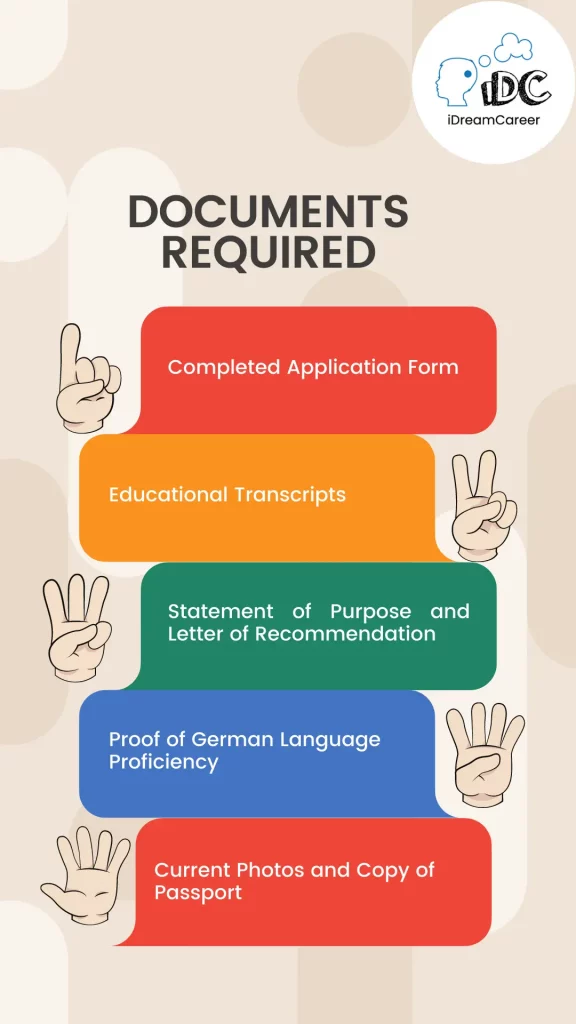 Visa requirements
To study in Germany, foreign students need a German student visa. It is recommended that international students apply for visas three months in advance to facilitate the process. The cost of applying for a German student visa is EUR 75.
Is NEET required for MBBS in Germany?
Yes, for pursuing a medical course in Germany, you need to qualify for the NEET exam with a 60% mark. According to the Gazette Notification of the Medical Council of India, it is compulsory to qualify for a NEET exam in order to study MBBS abroad.
Admission Process for studying MBBS in Germany
Following are the steps a candidate needs to follow for studying MBBS in Germany:
Candidates must appear for the NEET entrance exam before filling out the applications.
Once the results of these tests are available. You will need to complete an online application form provided by the university.
After completing the first phase, you will receive a confirmation letter within 4 to 15 working days. For the next process, the college will send you a welcome letter. The greeting cycle will now begin.
Print the form. Send a scanned copy of the completed form to the university along with the documents listed below.
Scan the documents and email them with the subject line stating your intention i.e. "Admission Application".
Documents need to be submitted before the application deadline.
After the university verifies the student's documents, the student will receive an acceptance letter or rejection letter, as the university decides.
Once the candidate is accepted, an initial fee must be paid. They will then be sent a confirmation of the fee.
If the applicant is accepted, they must immediately apply for a student visa to Germany. Invitation letters will be mailed to students.
Eligibility for pursuing PG in Germany after MBBS
Below are some of the requirements for admission to a graduate program at a German university:
You must graduate from an Indian university or pass the MCI screening test.
MBBS degrees from other countries are usually considered equivalent to German MBBS degrees.
Check with the university you are applying to see if you are eligible.
Excellent written and spoken English
MBBS degree from a university with above-average results
Documents required to study PG in Germany
Here is the list of documents required to study PG in Germany after MBBS: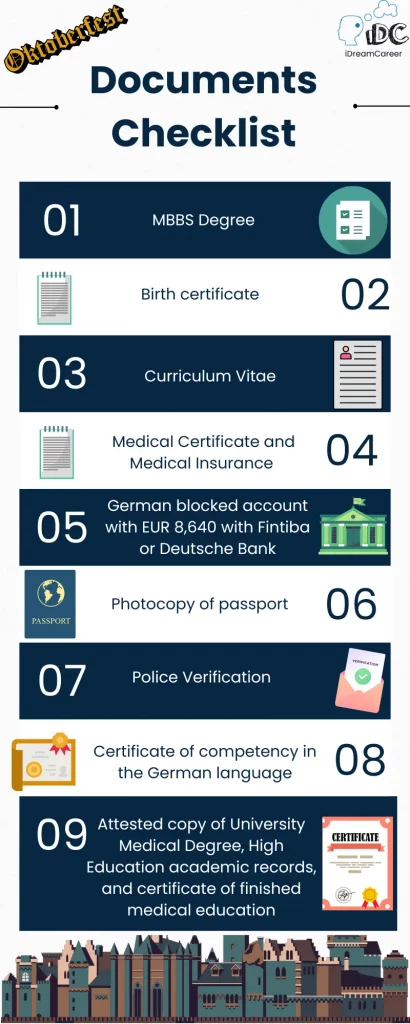 Note: Those who do not speak German must first complete at least 4 months of a language course (level A1 and A2 in India) and the remaining enrollment levels in Germany before starting the specialization.
Top MBBS Universities in Germany
Below is the list of best MBBS colleges/universities in Germany:
Dresden University of the Technology
Free University of Berlin
Freiburg University
Goethe University Frankfurt
Heidelberg University
Leipzig University
Lübeck University
Magdeburg University
RWTH Aachen University
Technical University of Munich
Tübingen University
University of Bonn
University of Duisburg-Essen
University of Erlangen-Nuremberg
University of Göttingen
University of Hamburg  
Witten/Hercke University
Würzburg University
Cost of MBBS in Germany
In this section, we will cover the cost of studying MBBS in Germany. Germany is home to top public universities that are largely state-funded and do not require students to pay tuition, but only an administrative fee as part of the admissions process. Currently, MBBS courses are only available at public universities in Germany. Foreign students would therefore require knowledge of the German language in order to apply to the university.
Cost of living in Germany
Candidates who want to live in Germany must open a mandatory escrow account. The escrow account has the required living expenses for the student. The German government decides on this amount. From January 1, 2021, taking into account the rate of inflation, the mandatory amount required in a block account for studying in Germany is €10,332 for the whole year or €861 per month.
Following are some of the major expenses you will be required to pay while pursuing an MBBS in Germany:
| | |
| --- | --- |
| Type of Cost | Cost (EUR) |
| Clothing | 42 |
| Food & Drink | 168 |
| Rent and Utilities | 323 |
| Learning Material | 20 |
| Travel Expenses | 94 |
| Phone, Internet & TV | 31 |
| Leisure, Culture & Sports | 61 |
| Total | 739 |
German study visa
Applicants going to study in Germany would need a German student visa for the entire duration of their stay. A student visa would also allow students access to part-time work for 20 hours per week for the duration of their studies or 120 full or 240 half days per year. Applicants should note that upon completion of their studies, they would be allowed a -month (18 months) post-study period to find employment in the field of study. Students will have to pay approximately €110 as a visa application fee. Generally, the processing time for a residence visa is 3 months (8 to 12 weeks).
MBBS fees in Germany for Indian students
To study MBBS in Germany as an Indian student or a student from any non-EU country, the tuition fee ranges between €1,500 (approx. INR 1,23,600) to €3,500 (approx. INR 2,88,300) for an average academic year of both public and private universities. It is also important to note that private universities charge much more than private universities and if you decide to study MBBS in the state of Baden-Württemberg, note that tuition fees for international students have been reintroduced. An MBBS degree can be expensive there.
Salary and job prospects after MBBS in Germany
Obtaining a doctorate in medicine (MD) is highly recommended if you wish to stay in Germany and pursue your career there. The course will not only prepare you for a set of advanced skills but also help you to progress in your career and gain top positions in hospitals and other medical settings. If you plan to work in Germany, the average salary paid to doctors in hospitals is less than double the national average.
A plethora of career opportunities awaits you after completing your MBBS in Germany. A medical degree in Germany is highly sought after and respected; graduates will have no difficulty in obtaining well-paid employment.
In fact, most medical universities in Germany are already connected to various medical centers that employ students during their studies to help them develop their practical skills.
Doing MBBS in Germany also brings another advantage in that, thanks to Germany's membership in the Union, it is possible to practice in all EU countries. You can easily segment and compare the most viable option for your future career in medicine.
Currently, the average salary of a doctor in Germany is somewhere around €80,000 – €1,00,000 per year, depending on his experience and specialization.
So, if MBBS students are equipped with adequate knowledge of the subject – theoretically as well as practically, the job prospects look bright.
Final Words!
After all of that mind-bender, you must be full of facts now. If you've been endlessly looking for extensive knowledge about MBBS in Germany, we've served you much, isn't it? Now, to put all of those existing doubts at the back of your mind to rest, why not ask expert professionals?
iDreamCareer is on a mission to reach every state and every child to ensure that talent is appropriately delivered to the industry.
Talk to our study abroad experts to know yourself in and out! We have helped several brilliant but confused minds to select their most-suited career choices. We have helped many students like Anjana Prasanna who was not very confident about her capabilities. Later with the help of career guidance and moral support from our study abroad experts she got an offer from King's College London! We have also helped several brilliant but confused minds like Aayush, and Tapan to select their most-suited career choices.
Useful Links:
Must Read:
FAQs
Is MBBS in Germany free?
The cost of living in Germany is quite low compared to other EU countries or the USA. Studying MBBS in Germany is completely free with a scholarship. Medical universities in Germany also have very good hospitals for the practical phase of training.
Is it possible to study MBBS in Germany in English?
Germany is recognized as one of the best study centers in the world that offers medical programs. You can study medicine in Germany in both English and German. Germany also has free MBBS education.
How many years is MBBS in Germany?
The degree is in most cases spread over 6 years and the MBBS includes both theoretical medical education and practical clinical experience, providing one of the best foundations for a medical career that medical students can hope for.
Is German MBBS valid in the USA?
Yes, MBBS in Germany and if you want to do a Master's in the USA, you can indeed. You will need to select a university and check the desired criteria and language test.
Is it worth doing an MBBS from Germany?
An MBBS degree obtained in Germany is accepted and recognized worldwide. The Medical Council of India and the World Health Organization recognize an MBBS degree awarded in Germany. German graduates can work in any country in the world and even have excellent employment opportunities in the country.
Is NEET required for MBBS in Germany?
Yes, you need to clear NEET with 60% marks to pursue medical courses in Germany. According to the Medical Council of India Gazette Notification, NEET is a mandatory requirement for studying MBBS abroad.

Anushree has 5 years of experience in the career counseling industry as a Senior Content Writer. She has also worked as a Social Media Marketing Expert for a startup and Content Quality Analyst for the Publishing and E-learning Industry. She has done her Master's in Commerce and PGDM in Finance & Trade and Marketing & HR, but she is currently following her passion for writing.