NEET (National Eligibility cum Entrance Test) is surely a steep mountain to climb. As per figures released by The National Testing Agency (NTA, which conducts the NEET exam), 14,10,755 students appeared for the 2019 NEET UG exam to compete for about 91,500 MBBS seats in the medical colleges across India. So, that was about 15 students competing for 1 medical seat!
Yes, there are seats in various other programs such as BDS, BHMS, BAMS, BUMS, and BSMS too but tell me what's your top choice if you are thinking about appearing in NEET? It's MBBS, right?
So, to prepare to crack the code of NEET, are you looking for all the information that is essential for you to know? What is the pattern of NEET exam? How to prepare for NEET? NEET registration process and all that?
This blog aims to give you all the gears and the tools that you will need to prepare for the climb atop the mountain called NEET. We have packed this piece here with the factual as well as preparatory knowledge about NEET to enhance your chances of making it.
What is NEET Examination?
To begin with, you must know that National Eligibility cum Entrance Test (NEET) is the only national level entrance exam for MBBS, BDS, and alternative medicine (AYUSH) graduate-level courses as well as for the 15% of all India Quota Seats of all Veterinary Medicine courses in India.
The admission to MBBS courses in AFMC (Pune), AIIMS (New Delhi), JIPMER (Pondicherry) and all other medical INIs (Institutes of National Importance) are also made through NEET. This has been made effective from the academic year 2020.
In the state of Maharashtra, besides MBBS, BDS, BUMS, BAMS and BHMS, NEET scores are considered for induction of students into BPT, BOT, BASLP, BPO, and B.Sc. Nursing courses too.
So, through NEET exam, you can get admission to the following courses:
MBBS
BDS
BAMS (Ayurvedic Medicine)
BHMS (Homoeopathic Medicine)
BUMS (Unani Medicine)
BSMS (Siddha Medicine)
Bachelor of Veterinary Science & Animal Husbandry (B.V.Sc. & AH)
Bachelor of Physiotherapy (BPT)
Bachelor of Occupational Therapy (BOT)
Bachelor of Audiology, Speech & Language Pathology (BASLP)
BPO (Bachelor of Prosthetics & Orthotics)
B.Sc. Nursing
Remember that courses listed at 8 to 12 above are only for the State of Maharashtra. For B.V.Sc. & AH, admission through NEET is possible only for the all India quota seats.
What is the Pattern of NEET ?
NEET is a 3 hour-long offline (pen and paper-based) exam of 720 marks consisting of 180 multiple choice based questions from Physics (45 questions, 180 marks), Chemistry (45 questions, 180 marks), and Biology (90 questions, 360 marks).
You can take NEET in any one of the following languages – English, Hindi, Urdu, Assamese, Bengali, Kannada, Odia, Tamil, Telugu, Gujarati, and Marathi.
The marking scheme is +4 and -1 for every correct and incorrect answer respectively.
If more than 1 option is found to be correct then all/any one of the multiple correct options you have marked will be given 4 marks. Any incorrect option marked will be given "-1".
Unanswered questions will be given no marks.
The entire length of NEET examination is videographed so you are advised to maintain an upright position for the camera to help establish your identity.
For more details on NEET exam and for the latest NEET news, you can check out the NTA NEET UG website.
What after NEET Exam?
The responsibility of NTA is limited to inviting online applications for NEET, conducting NEET, declaration of results and providing an All India Rank (AIR) to successful candidates. These are the steps before counseling & admission.
After the results of NEET are published, counseling for admission into the different medical courses is done for the candidates who score above the qualifying cut-off score, as announced by the NTA.
Counseling for admission to the all India quota seats is be done by the Medical Counselling Committee (MCC) for MBBS and BDS courses; and by the AYUSH Admission Central Counselling Committee (AACCC) for BAMS, BHMS, BUMS, and BSMS courses. For all more details, you can check out the online counseling process.
Medical Admission Committees or Councils of various States conduct the counseling for the State quota seats at various medical colleges in the States.
Core Syllabus of NEET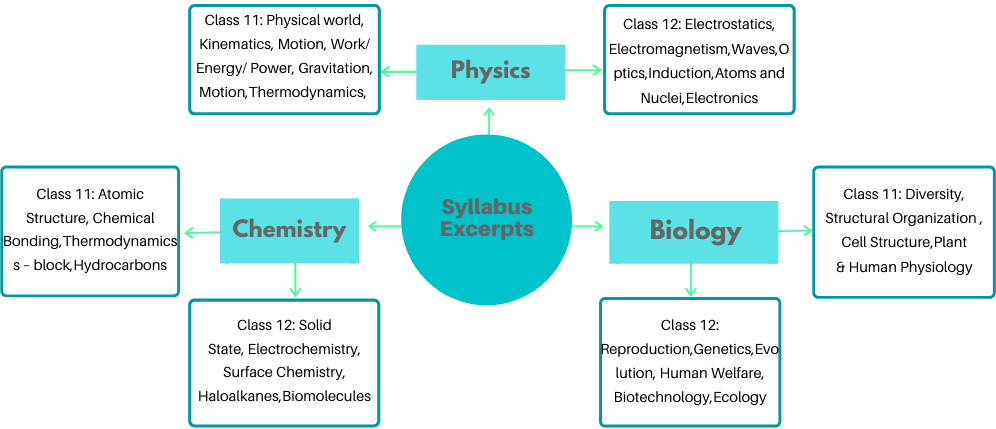 Physics
Class 11 – Physical world and measurement, Kinematics, Laws of Motion, Work/ Energy/ Power, Motion of System of Particles & Rigid Body, Gravitation, Properties of Bulk Matter, Thermodynamics, Behavior of Perfect Gas & Kinetic Theory, Oscillations & Waves
Class 12 – Electrostatics, Current Electricity, Magnetic Effects of Current & Magnetism, Electromagnetic Induction & Alternating Currents, Electromagnetic Waves, Optics, Dual Nature of Matter & Radiation, Atoms and Nuclei, Electronic Devices
Chemistry
Class 11 – Basic concepts, Atomic Structure, Classification of Elements, Chemical Bonding & Molecular Structure, States of Matter, Thermodynamics, Equilibrium, RedOx Reactions, H – atom, s – block, partial p – block, Basic Concepts of Organic Chemistry, Hydrocarbons, Environmental Chemistry
Class 12 – Solid State, Solutions, Electrochemistry, Chemical Kinetics, Surface Chemistry, Isolation of Elements, p-block, d & f blocks, Coordination Compounds, Haloalkanes & Haloarenes, Alcohols/ Phenols/ Ethers, Aldehydes/ Ketones/ Carboxylic Acids, N-containing organic compounds, Biomolecules, Polymers, Everyday Life Chemistry
Biology
Class 11 – Diversity in Living World, Structural Organization in Animals & Plants, Cell Structure & Function, Plant Physiology, Human Physiology

Class 12 – Reproduction, Genetics & Evolution, Biology & Human Welfare, Biotechnology & its Applications, Ecology & Environment
Eligibility Criteria for NEET
Your age shall mandatorily be between 17 (at the time of admission) to 25 years (as on the date of examination).
Indian Nationals, Non Resident Indians (NRIs), Overseas Citizen of India (OCI), Persons of Indian Origin (PIO) and Foreign Nationals are also eligible for admission through NEET subject to regulations as the case may be.You must have passed in Physics, Chemistry, Biology/Biotechnology and English individually and must have obtained a minimum of50% marks taken together in Physics, Chemistry and Biology/Biotechnology.
If you have passed 10+2 from Open School or as a private candidate, you shall not be eligible to appear for NEET.
For admission to a BUMS (Bachelor of Unani Medicine & Surgery) course, you must have passed the 10th standard with Urdu or Arabic or Persian language as a subject.
For admission to a BSMS (Bachelor of Siddha Medicine & Surgery) course, you must have passed "Tamil" as a subject in the 10th or 12th Standard otherwise you shall have to study Tamil as a subject during 1st year after your college classes begin.
NEET Registration: How to Apply?
You can apply for NEET through "Online" mode only by accessing NTA website. No offline application is entertained. You are to submit only one application.
You must ensure that the e-mail ID and phone number that you have provided is either your own or your parents' as NTA will only communicate electronically through SMSs or emails.

All these following steps can be done together at one go or at different times.
6 Steps of NEET Registration & Application

Step 1
Download the information bulletin & replica of application form. Read carefully to ensure your eligibility. Practice on the replica that you've downloaded.

Step 2
Register online using email ID and mobile phone number.

Step 3
Fill in the application form online. Make a note of and record the system-generated application number.

Step 4
Upload the following scanned JPG/ JPEG images:
Passport size photograph(10-200 kb)
Postcard size photograph (50-300 kb)
Your signature (4-30 kb)
Your left/right thumb impression (10-50 kb)
Class 10 pass certificate (100-400 kb)
Step 5
Pay the fee through Debit Card/Credit Card/Net-banking/UPI and retain proof of payment.

Step 6
Download and save (you may print later) copies of the confirmation page after your payment.
Important Documents to Retain after Registration
A print out of the Confirmation Page of online application
Proof of payment of a required fee (bank transaction details supported by confirmation page)
A minimum of 6 copies of identical passport size & postcard size photographs that you had scanned and uploaded during the application
A print out of the system generated self-declaration, if you are a candidate from Jammu and Kashmir and have applied for all India colleges
NEET Qualifying Criteria for an AIR
To secure your position in the rank list:
You have to obtain a minimum of marks corresponding to 50th percentile in NEET if you are in the General category. (40th percentile for SC, ST & OBC).
In case of a tie, your performance will be subjected to a tie-breaking process.
In case you score the same marks along with 1 or more candidates, the following order will be adhered to for dissolution of parity.
Higher marks/percentile score in Biology (Botany & Zoology)
Higher marks/percentile score in Chemistry
Less proportion of number of attempted incorrect answers and correct answers in all the subjects
Seniority in age
👉 Know About Top 5 States Which Records Highest Registration- NEET UG Application 2023
NEET Exam: What is Your Chance of Qualifying
It could be interesting for you to know how many candidates appeared in the past NEET UG exams and how many qualified.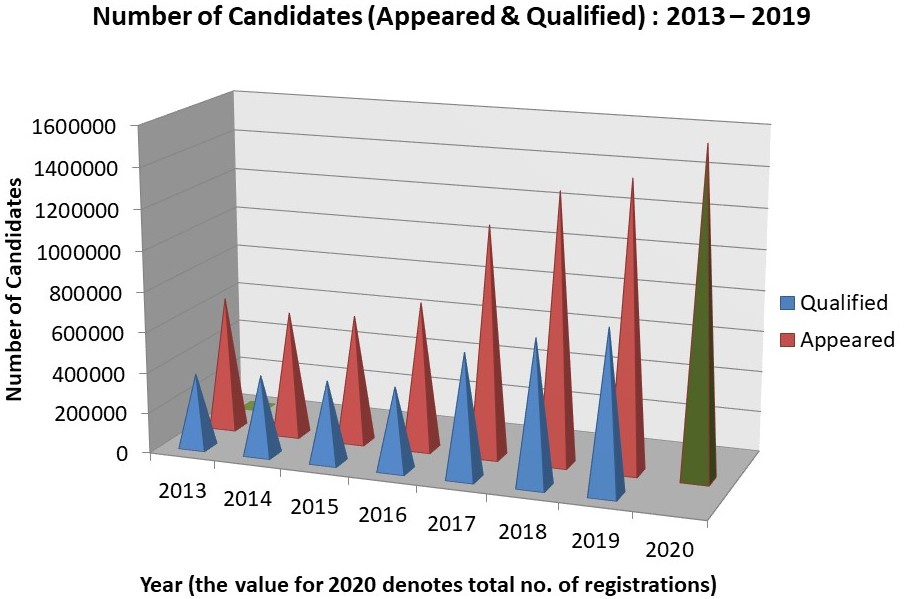 | | | |
| --- | --- | --- |
| YEAR | APPEARED | QUALIFIED |
| 2013 | 658040 | 366317 |
| 2014 | 616982 | 393190 |
| 2015 | 632625 | 402561 |
| 2016 | 731223 | 409477 |
| 2017 | 1138890 | 611539 |
| 2018 | 1326725 | 714562 |
| 2019 | 1410755 | 797042 |
2020 1594000 (registered till 6th January 2020)
NEET Examination: Declaration of Results
NTA displays scanned images of OMR answer sheets and recorded responses on the official website.
Thereafter, NTA also displays the provisional answer key of the questions.
In case of any doubt in the answer key, you can challenge answers to any question against a fee of Rs 1000 per question.
The record of NEET is preserved up to 90 days from the date of declaration of results.
NEET Examination: Counseling for Seats
All India counseling: 15% seats in all medical colleges (under MCC & AACCC). Counseling is held in 2 rounds.
For national medical colleges, online counseling will be conducted by the MCC of the Directorate General of Health Services for Undergraduate Medical Courses
For national AYUSH colleges, counseling for AYUSH courses will be conducted by AYUSH Admission Central Counselling Committee (AACCC)
State-level counseling: 85% seats of all medical colleges in a State- State counseling authorities conduct seat allocation on the state quota seats for domiciled candidates. This includes2 to 3 rounds.
Any query from a qualified candidate regarding MBBS/ BDS course can be referred to:
The Assistant Director General (ME)
Directorate General of Health Services,
Nirman Bhawan, New Delhi-110 108
E-mail: [email protected]
Any query from a qualified candidate regarding related to BAMS/ BSMS/ BUMS/ BHMS can be referred to:
The Director (SRKV),
Ministry of AYUSH,
AYUSH Bhawan, B-Block, GPO Complex,
INA, New Delhi- 110023
Email: [email protected]

How to Prepare for NEET?
Now that you've arrived at this part, you must be conversant with all the factual aspects of National Eligibility cum Entrance Test as discussed earlier. It is important to bear all of that in mind.
You can go back any time and see if you've missed anything. In this part, we'll particularly discuss how you can ace your attempt at one go and fill up your OMR sheet as much as you can with the right answers!
Make these suggestive tips a firm part of your action plan in combating NEET so you can look at your OMR response sheet when it's displayed on the NTA website with a wide grin!
1. Be accustomed to the syllabus: The syllabus is demanding so it will be very useful if you know it well. I mean, you can recall it in your mind. You should know it that well.

Cut down on extra information and focus on important concepts.

2. Ensure familiarity with NCERT text: This is a must. You have to be aware of what comes in the latest editions of NCERT books.

70% of questions in NEET come from NCERT textual content. NCERT books are often difficult to find so stock them well in advance.

3. Design a Realistic Routine: a realistic and well-structured time table is what you need to create to boost your preparation since you will have to finish a 2 years syllabus.

You may have to be slightly flexible with it modifying it occasionally depending on your progress.

4. Build a smart study stock: high-quality study materials are the need of the hour. With your teachers and expert assistance, you can build the correct stock with ease.

You may contact repeating candidates or successful ones for advice.

5. Take notes: scribble concepts, topics, and focal points of a chapter on pages or on colorful stick-ons & make them float around your eyes.

Stick them around to make "vision boards" on a particular wall or on the door of your closet or anywhere else which you may attend at different times. Revisit according to your convenience and routine.

6. Practice mock tests: pen-paper testing is THE RULE. You shall have to learn to manage time, which is a required aspect of NEET.

NTA releases sample papers too. Make just use of them.

It will be great, if you could finish a topic and instantly test your understanding of it.

At the end of all topics, you can take a series of mock exams to put your knowledge of an entire subject to test.

7. Concentrate on Physics & Biology: Chemistry is fairly undemanding in NEET. It has been so, at least for the past few years since 2013.

8. Timeboxing: Do not do long hours of cramming. That prevents easy memory retention.

Time-box your hours & routine. Time-box your chapters & lessons. Build Pomodoro around leisurely breaks.

Pomodoro is all about segmenting your study time with 3-4 minute breaks in between. "Pomodoro" is the interval of time spent studying.

9. Avoid following too many books: This tends to mess up your preparation. This is common advice.

Not too many books but too many sample tests is what you need. Practice more and cram less.

10. What's inside is reflected out: Eat healthily, work out, and find sufficient sleep to build an efficient biome inside of you and brace yourself for a NEET knockout!
Conclusion
Don't stop until you've done yourself proud! Push yourself hard because guess what? No one's going to do it for you. So, go grab yourself a spot!

Whether or not this is an easy bet, keep your composure, stick to the discussed stratagem on how to prepare for NEET, keep yourself regularly updated on NEET related news, bulletins and announcements on the official portals linked earlier, chin up and prep for your NEET knockout in 2020!
Nevertheless, if you feel that you're missing some support in your preparation or if you feel it's time you had some expert assistance to know yourself even better than you already do, please feel free to reach out to expert counsellors. It may help. So long!

Blow 'em away!
You May Also Want to Read: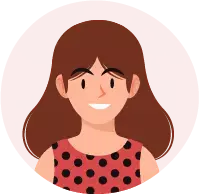 With a Master's in Biophysics-Biostatistics, Sreenanda acquired professional experience in computational proteomics of human molecules. She is currently working with the Research and Data Team at iDreamCareer.